Double Chocolate Banana Bread
This super moist, rich double chocolate banana bread is topped with dark chocolate chunks and banana slices that almost caramelize when baked.
Is there such a thing as too much chocolate? I think not! This yummy chocolate quick bread will satisfy your deepest chocolate craving.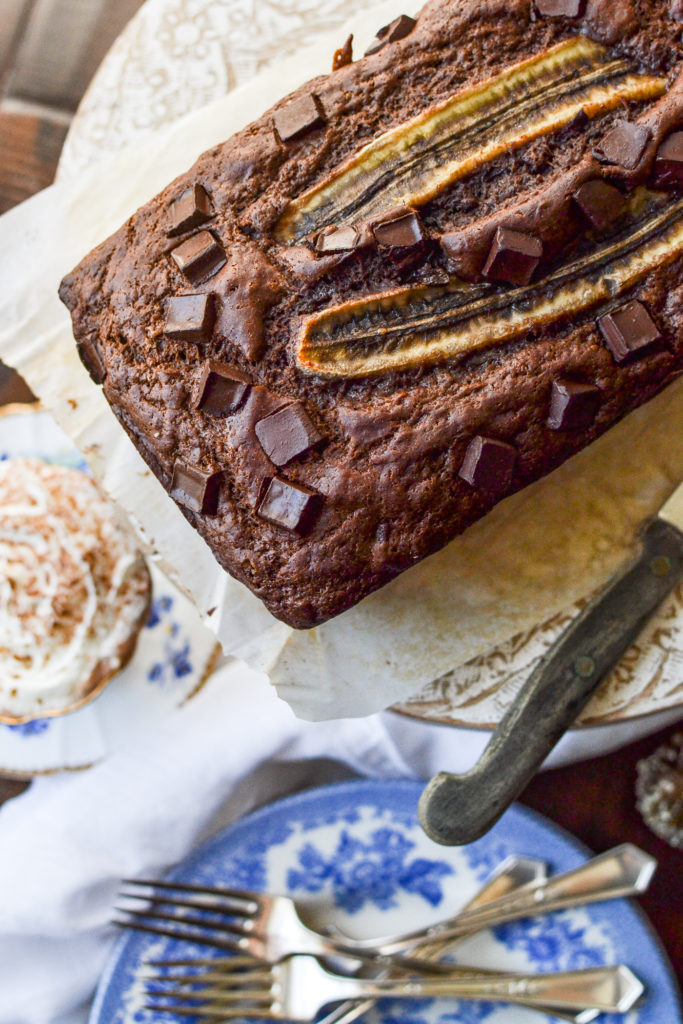 A rich chocolatey batter combined with chunks of dark chocolate and sweet ripe bananas. All topped with extra chocolate chunks that melt into soft bundles of chocolate goodness on top!
Why You Will Love This Recipe
quick and easy to make, and ready for the oven in just a few minutes
perfect for an after school snack, lunch box treat, or a quick on-the-go breakfast
is great for gift giving
dark chocolate is rich in antioxidants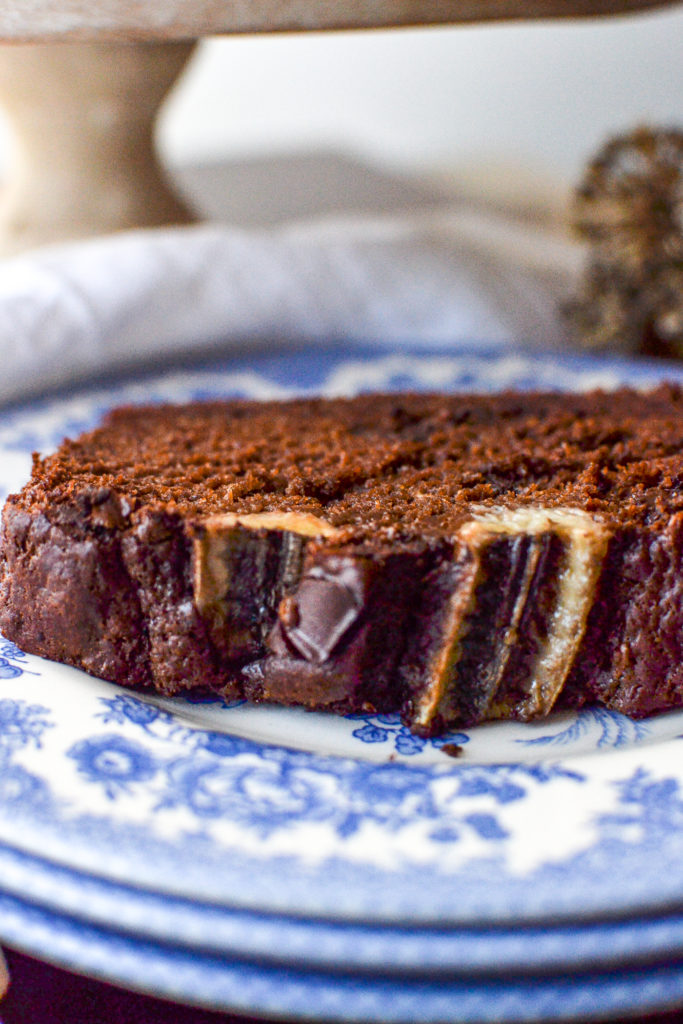 What is a quick bread
A quick bread is typically one that is made without yeast. There is no rising time required. It is a simple batter that is ready for the oven right away. Quick breads get their rise from baking soda and baking powder. Dry ingredients are added to wet ingredients and mixed just until combined.
What I love most about quick breads is how easy they are to make, and the endless flavour possibilities.
Some of my favourites include this Old Fashioned Cherry Bread and this delicious classic lemon bread.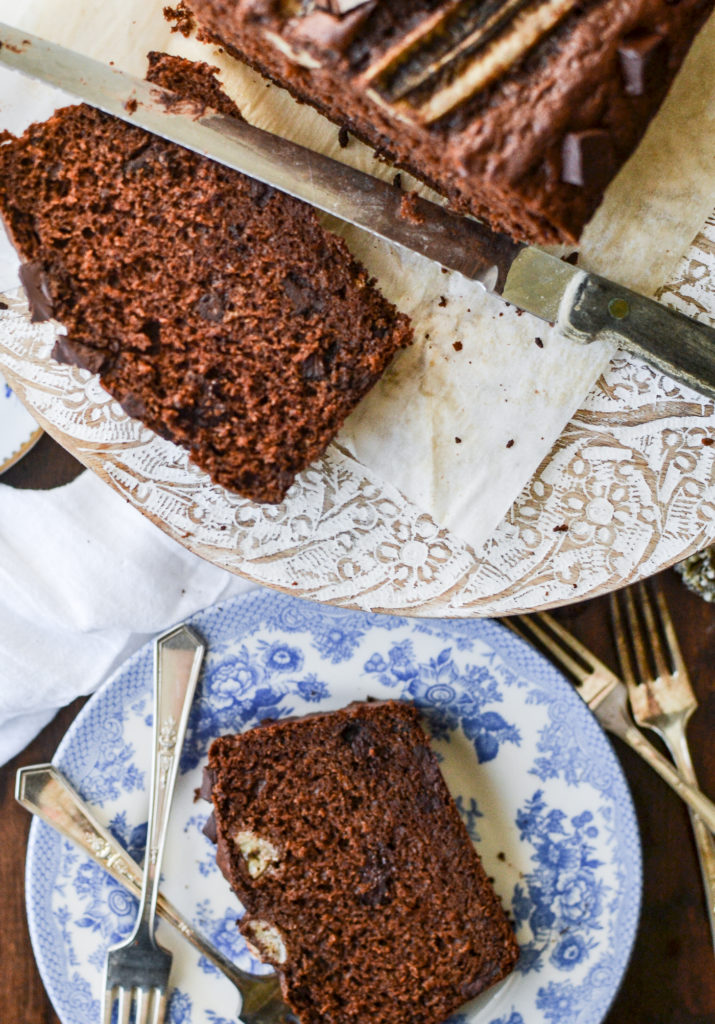 What you will need to make double chocolate banana bread
ripe bananas
cocoa
good quality dark chocolate chunks
buttermilk (or soured milk)
flour
sugar
eggs (room temperature is best)
baking soda, baking soda & salt
pure vanilla extract
walnuts (optional)
parchment paper
mixing bowls and electric hand , or stand mixer (I have this model in pink and it is a work horse!)
How to make this yummy chocolatey quick bread
It is easy peasy! Perfect for beginners.
In a large bowl (or stand mixer) beat butter and sugar until light and fluffy. Beat in bananas, eggs and vanilla until well combined.
Stir together flour, cocoa powder, baking powder, baking sod and salt. Add to to banana mixture, alternating with the buttermilk, blending between each addition. Stir in walnuts and pour into parchment lined pan.
Bake for 60 minutes, and voila! Delicious, deep chocolate banana bread that will knock your socks off!
A few FAQ's
Tips for prepping
Whenever baking, be sure to use the freshest ingredients. It is easy to forget how long that baking soda and baking powder have been sitting in the cupboard, so be sure to replace it every couple of months
my golden rule…..Mise En Place….everything in its' place. Gather and measure all of your ingredients before beginning
Don't over mix the batter, when adding in the dry ingredients and buttermilk, stir just until combined
Cut a medium banana in half and place cut side up on the batter before baking, gently pushing it down a bit
Lining the pan with parchment makes for easy removal, and easy clean-up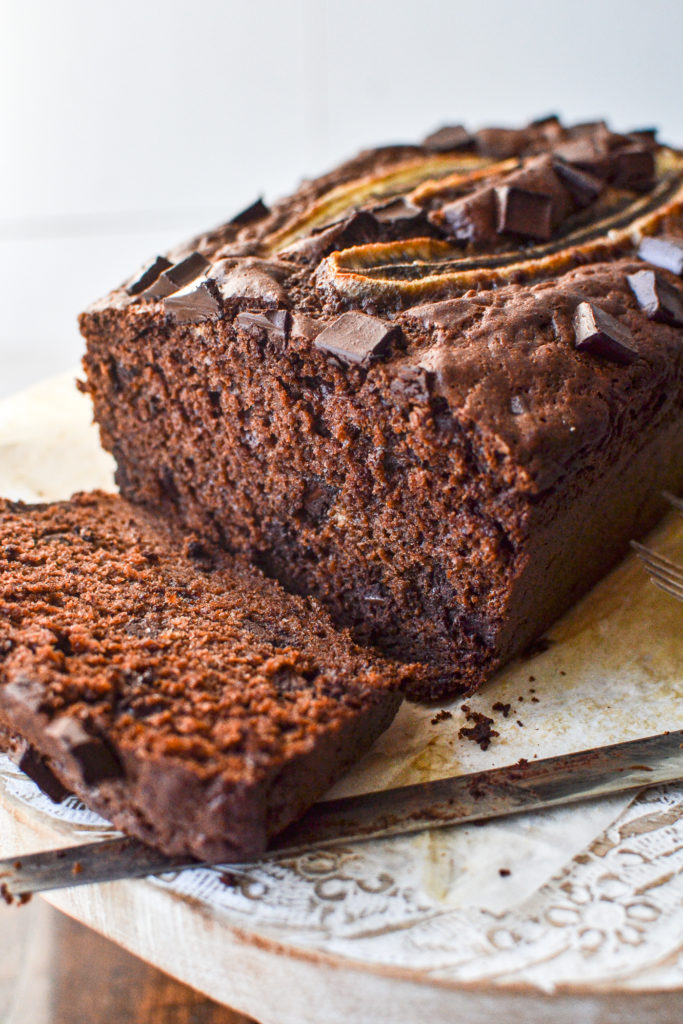 Tips for serving
Leave it to cool in the pan for 20-30 minutes before transferring to a cooling rack
Wait until the bread has cooled completely before slicing for best results
Drizzle with a little bit of caramel sauce for an extra decadent treat
Serve a slice with a cold glass of milk, pack in a lunch box, or add a few slices to a pretty tray for an easy dessert option
Tips for storing and giving
This, as all quick breads, are excellent for freezing. Wrap tightly in plastic wrap and then place in a freezer bag for extra freshness
You can also slice it before freezing. Wrap each slice in plastic wrap and place it in a sandwich bag and take out a slice at a time
Makes a great hostess gift – wrap in simple Kraft paper embellished with a ribbon for gift giving. (These holiday gift boxes make gifting this double chocolate banana bread festive, quick and easy)
Dollar store tins are also a great idea for storing and giving
Enough chatter! Time to get into the kitchen to bake up a batch of this yummy sweet treat!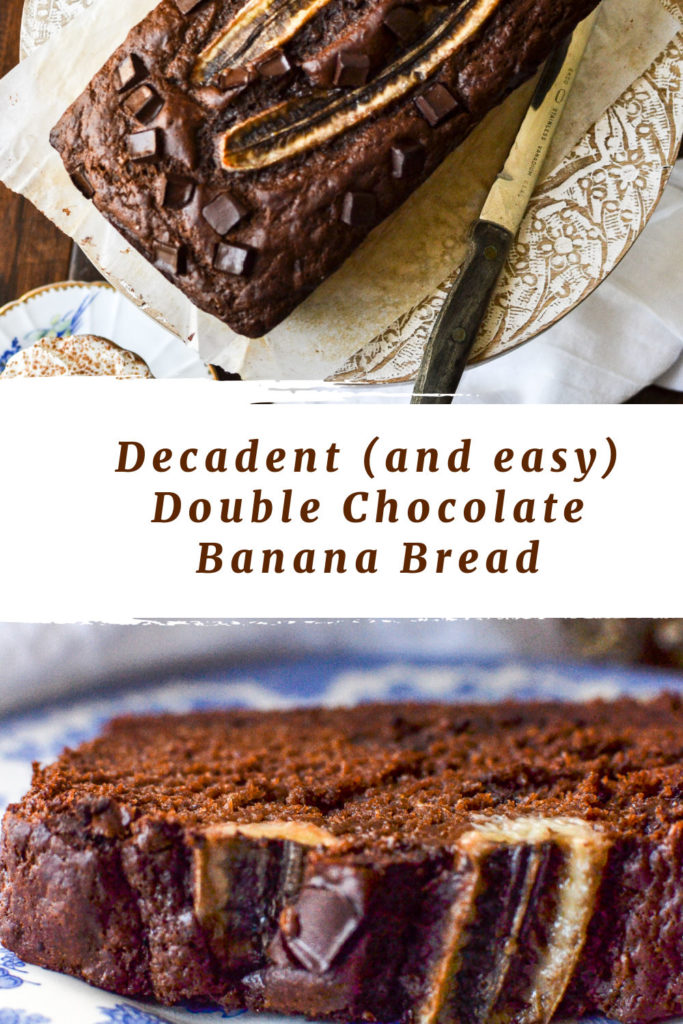 More chocolate recipes you may enjoy
Chocolate Fudge Recipe (without sweetened condensed milk)
Chocolate Peanut Cheesecake in a Jar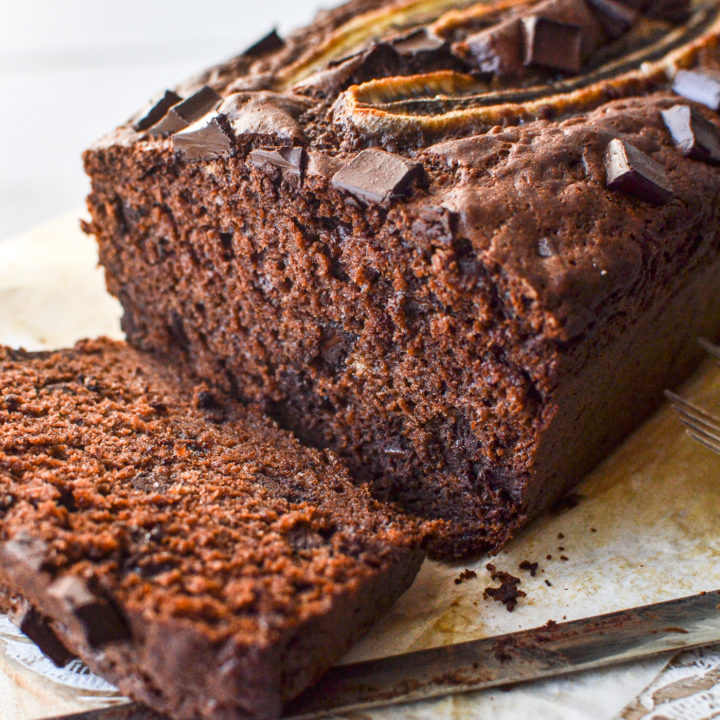 Double Chocolate Banana Bread
Additional Time:
4 minutes
Total Time:
1 hour
14 minutes
This double chocolate banana bread is an easy quick bread that is bursting chunks of dark chocolate. Loads of rich chocolate flavor with a hint of banana!
Ingredients
1/3 cup butter, softened
3/4 cup granulated sugar
1 cup mashed banana (2-3 medium bananas)
2 eggs
2 teaspoons pure vanilla extract
2 1/4 cups all purpose flour
1/3 cup unsweetened cocoa powder
1 teaspoon baking powder
1 teaspoon baking soda
1/4 teaspoon salt
1 cup buttermilk
1 cup chocolate chunk pieces
1 cup chopped walnuts (optional)
Instructions
Preheat oven to 350. Line a 9 x 5 inch loaf pan with parchment and set aside
In a large bowl (or bowl of electric mixer) beat butter and sugar until light and fluffy, about two minutes. Add mashed bananas, eggs and vanilla and beat until well combined.
In another bowl whisk together flour, baking powder, baking soda, cocoa powder and salt.
Add dry ingredients to banana mixture, alternating with the buttermilk, making 3 additions of the flour and 2 additions of buttermilk. Stir just until combined between additions.
Fold in chocolate chunks and walnuts (if using). Pour batter into prepared pan. Cut a banana in half lengthways and add cut side up to the top of the batter.
Pour batter into prepared pan and bake for 60 minutes, or until a tester comes out clean.
Let cool on rack for 20 minutes before turning out onto a rack to cool completely before slicing.
Notes
If you don't have buttermilk, add a tablespoon of vinegar or lemon juice to a one cup measure. Fill to one cup with milk and allow to sit for 10 minutes to sour.