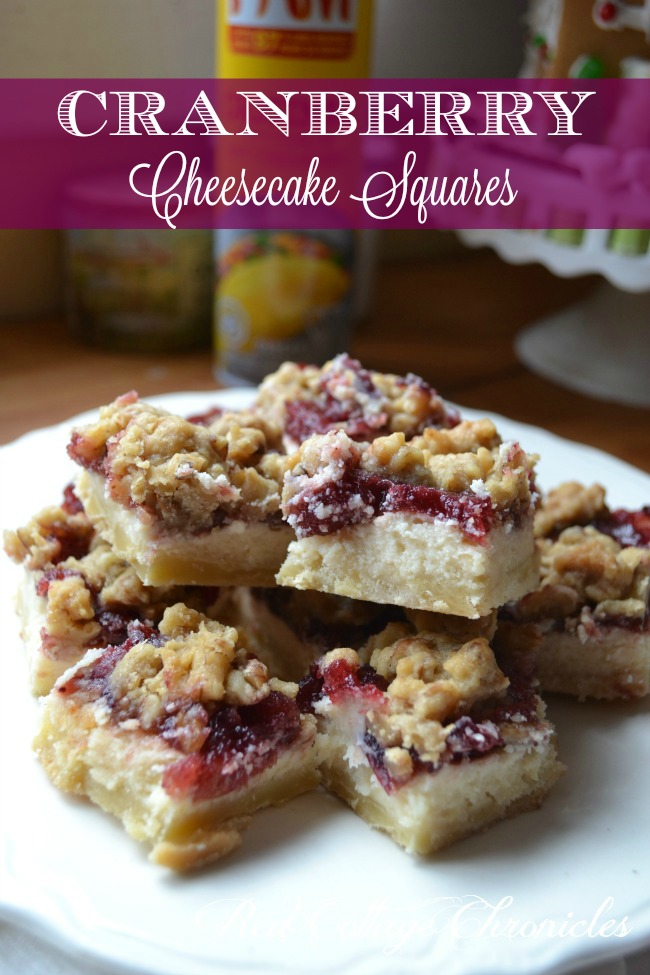 Since cranberries are only popular around Thanksgiving and Christmas it is nice to be able to use them as much as I can.
When I told you about my number one kitchen pet peeve, this is the recipe I chose to make.  They have a buttery shortbread crust, a creamy cheesecake filling and then a slightly sweet/slightly tart layer that really gives them their delicious flavour. Top it all of with a light crumbly topping and you have a real holiday hit!
Cooks Tip:
when it comes to slicing these squares it is best to use a sharp knife and run it under hot water and carefully wipe dry just before slicing.
I cut my pan of squares into about 30 bit sized pieces, but they can be cut into larger squares that would make a decadent dessert
store any leftovers in the refrigerator or freeze until ready to enjoy
Until next time…..
Maureen
And, if you are looking for another delicious holiday cheesecake recipe, you might want to give this Ice Wine Cheesecake a try.  Perfect for New Years Eve.
Cranberry Cheesecake Squares
Prep time:
Cook time:
Total time:
Ingredients
3/4 cup butter, softened
1/3 cup confectioners sugar
1 1/2 cups all purpose flour
1 250 g pkg cream cheese, softened
1 can sweetened condensed milk
1/4 cup lemon juice
3 tablespoons brown sugar
2 tablespoons corn starch
1 can whole cranberry sauce
1/4 cup cold butter
1/3 cup all purpose flour
3/4 cup chopped walnuts
Instructions
Preheat oven to 350 degrees
Spray 9 x 13 pan with Pam non-stick spray.
Cream together softened butter and confectioners sugar until light and fluffy. Gradually blend in 1 1/2 cups flour. Press mixture into the bottom of a 9 x 13 pan and bake until lightly browned, about 15 minutes. Remove from oven and set aside.
Reduce oven temperature to 325 degrees.
In the bowl of electric mixer beat cream cheese until fluffy. Gradually beat in sweetened condensed milk and beat until smooth. Stir in lemon juice until combined. Pour mixture over prepared crust.
In a mixing bowl combine 1 tablespoon of the brown sugar and the 2 tablespoons of cornstarch, mixing well. Fold in cranberry sauce until well combined. Spoon mixture carefully over the cheesecake layer, spreading with an offset spatula to cover the completely.
In another mixing bowl combine remaining brown sugar and 1/3 cup flour. Cut in cold butter until mixture is crumbly. Fold in walnuts. Sprinkle mixture over the top of the cranberry mixture.
Return pan to oven and bake for 45 minutes or until bubbly and golden.
Remove from oven and allow to cool completely before chilling in the refrigerator.
Cut into squares with a sharp knife.