These fluffy peach waffles are like having dessert for breakfast!
Welcome to Farmers Market Week! This is the week we celebrate all things found at the Farmers Market. There are over fifteen bloggers sharing over 50 recipes this week. From drinks and desserts to entrees and sides, there's something for everyone this week.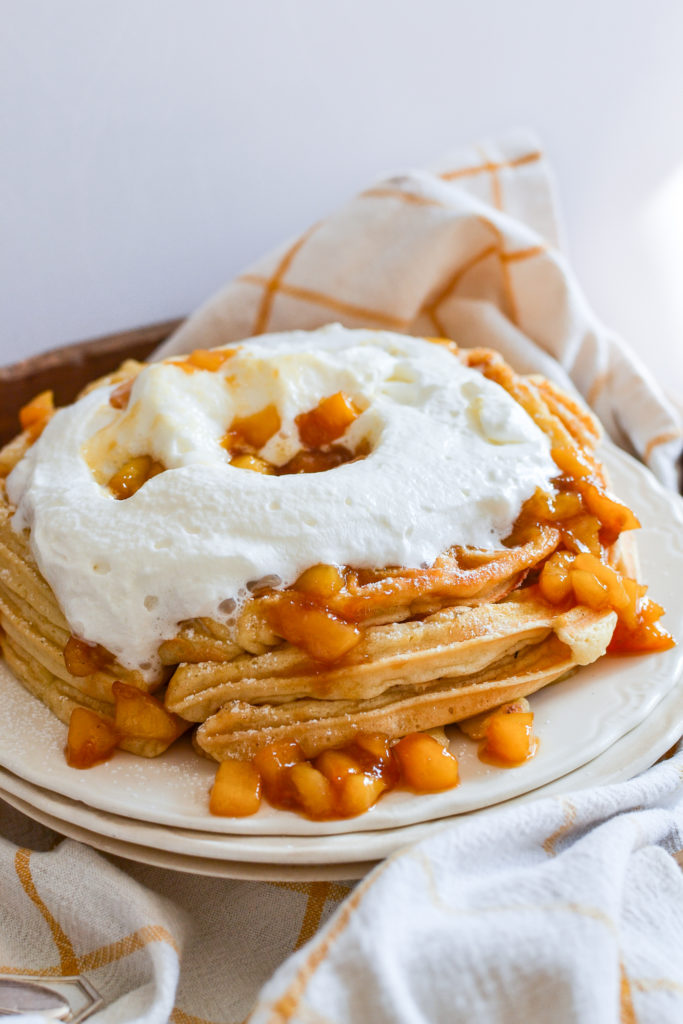 My third and final farmer's market post features these delicious fluffy Belgian waffles that are smothered in a decadent buttery brown sugar peach sauce.
You might want to try these white chocolate raspberry scones and gluten free blueberry muffins that I featured earlier this week.
This post contains affiliate links. Should you make a purchase from an affiliate link I may make a small commission, with no increase in your cost.
Why you will love these
Rise up nice and fluffy
Made with sour cream for a rich delicious flavour
easy to make ahead and freeze
smothered in a delicious peach sauce made with fresh or frozen peaches
perfect for breakfast, brunch or dinner
I am lucky to have a big box of fresh peaches picked from by a peach farmer and delivered to me each peach season. They are big and so juicy. Perfect for making the peach sauce for these waffles.
Bakers tips
A good waffle maker makes all the difference. This rotating waffle maker is a great choice and a great price.
use a cast iron skillet for making the peach sauce if you have one as I find it really seems to blend the sugar and the butter creating the best glaze to coat the peaches
preheat the oven to 250 degrees to keep the waffles warm until they are all baked
serve with fresh whipped cream for an extra decadent waffle
To be honest, I make these fluffy peach waffles for dinner more often than breakfast. They are so filling and easy to make. In about 30 minutes they are ready to go, perfect for busy weeknights.
You'll want to pin this for later!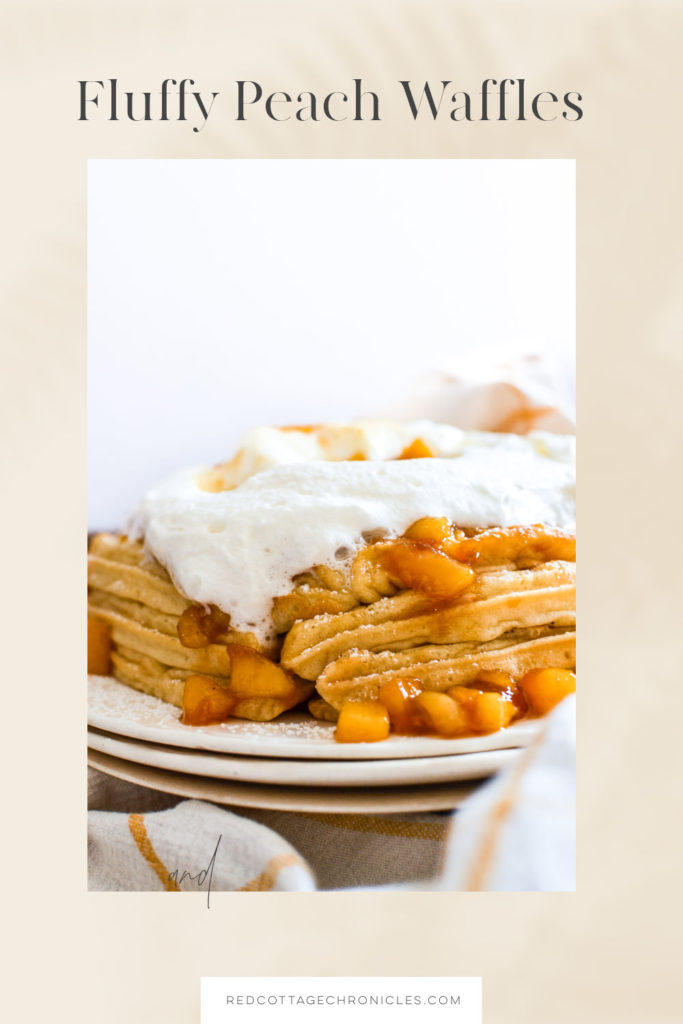 Be sure to check out 13 more recipe below feature fresh product purchased at local farmer's markets!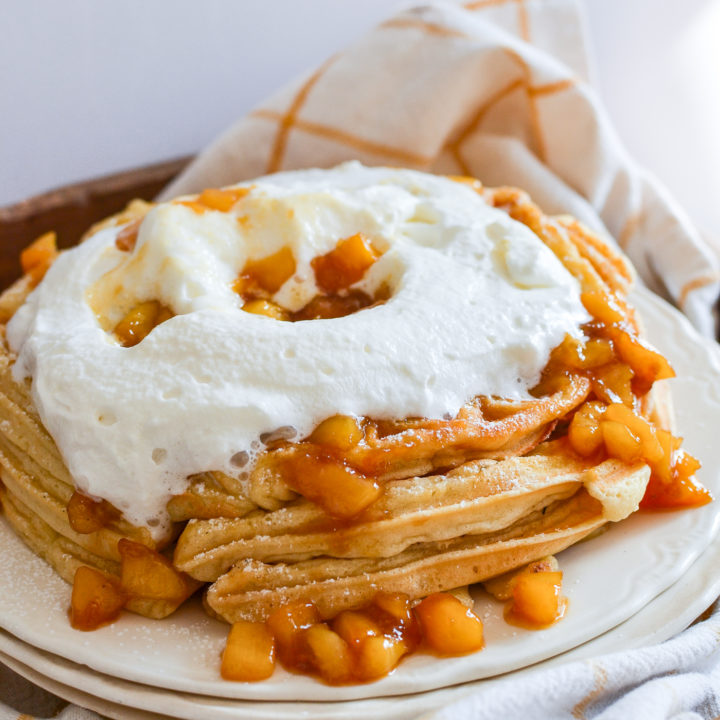 Fluffy Peach Waffles
These fluffy peach waffles are perfect for breakfast, brunch or even a decadent dessert
Ingredients
1 1/4 cup sifted flour
2 tablespoons sugar
2 teaspoons baking powder
1/4 teaspoon baking soda
1/2 teaspoon salt
2 eggs, separated
1 cup sour cream
2/3 cup milk
1/4 cup butter + 3 tablespoons
4 large peaches, peeled and diced
1/4 cup brown sugar
Instructions
Preheat waffle iron.
Whisk together flour, sugar, baking powder, baking soda and salt.
In a separate large bowl whisk egg yolks until foamy. Add sour cream and butter and beat well.
Add dry ingredients to wet ingredients and mix beat until smooth.
Beat egg whites until soft peaks form. Fold into the batter.
Pour batter into prepared waffle iron and bake until crisp and lightly browned.
While waffles are baking, prepare peach sauce by melting 3 tablespoons butter in a skillet. Add brown sugar and cook until sugar is melted. Add peachs and stir to coat with sugar mixture. Continue cooking, stirring occasionally for 5 minutes until peaches are softened and glazed with the brown sugar butter mixture.
Top each waffle with peach mixture and fresh whipped cream.
Notes
To keep all the waffles warm, preheat oven to 250 degrees and transfer cooked waffles to a heatproof plate in the oven until all the waffles are made and ready to serve.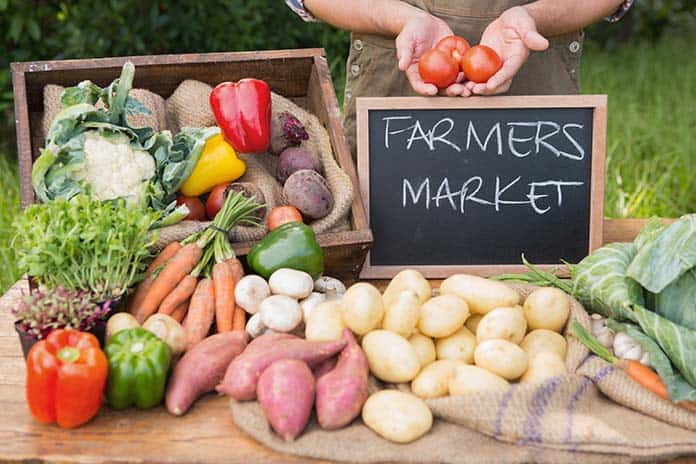 Friday Farmers Market Recipes
Savory Recipes
Sweet Recipes