Rustic Apple Caramel Tart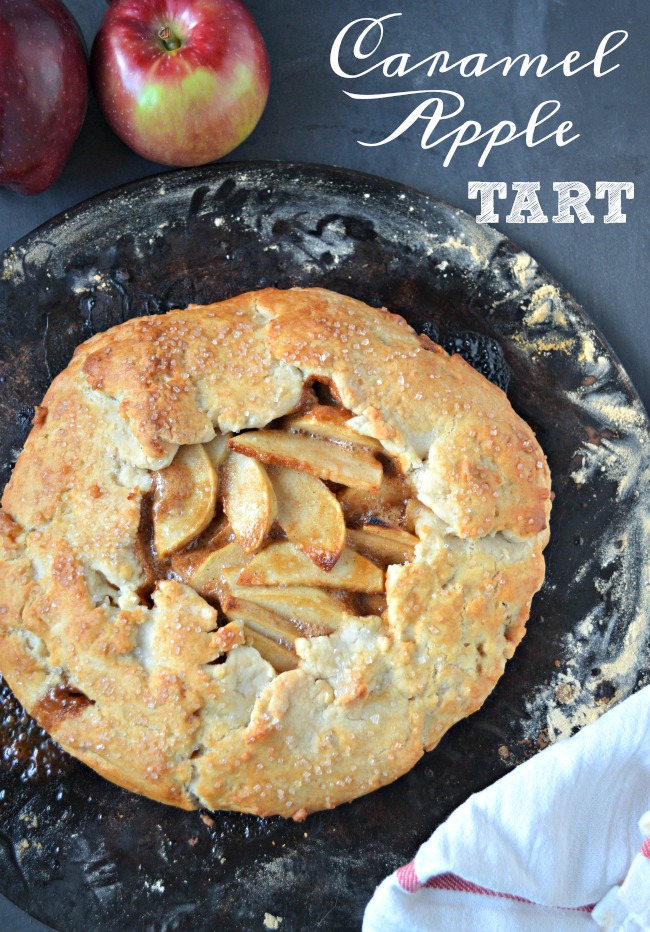 Happy Labour Day! For me Labour Day is my unofficial "New year". Time to get back to a routine, start new projects, and get busy accomplishing the tasks I spent the summer months dreaming about! Along with lots of new DIY projects and am enjoying getting back into the kitchen.
I am really excited about is starting this month I will be sharing recipe ideas from my Canadian blogging friends under the hashtag #CANRecipe. This month we are celebrating the change of season with fall comfort in the kitchen. You will find the links to all my Canadian friends and their fall comfort recipes!
I have lots to share with you today starting with easy rustic caramel apple tart!
Nothing says fall comfort like apples! I love rustic tarts. Not only are they easy to make, but the varieties are endless. Today I made a yummy rustic caramel apple tart but if you want to fancy it up a bit try doing a brie with strawberries and call it a Galette like the French do.
Apple picking season is just about to get started in southern Ontario and our favourite Windwood Farms is scheduled to open next weekend! That means lots of apple goodness for the next little while. The one thing I have been looking forward to is this citrus apple cider. It is my hot beverage of choice all winter long!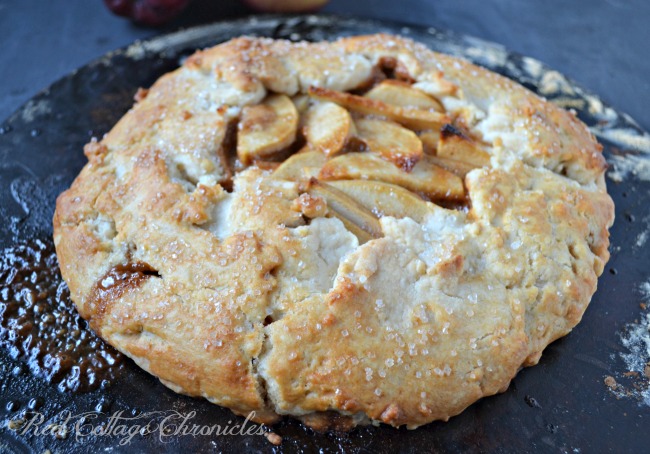 Another thing I love about this caramel apple tart is that I can vary the size according to my liking and add as much filling as you want. The recipe I am sharing today will give you 4 generous servings or 6 average servings.
The caramel sauce is ridiculously easy to make. Making your own crust is really simple too, and since you roll the dough out thicker than the average pie crust, so you really don't want to use a frozen pie shell. They tend to be too thin for this type of tart.
The pastry becomes a perfect golden brown by brushing with milk before baking. A sprinkle of course sugar adds just a touch of sweetness.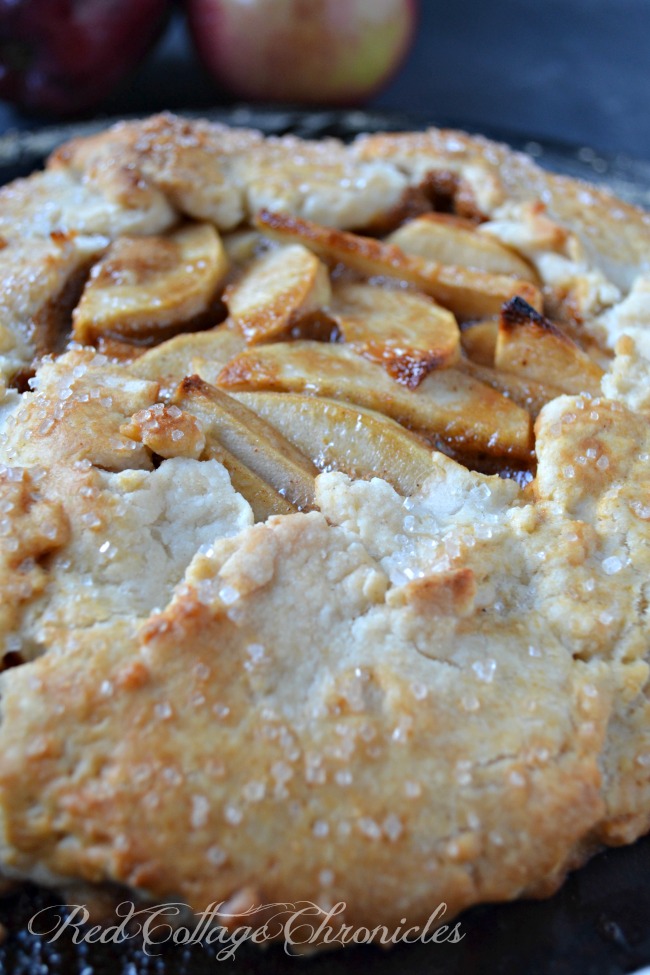 I roll the dough right out on my pizza stone after dusting it lightly with flour. This way I don't after to worry about over handling it. The less you handle the dough, the more tender and flaky it will be.
After peeling the apples I use this handy tool to slice them in no time at all. For thinner slices I just slice each piece in two!
You can serve this caramel apple tart warm with a scoop of vanilla ice cream for an extra special treat. Although I am partial to a slice of aged cheddar on the side.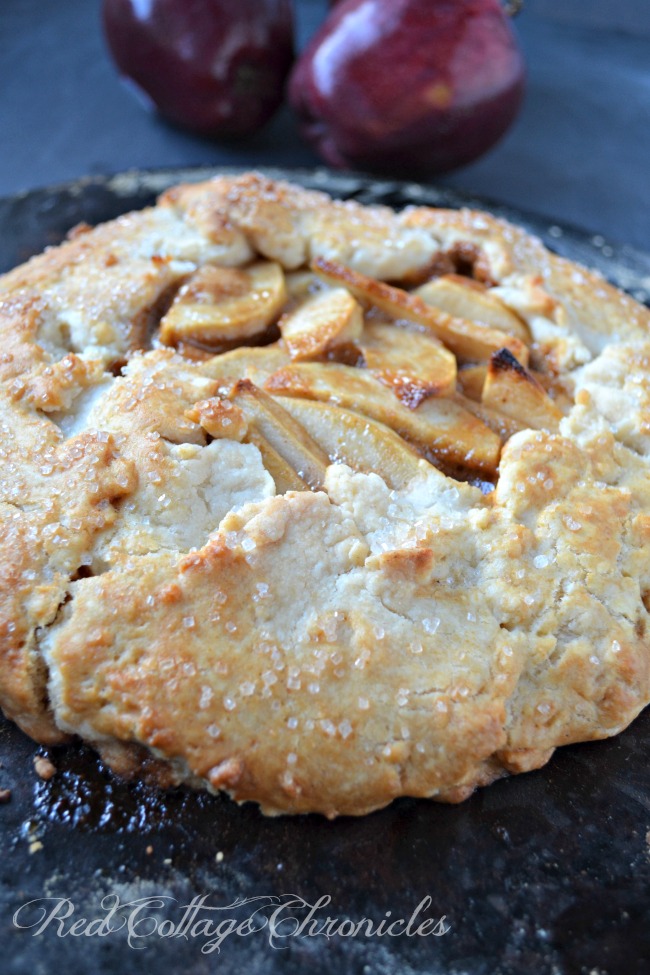 For even more apple recipes be sure to subscribe to Red Cottage Chronicles. Beginning September 26th myself and several other bloggers will be sharing apple recipes, both sweet and savory, side dishes and beverages. Oh, and crafts and decor too!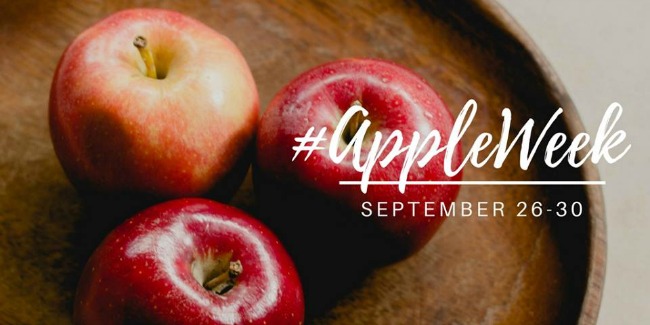 Don't miss all of these yummy fall comfort foods from my Canadian blogging friends!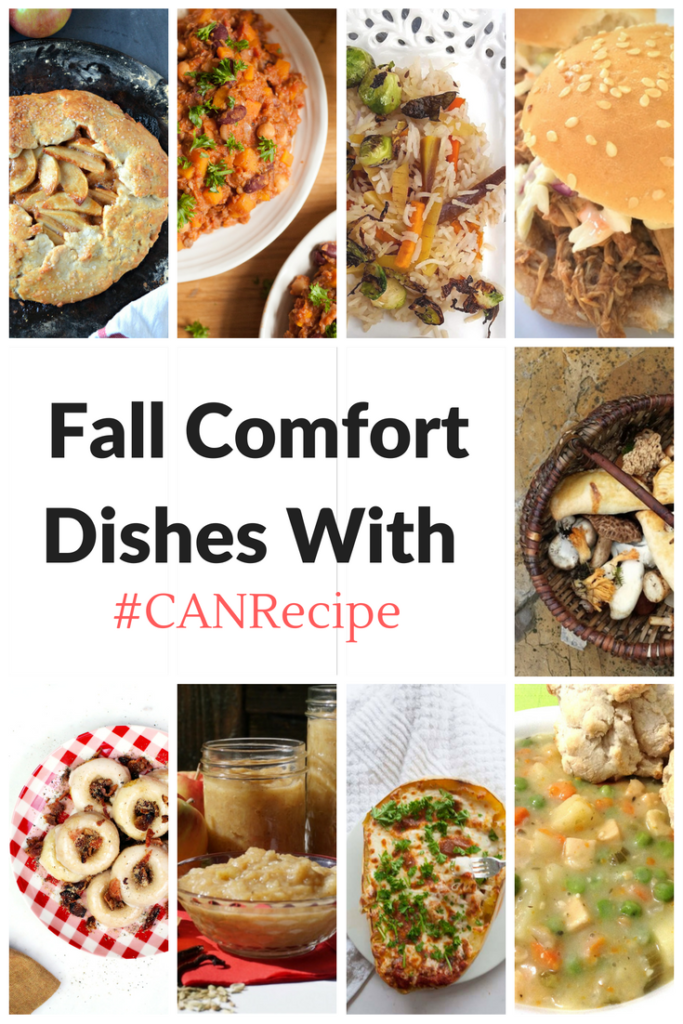 Rustic Apple Tart @ Red Cottage Chronicles
Spicy Vegetarian Chilli @ Allergy Girl Eats
Indian-inspired Vegetable Pilaf Topped With Crispy Brussels Sprouts @ Maple and Marigold
Maple and Oatmeal Ale Pulled Chicken Sliders @ Mommydo
Mushroom Hand Pies @ Dish 'n' the Kitchen
Chai-Spiced Apple Sauce, Apple Butter and Apple Leather @ Making Healthy Choices
Spaghetti Squash Bake @ The Inspired Home
Crock Pot Chicken Pot Pie @ It's Just My Life
Along with all this baking, I have a boat load of DIY projects on the go that I can't wait to share with you this season! So many reasons why you really should subscribe!
Simply click the photo after the recipe to subscribe and keep up-to-date with all the happenings at the Red Cottage.
Until next time….

*For your convenience some links in this post may be affiliate links. If you click on an affiliate link and decide to make a purchase, I may receive a small commission, however this does not change the cost to you!
Rustic Caramel Apple Tart
2016-09-02 05:34:02
Serves 4
Ingredients
500 grams pastry flour
10 ml baking powder (2 tsp)
CRUST
300 grams shortening
60 grams sugar
5 ml salt (1 tsp)
150 ml very cold water
FILLING
3 large apples (I used 2 Granny Smith and 1 Royal Gala)
1/4 cup unsalted butter
1/2 cup packed brown sugar
1 tsp vanilla extract
1/2 tsp cinnamon
1/4 tsp nutmeg
1/2 cup heavy cream
2 tbsp milk
2 tbsp course sugar
Instructions
Preheat oven to 400 degrees
Prepare the pastry crust by sifting flour and baking powder into a large mixing bowl.
Rub the shortening into the flour mixture until it resembles pea-sized pieces.
Dissolve the salt and sugar in the cold water and add into flour mixture at all once.
Mix until water is incorporated. Do not over mix.
Cover the pastry with plastic wrap and allow to rest in the refrigerator while you prepare the filling.
To prepare filling, melt butter in a small saucepan over medium heat. Add sugar and bring to a gentle boil, whisking occasionally. Cook for 3 minutes.
Remove from heat and stir in vanilla and spices until mixed.
Let stand for a minute and then slowly whisk in cream until the sauce is smooth. Be sure to get right to the bottom to get any bits of caramel incorporated into the cream.
Peel apples and slice approximately 1/4 inch thick.
Pour caramel sauce over apples reserving a bit of caramel sauce for drizzling.
On a lightly floured round baking stone or cookie sheet roll out your dough into a large circle approximately 12 inches in diameter. It doesn't have to be perfectly round.
Add the filling to the centre of the pastry dough leaving about a 2 to 3 inch border.
Fold the border of dough over the filling overlapping as necessary.
Brush crust with milk and sprinkle with course sugar.
Bake for 30 to 35 minutes, until golden brown and bubbly.
Notes
This pastry recipe makes enough for 4 - 10" bottom pie crusts or 2 10" double pie crusts.
Red Cottage Chronicles https://www.redcottagechronicles.com/