While I know the saying "easy as apple pie" probably is referring to the eating part, not the making, but this apple pie recipe is so simple, it could definitely apply here!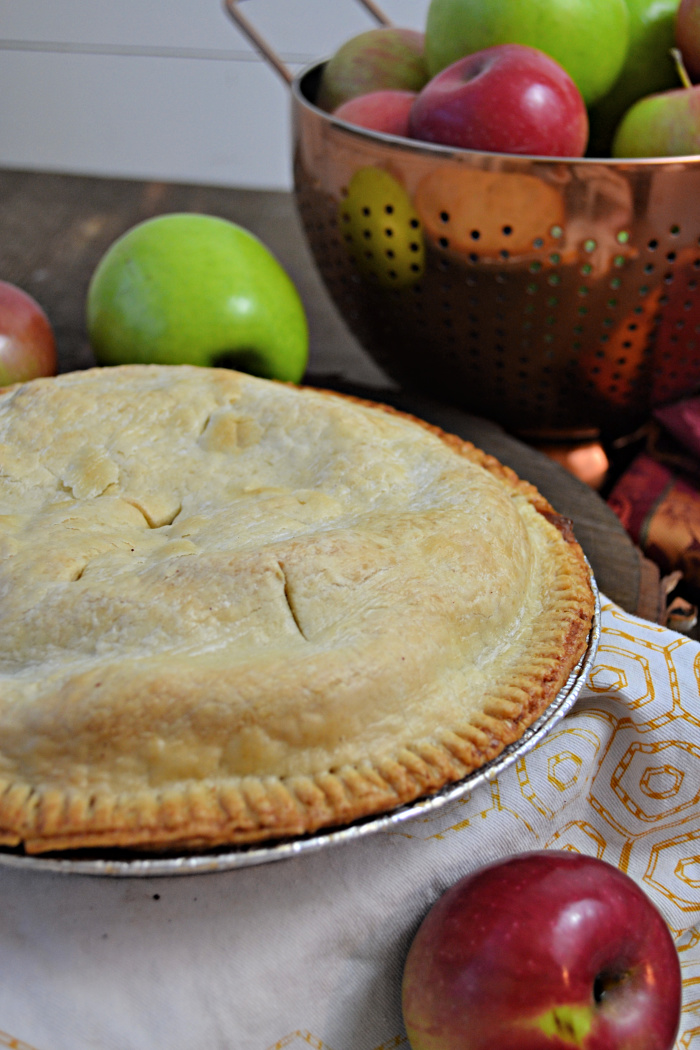 This is the recipe both my grandmother and mother always use and while I cannot perfect quite to the level of my their pies, (for some reason it always tastes better when Mom makes it), it is still my favorite.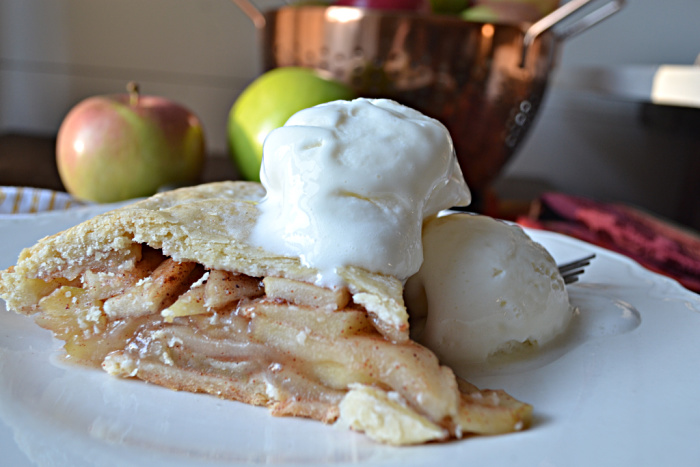 Yesterday my daughter offered to make an apple pie for dessert and I certainly wasn't going to discourage her! And, I must say, she did a fabulous job. Loaded with thinly sliced apples that cook up tender and sweet, but still have that slight bit of firmness to them. I think she has the apple pie making gene!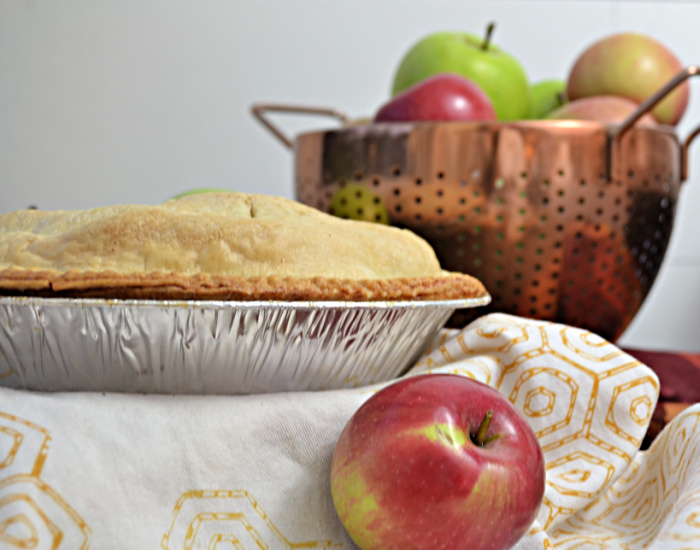 Now, I am team "no cinnamon in my apple pie". What about you? Cinnamon or no cinnamon?
This apple pie recipe is nothing but loads of apples, sugar and flour all layered into a pie shell. While I do make my own pie shells more often than not, I also take the know that a store bought frozen pie shell certainly works too.
Every year we visit Windward Farms, a local pic-your-own apple farm. We brought home over 10 pounds of a variety of different apples, which in my opinion, using a couple different kinds of apples is the secret to a delicious filling.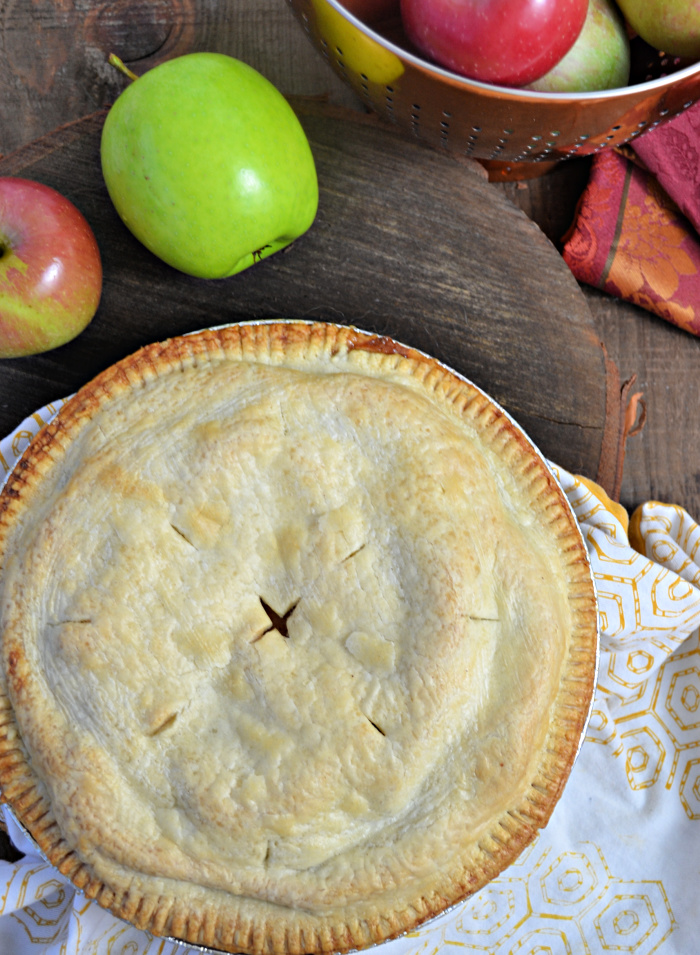 I have fond memories of my grandmother making apple pie for Thanksgiving and Christmas (but mostly just because) and she would use every last scrap of pie pastry by sprinkling them with sugar and cinnamon and rolling them up into little bundles. While the pie was baking up flaky and tender, those little cinnamon bundles were crisping up into bite size deliciousness!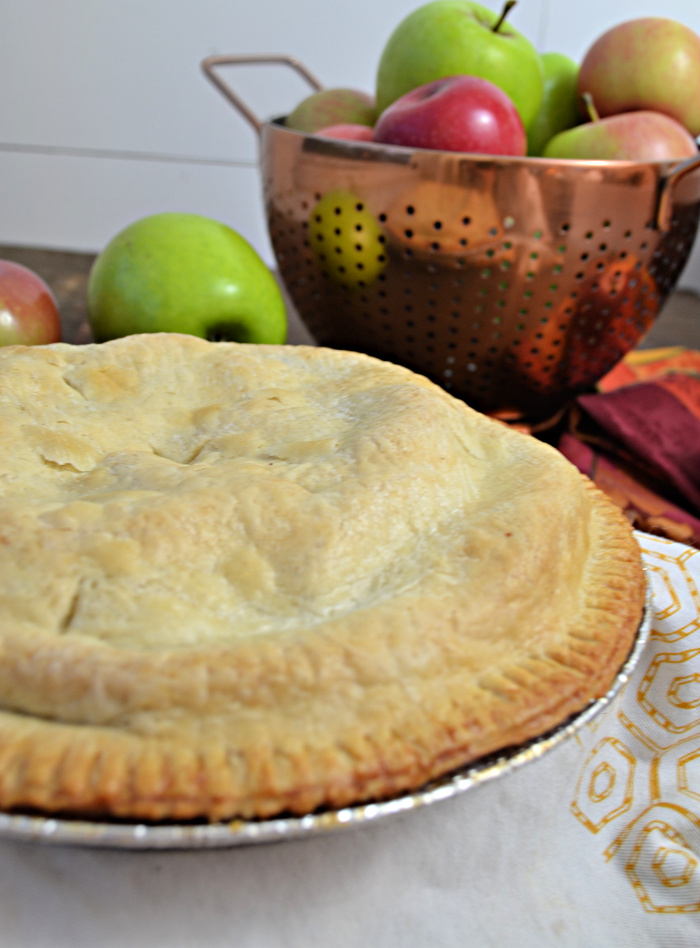 Now, back to the cinnamon or no cinnamon! When Samantha made this pie, she added the tiniest pinch of cinnamon, but not even enough to notice. It was my fault really. She had called my mom for my nana's apple pie recipe, but also saw the one I had in my recipe binder from baking class, which does have cinnamon.
Even if you can't imagine an apple pie without it, I would really urge you to try this recipe! In every bite is pure sweet apple goodness!
And did I mention how easy it is?! Scroll down for the recipe and see just how easy it is.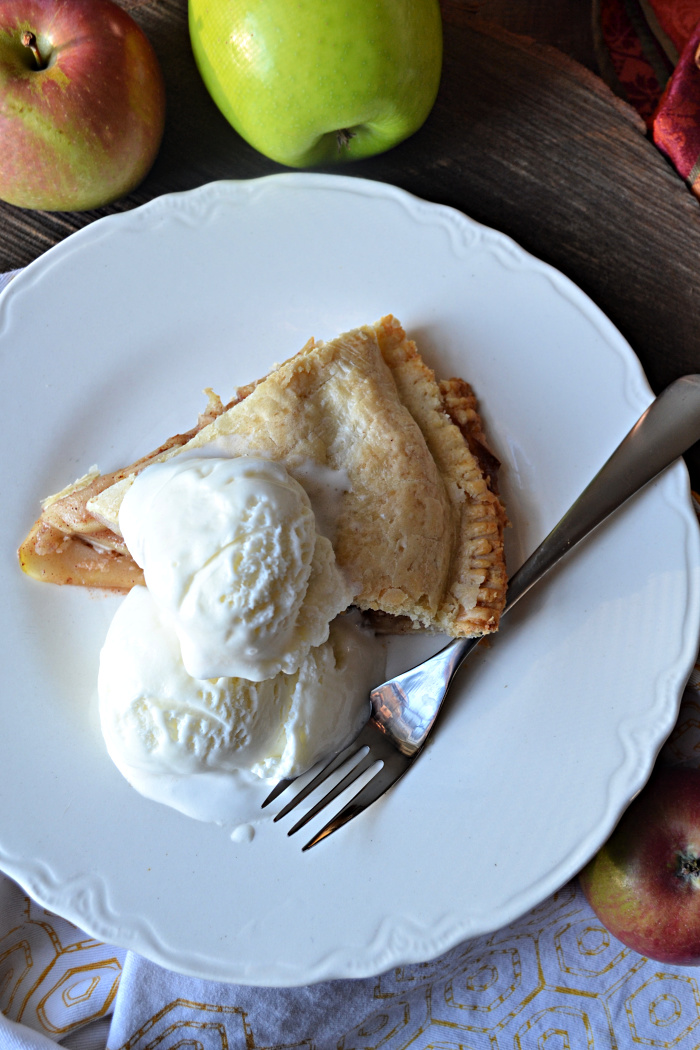 If you love apple pie I think you will like this rustic apple tart and this hot apple cider!
I would love to have you as a subscriber to Red Cottage Chronicles! Simply click here and be on your way to receiving timely updates whenever a new post goes live. Plus as a bonus get your password to access our VIP Printable Library!
Oh, before you go, if you don't want to make an apple pie right now you can pin it and save it for later!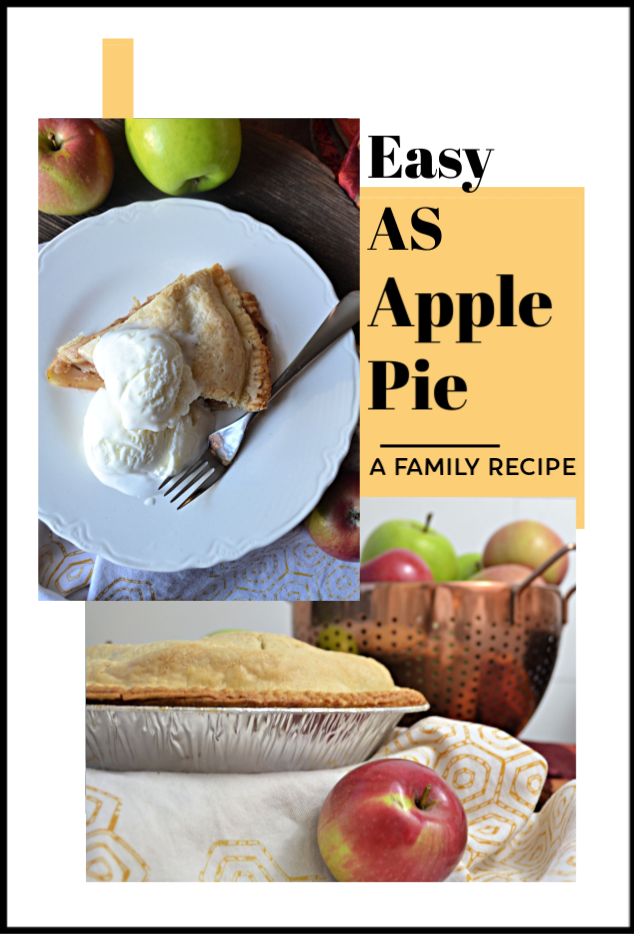 Until next time….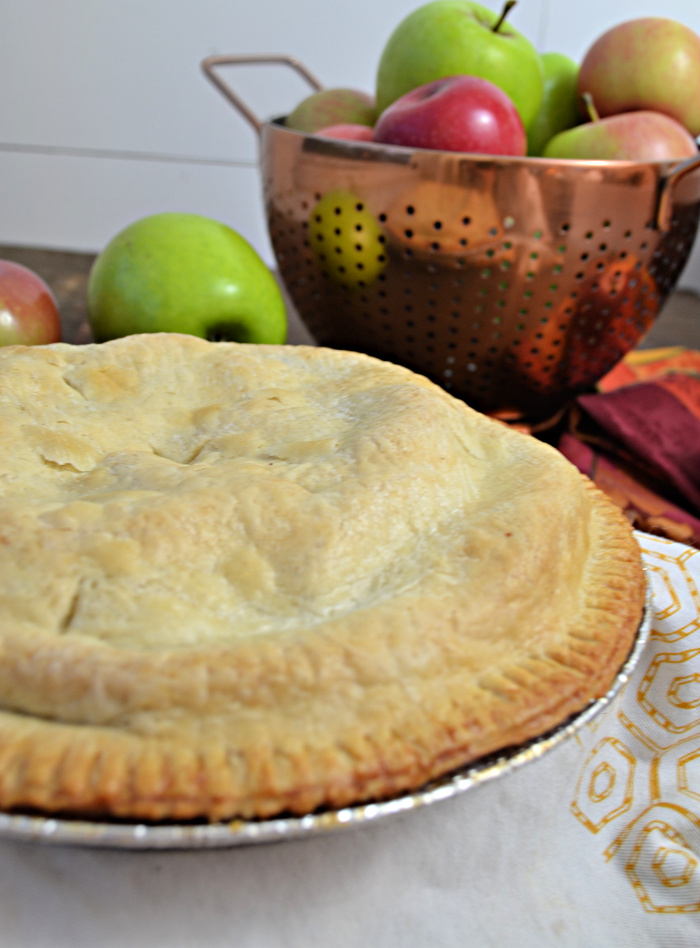 Apple Pie
2018-10-12 17:44:03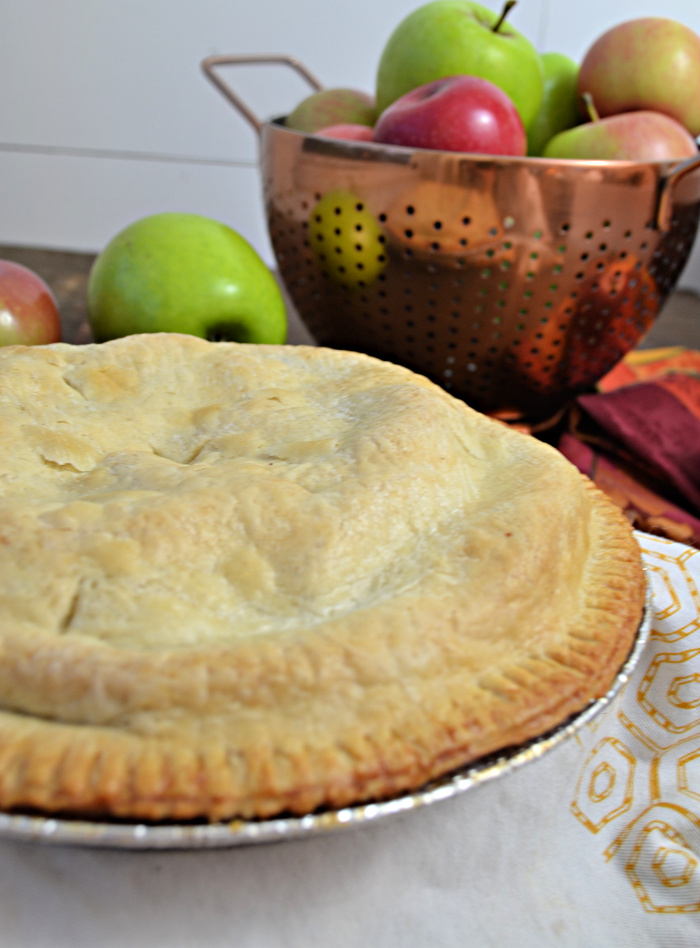 Serves 6
A sweet and tender apple pie made filled with just apples, sugar and a wee bit of flour!
Ingredients
2 frozen pie shells (thawed for 15 minutes) or your favorite homemade pie pastry rolled into two 9 inch circles
6-8 apples, peeled, cored and thinly sliced
3/4 cup granulated sugar
3 tablespoons all purpose flour
1/4 cup cream for brushing
Instructions
Preheat oven to 425 degrees
Combine sugar and flour.
Sprinkle a tablespoon or two of the sugar/flour mixture into the bottom of the pie shell. Arrange a layer of apple slices on top. Continue layering the sugar/flour mixture with the apple slices until they are all gone, ending with the sugar/flour mixture.
Brush edges of the pastry with cream, carefully cover with the top crust and press edges with a fork to seal.
Carefully cut 4 or 5 slits into the top pastry to vent. Brush the entire top with cream.
Place on a sheet pan and bake for 15 minutes.
Lower heat to 350 and continue baking for 25 to 35 minutes, until crust is golden brown.
Red Cottage Chronicles https://www.redcottagechronicles.com/