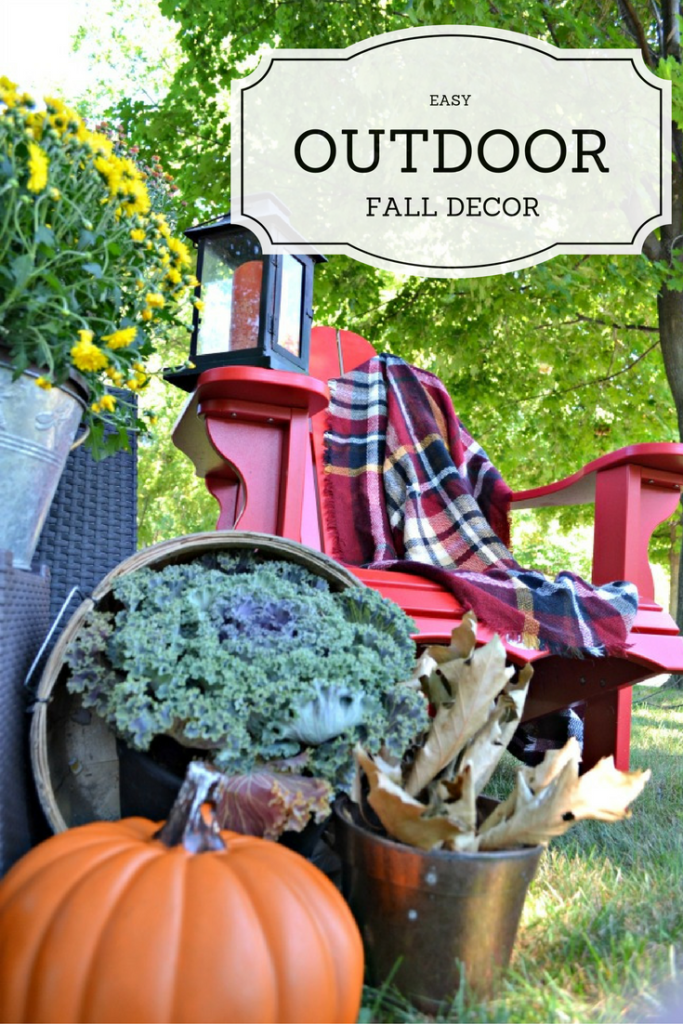 Which camp are you in? Camp bring-on-the-fall OR Camp I-am-not-ready-for-summer-to end? I am definitely in the first camp and have been itching to get going with outdoor fall decor!
If you have been around awhile you know that I have a teeny tiny front porch. But, what if you have no front porch to speak of?
That is the case with my sister and her husbands home. They purchased it last fall and after some renovations (which are still ongoing) they moved in after the New Year. It is a beautiful sprawling ranch that has no porch at all. What it does have is a huge gorgeous treed lot with a view of the Niagara escarpment, and neighbouring properties that are equally abundant in foliage!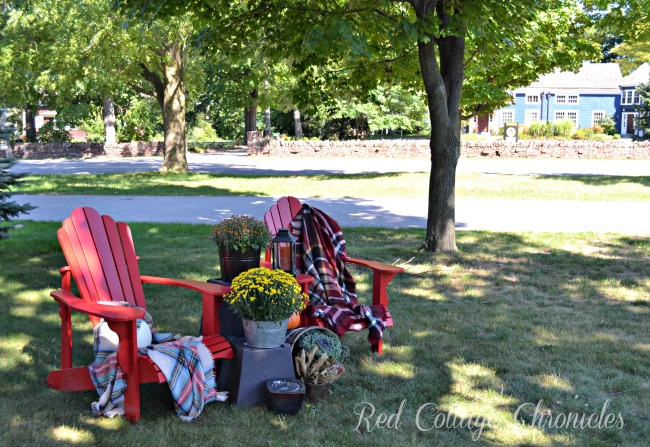 They have been lucky to spend a few summer evenings relaxing in their Muskoka chairs listening to the music which carries across the Niagara River from Art Park!
But, when it comes to the change of seasons, with no formal front porch to dress in its' fall finest, I took to the front lawn to add some flare with outdoor fall decor.
Using the gorgeous Polywood Muskoka chairs in the rich shade of red that they already had, I added on layers using other things already on hand. The only thing I purchased was the fresh garden mum's and ornamental cabbage.
Quick Tip – always purchase garden mums with tight buds as they are much more likely to last well through the season.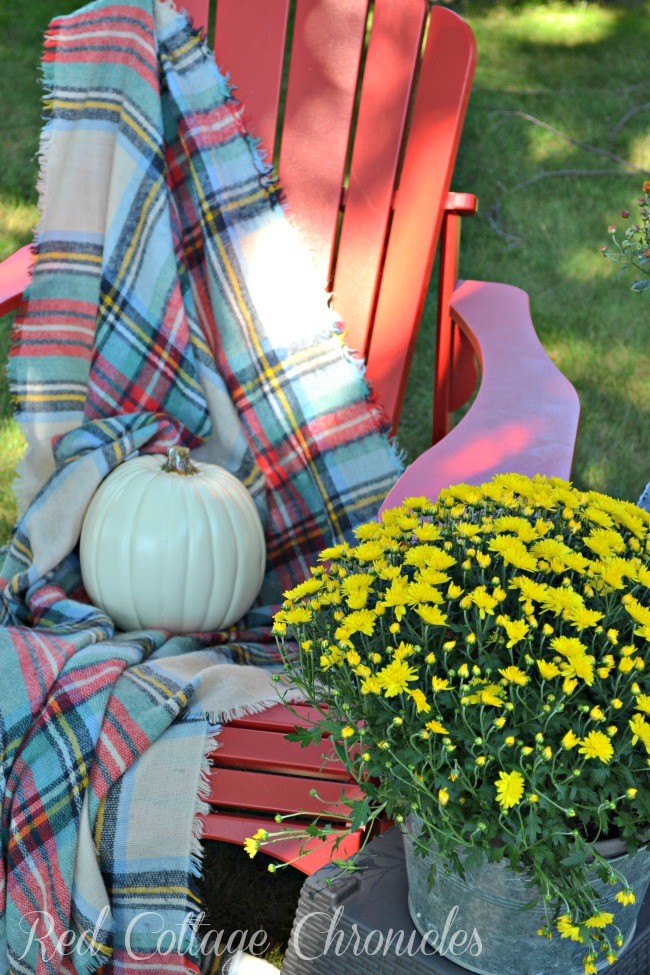 A couple of plaid pashminas are perfect for wrapping up on a cool fall evening. Using flower pots with mixed metal finishes adds a nice touch for the the mums. I had several in brushed aluminum, but sprayed one with Oil Rubbed Bronze and a little one with Copper to add a variety.
Using a bushel basket from our trips to the apple farm, I painted one of them silver to keep with the mixed metal theme.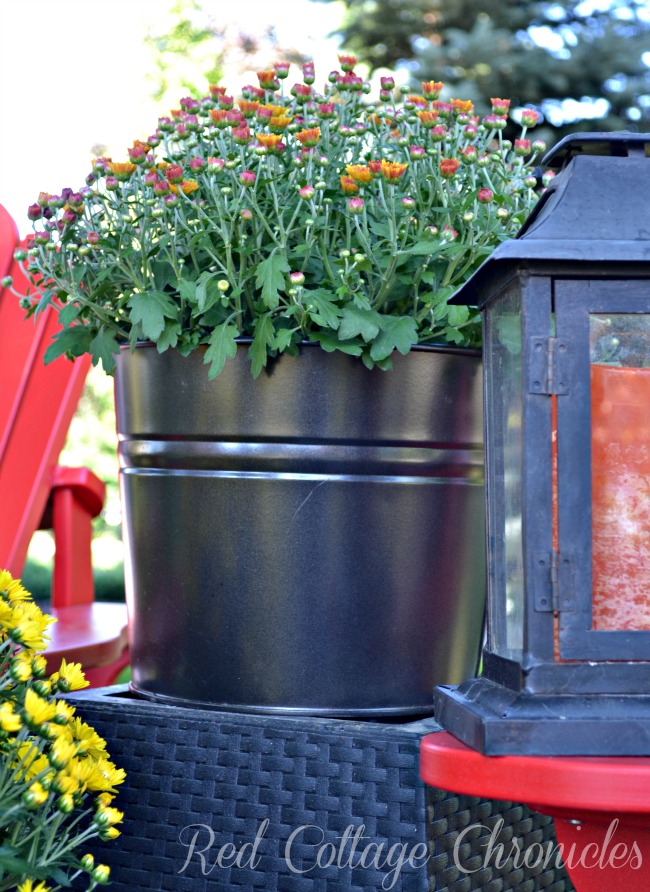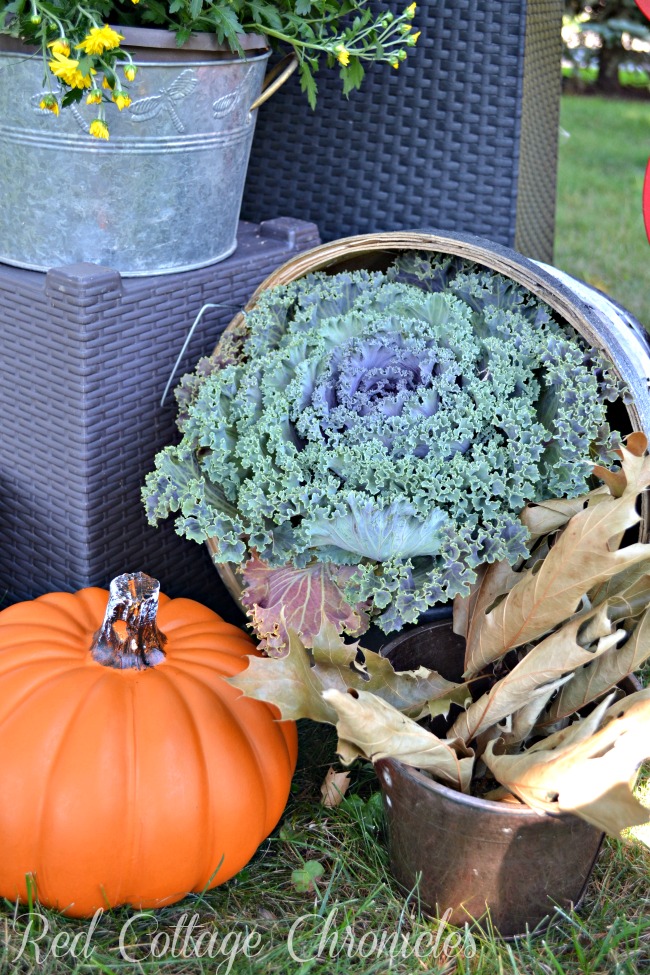 Since it is a bit too early for real pumpkins, two faux pumpkins do the trick. An outdoor lantern with a flameless candle can be set to go on for 4 hours every day. Empty large outdoor faux wicker planters were turned upside down to act as tables.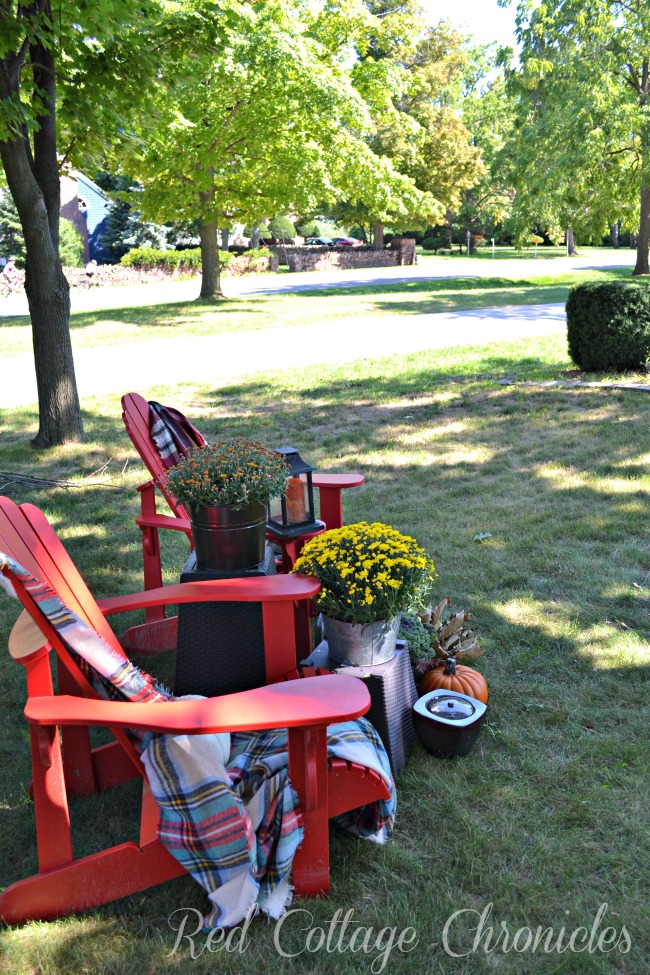 A firepot keeps flames from a gel canister safe, while creating a bit of warmth and ambiance.
Just imagine how gorgeous it will look when all of those trees turn shades of orange, yellow and red.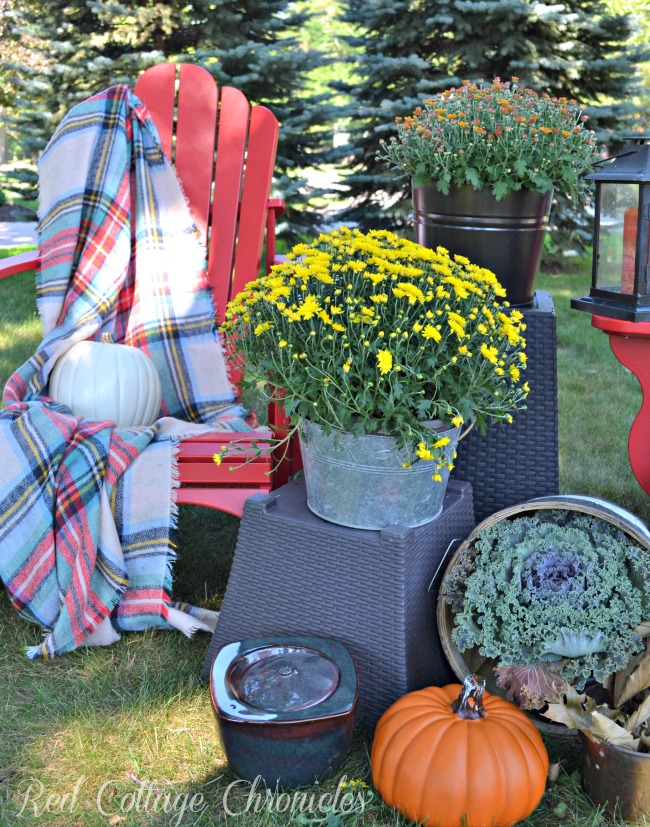 Even with no front porch, you can easily dress up your home for fall. Although I had a huge front lawn to work with, a little corner of yard is all you need to add a bit of autumn charm!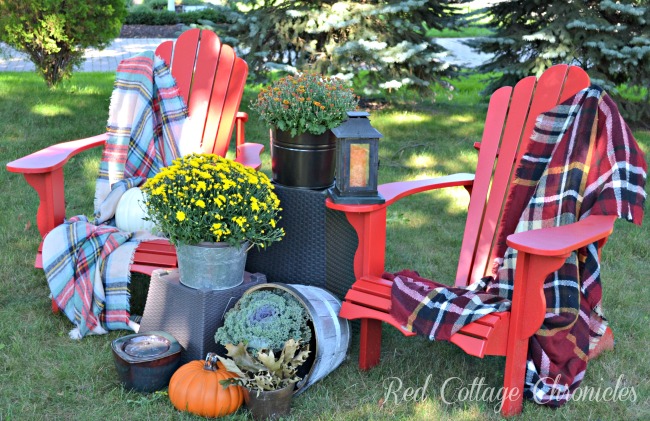 Until next time….

Shop the Outdoor Fall Decor Look
For your convenience I have included links to similar things I used in this outdoor fall decor post! Some are affiliate links which means if you click on the link and make a purchase I will receive a small commission however this does not change the cost to you!