Simple Apple Cider Spritzer
A visit to the apple orchard is not complete without a jug of freshly pressed apple cider! When it was time to make a cocktail for our autumn cocktail series I knew I wanted to use the cider, but also wanted something super simple. What could be more simpler than a white wine spritzer? How about an apple cider spritzer! Made with sparkling white wine of course!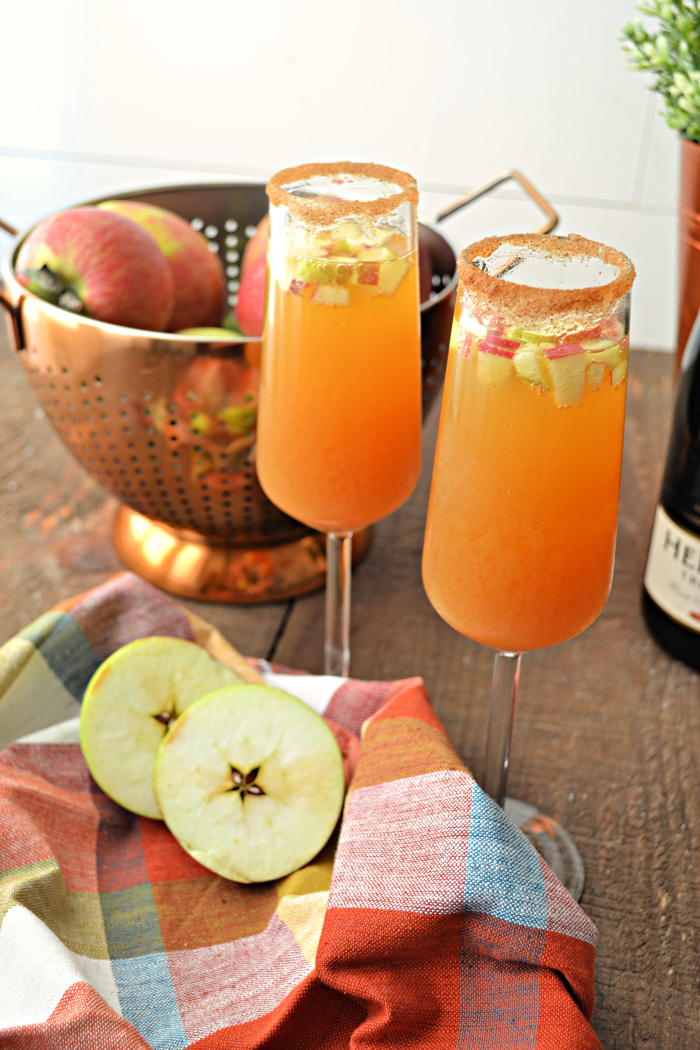 Normally my favorite way to enjoy fresh apple cider is hot, like this citrus hot apple cider. There is just something about it that just scream autumn! However, I have to admit I really enjoyed this chilled spritzer.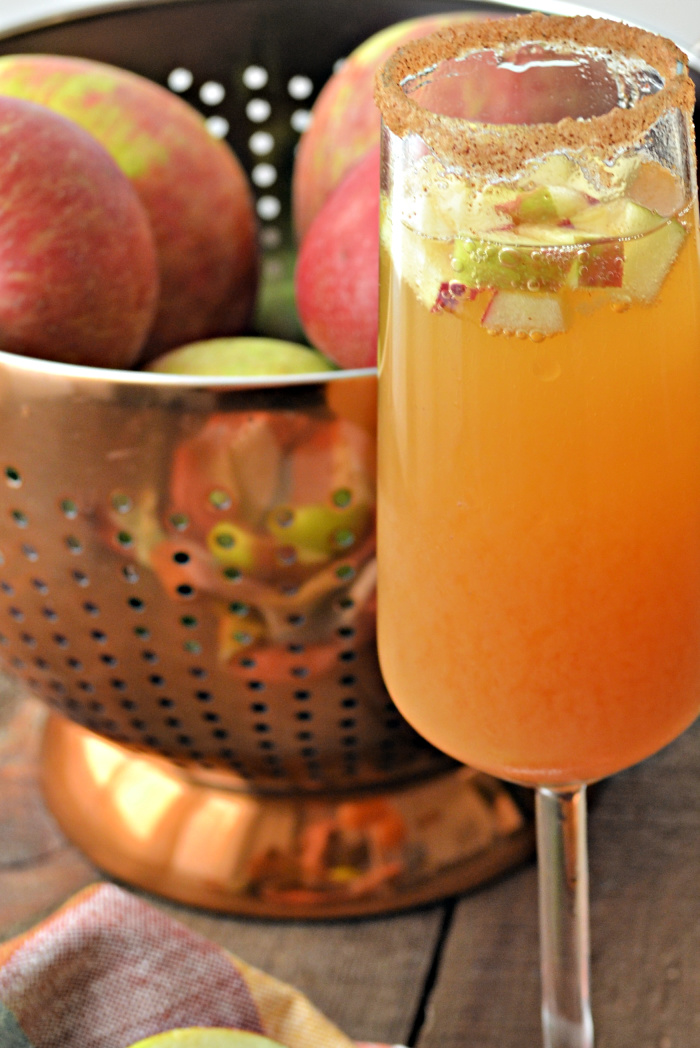 We have been going to the same apple farm for several years, and we are always greeted with such a warm welcome. I am so happy to see how steadily busier it seems to be as each year passes. On last weekends visit there were so many young families. Little ones being pulled in wagons, and toddlers and small children enjoying the orchards!
We always bring Tripper along for a walk. He loves to visit the turkeys and chickens, but I get the feeling they are never quite as excited to see him! This year they were nowhere to be seen. Tripper was quite disappointed, but he quickly got over it and went bounding through the rows of apple trees!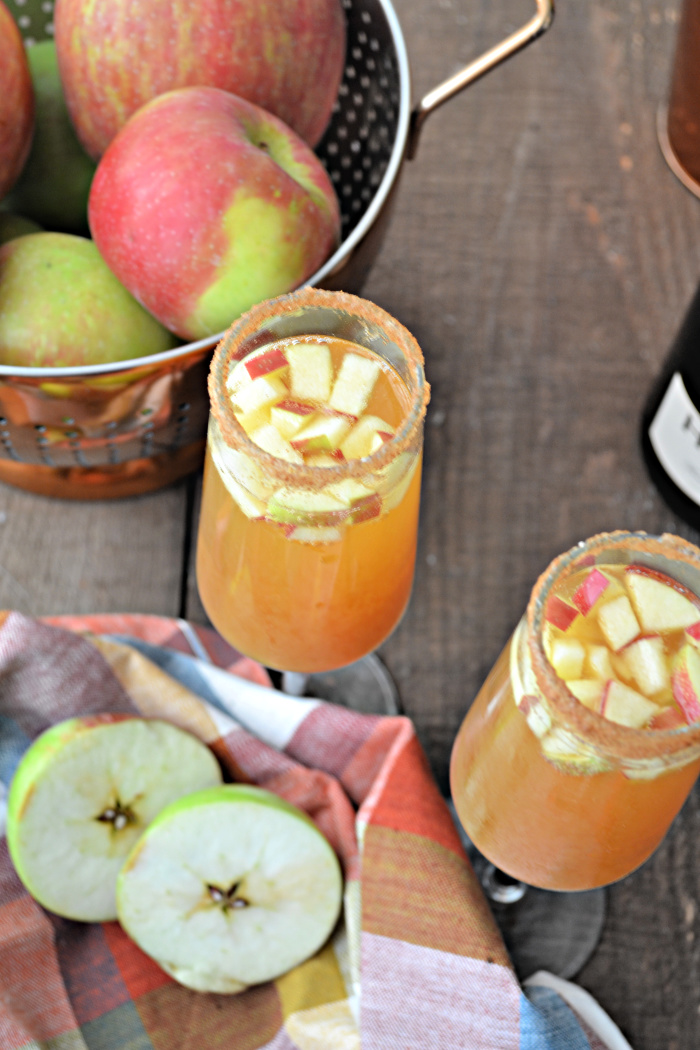 Each week we picked some McIntosh apples for baking delicious pies and tarts. The Honey Crisp were already picked and ready in the market! I used one to chop up into a fine dice to add to my apple cider spritzer!
To add an extra punch of flavor, I dimmed the rim of each champagne flute in cider, and then into a mixture of cinnamon and sugar. I added 2 tablespoons of the diced apples and filled each glass just about halfway with apple cider then simply topped it up with sparkling dry wine.
How simple is that?!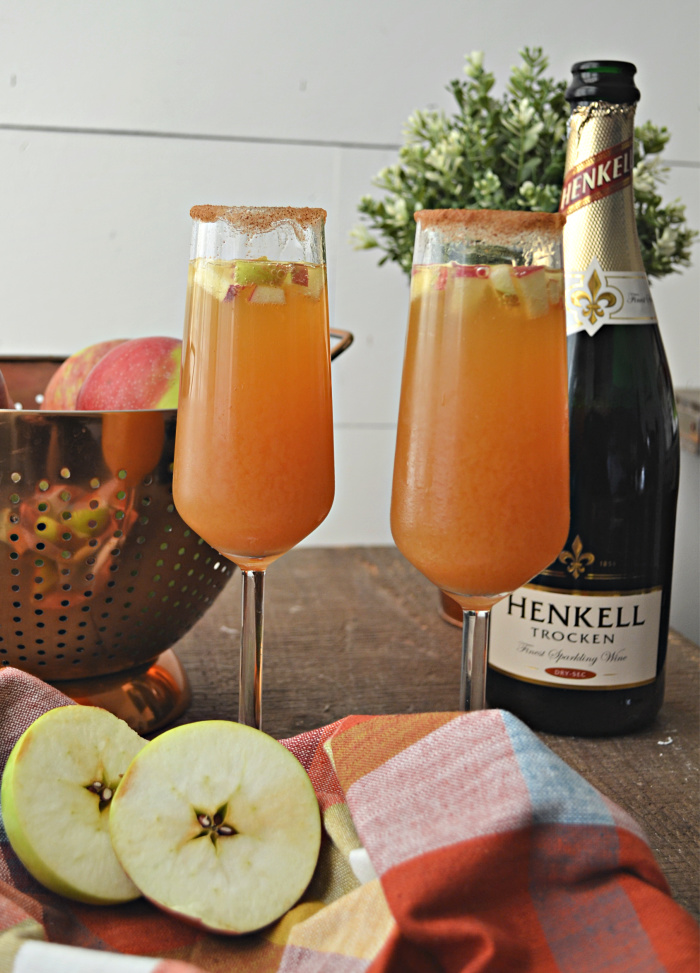 This weekend marks the beginning of the Wine Festival and I have a feeling I will be enjoying one of these after taking in a concert in the park! What better way to usher in the first official day of autumn!
Don't forget to check out all the featured autumn cocktails below!
Until next time….


Spike Hot Apple Cider from Weekend Craft • Spice Pear Bellini from Happy Go Lucky • Spiked Pumpkin Spice Hot Chocolate from Creative Ramblings • Apple Cider Spritzer from Red Cottage Chronicles • Blueberry Moscow Mules from Create & Babble • Apple Cider Margarita from DIY Daily Life • Apple Moscow Mule from Our Crafty Mom • Drunken Iced Cinnamon Coffee from The Lucky Pear • Halloween Chocolate Cake Vodka from Michelle James Design • Simple Beer Cocktail from Upright and Caffeinated