If you are anything like me, you are doing everything you can to lower your food bill.  When looking for leaks to plug in our budget I am making every effort to stop food waste.  Looking for a hearty muffin recipe for Sunday morning I knew I had some ripe bananas that I had randomly thrown in (which I have been known to do only to throw them out because I forgot about them!)
I took to Google and found a recipe from Canadian Living for these gorgeous banana pecan muffins!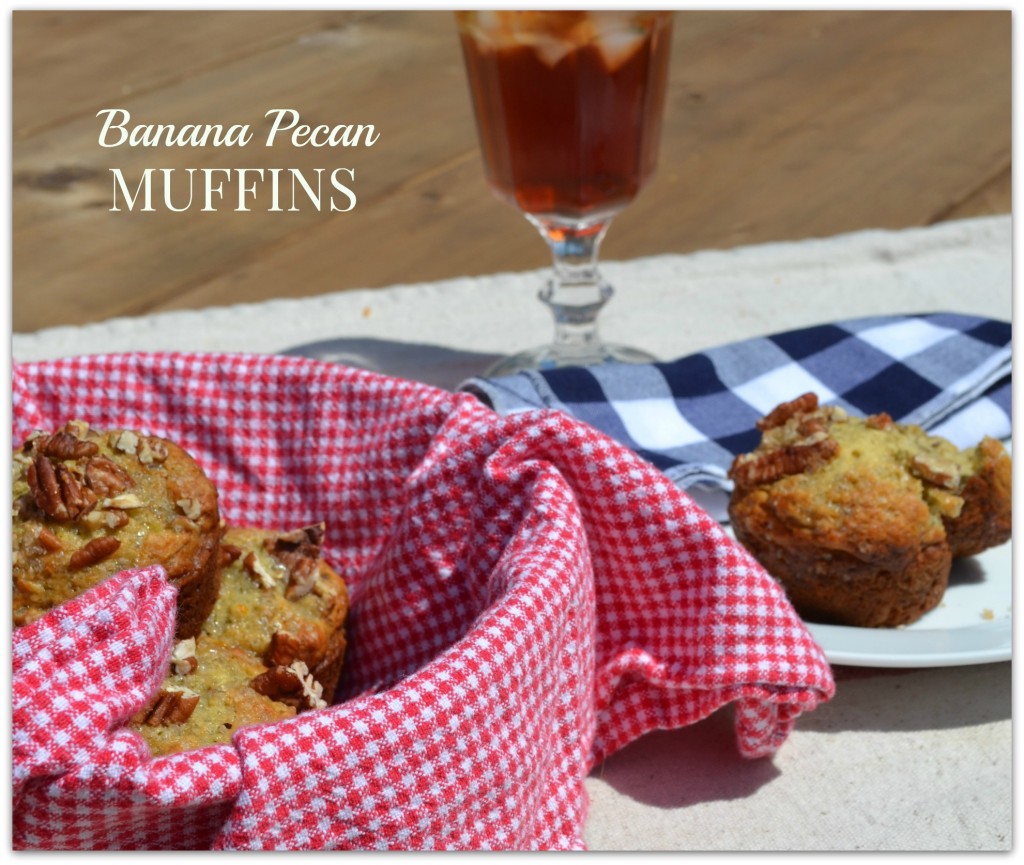 I was surprised to see dates in the ingredient list, but also intrigued because dates can add both a sweet and moist quality to baked goods…..and I had some Medjool dates on hand!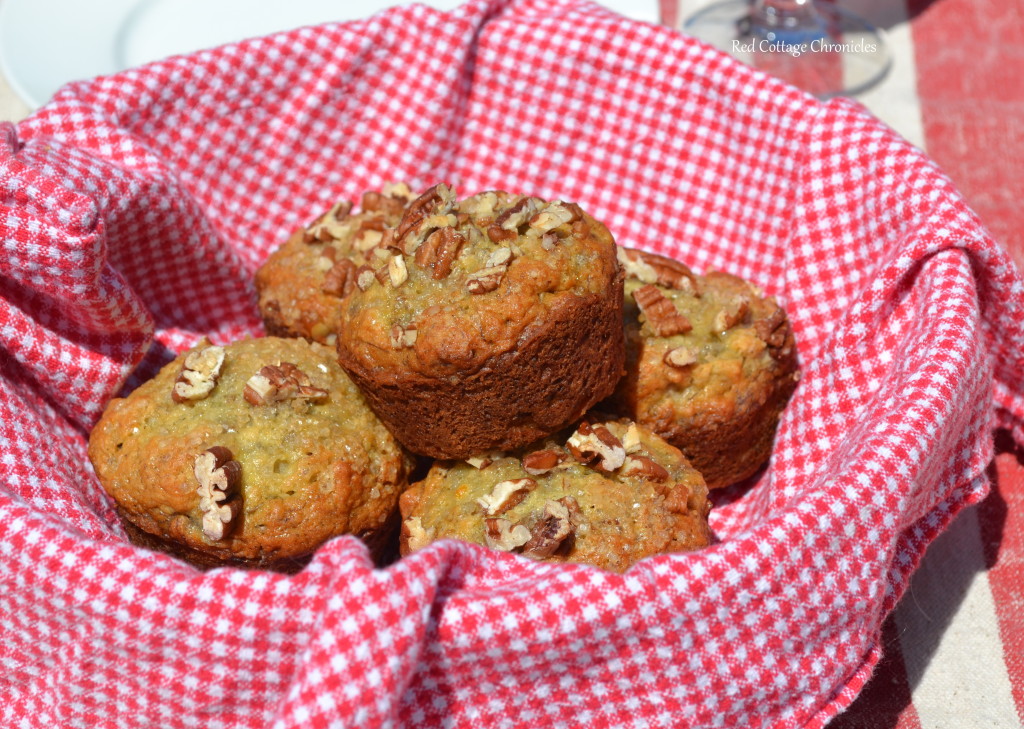 Tim had just finished up my Mom's harvest table and it was sitting in my garden.  I had to do some quality control to make sure it looked good with food on it, so pulled up a couple of chairs, poured some sweet tea and we enjoyed the muffins in the sunshine.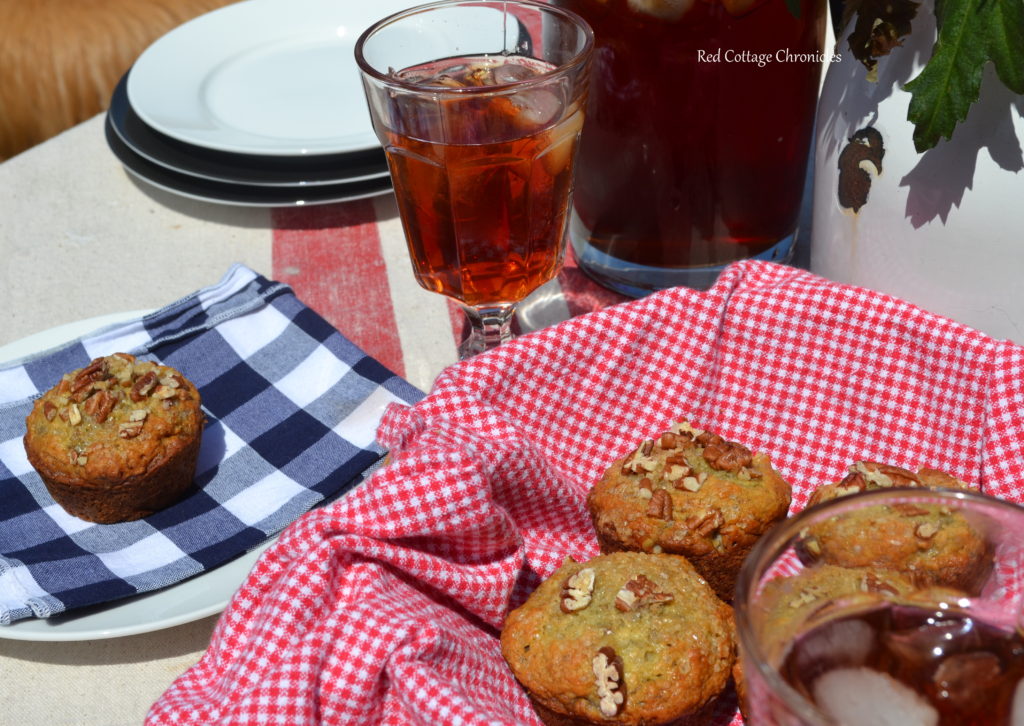 They are just as tasty as they are pretty.  And while Tim continued to work on our garden beds, I sat for a long while and enjoyed the peace and quiet (and a second muffin) with my Marlie!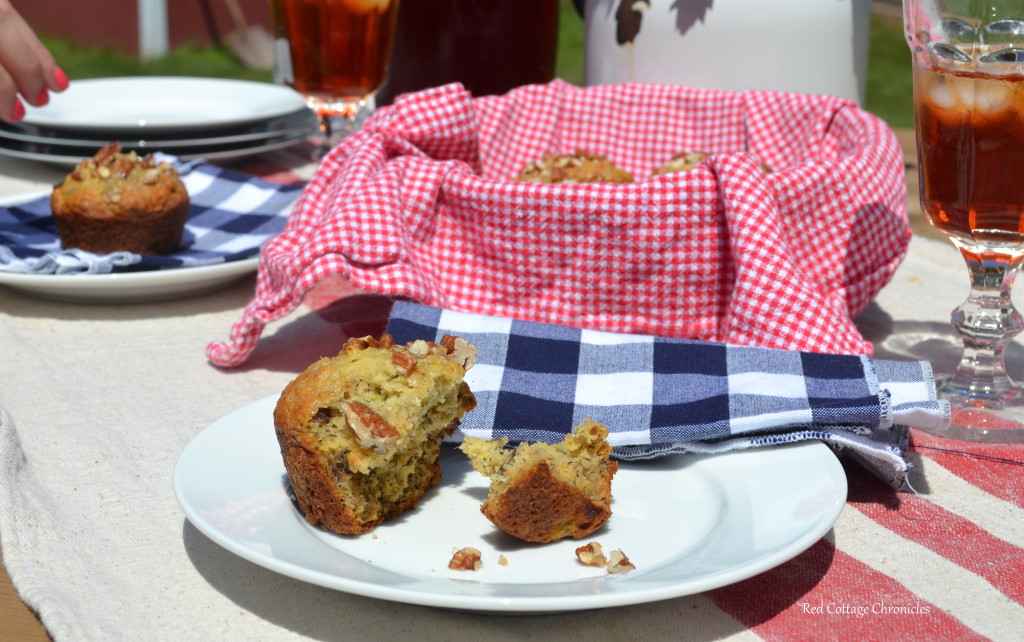 Usually I like my muffins with a bit of butter, but these really didn't need any.  I am all for not adding extra fat to the diet!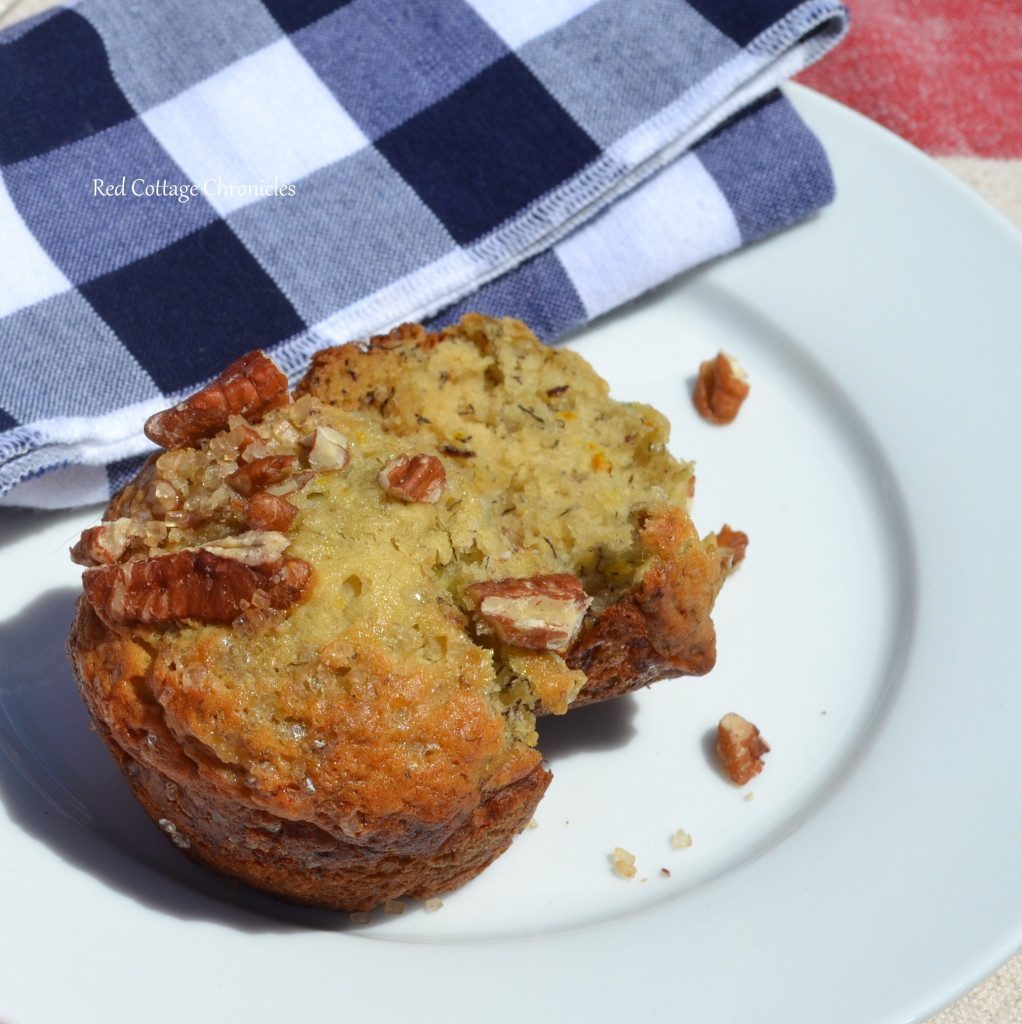 Overall these were a huge success.  I got to use those frozen over ripe bananas.  I used up the Medjool dates that I have no idea why I even bought in the first place.  Also was able to use the last orange that was past its peak because I only needed a bit of the rind!  And, I got a dozen sweet, moist muffins that I know I will be making again!
I love it when a plan comes together!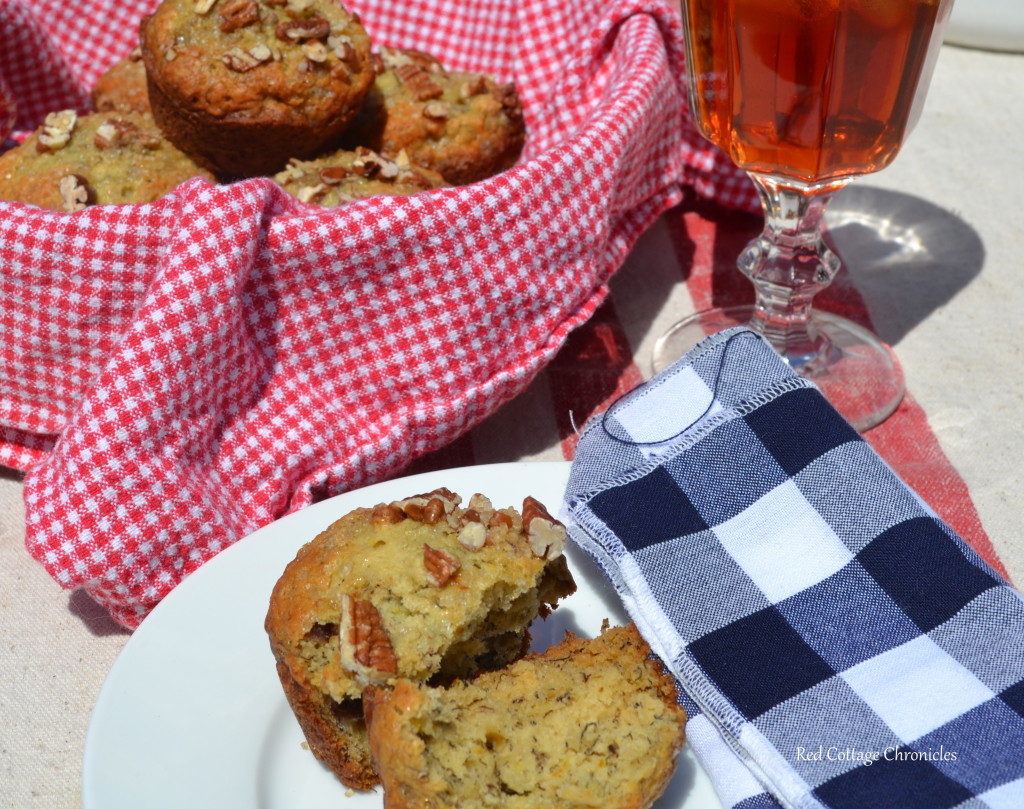 Happy Hump Day!!
Banana Pecan Muffins
Author:
Prep time:
Cook time:
Total time:
Ingredients
1 1/2 cups all purpose flour
1/3 cup granulated sugar
1 teaspoon baking powder
1 teaspoon baking soda
1/2 teaspoon salt
1/2 cup chopped dates (I used Medjool)
3/4 cup chopped pecans
3 large very ripe bananas, mashed (about 2 cups)
1/3 cup melted heart healthy margarine (such as Becel)
1 large egg
1 teaspoon pure vanilla extract
1 tablespoon orange rind
Instructions
Preheat oven to 350 degrees.
In a large bowl sift together all dry ingredients (flour through salt), add dates and pecans and toss to combine. Set aside
In another bowl combine mashed banana, melted margarine, egg, vanilla and orange rind.
Add the wet ingredient to the dry and fold with a spatula just until combined.
Spray 12 muffin tins with non-stick spray. Fill each with the batter slightly more than 2/3 full.
Bake for 17 minutes, or until toothpick inserted comes out clean.
Enjoy warm or cool and freeze some for later.
 Don't miss a thing!  Subscribe to Red Cottage Chronicles.  I would be honored & delighted to have you on the list!