These easy recipe for bran muffins without buttermilk result in a delicious bakery style muffin with just the perfect amount of sweetness!
Before I took my first class towards earning my Baker's Certificate, bran muffins were not on my "must bake" list!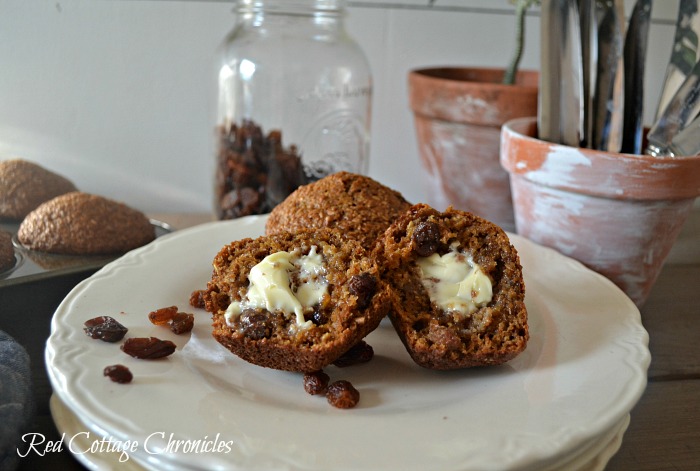 Every Sunday afternoon my family would be waiting, mouths watering, wondering what I would be baking and bringing home from class. To say they were not impressed when they found bran muffins among my goodies one day, is an understatement.
I told them they didn't know what they were missing. In fact, they are one of the best muffins I have ever had!
Not wanting to disappoint me, they reluctantly gave them a try.
Suffice it to say, they were gone in a flash!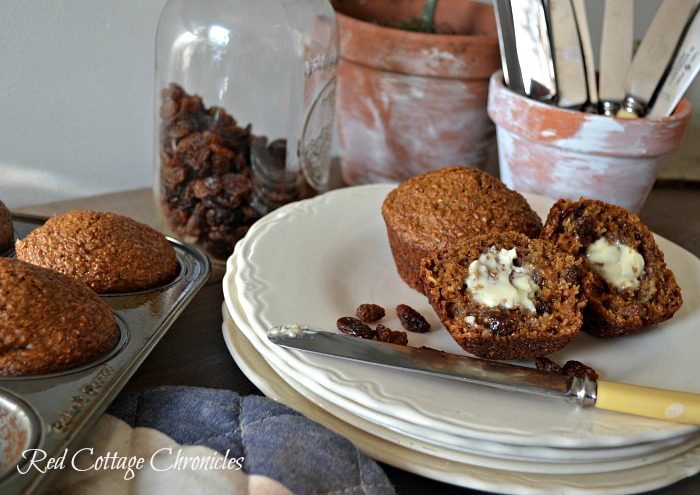 I can pretty much make them without even looking at the recipe now. These bran muffins are made with no buttermilk, which is a bonus. I can make them whenever with ingredients I always have in my pantry.
With only 1/2 of sugar in the whole recipe, eggs, natural bran, whole wheat flour and plump raisins, these muffins make a great grab and go breakfast.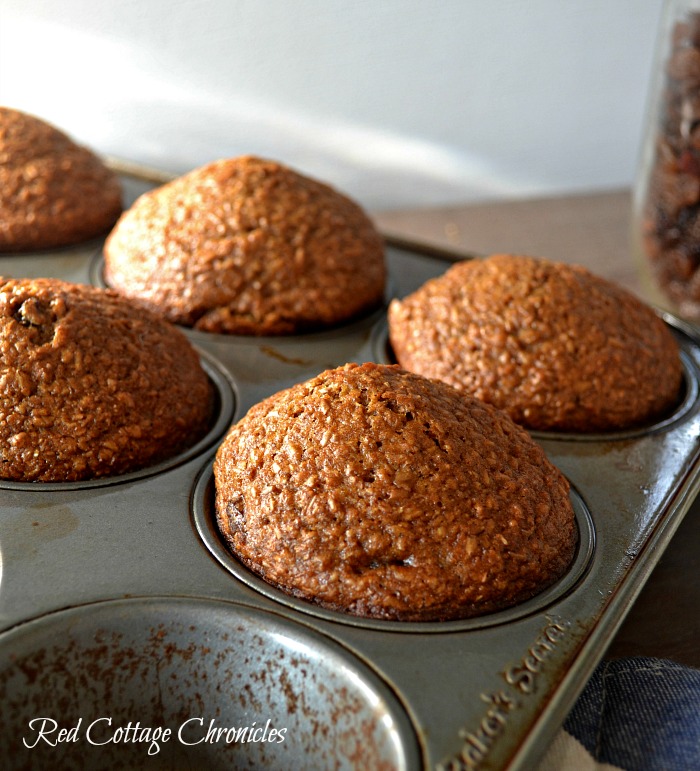 Warmed with a little butter….how my goodness….mouthwatering!
I never fail to get nice high "bakery shop" style muffins. The key is to fill each muffin cup to the top!
Oh, and did I mention? You only need one mixing bowl! Easy clean up for the win!
Helpful tips when making easy bran muffins without buttermilk:
spray the muffin tins with non-stick spray making sure you spray the areas between each cup, as these will rise up over the edge of each one
soak the raisins in hot water for 10 minutes, and drain before adding to the recipe to plump them up
do not over mix the batter to avoid a tough texture to the finished muffins
double the recipe and freeze, pop one out of the freezer each morning to add to lunches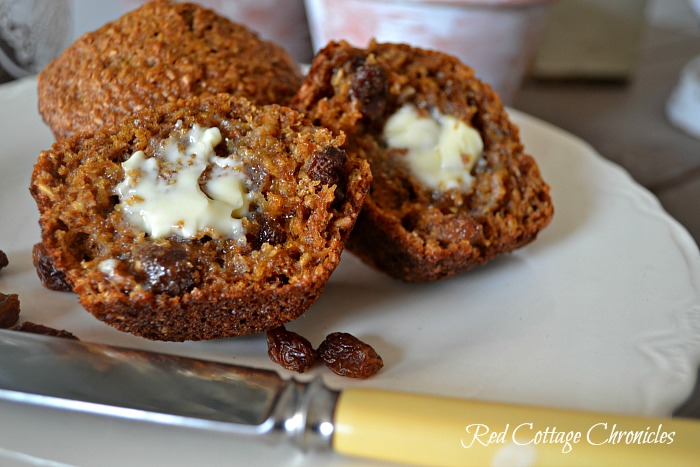 Making these bran muffins was a nice change to the rich pies and pastries we had been making in class.
And, my family quickly learned to never turn up their nose at anything I brought home again!
Looking for more scrumptious muffin recipes? Try these morning glory's or these fun banana split muffins!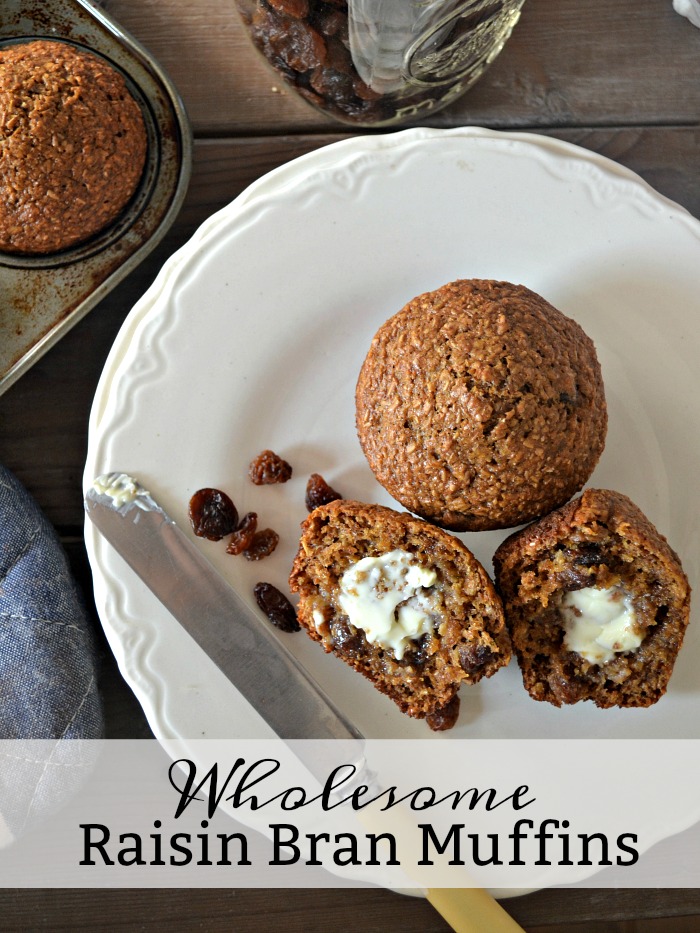 Be in the know! It may be a delicious recipe, a stunning tablescape, or decor tips to make your house a home! Simply click here to subscribe. I never sell or share your information, and you can unsubscribe at any time!
Until next time……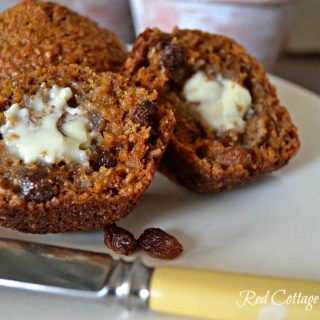 Easy Bran Muffins Without Buttermilk
These irresistible bran muffins made without buttermilk bake up moist and delicious just like they were made at a bakery!
Ingredients
1/2 cup vegetable oil or avocado oil
1/2 cup granulated sugar
3 large eggs
1/8 cup plus 4 teaspoons molasses (50 mls)
1 & 1/2 cups milk
2 cups natural wheat bran
1 & 2/3 cup whole wheat flour
1 teaspoon baking powder
1 teaspoon baking soda
1/2 teaspoon salt
2/3 cup raisins
Instructions
Preheat oven to 400 degrees. Spray muffin tins with non-stick spray.
In a large bowl beat together oil, sugar and eggs in large bowl until well blended.
Add remaining ingredients and stir just until combined (do not over mix).
Spoon batter into prepared muffin tins, filling almost to the top and bake for 15 mins, until firm to touch and a tester comes out clean.
Notes
Feel free to substitute dried cranberries, cherries or other dried fruit in replace of the raisins, and add some chopped nuts if you like! You can also easily double this recipe and 2 to 2 1/2 dozen (depending on the size). These freeze well!