Dancing with the stars was well worth it! The team dance was hilarious and I am glad I watched!
But on to better things. Fresh Apple Pie! When I bake an apple pie I always hand make the pastry. Using a food processor is always an option, but there is just something about getting your hands in there to rub in the shortening and then bring the dough together with the water gives me a sense of accomplishment. This pastry dough recipe always turns out perfect and makes enough pastry for 2 double crust pies or 4 single crust pies. It is easy to whip up a batch and freeze to use another time. Makes pie making on a whim very easy without resorting to a store bought crust.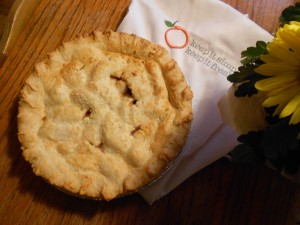 Begin by making the pastry. Sift 500 grams flour and 2 tsp baking powder. Rub 300 grams of chilled shortening into the flour mixture until ir resembles course pea-sized crumbs. Dissolve the 60 grams of sugar and 1 tsp salt in 150 millilitres of very cold water. Add the water mixture all at once to flour mixture and mix with wooden spoon, or with your hands just until dough comes together. Do not over mix. Cover the dough and let rest for a few minutes before rolling. Do not go watch Dancing With The Stars unless you have the willpower to come back to the kitchen over ten to fifteen minutes!

When Making an apple pie I try to use a variety of different applies. It not only makes for a nice flavor, it also uses up some random apples. For this one I used a combination of empire, MacIntosh and Royal Gala apples. About 6 in total. After washing and peeling the apples I use my handy-dandy Ikea apple slicer to quickly core and slice the apple all at once.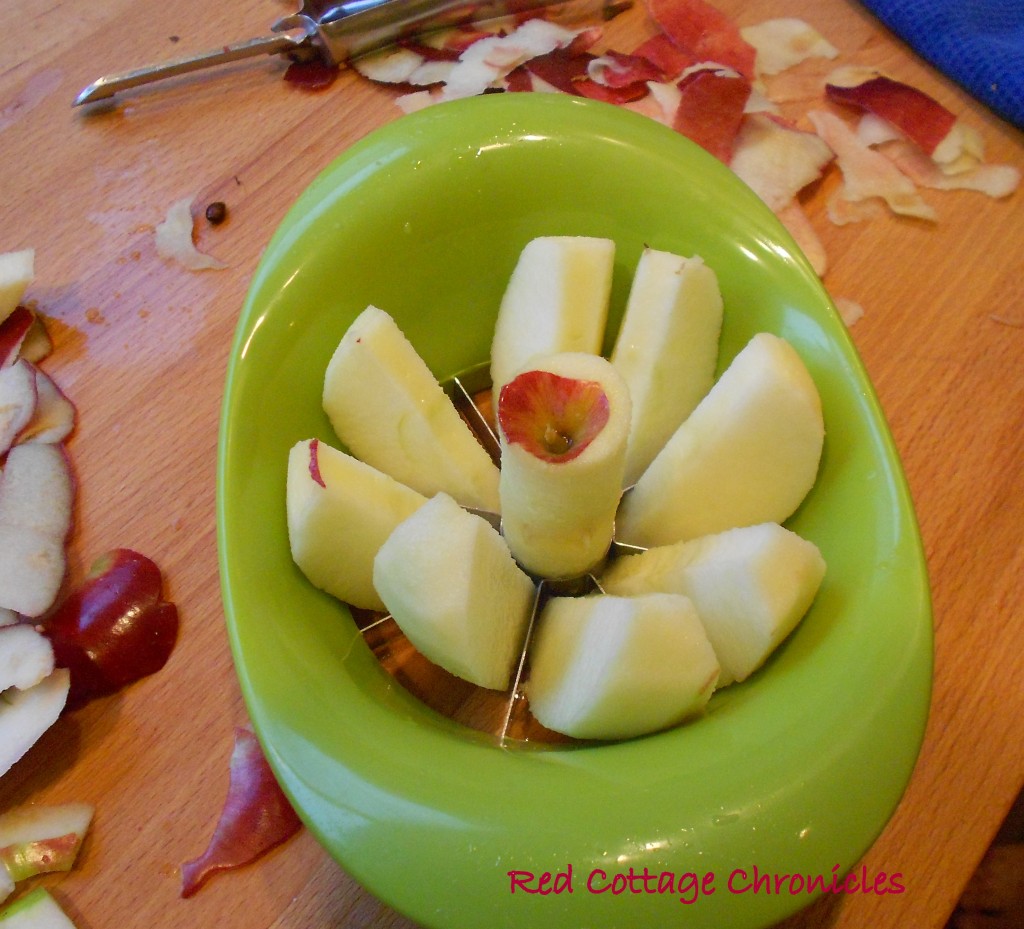 Mix the apple slices with 100 grams of sugar, 1 1/2 tsp cornstarch and the juice of 1/2 a lemon. At this point, if you like, you can add 1/4 to 1/2 tsp of cinnamon. I prefer no cinnamon as I enjoy the sweet taste of the apples and sugar!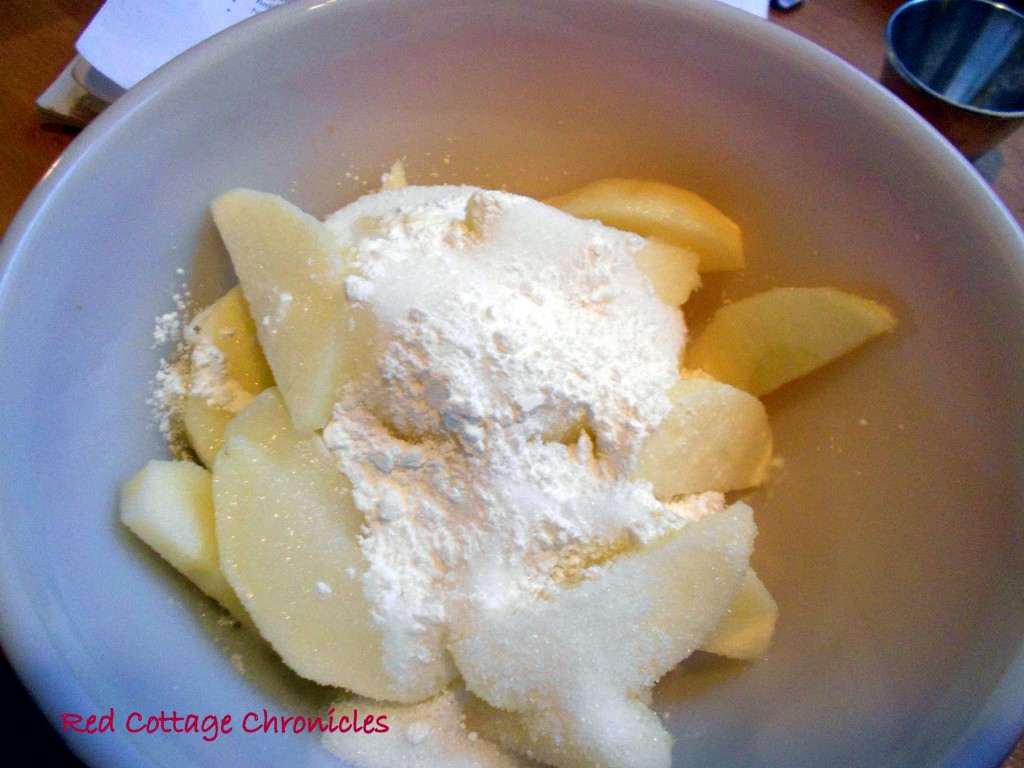 Cut the dough into quarters and wrap 2 quarters for use another time. Roll the remaining 2 quarters of dough, using one to line the pie plate.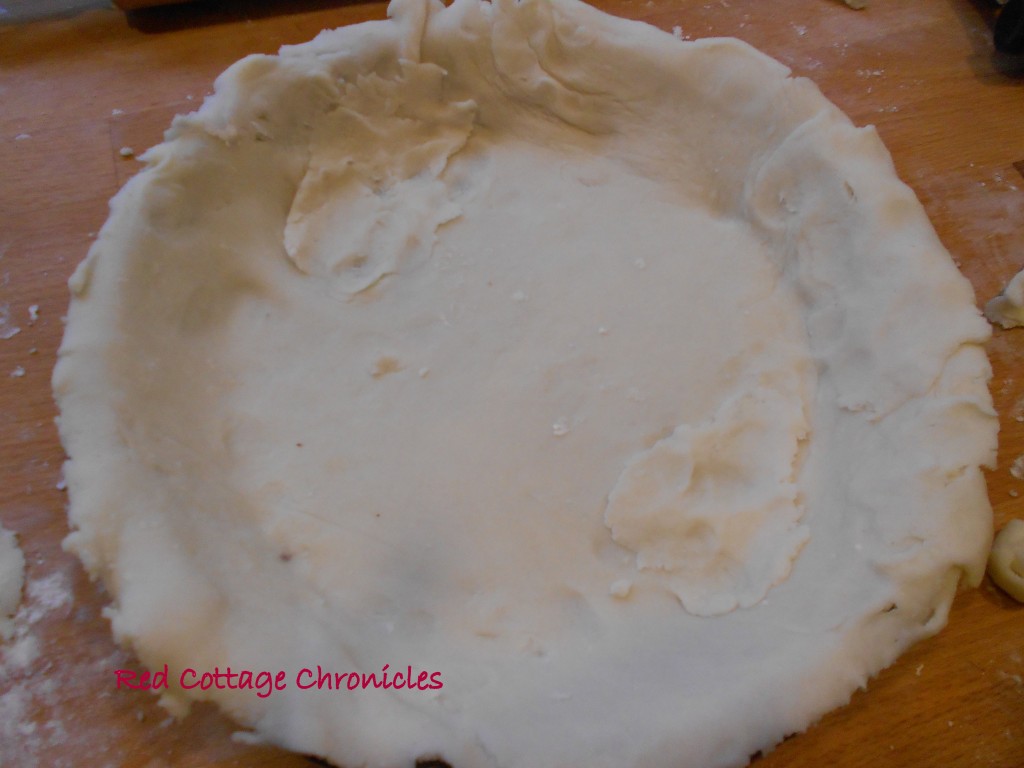 Fill the bottom pie shell with the apples scraping all of the sugar and juices into the pie shell with them!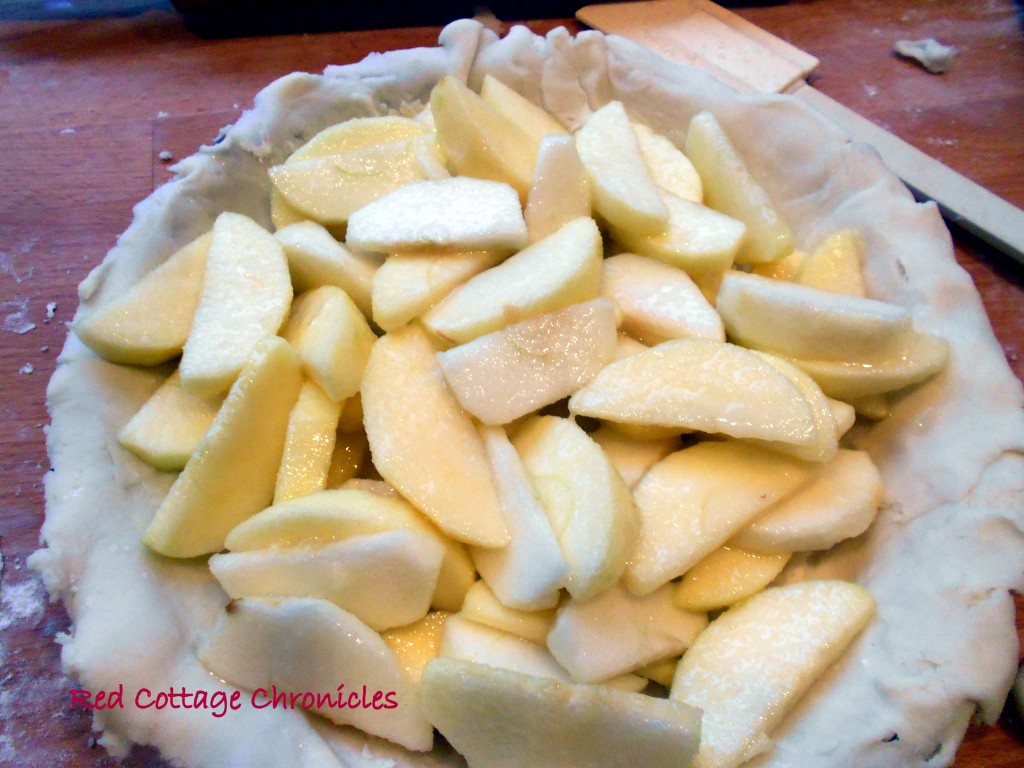 Roll out the dough for the top crust. I find the easiest way to roll it out over the pie is to pick it up over the rolling pin and lift it over the crust.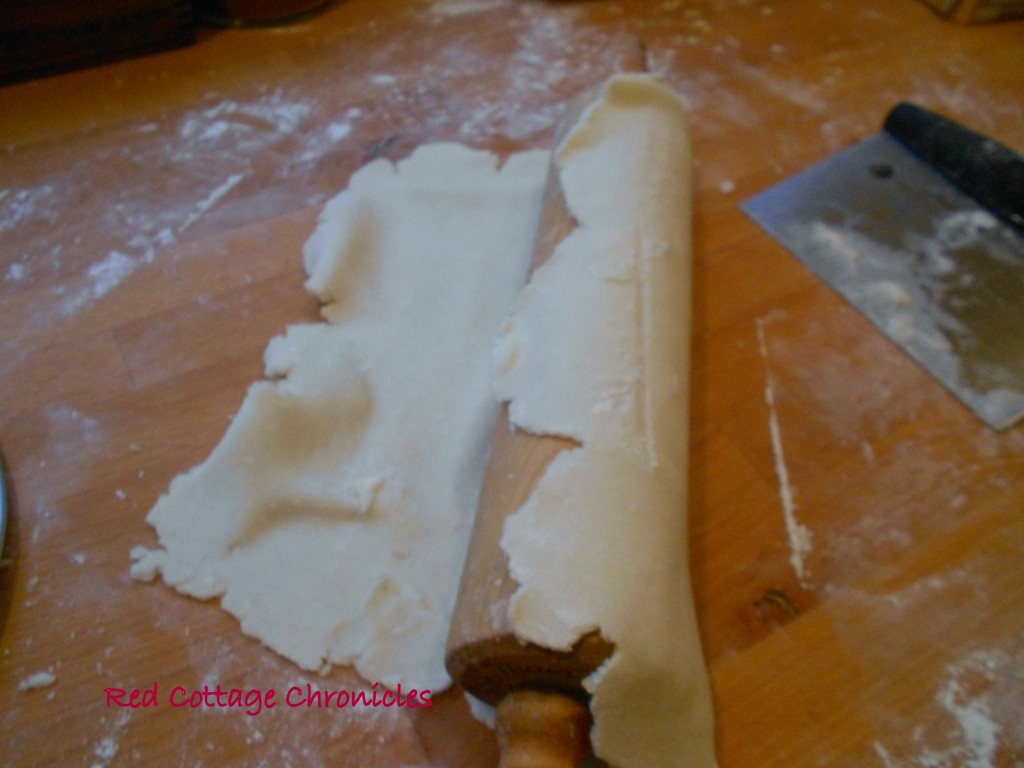 Seal edges of pie and brush crust with milk. Sprinkle with course sugar and bake at 400 degrees for 30 minutes!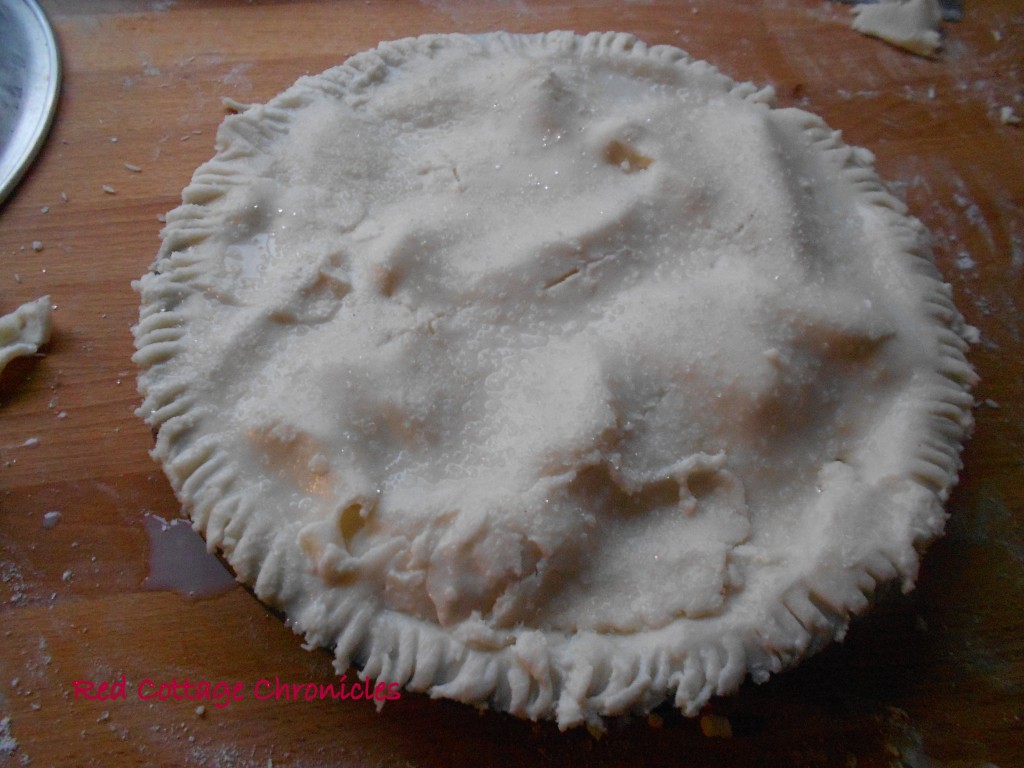 Remove from oven and cool on wire rack. Apple pie is amazing with ice cream, of course, but try it with old cheddar cheese. You won't be disappointed!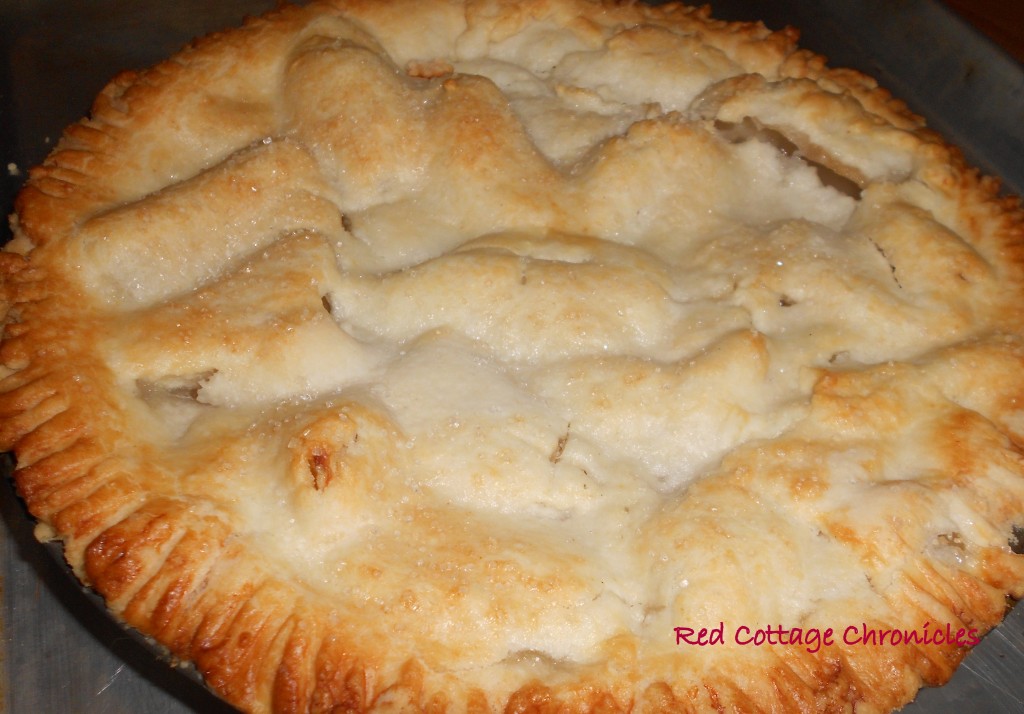 Enjoy!
Tune in tomorrow for….Halloween Shortbread.
Nana's Fresh Apple Pie
Prep time:
Cook time:
Total time:
The pastry recipe makes enough for 2 double crust pies, while the filling is enough to fill one pie. So you can freeze 1/2 the dough for later, or double the filling ingredients to make 2 pies straight away.
Ingredients
PIE PASTRY
500 grams pastry flour
2 tsp baking powder
300 grams shortening, chilled
60 grams sugar
1 tsp salt
150 millilitres very cold water
FOR FILLING
6 to 7 apples of your choice, peeled and cut into wedges
100 grams sugar
1 1/2 tsp cornstarch
1/4 to 1/2 tsp cinnamon (optional)
juice of 1/2 lemon
milk for brushing top of pie
regular or course sugar
Instructions
FOR PASTRY
Sift flour and cornstarch together in a large mixing bowl
Cut shortening into small pieces and rub into flour until mixture resembles course pea-sized crumbs
Add the sugar and salt into cold water and stir until dissolved
Add the water all at once to the flour/shortening mixture and stir just until dough comes together. Do not over mix.
Cover and let rest for 10 to 15 minutes
Divide dough into 4 equal pieces and using 2 of those pieces roll dough into 2 circles, one for lining pie plate and one for top crust
FOR FILLING
Add peeled, cored and sliced apples into a bowl with the sugar, cornstarch, cinnamon if you are using, and lemon juice and stir until apples are well coated
ASSEMBLY
Add the apples to the prepared pie crust being sure to scrape all the juices out of the bowl
Lightly brush edges with milk
Cover the apples with the second prepared pastry and seal edges by pressing down along entire edge with a for, or crimping with your preferred method.
brush entire pie with milk and sprinkle with sugar
make a few cuts in the top crust to allow steam to vent
bake at 400 degrees for approximately 30 minutes. If edges brown faster then the centre, you can cover the edges with foil