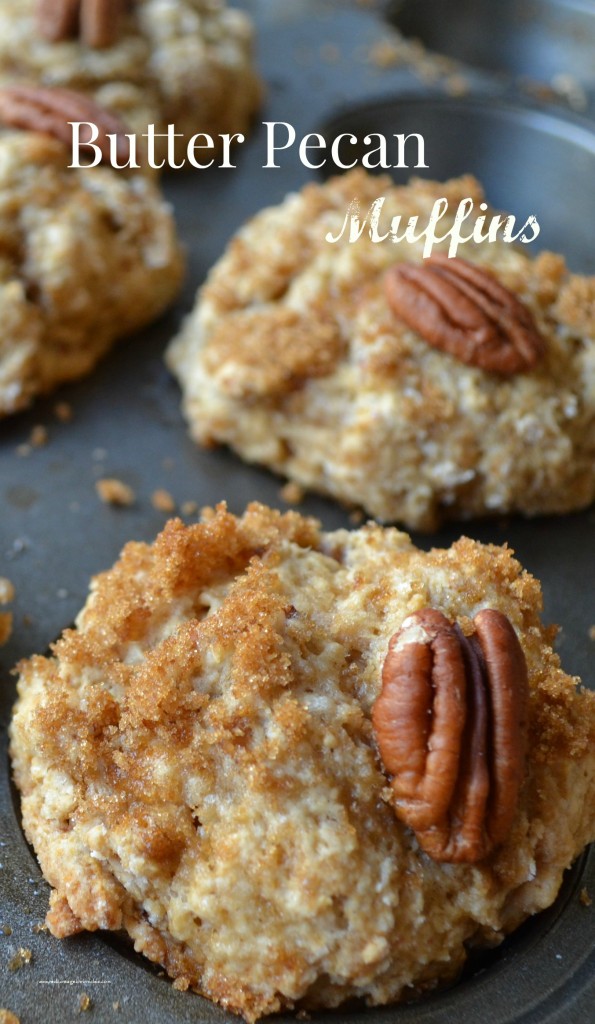 If someone were to ask me what fuels my passion for baking, at the top of my list would be that baking for others fills my soul.  When I bake something to share with family and friends it makes my heart full.  A freshly baked pie can show a person they are special, a batch of cookies can acknowledge a job well done, or a batch of muffins can cheer a person who is going through a challenging time.
When someone in your life is going through a very challenging time in their life or is feeling down,  baking them a treat can let them know how much you care!
These butter pecan muffins I made for my sister, who happens to be going through a challenging and scary time, did just that!  I mean, lying flat on your back for 7 days in an effort to avoid surgery would drive anyone bonkers.
But when the 7 days is almost up and you know in your gut it didn't work, that would make me want to eat an entire pan of muffins!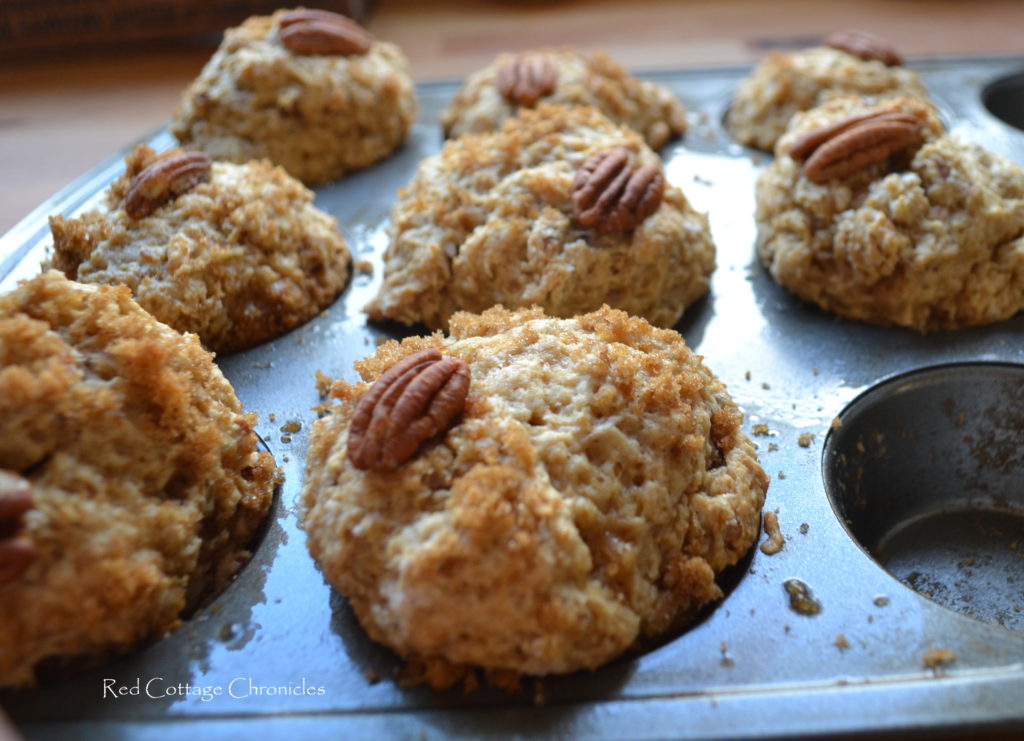 She has recently been diagnosed with a CSF leak (in layman's terms, brain fluid is leaking out her nose via her sinuses through a small tear in the membrane surrounding the brain).  She is handling it so very well.  Way better than I would. Me, I would be in a heap on the floor!
She deserves some muffins, don't you think!  And, if baking something yummy for her takes her mind off her situation, even for a few minutes it was entirely worth the effort!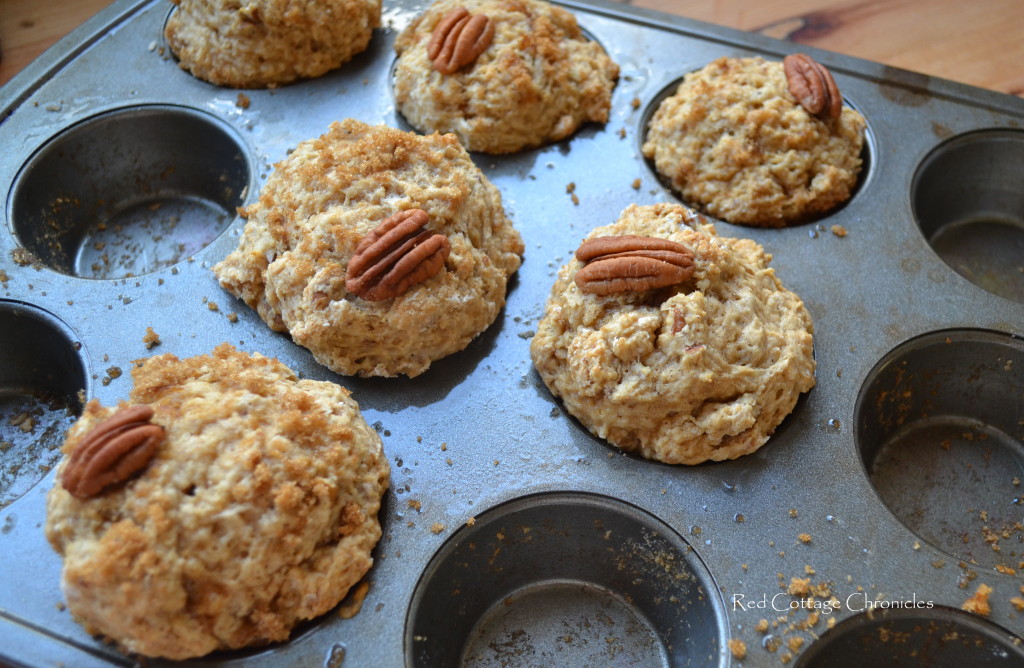 I had planned to give her a half dozen, but like anything I bake at my house, it starts to disappear before I can even take it out of the pan!
So, she got two!!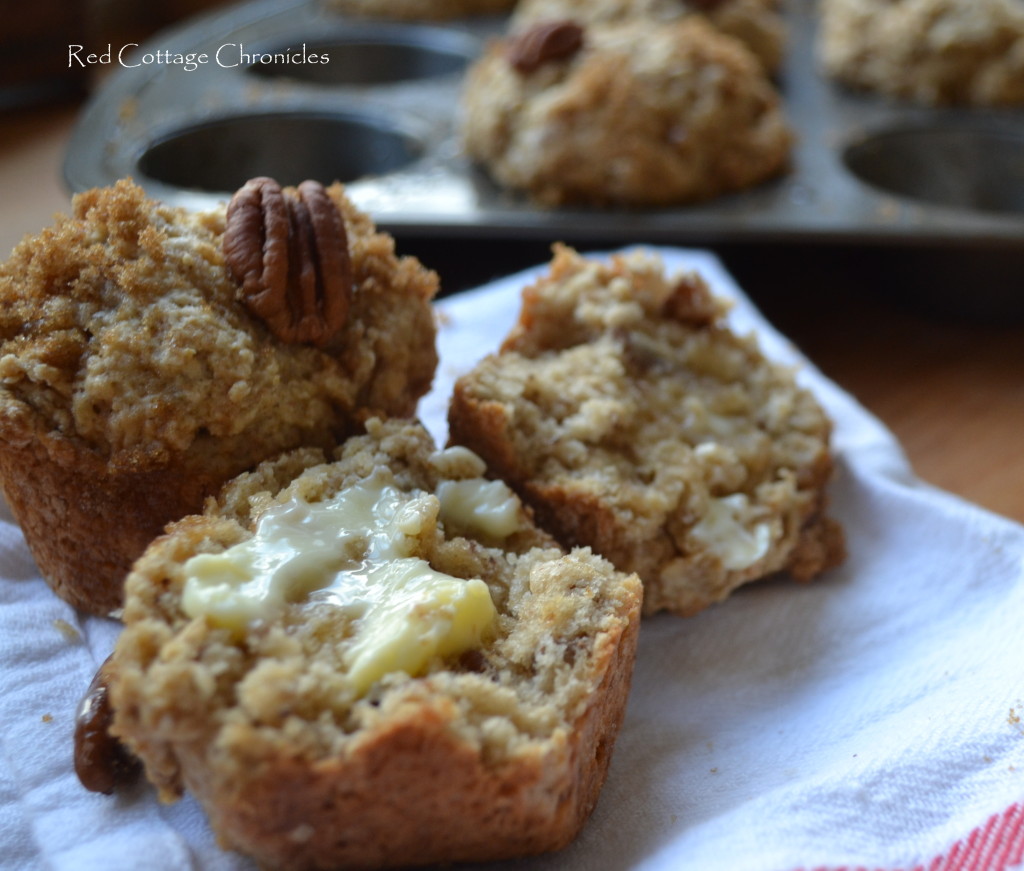 We all know someone who would appreciate something baked special just for them.
Why not get into the kitchen and bake up a batch of these butter pecan muffins to give away today!  A co-worker maybe, your Mom, a homeless shelter, or even just for your family if it something you don't usually do for them!  It will do your heart good!
Who would you be baking for?
Or have you ever had anyone bake something special for you just because?
I would love to hear about it.  Your comments are always appreciated.  On July 31st I will randomly choose one commenter to receive a dozen cookies just for them! Lets make the world a better place, one sweet treat at a time!
Butter Pecan Muffins
Prep time:
Cook time:
Total time:
Ingredients
2 1/2 cups all purpose flour
2 teaspoons baking powder
1/2 teaspoon baking soda
1/2 teaspoon salt
1 teaspoon pumpkin pie spice
1 cup lightly packed brown sugar + extra for sprinkling
1 cup chopped pecans + 12 whole pecan half
1 egg, slightly beaten
1 cup buttermilk
2 tablespoons butter, melted
Instructions
Preheat oven to 350 degrees. Spray 12 muffin tins with non-stick spray.
In a large bowl sift together dry ingredients (flour through sugar).
Add chopped nuts, stirring to combine.
In a separate bowl combine egg, buttermilk and melted butter beating well with a whisk.
Add wet ingredients to flour mixture, stirring just until moistened.
Spoon into 12 muffin tins filling each 3/4 full, sprinkle each with brown sugar, and top each with a pecan half.
Bake for 20 minutes or until toothpick inserted in centre comes out clean.
Cool in pan for a few minutes before turning out onto cooling rack.
Enjoy warm with fresh butter