A New Twist on Taco Tuesday
If you love tacos, you are going to love this easy taco casserole recipe! Perfect for adding a whole new twist on Taco Tuesdays!
Now that autumn, and cooler weather is almost upon us, I start to add more comfort food recipes to our meal plan. I have been thinking about bringing back my mom's tradition of Taco Tuesdays, so I made this easy taco casserole for a test run!
This post contains affiliate links, from which I may earn a small commission should you click the link and make a purchase.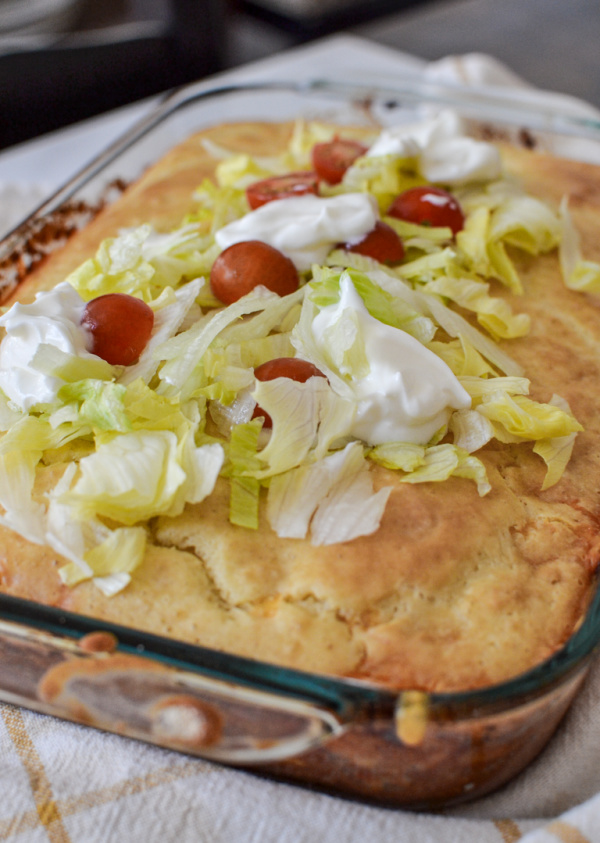 It was a big hit! It was so much easier and far less messy than regular tacos. It certainly solves the problem of getting your taco to stay upright while you fill it!! And, no crumbly shells with filling fall out to contend with!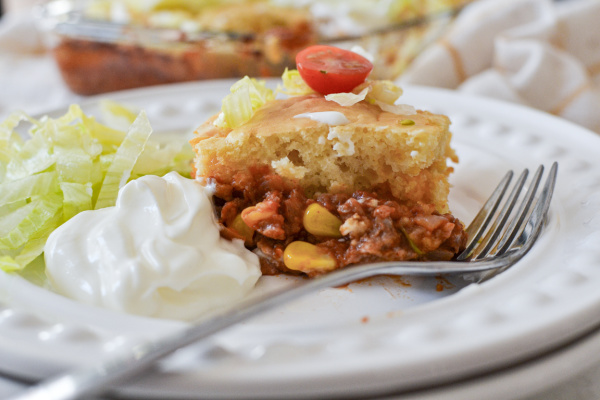 The secret to this yummy casserole is the Bisquick topping! It rises up nice and fluffy, with a crispy brown top. Perfectly seasoned ground beef, onion, tomato sauce and corn make up the base layer. This is topped with a generous layer of grated cheddar cheese. All covered with the biscuit mix, and baked in the oven!
Prep time is minimal. Just a few minutes to brown the ground beef and shred the cheese and lettuce.
It's also very easy to substitute regular ground beef for a vegetarian version such as Beyond Meat for your vegetarian guests!
My favourite casserole dishes
I do make a lot of casseroles in the cold winter months and these are my go-to casserole dishes: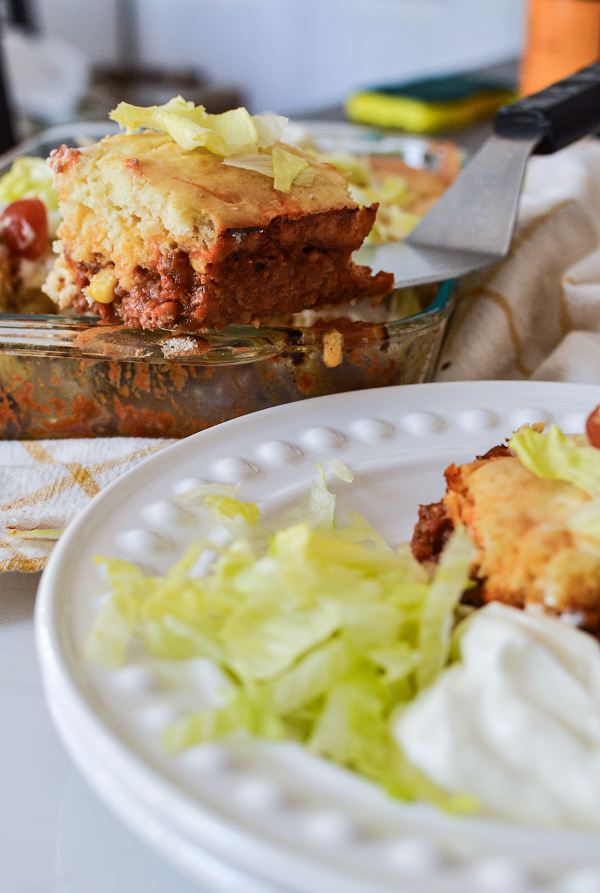 I topped it with chopped lettuce, sour cream and fresh cherry tomatoes from my neighbours garden! We have helped our friend (and neighbour) Leslie with a few fun projects around her house, like this renovation of her screen porch, and she is always happy when she can share something with us!
Sometimes it is the perfect accessories for one of my many tablescapes, but this time it was tomatoes from her garden! The very first thing she has ever grown!
She will definitely be getting an invite to our first Taco Tuesday!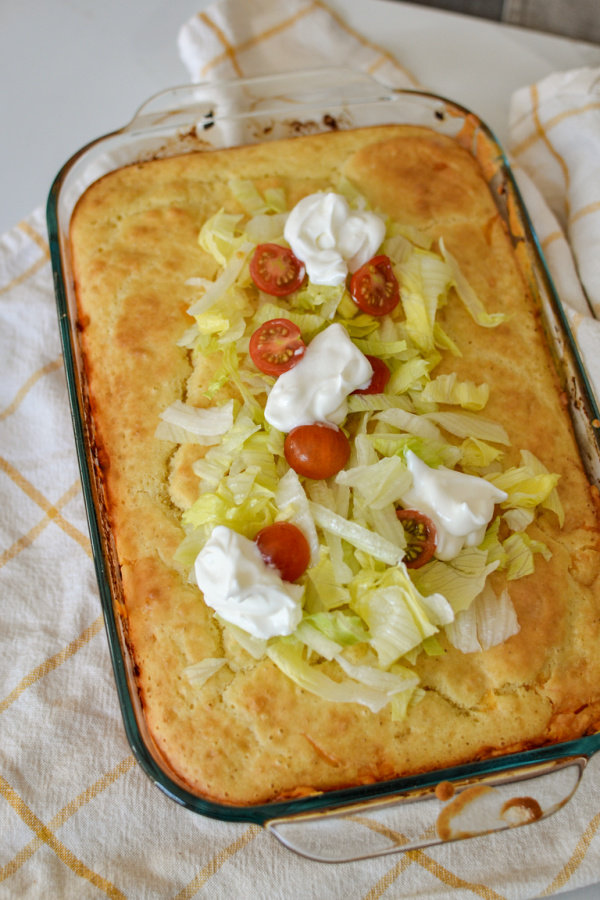 Since clean up is a breeze, that means more time to relax and enjoy conversation with family and friends! Autumn is such a great time to gather around the table outdoors while the weather is still mild and linger over dessert!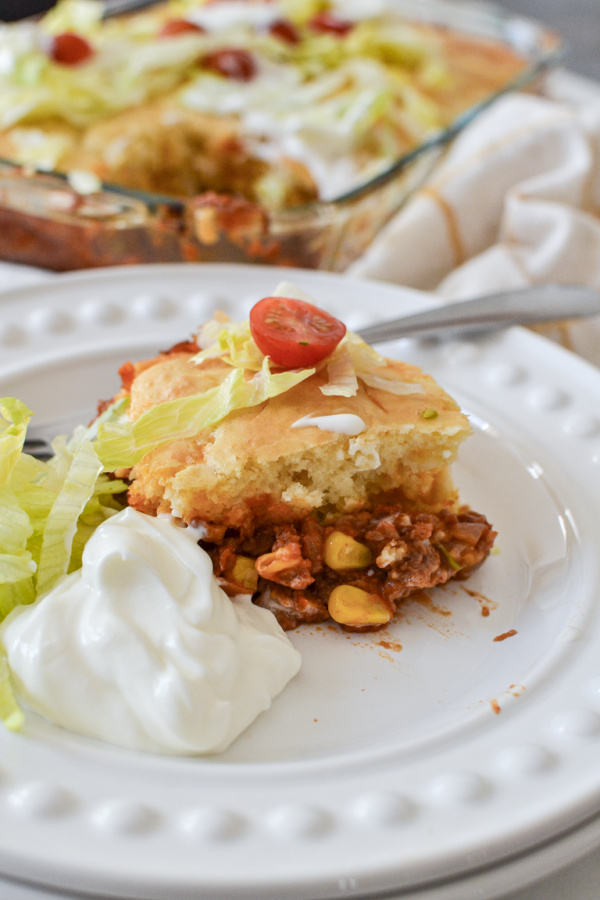 After all, no dinner is complete without dessert! My Mexican Hot Chocolate Ice Cream will be on the menu! Make it ahead and serve in taco bowls sprinkled with cinnamon and sugar.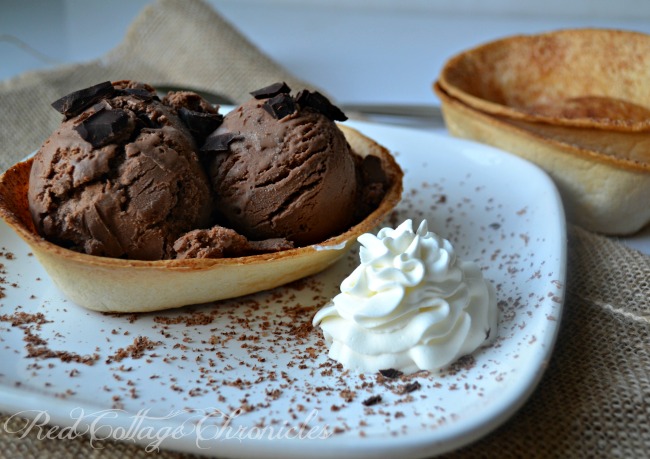 So, what do you think? Are you ready to shake up Taco Tuesday with this easy taco casserole recipe? Find the recipe down below and give it a try!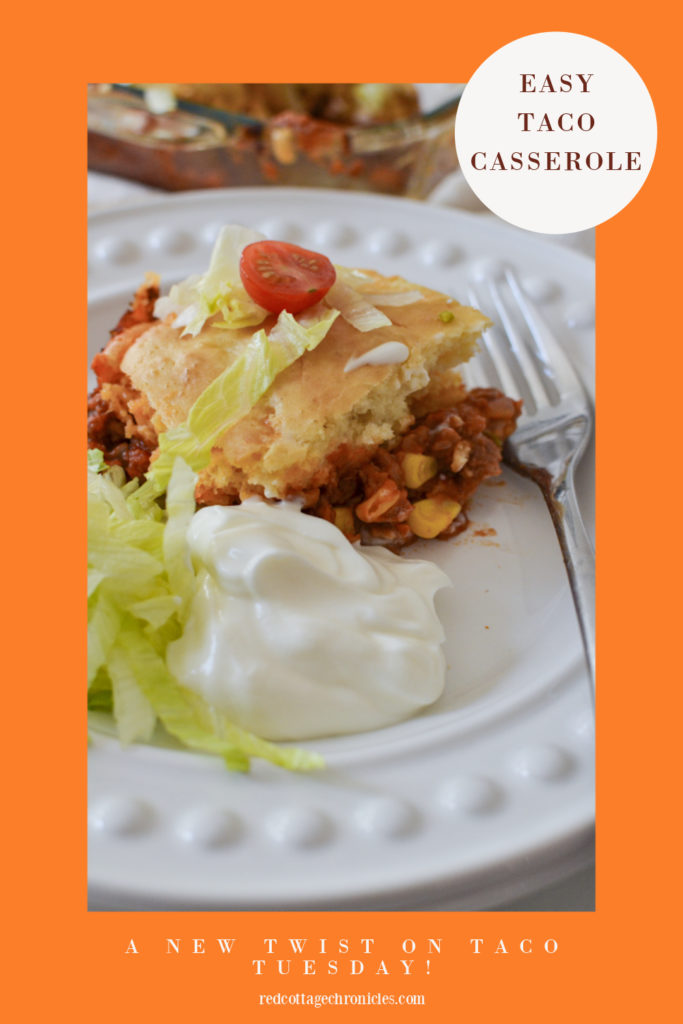 Autumn is the perfect time to serve cozy comfort foods, and I have no doubt your family is going to love this one!!
Until next time…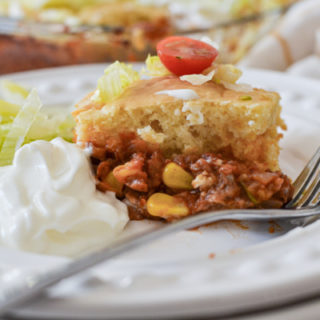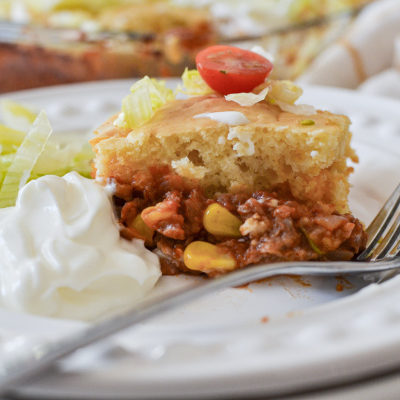 Easy Taco Casserole
This easy taco casserole puts a whole new twist on Taco Tuesday! Easy and quick to prepare it will soon become a family favorite.
Ingredients
1 pound lean ground beef
1/2 cup chopped onion
1 package taco seasoning mix
14 ounce can of tomato sauce
14 ounce can of kernel corn, drained or 1 cup frozen corn kernels
2 cups shredded cheddar cheese
2 cups Bisquick mix
1 cup milk
2 large eggs
Instructions
Preheat oven to 350 degrees and spray a 7 x 11 inch casserole dish with non-stick spray.
brown the ground beef and onion, drain and transfer to prepared casserole dish.
Stir the taco seasoning, tomato sauce and corn into the ground beef and stir to combine. Spread mixture out to cover the bottom of the dish.
Cover the ground beef with the shredded cheddar cheese
Combine the biscuit mix, milk and eggs until well blended. Pour over the ground beef and cheese to completely cover.
Bake for 40-45 minutes, until the biscuit mix is lightly golden brown.
Remove from oven and let stand for 3-5 minutes, cut into 6 large or 8 smaller squares.
Serve with chopped lettuce, chopped tomato and sour cream