A delicious spin on a favourite dessert. This frozen apple crisp ice cream is full of all the yummy goodness of the original apple crisp, but creamy and frozen!
Around the holidays especially, I love to make recipes that are family favourites. Dishes and desserts that are cozy and familiar. Recipes that evoke warm and pleasant memories.
But, I also love to try new things to keep it fresh and to introduce new dishes that might become a recipe that in the future also evokes those cozy memories!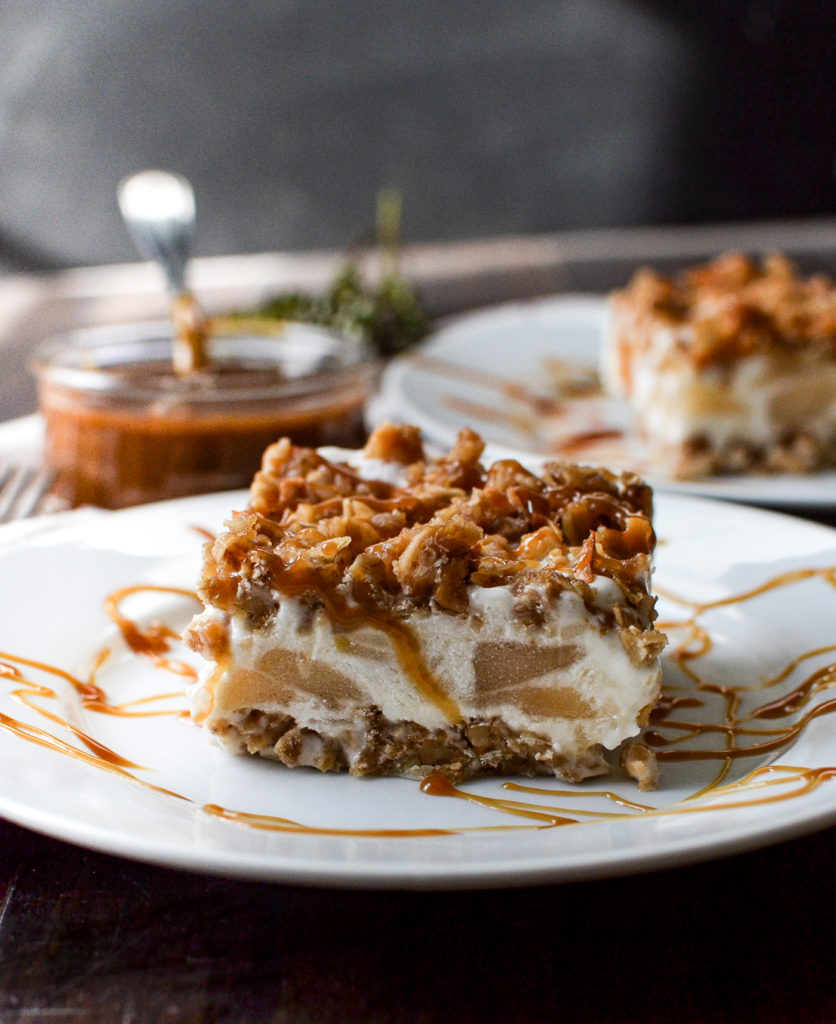 It occurred to me when I was making my caramel apple crisp for Thanksgiving, that not everyone celebrates the holiday in colder climates like me. And, maybe they would love a frosty dessert instead!
So, I decided to make a simple apple crisp ice cream dessert that is full of apple and cinnamon flavours we all love in the autumn, has that distinct slightly spiced crumble, but is cold and creamy.
That is not to say that this couldn't be, and should be, enjoyed by everyone, everywhere! Once you have a bite, you will be wondering why you haven't made apple crisp this way already!
Why you will love this apple crisp ice cream dessert
It is so easy to make using store-bought apple pie filling and ice cream
It is full of that crumbly, cinnamonny, sweet apple flavour everyone loves
It can be made the day ahead making it the perfect dessert for busy holiday meals
It is perfect as an everyday dessert or fancy it up with some drizzled caramel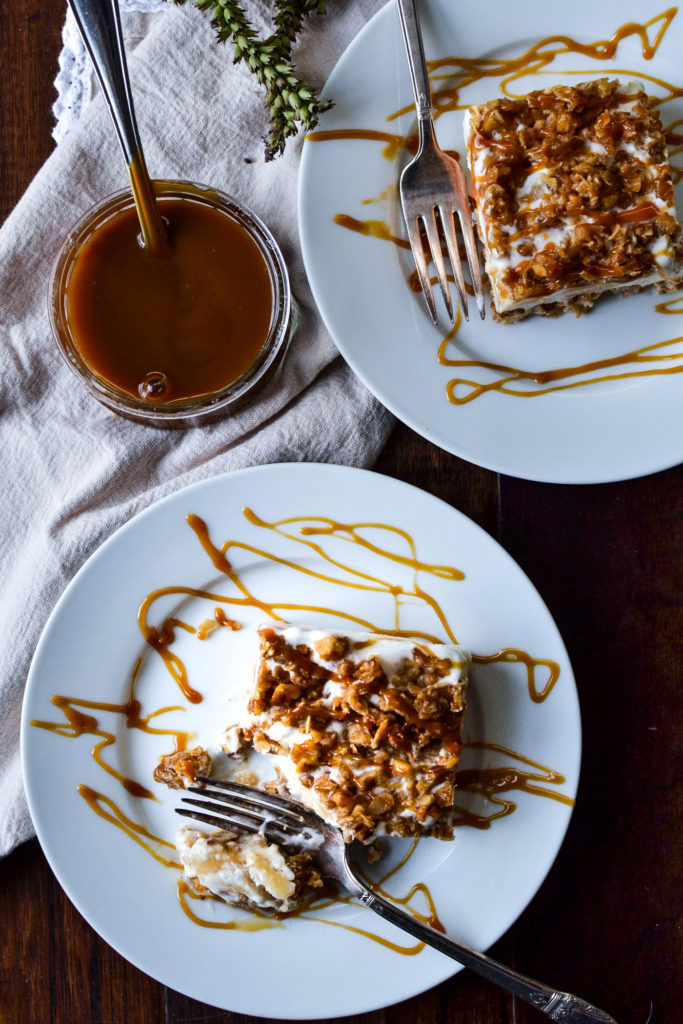 What you will need to make this yummy dessert
flour
shredded coconut
brown sugar
rolled oats (not quick oats)
chopped pecans
butter
vanilla ice cream
1 can apple pie filling
cinnamon
caramel sauce (optional, but highly recommended!!)
Make it gluten free by substituting all purpose flour with one-to-one gluten free flour and use gluten free oats.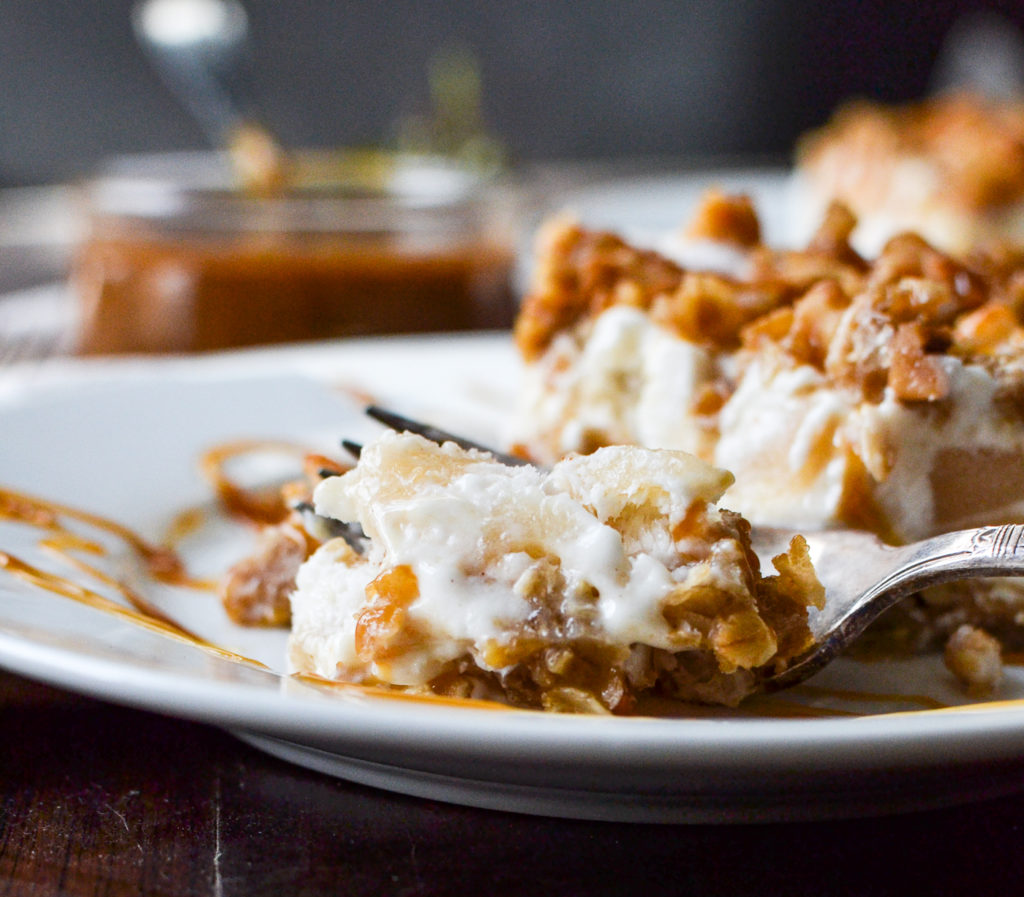 Kitchen tools you will need
large mixing bowl – I have this set of glass mixing bowls and love them!
baking sheet – for baking crumble mixture
9 inch square pan
measuring cups
spatula
parchment and/or foil
I have created a little video to show you how I made this. Video is not my strong suit, but I am learning!
Allow at least three hours freezer time to set, but you can easily make it a day or two ahead. Remove from the freezer and put in the refrigerator about 20 minutes before serving. Slice into squares when ready to serve.
Want to make it fancy with zero effort? Simply drizzle it with caramel sauce for some extra yumminess.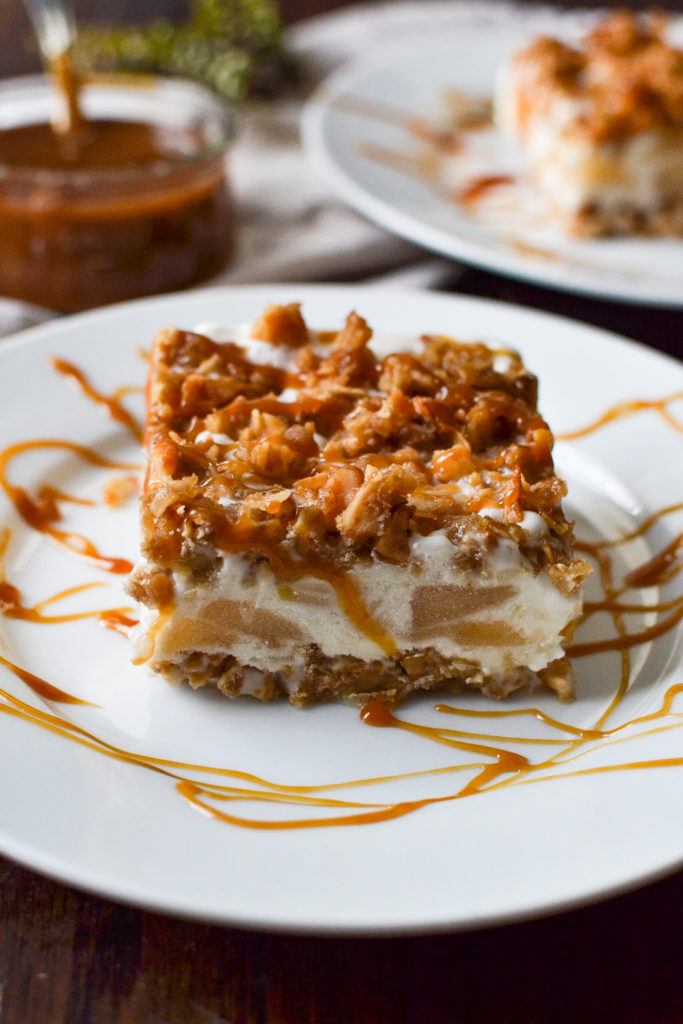 I mean really, how spectacular does this look! Serve this yummy frozen apple crisp ice cream dessert to your friends and family, and you will have them swooning…….
………And asking for the recipe, so make sure you pin it!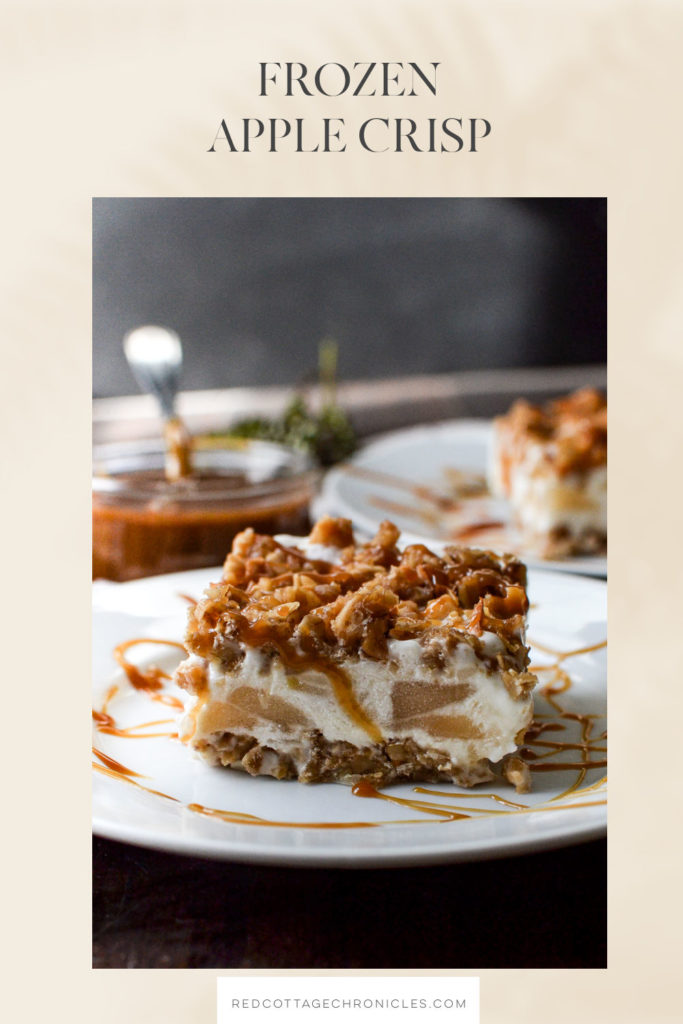 No need to wait for apple season since you only need canned apple pie filling! How delicious would this be during the dog days of summer?
Other ice cream recipes you might enjoy…
Easy Peppermint Patty Ice Cream
Mexican Hot Chocolate Ice Cream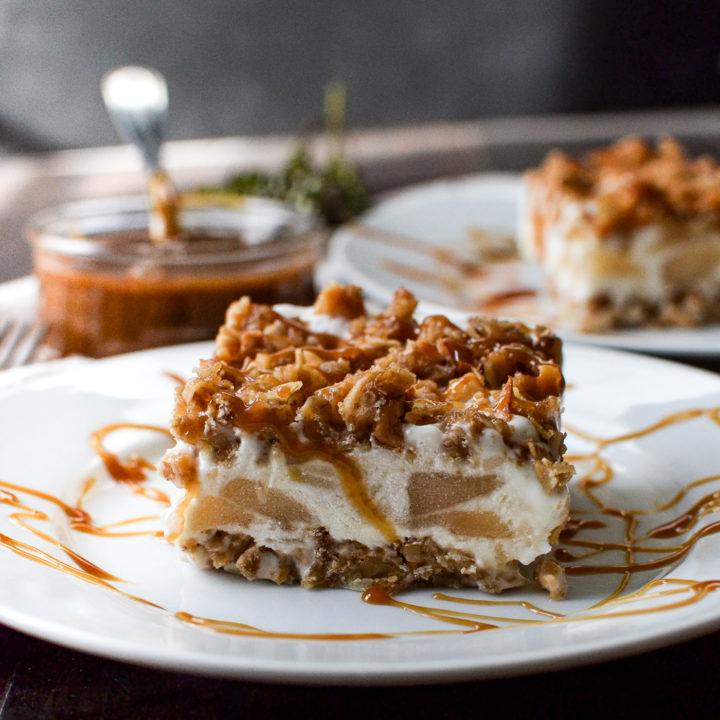 Frozen Apple Crisp Ice Cream Dessert
Total Time:
3 hours
35 minutes
This delicious take on a seasonal favourite, this frozen apple crisp is a creamy decadent dessert that is full of cinnamon and apple flavour, a lovely crumbley crunch, and is so easy to make!
Ingredients
3/4 cup flaked coconut
1/2 cup all purpose flour
1/2 cup brown sugar, packed
1/2 rolled oats
1/2 cup chopped pecans
1/2 cup butter, softened
1 litre vanilla ice cream, softened
1 1/4 cup apple pie filling
1 teaspoon ground cinnamon
caramel sauce (optional but highly recommended!)
Instructions
Preheat oven to 350 degrees. Line a baking sheet with parcment and a 9 inch square pan with foil. Set aside.
In a medium bowl, mix coconut, flour, brown suggar, rolled oats, and pecans. Add butter and mix with your clean hands or a pastry blender until butter is well incorporated. Spread mixture onto the parchment lined baking sheet and bake for 12 to 15 minutes, until lightly golden brown. Remove from oven and cool for a few mintues.
Using a wooden spoon, stir to break up the mixture until crumbly. Press half the crumbly mixture into the bottom of the prepared 9 inch pan.
In a large bowl combine ice cream, apple pie filling and cinnamon until well blending. Spread over the crust to form an even layer.
Sprinkle the remaining half of the the crumbs over the top of the ice cream layer and lightly press in.
Place a piece of plastic wrap directly over the crumb layer, freeze for at least 3 hours or overnight.
Remove from the freezer and place in the refrigeator for 20 minutes before serving. Store leftovers (if there is any!) in the freezer for up to 5 days.
Drizzle with caramel sauce before serving.