What's better than Chocolate Ice Cream?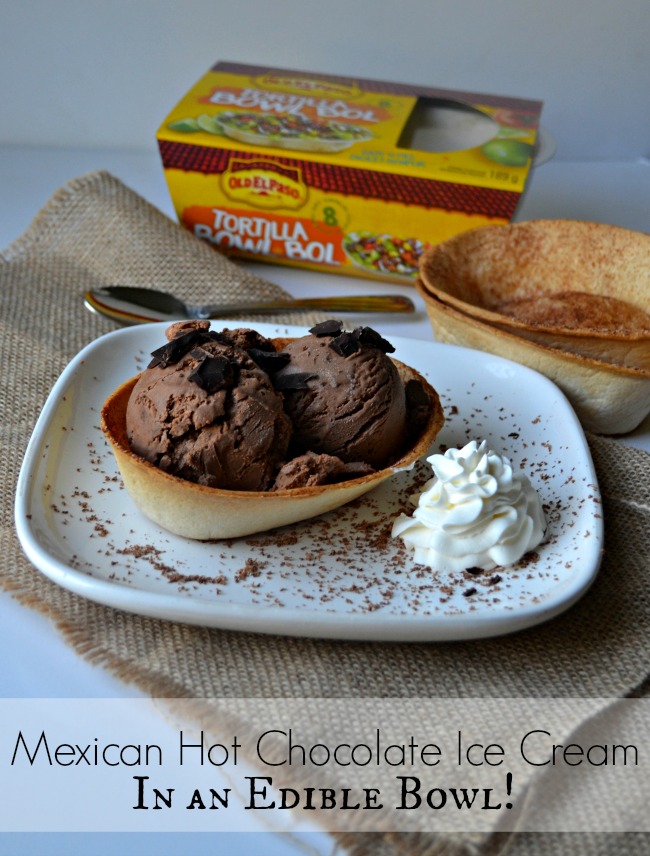 How about Mexican Hot Chocolate Ice Cream in an edible bowl!!
Nana's Taco Tuesdays are about to get a lot more exciting!
With 5 grown grandchildren all going in different directions, my mom really misses the times when she got to spend lots of time with all of them!
She also is a clever Nana who knows the best way to get them all together is with food.
And that is how Nana's Taco Tuesday was born!
Everyone loves Mexican, with loads of choices for everyone to enjoy. Vegetarian filling for the non-meat eaters, ground beef, chicken or turkey for the meat eaters, and even fish tacos for the seafood lovers. Not to mention topping combinations that are endless.
Mom gets everything prepped during the day and then at dinner she sets out all the different fillings, along with all the traditional toppings like cheese, lettuce, and tomato, to name a few. Her job in the kitchen is done and she can spend all her time with her grandchildren.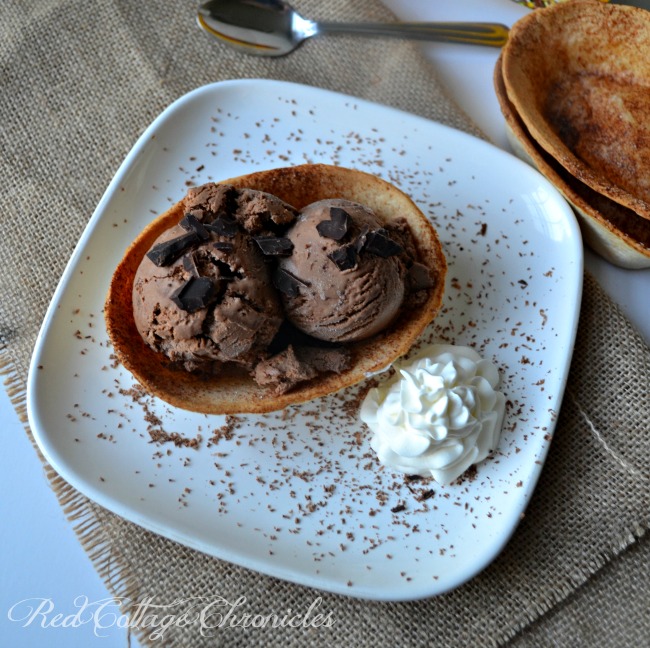 When everyone arrives we can all serve ourselves and get on with the business of catching up.
Yes, there are probably 5 different conversations going on all at once stretching from the dining room table straight out into the living room, but the lively banter just adds to my mom's enjoyment of having all of her family around her all at the same time.
The only thing that was missing from our get togethers was dessert.
And now, thanks to OLD EL PASO and their delicious Tortilla Bowls I have solved that little dilemma!
Mexican Hot Chocolate Ice Cream in an edible bowl.
Have you seen these genius little bowls?
The Tortilla Bowls come in original and mini sizes making them perfect for big and little eaters alike! Not only do they stand up on their own, they are easy to fill and hold loads of delicious fillings and toppings! The possibilities really are endless. From appetizers to mains. From savory to sweet.
Of course I immediately went the sweet route. Now, I just had to decide what yummy sweet treat to fill them with. I wanted something that fit with the Mexican theme of the evening.
Since I love the mildly spicy flavour of Mexican Hot Chocolate, I figured why not adapt a chocolate ice cream recipe by adding some cinnamon, nutmeg and cayenne.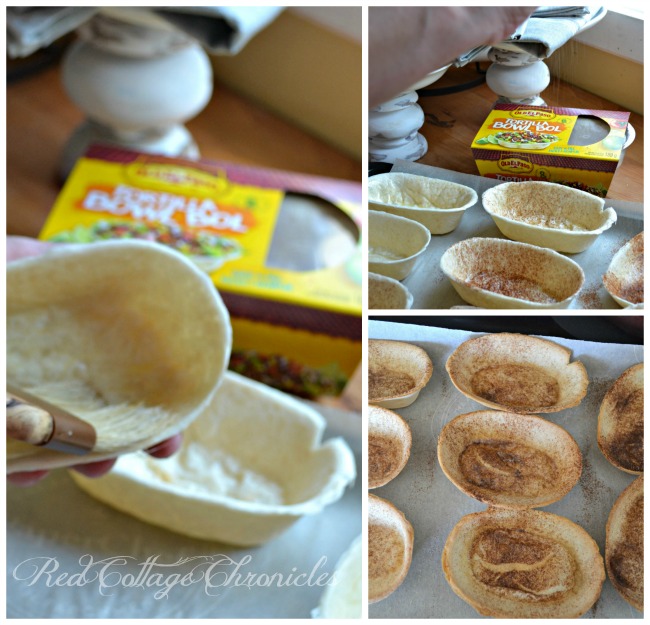 I used the original size because who doesn't want 2 scoops of ice cream. After brushing with melted butter and dusting them with cinnamon and sugar, I baked them in the oven for 10 minutes to crisp them up a bit before filling them with the Mexican Hot Chocolate Ice Cream.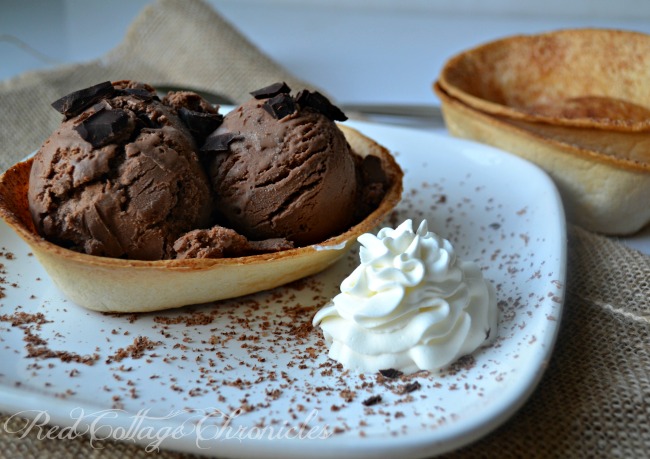 Oh, did I mention no extra dishes clean up. Doesn't get much better than that!
Come to think of it, it has been a while since Mom hosted her Taco Tuesday feast. And, since I am pretty sure all her grandchildren are in the same country right now I think it is a good time to let her know that I will bring dessert!
Until next time….

Mexican Hot Chocolate Ice Cream In an Edible Bowl
2016-05-25 04:07:56
Serves 8
Ingredients
1 pkg OLD EL PASO Original Tortilla Bowls
1/4 cup butter, melted
1 tsp cinnamon blended with 1/4 cup sugar
4 ounces dark chocolate, broken into small pieces
1 1/3 cup whole milk
3 ounces sugar
3 egg yolks
1 1/3 cup heavy (whipping) cream
1 teaspoon sugar
1/4 teaspoon ground nutmeg
tiny pinch cayenne pepper
Instructions
Preheat oven to 350 degrees. Line a cookie sheet with parchment paper.
Brush OLD EL PASO tortilla bowls with melted butter, arrange on baking sheet and sprinkle with cinnamon sugar mixture.
Bake for 12 minutes, until crisp and edges are very lightly browned.
Remove from oven and set aside.
In a heavy bottom sauce pan combine milk and chopped chocolate, heat over medium low heat until chocolate is melted and mixture is smooth.
Remove from heat and allow to cool slightly while you whisk together the egg yolks and sugar until pale and thick.
Stir the cooled chocolate mixture into the egg yolks and then pour back into the saucepan through a fine sieve.
Gently heat the mixture of medium low heat until it thickens and coats the back of a wooden spoon. It is important to stir constantly and do not allow to boil.
Remove from heat, add cinnamon, nutmeg and cayenne whisking gently to combine. Pour mixture into a bowl, and stir occasionally while allowing it to cool completely.
After chocolate custard mixture is completely cooled, whip the heavy cream until soft peaks form, fold the whipped cream into the chocolate custard mixture until well blended.
Pour into ice cream maker and allow to churn for 30 to 35 minutes. Transfer to container and place in the freezer until ready to serve.
Scoop into prepared tortilla bowls and top with extra bits of chopped chocolate
Notes
Tip: To ensure the chocolate custard mixture is sufficiently thickened, when it coats the back of a wooden spoon, if you can run your finger down the back of the spoon and the line holds, it is ready! If the line fills back in quickly, continue heating.
Red Cottage Chronicles https://www.redcottagechronicles.com/