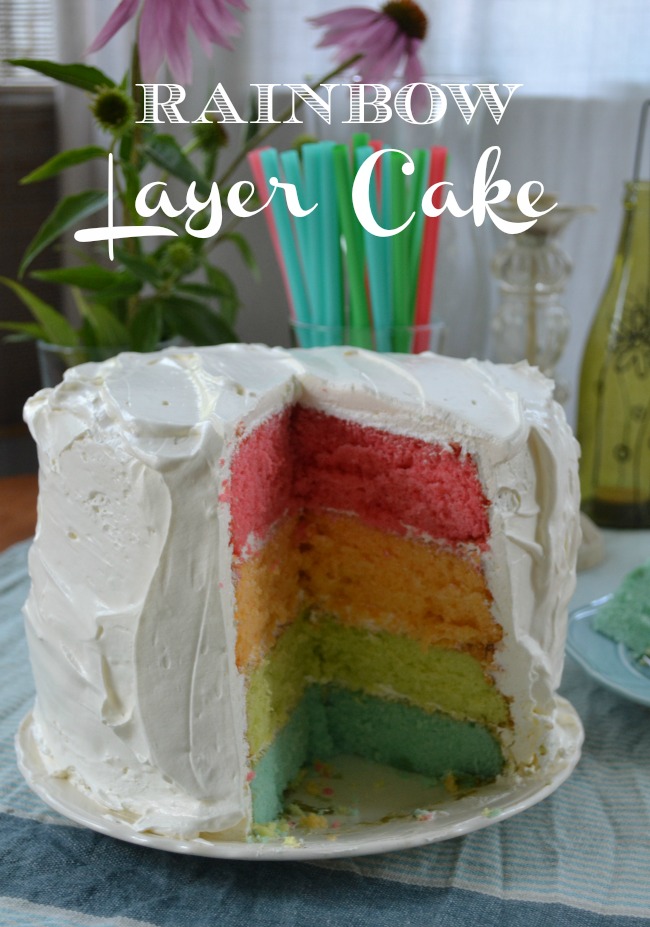 I have been holding on to a copy of What's Cooking magazine from Kraft for over a year now, with the notion to make the Rainbow Layer Cake pictured on the cover.
It is the spring 2014 issue, but when I first saw it I thought it would make an essential summertime layer cake.  So bright and colorful. And fun!  just like summertime!
Made with Jell-O brand jelly powder in orange, lime, raspberry and blueberry each layer has a subtle fruity flavor and a vibrant summertime colour.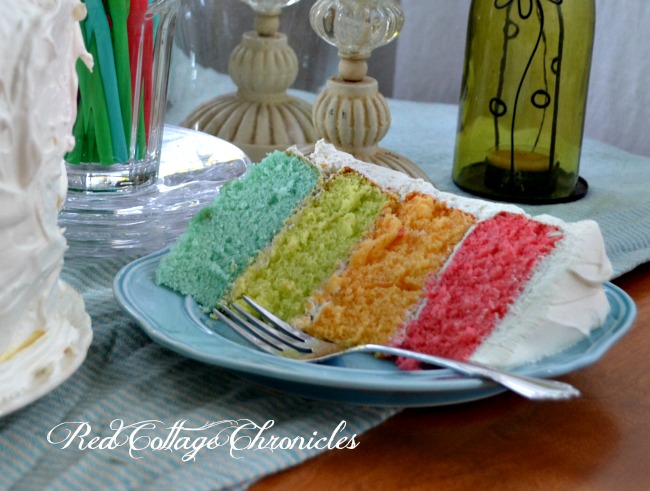 Baking cakes is a favorite of mine, as it gives me a chance to use the very best things I inherited from my Nana's kitchen.
Her Bake King round baking pans!  They are worn with a patina only lots of use and age can give them, yet they still work like a charm!  Nothing sticks to these babies given the release "tab" that rotates under the cake to release it when it is cool.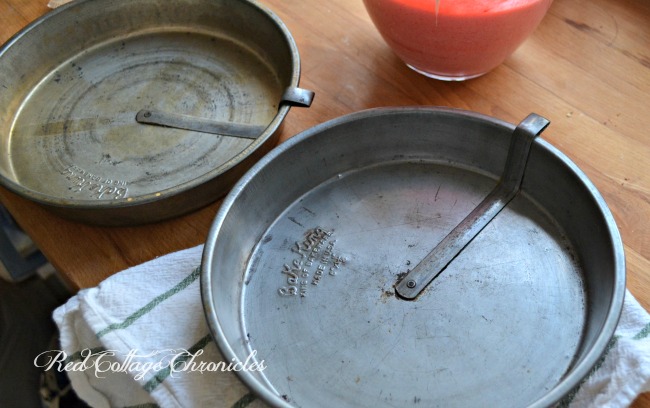 I have seen them around on Ebay, sometimes with a textured bottom, but also exactly as these ones!  They are worth their weight in gold!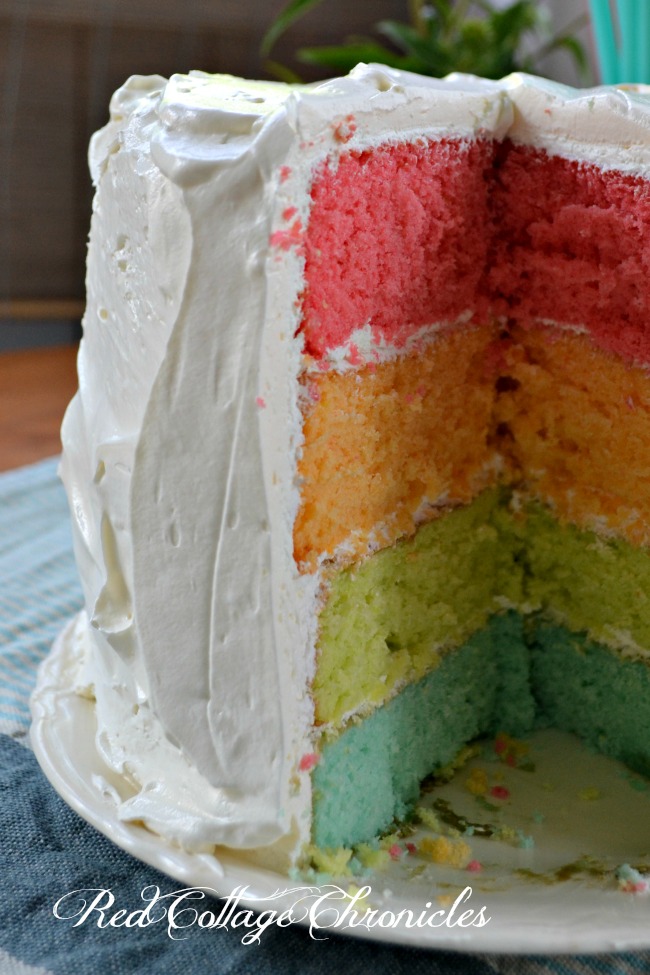 The cake I made as per the directions exactly, but in hindsight I think I would make a couple of changes next time.
While the recipe calls for two cake mixes, each divided in half and coloured a different colour.  This makes for a very, very tall cake!
I am talking 7 inches tall!  That is more than a half foot of cake!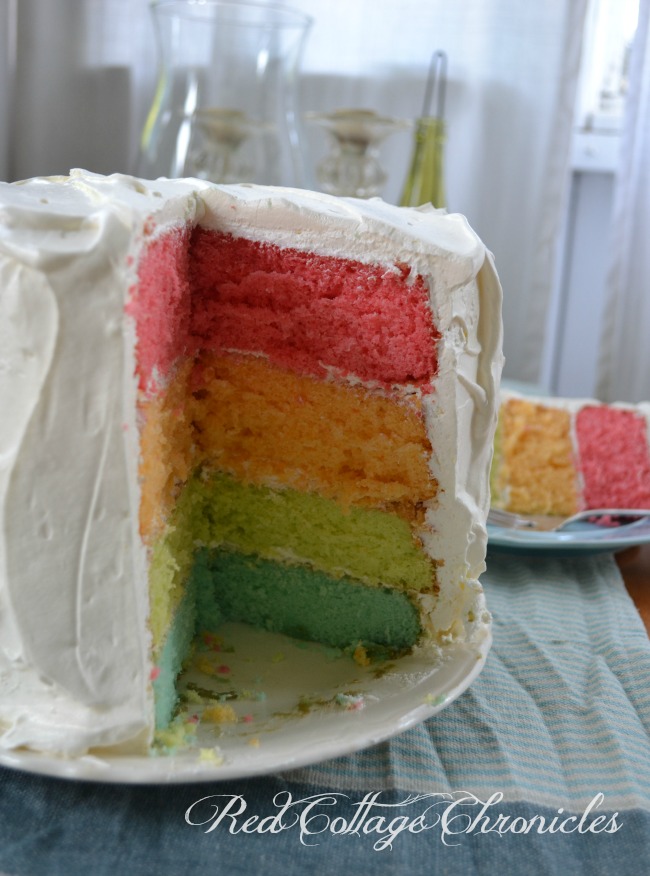 I mean, you may like a really tall cake and that is perfectly okay!  Kind of elegant really.  If that is the case, just follow the recipes exactly.
I think next time I will reduce the amount of cake batter in each cake pan by about a third and make cupcakes with the rest!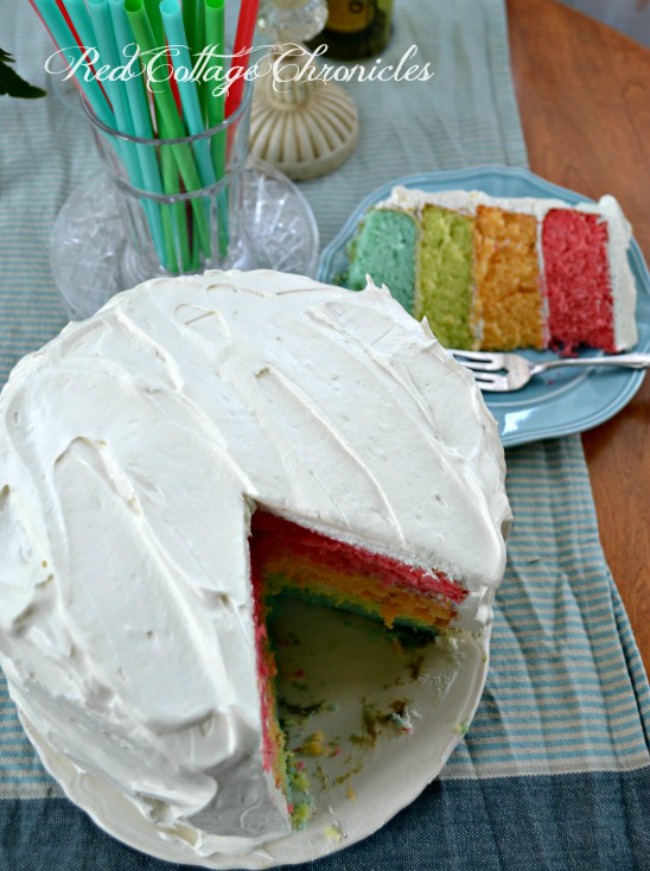 The frosting is pure heaven!  Sour cream, icing sugar and whipped topping.  I made a batch and a half.
Now that I think about it, a 7 inch tall cake makes for more frosting.  Maybe that isn't so bad after all!
Until next time…..
Maureen
Essential Summertime Layer Cake
Author:
Prep time:
Cook time:
Total time:
A 4-layer cake made with Jell-O jelly powder makes a fun summertime dessert!
Ingredients
2 pkg (2 layer size) white cake mixes + ingredients to prepare
3 Tbsp each Jell-O jelly powder in raspberry, orange, lime and Berry Blue flavors
2/3 cup sour cream
2/3 cup icing sugar
1 tub Cool Whip whipped topping
Instructions
Preheat oven to 350 degrees
Grease and flour 2 9″ round baking pans
Prepare cake batter from 1 pkg as directed. Pour half into a separate bowl.
Add raspberry Jell-O powder to batter in one bowl and mix well. Stir orange Jell-O powder into the other bowl and mix well.
Pour each better into a prepared pan and bake for 28 to 30 minutes.
Cool cake in pans for 15 minutes before turning out onto cooling rack to cool completely.
Repeat the above steps with the remaining cake mix and two Jell-O powders.
Mix Sour Cream and sugar in a bowl with wire whisk until well blended, gently fold in whipped topping.
Stack layers on a cake plate, spreading 1/3 cup frosting between each layer.
Frost the entire cake with remaining frosting and refrigerate for 2 hours before serving.
You can find a short video from Kraft on how to prepare the cake here!