There is nothing better than fruit infused iced tea recipes to keep you hydrated all summer long!
Summer hasn't even officially arrived yet and already I have polished off more glasses of iced tea than I can count! I may have indulged in a peach iced tea or two, that happen to be spiked with coconut rum!
Every summer my mom would make "sun" tea by the gallon. For as long as I can remember she would fill her gigantic commercial sized pickle jar with cold water. She'd plunk in 5 or 6 Tetley tea bags and leave out in the sun all day to brew.
Instead of sugar, Mom would add a packet of fruity lemon-lime flavored Crystal Light powder, add some ice and put it in the entire pickle jar into the refrigerator. For the longest time we used a measuring cup to scoop it out into tall glasses filled with more ice. Eventually she upgraded to a proper glass jug with a spout for the fridge, but she still used the old pickle jar for brewing!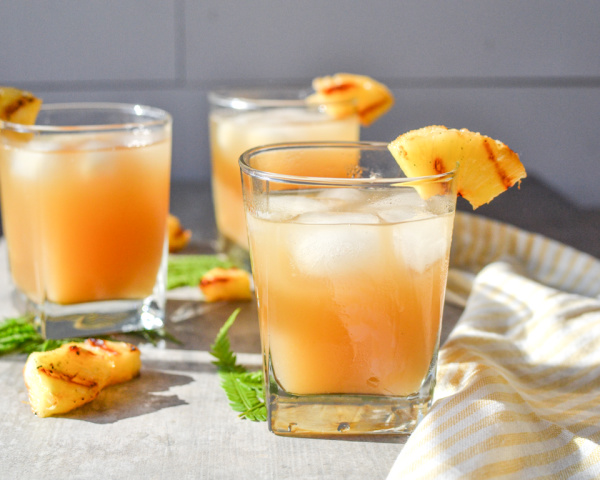 My love for iced tea has only gotten deeper over the years, but instead of fruit flavored drink crystals I make fruit infused iced tea with all kinds of real fresh fruit!
Like this Grilled Pineapple Iced White Tea!
This post contains affiliate links to help you find the products I use myself. If you decide to make a purchase I may receive a small commission without any additional cost to you!
Recently, after grilling some pineapple for dessert, I got the idea to create a pineapple iced tea using some white tea bags that I had instead of the usual green or black tea.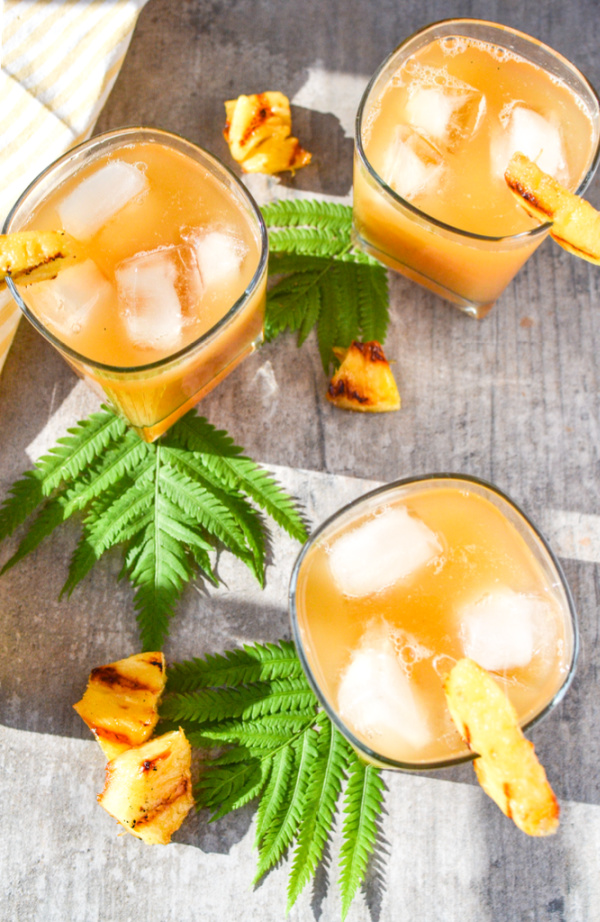 Other than a little maple syrup there is no added sugar. Grilling the pineapple brings out the sweetness, giving this tea a lightly sweet, yet super fruity flavor. Using white tea as the base, makes this a healthy alternative to sugar loaded sweet teas.
Plus, white tea is comes with some impressive benefits! Pair that with the nutrient loaded pineapple and you have a very refreshing healthy beverage!
Benefits of White Tea
white tea is minimally processed
rich in antioxidants
easy to prepare requiring just 2 to 3 minutes of steeping time
high concentration of L-theanine (which is thought to have a natural calming effect)
antibacterial properties that may help to keep gums and teeth healthy
I buy my pineapple already cored and peeled at the grocery store, but feel free to start with a whole pineapple and trim yourself to save money.
Grill the pineapple to bring out the sweetness and get those great grilling marks because you will want to save a few slices for garnish!
Blend the grilled pineapple with a 1/2 to 3/4 cup fresh pineapple juice. Strain into a clean pitcher and add prepared tea.
Scroll down for the full recipe, plus links to 4 other yummy iced tea recipes.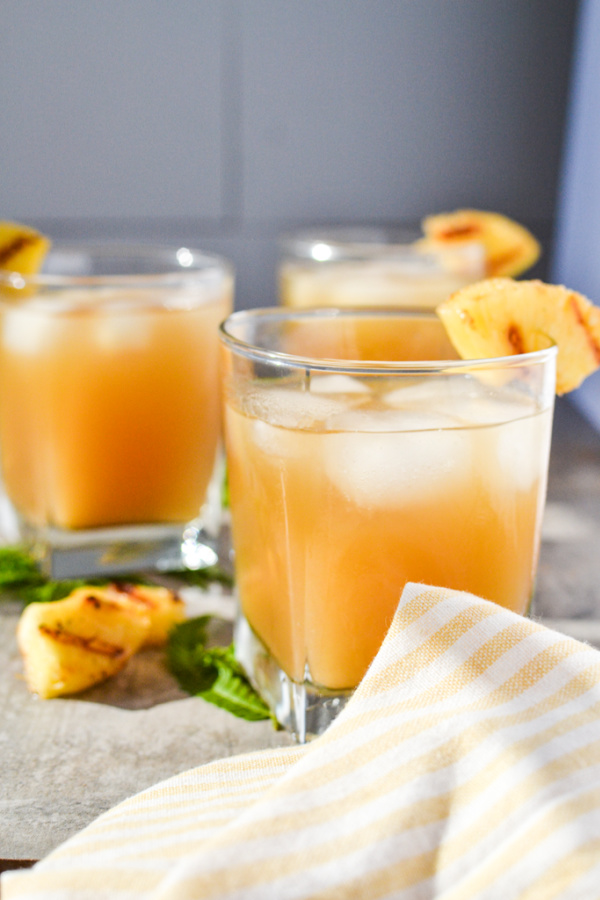 Fill glasses with ice, pour in tea and garnish with grilled pineapple chunks! YUM-E!!
I love these square old fashioned glasses. They are the perfect size, have a nice solid base and are surprisingly very comfortable to hold.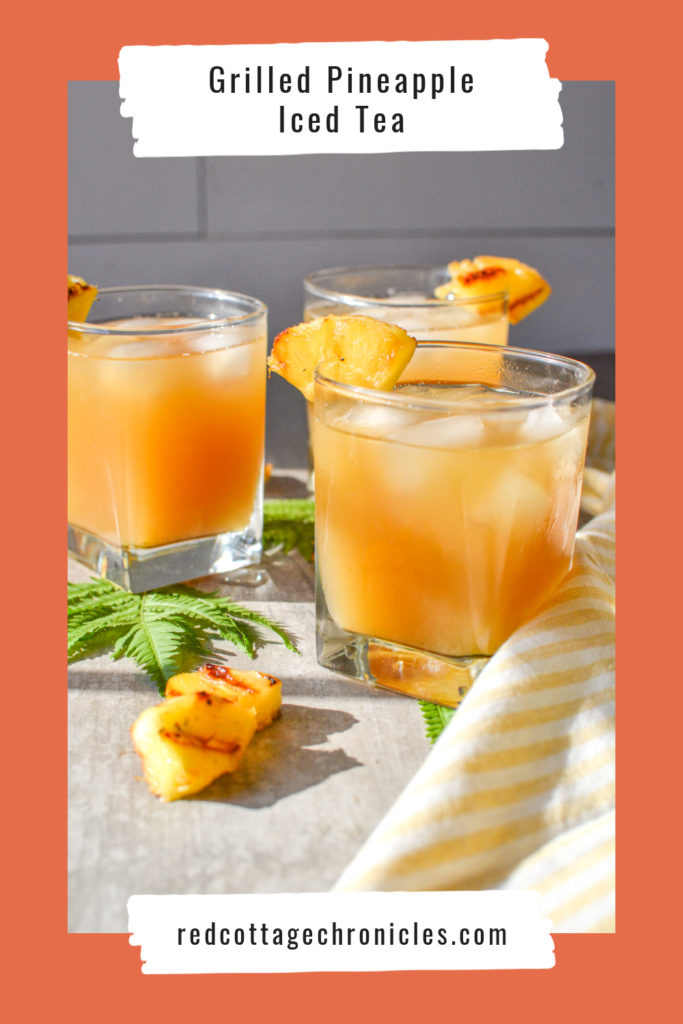 I've come along way from scooping iced tea out of a pickle jar with a measuring cup! But, I wouldn't trade those memories for anything!
Until next time….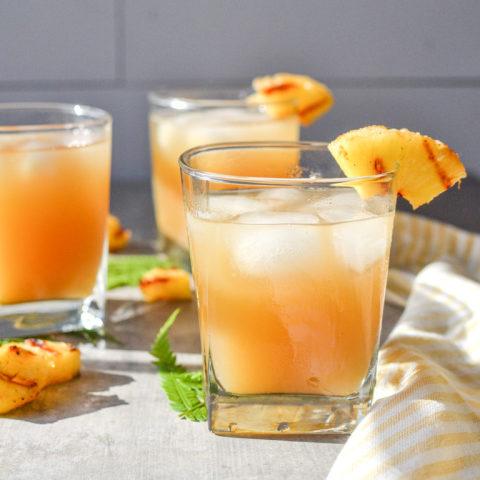 Grilled Pineapple Iced Tea
Fruit infused iced recipes are perfect for summer, and this Grilled Pineapple Iced tea is no exception. Grilling the pineapple with a touch of maple syrup brings out the natural sweetness, and combined with brewed white tea, you have a refreshing summer drink that isn't loaded with sugar!
Ingredients
5 white tea bags
4 cups boiling water
1 fresh pineapple, peeled and cored
1/2 cup pineapple juice
3 -4 tablespoons pure maple syrup
olive oil or non-stick cooking spray
Instructions
Boil 4 cups of water and pour over tea bags in a heat proof measuring cup. Allow to steep for 2 to 3 minutes then remove teabags and allow to cool in the refrigerator or freezer.
Preheat grill.
Slice pineapple in 1/2 inch slices. Brush the grill with olive oil or spray with on-stick spray. Brush one side of the pineapple slices with maple syrup, carefully place maple side down on preheated grill. Brush the tops with maple syrup, close the lid and allow to cook for 4 minutes. Carefully flip the slices, cooking for additional 4 minutes. Remove from heat.
Set aside one grilled pineapple slice for garnish and cut up the remaining slices and place in a blender. Add pineapple juice and remaining maple syrup. Blend until smooth.
Add a cup of ice to a pitcher and using a fine sieve, strain pineapple over the ice. Add the cooled ice tea.
Pour into glasses filled with ice and garnish with a chunk of grilled pineapple. Store any remaining iced tea in the refrigerator for up to 3 days.
Notes
I purchase my pineapple already cored and peeled, and reserve the juice to use in the recipe instead of buying extra pineapple juice!
3 more fruit infused iced tea recipes plus a recipe for Thai Iced Tea
To celebrate National Ice Tea Day, I am joining four blogging friends who are sharing their delicious iced tea recipes. I bet you will want to try them all!
National Iced Tea Day Recipes