Caramel Pecan Pumpkin Muffins
Fall is my absolute favourite season, and these caramel pecan pumpkin muffins might just be my new favourite muffin too!
Bakery Style Caramel Pecan Pumpkin Muffins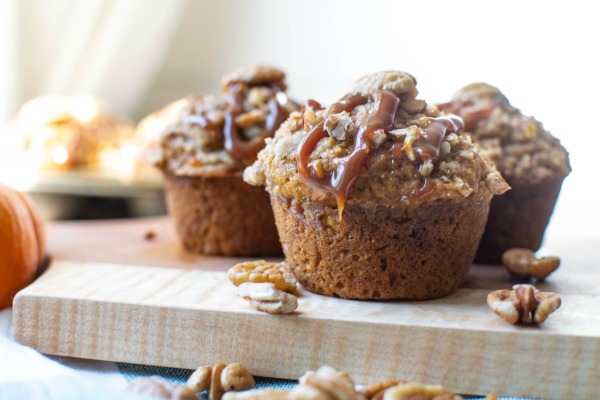 I always strive to bake muffins that are just like the ones you would find in a bakery! These pumpkin muffins are not exception. It really is easier than you think!
How to get your muffins to rise high
I prefer not to use muffin liners. I spray the entire pan with non-stick spray, not just the actual muffin part, but the top of the muffin pan as well. That way, when the rise up over the edges they are still easy to get out without sticking.
I always fill the muffin tins right to the top. I always get a nice, high rise, resembling the muffins I see in the bakery.
After all, isn't the muffin top the best part?!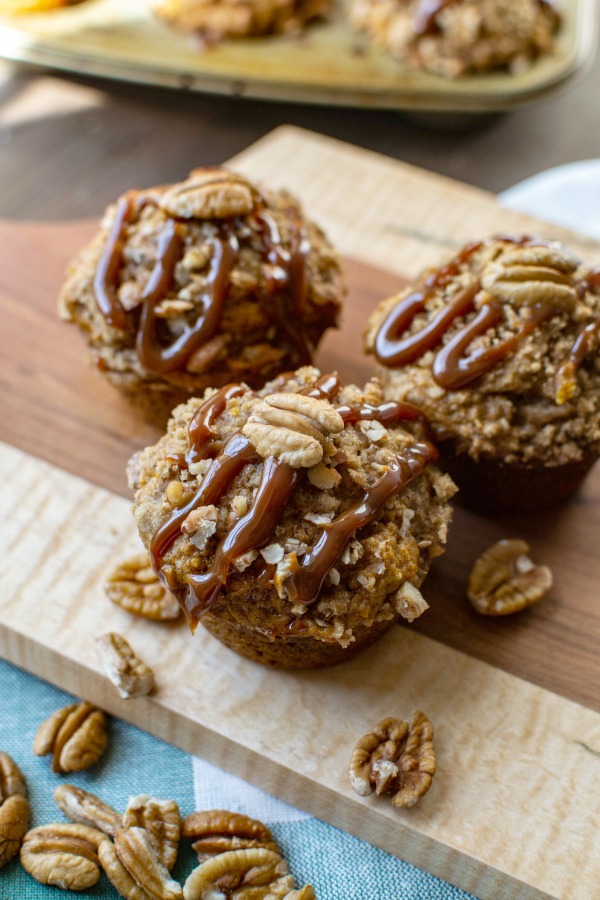 The next step to a bakery style pumpkin muffin is the topping! I made a simple streusel topping including chopped pecans. It really adds a slightly sweet, soft crunch!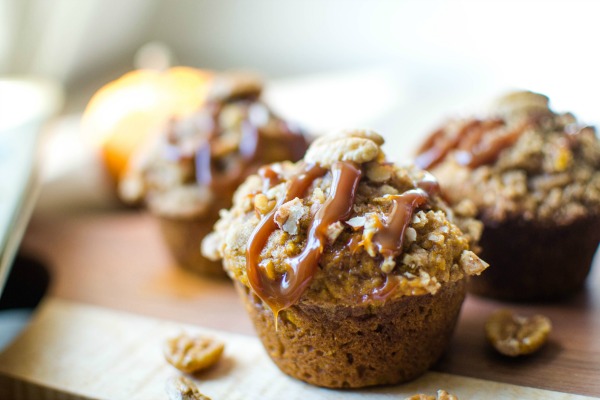 A ribbon of caramelly dulce de leche is the perfect touch for these decadent pumpkin muffins. They would really make any bakery take notice!
Why you will love these muffins
the are moist, but definitely not soggy or heavy
full of pumpkin flavour that makes them feel like comfort food
the gooey drizzle on top adds just an extra touch of sweetness
the crumbly topping adds texture and a subtle nutty flavour
My favourite Muffin Pan
This solid steel muffin pan is so durable. I have had mine for over 15 years and it's still going strong
I know you are eager to have the recipe and bake a batch for yourself.
But first you will want to pin this for later!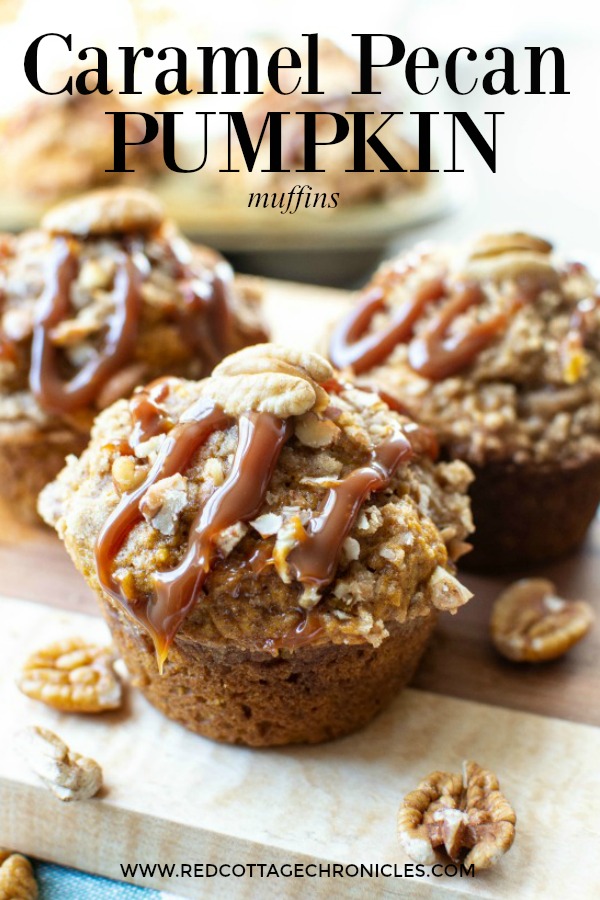 Muffins, are undoubtedly a treat everyone loves. With their soft and fluffy texture, coupled with an endless array of flavors and toppings to choose from, muffins offer a delightful indulgence at any time of the day. So grab your apron and lets get baking!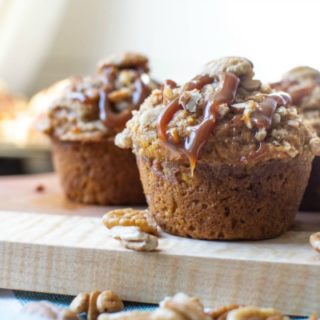 Caramel Pecan Pumpkin Muffins
Ingredients
1 3/4 cup all purpose flour
1 cup sugar
1/2 cup lightly packed brown sugar
1/2 teaspoon salt
1 1/2 teaspoon pumpkin pie spice
2 eggs, room temperature
2 cups, less 2 tablespoons pure pumpkin puree
1/2 butter, melted
For streusel
1 teaspoon pure vanilla extract
2 tablespoon chilled butter, cut into small pieces
2 tablespoons all purpose flour
2 tablespoons brown sugar
2 tablespoons finally chopped pecans
1 jar dulce de leche or thick caramel sauce
Instructions
Preheat oven to 375 degrees. Spray muffin tins completely with non-stick spray. Set aside.
In a large bowl, add flour, white and brown sugar, salt and pumpkin pie spice. Using clean hands, mix well, breaking up any lumps of brown sugar. Set aside.
In a smaller bowl whisk eggs til lightly beaten. Add pumpkin, melted butter and vanilla. Whisk until well combined.
Add wet ingredients to dry and using a spatula gently fold together just until dry ingredients are incorporated.
Scoop batter into prepared muffin tins, filling right to the top.
Mix all streusel ingredents together by rubbing butter into the flour and brown sugar til crumbly. Mix in chopped pecans. Sprinkle over muffin batter.
Bake for 20 minutes or until toothpick comes out clean.
Cool in pans for 10 minutes, then remove to wire rack until completely cooled.
Drizzle with dulce de leche.
Notes
Muffins freeze well, just freeze before adding dulce de leche.
Otherwise store in airtight container for up to 3 days.