Cozy Pink and Gold Autumn Table Setting
As the days grow a little bit shorter and the air becomes a bit more crisp, my favourite thing is to cozy up my home. This cozy pink and gold table setting is just one idea to bring the fall season into your home!
For me arrival of fall is reason enough to celebrate! And, contrary to popular believe it has nothing to do with pumpkin spice latte's! It's that feeling I get that makes me want to settle in and get cozy. I bring out the flannel blankets, fluff up the pillows and add accents of all the colours of autumn.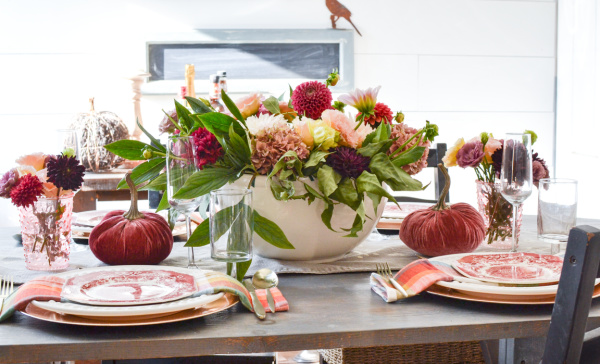 I am thrilled to be joining my favourite group of bloggers who love to style a pretty table as much as I do. If you are coming over from Blue Sky At Home, a warm and cozy welcome to you! I have no doubt that Carol wowed you with her incredible style.
At the end of this post you will find links to 14 more beautiful autumn tables, so be sure to check those out!
This post contains affiliate links to help you find the products that I use. If you click the link and make a purchase I may receive a small commission with no impact on the purchase price.
Blending Pink and Gold with Traditional Autumn Colours
Although I love all the traditional fall colours, as you can see in this table I styled for fall, I have always been drawn to the muted pinks, reds and greens of nature during the autumn. I used that as inspiration for my cozy autumn table.
Gold is the perfect accent colour for a cozy fall table. It is rich and warm, and compliments any colour it is paired with. I did purchase a set of gold flatware this year, after putting it off for quite some time. It is brushed gold, so not too shiny. I got my set at Homesense, but this gold flatware set is similar in style and price.
The plate stack is created with inexpensive gold chargers, my favourite white dinner plates, and pretty muted red transferware salad plates. A contrasting plaid napkin is draped casually between the plates and bring together all the colours on the table.
Clear water and champagne glasses were chosen to create visual space and not detract from the rich colours of the pumpkins, napkins and salad plates.
Elements of a Simple Pink and Gold Table Setting
Use muted pink tones reminiscent of leaves that have changed colour for fall
Brushed gold is a warm and cozy choice
Sprinkle in a bit of traditional autumn colour as I did with the napkins that have both traditional and non-traditional colours. They seamlessly blend the muted pink transfer ware plates with the brushed gold charger plates I purchased at the dollar store
Brushed gold flatware adds an extra touch lux to the setting
I opted for clear glassware, however gold rimmed wine glasses would be a perfect fit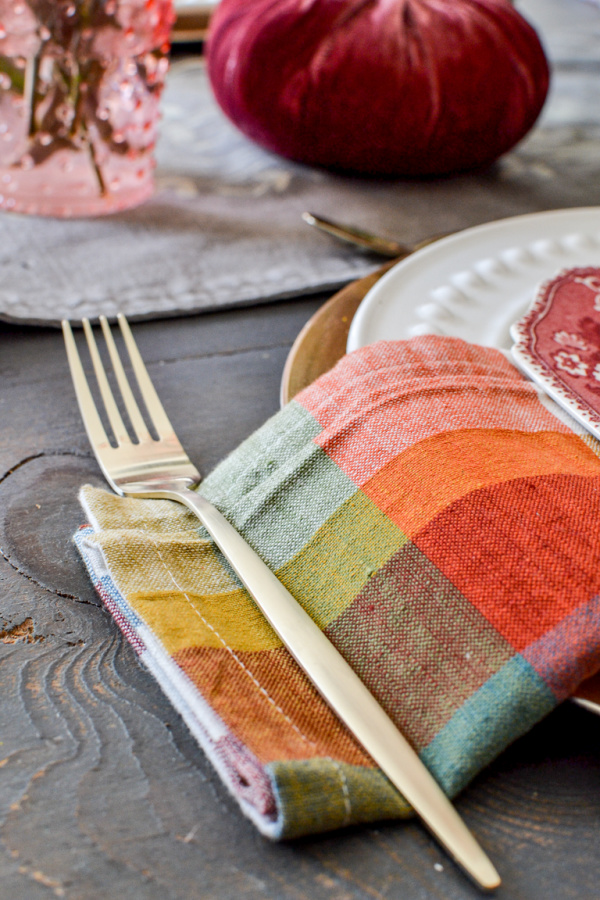 Add Elements Inspired by Nature
Pumpkins are synonymous with autumn and give that node towards nature even though the are made of a plush muted pink velvet!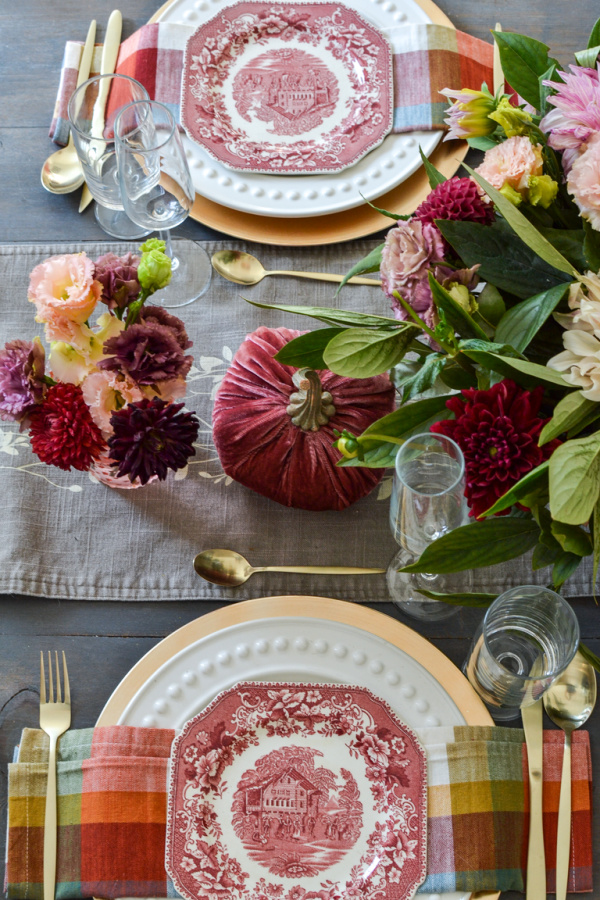 I almost didn't buy these pretty velvet pumpkins. I loved the colour as soon as I saw them, but I have great difficulty even touching anything that is velvet or corduroy! (Got it from my dad!) It just gives me the ibby-jibbies!! But, with the long natural stem I could avoid touching the velvet altogether, so crisis averted!
Autumn Centrepiece Made From Fresh Local Dahlias
I couldn't go wrong creating the centrepiece using the gorgeous haul of dahlias I picked up at a local flower farmer.
With varying shades of pink from light to deep rose colours. The Cafe Au Lait dinner plat dahlias lean towards a soft gold colour adding to the pink and gold table setting theme.
I probably wasted an hour trying to find the perfect vessel to hold these beautiful blooms, but in the end I went for a simple giant ironstone bowl. I added a few hydrangea blooms from my own garden too.
Two pink hobnail glasses create pops of colour at either end to balance out the table.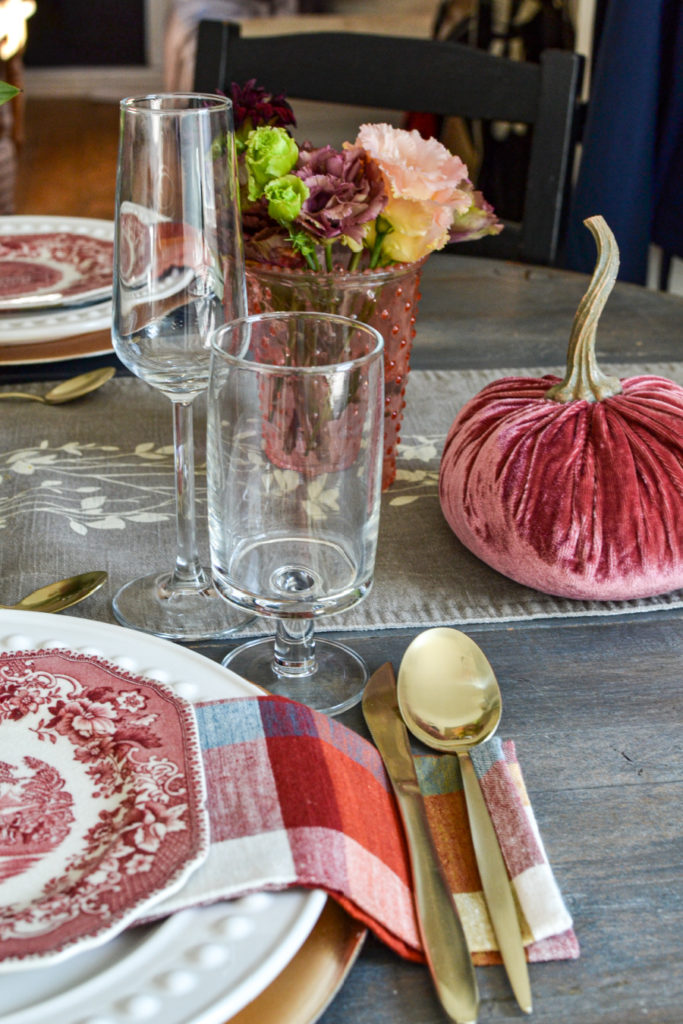 Other Nature inspired elements
My table runner is one that I have had for years. It is reversible, with an off-white side and a dark taupe side with a subtle fall leaf pattern running the length. I love the exposed wood of my custom made dining table. We finished it in a neutral gray stain, and then added liming wax to soften the finish. I think it just adds to the warmth of the tablescape.
Elements of a cozy autumn table no matter the colour scheme
a centrepiece made up of early autumn flowers like dahlias, lisianthus, hydrangeas and mums
brushed metallics accents like these gold charger plates, copper is also lovely for fall
fabric pumpkins in deep shades of rose, orange or blue
seasonal or transfer ware salad plates
elements inspired by nature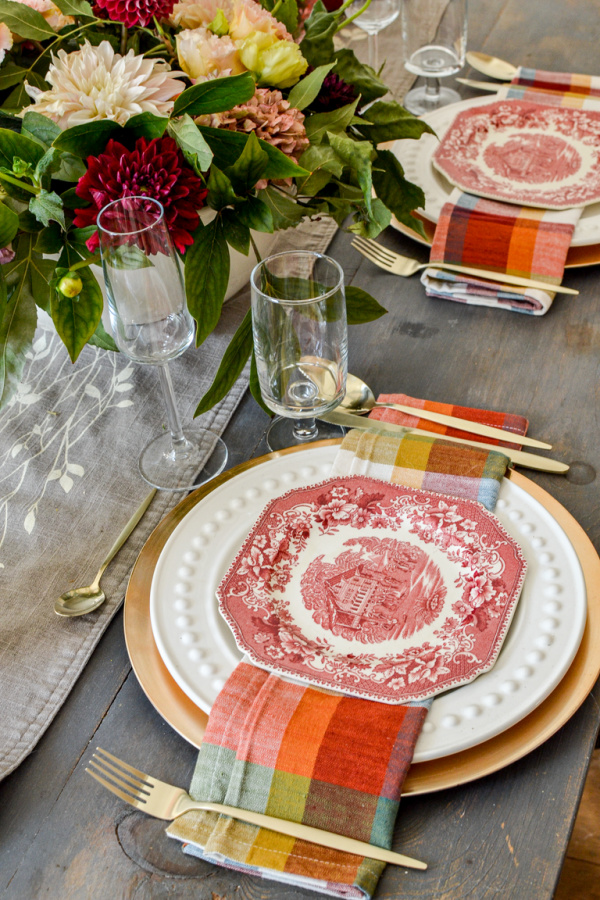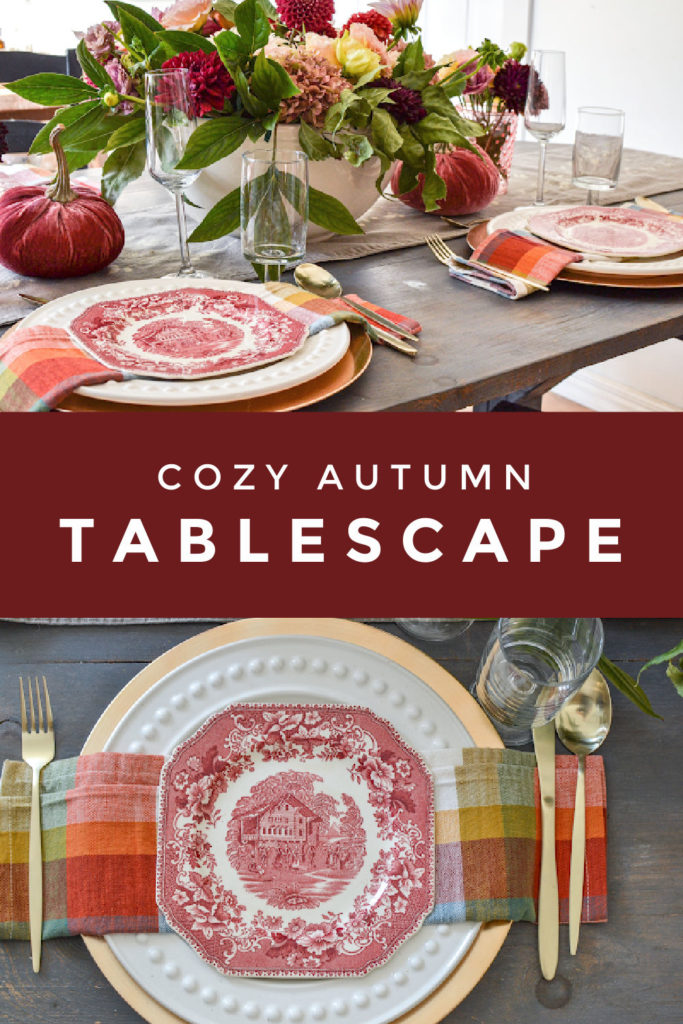 I was worried the table was a bit too simple, but after it was all done I resisted the urge to fill it up with unnecessary accessories because I really love it just as it is!
Although I kept it simple, the blend of rich muddied pink and gold, mixed with traditional colours of fall, plus the mix of patterns and textures, really make this fall table feel cozy and warm. You can bet I will be spending many cozy evenings at the table enjoying every single minute of my favourite season!!
Zucchini Sisters are up next, but there are 14 more gorgeous fall autumn tables linked below, and you will definitely want to visit them all!
Tell me in the comments if you share my affinity to autumn!
Happy Fall! Until next time……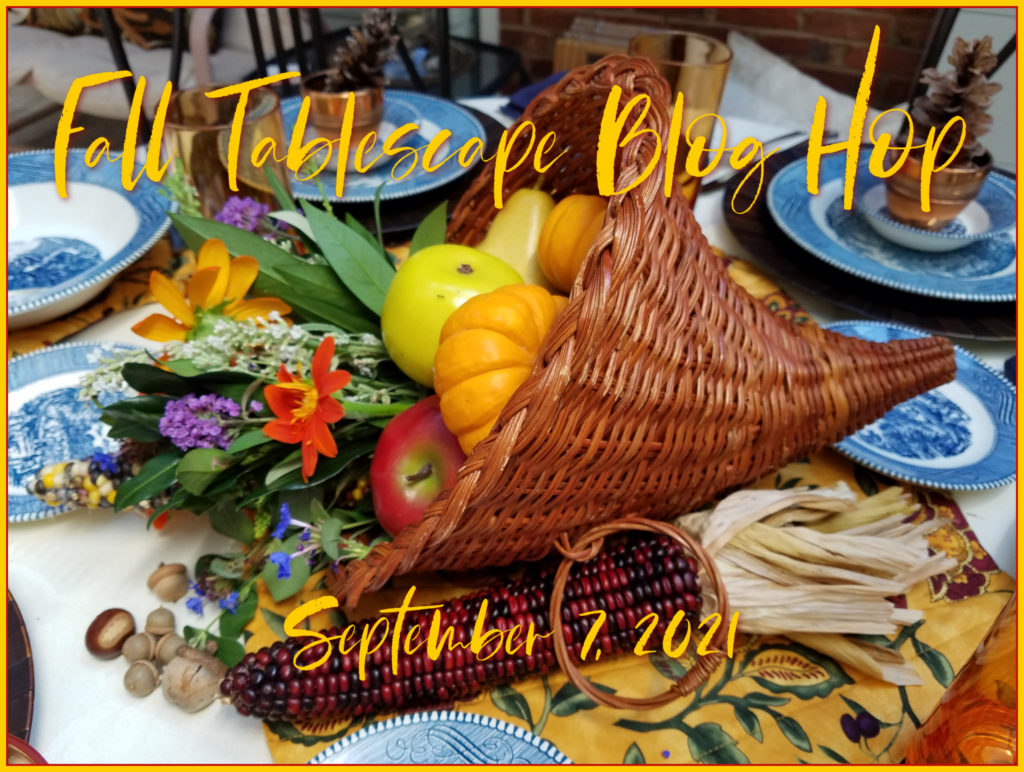 15 Stunning Autumn Tablescape Ideas
My Thrift Store Addiction – Bienvenue L'automne! Macarons and Champagne at Sunset
The Painted Apron – September Pumpkins
Everyday Living – A Welcome to Autumn Tablescape
Home is Where the Boat Is – Whimsical Fall Tablescape: Trucking to the Pumpkin Patch
Life and Linda – Poppies and Checks
Hyacinths for the Soul – Colors of the Season
My Hubbard Home – Pretty Autumn Tablescape Add Soft Blues For An Updated Twist
Panoply – Fall Garden Harvest Creatures Tablescape
Corner of Plaid and Paisley – Fall Tablescape – Mixing Some Blues In
Dinner at Eight – Easing Into Fall
Bluesky at Home – Outdoor Fall Tablescape with Harvest Colors
Red Cottage Chronicles – Cozy Autumn Table
Zucchini Sisters – Glam Pumpkins Fall Table Setting Ideas
Me and My Captain – Woodland Critters Come Out For Fall….and More
Celebrate and Decorate – A Walk in the Forest Tablescape for Fall
The Sweet Sensations – Welcoming Fall in Copper and Gold