This fun and flavourful Halloween Cocktail tastes like Apple Pie and Cinnamon. I almost feel bad giving it the name Poison Apple!!
I may have gotten a tad too excited when I saw that Baileys Irish cream came out with Apple Pie, a new flavour for autumn. I mean really, is there anything more cozy than a fresh baked apple pie?
My first thought was how delicious it would taste in hot chocolate. This Caramel Irish Cream Hot Chocolate is one of my favourites.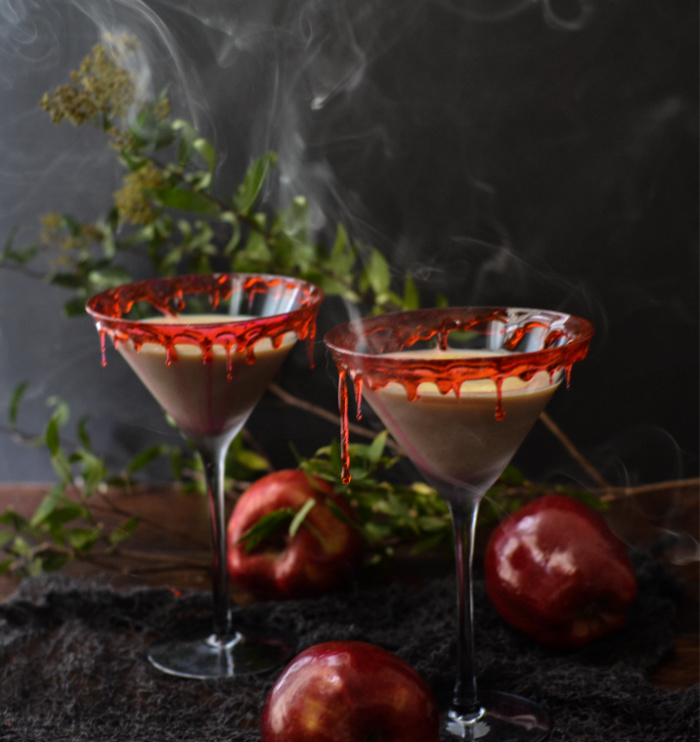 This post may contain affiliate links to help you easily find the products I use. Should you make a purchase through one of these links I may earn a small commission, and always appreciate your support!
Then the idea for this Halloween Cocktail came to mind.
I am happy to be sharing my cocktail as part of a Halloween Cocktails and Mocktails blog hop! There are 7 more recipes below that you will want to check out! Thank you to Michelle from Our Crafty Mom for hosting.
Now, I do prefer my apple pie to be made without cinnamon, however I thought I would add some Fireball to this cocktail to give a hint of cinnamon flavour.
A touch of half and half cream mellows the flavour just a bit, cutting down the sharp taste of whisky. It makes it extra smooth and velvety.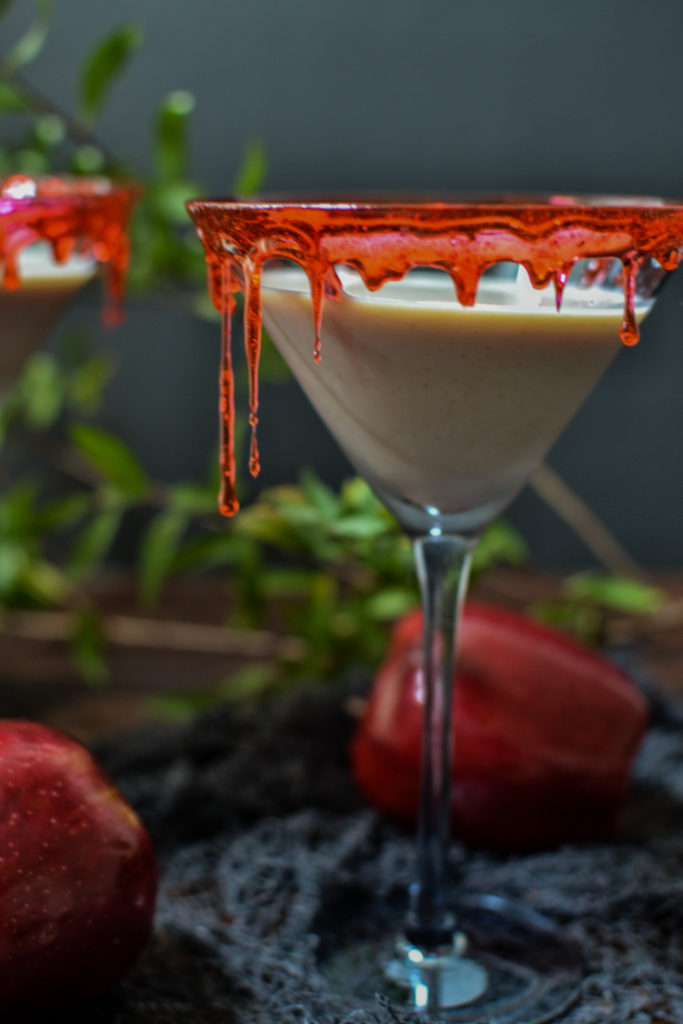 I was excited to try creating the illusion of dripping "blood" using just sugar, corn syrup and water. Oh, and a little red food colouring. It turned out even better than I imagined. And, it was so easy to make. (Be sure to watch the video below to show you just how easy)
A martini glass or cosmopolitan glass is essential to get the "blood" to drip, suspended off the the edges.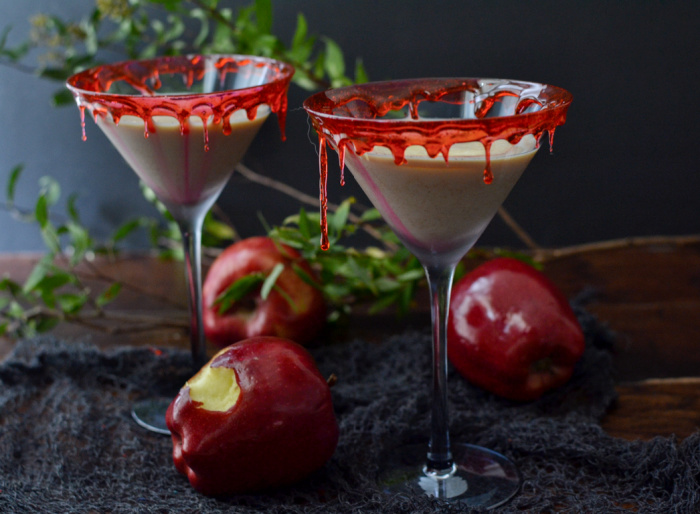 The hardened sugar rim adds just a touch of sweetness, and as the sugar comes in to contact with the creamy cocktail it melts just a little into the drink.
What you will need to make a Poison Apple Halloween Cocktail
Baileys Apple Pie Irish Creme Liquor
Fireball Cinnamon Whiskey
Half and Half cream
Martini or Cosmopolitan glass
Sugar, corn syrup, water and red food colouring for the "bloody" rim
Thinly sliced apples for garnish
Wearing heat resistant oven mitts, hold the glass by the bottom and CAREFULLY dip the rim of the martini glass into the hot sugar mixture. I have a set of silicone oven mitts that I love. Wear long sleeves to protect your arm from any steam that may rise up.
Parchment paper is perfect for catching the hot dripping syrup.
Watch the video below for a "how to"
How to make a Poison Apple Cocktail
While your dripping "blood" rim sets up, follow these steps for this yummy apple cinnamon flavoured cocktail:
Fill a cocktail shaker with ice
Add 3 ounces Apple Pie Irish Cream, 1/2 ounce Fireball whiskey, 1 ounce half and half cream
Shake well and strain into prepared martini glasses
Top with a thinly sliced apple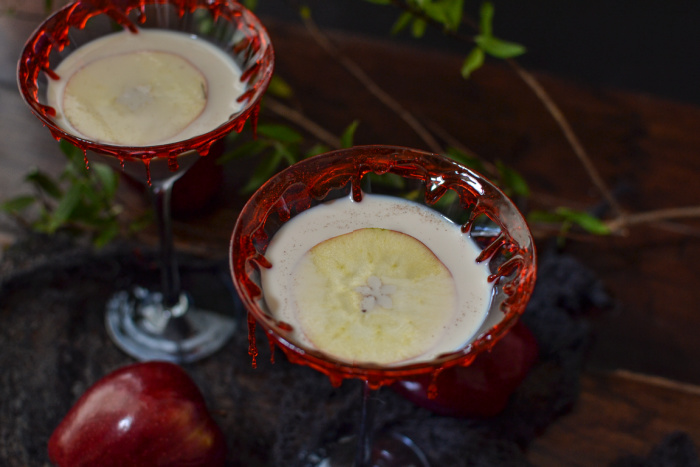 How fun would this be as a signature cocktail at a Halloween themed wedding?! Or, served at an elegant adult Halloween party.
If you prefer a simple rim, just dip the rim in water and then into red sprinkles for a sparkly and sweet touch.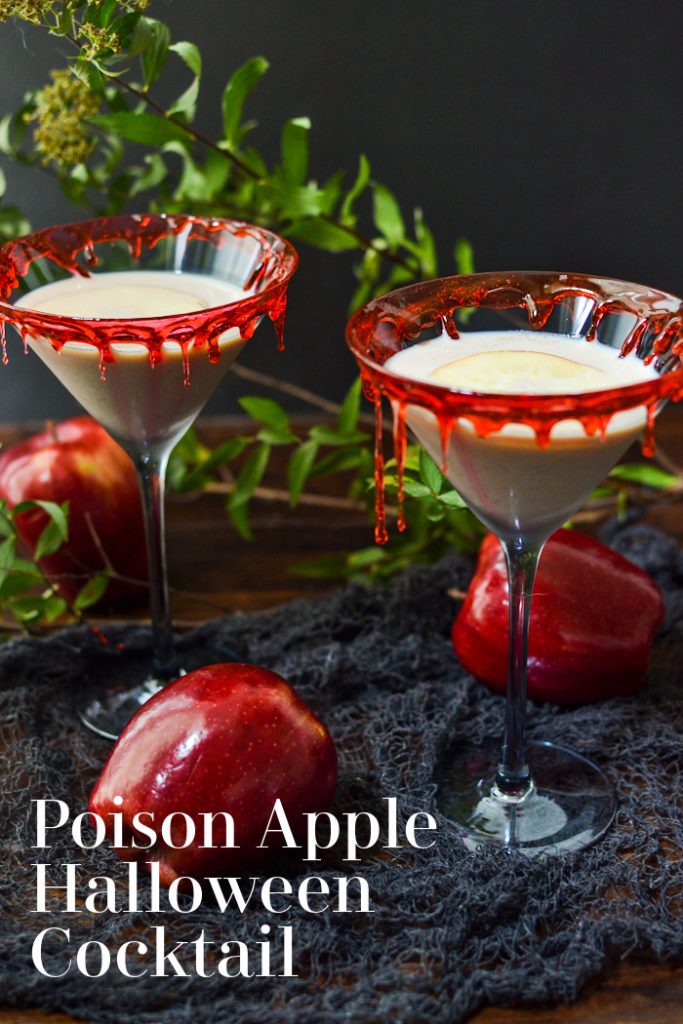 However you choose to enjoy this delicious cocktail, please enjoy responsibly and NEVER DRINK AND DRIVE!
Next up is Jen Around the World and her awesome Non-Alcoholic Halloween Sangria!
Until next time…..

Happy Halloween Cocktails & Mocktails Our Crafty Cocktails –
Ghastly Green Halloween Shooters
A Day in the Life on the Farm –
Sweet Poison
Hezzi-D's Books and Cooks –
Vampire's Kiss Cocktail
Red Cottage Chronicles –
Poison Apple Cocktail
Magical Ingredients –
Kid Friendly Deathly Dracula Drink
Our Good Life –
Bloody Rum Punch