If hyacinths are the scent of spring, then surely lemon is the flavor of spring!
I may have mentioned it before, but I have a love for all things lemon! These creamy lemon squares are no exception. The lemon flavor is out of this world. They are slightly sweet, tangy and smooth as silk. The crust is tender and delicious.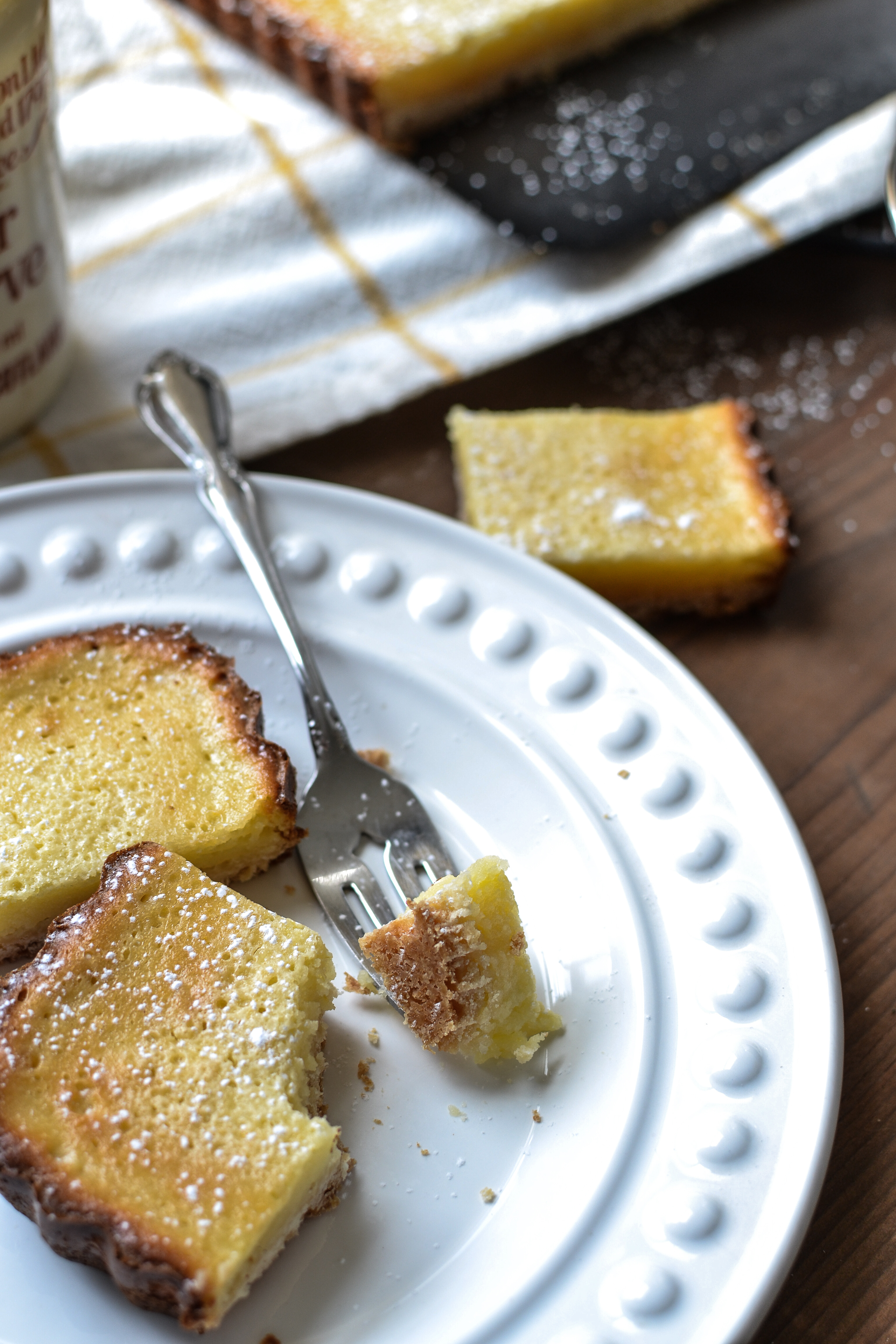 A light dusting of confectioners sugar is an extra touch that helps to balance out the tang.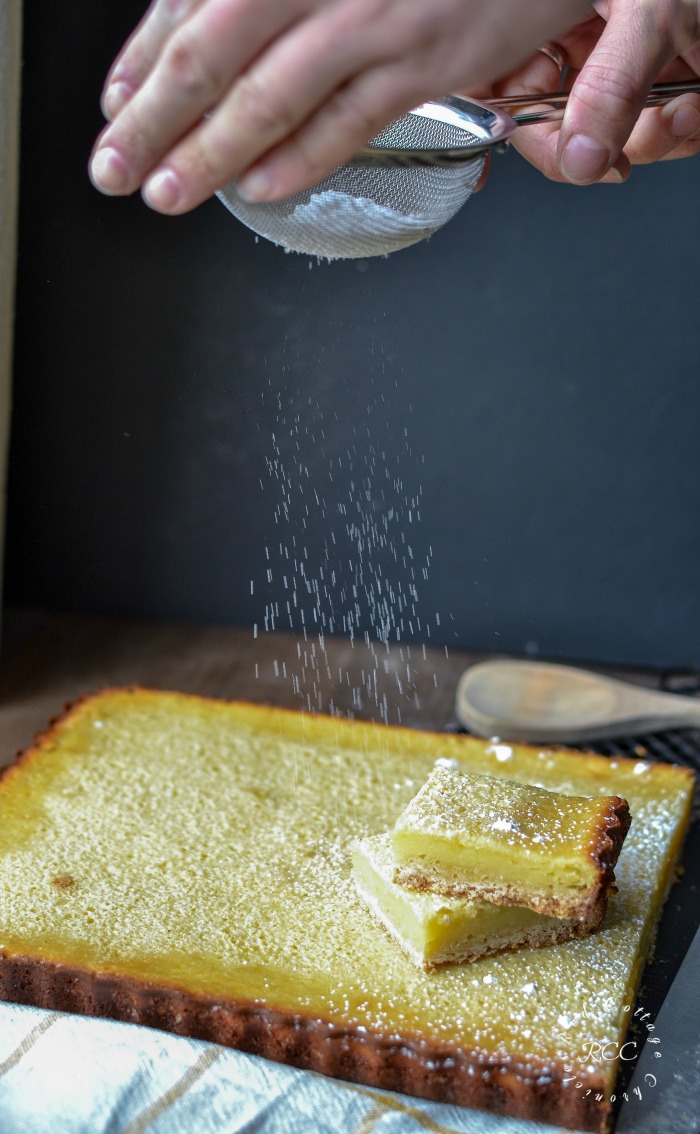 Although, that tangy burst of flavor is what makes lemon desserts, like this triple lemon buttercream cake so delicious!
I often bake these squares in an 8 inch square baking pan and then cut them into about 20 snack sized squares. But, when I am serving them as a dessert all on their own, I use my rectangular pan with the fluted edges. It has a removal bottom, which eliminates the need for parchment paper.
This is the perfect pan size for cutting 6 large squares for dessert. Simply arrange each square on a dessert plate with a dollop of fresh whipped cream and you have a delicious dessert that will not soon be forgotten!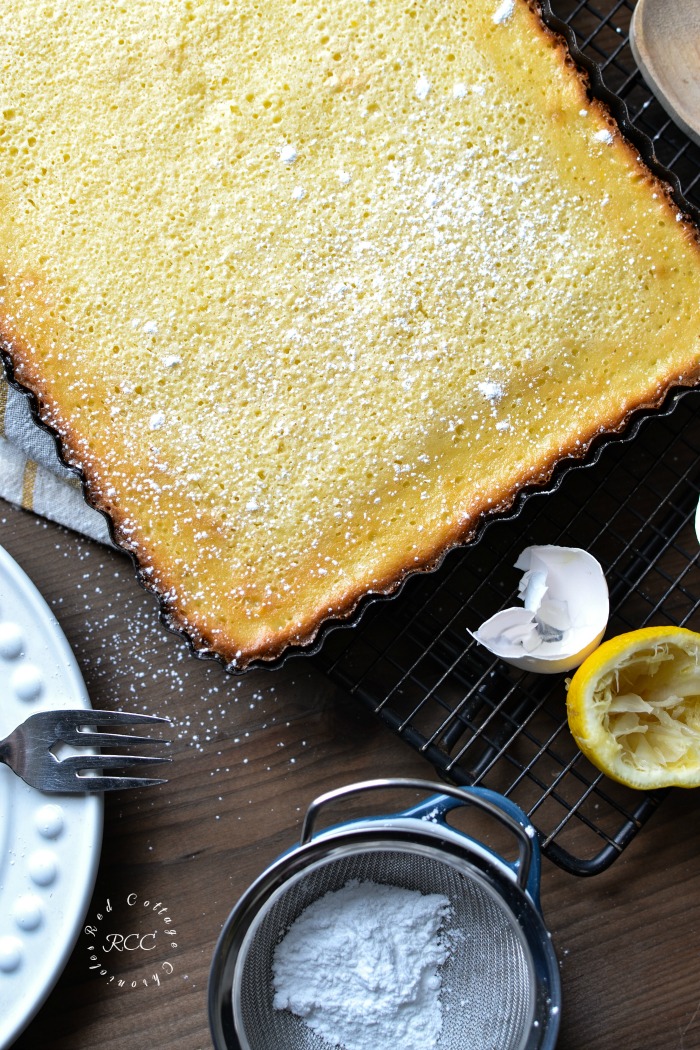 These lemon squares and lemon meringue pie always bring back memories of my Nana. Her lemon squares were even more tangy then these. Almost like her pie without the meringue!
That's probably why I loved her squares so much. I always scraped off the meringue and savored the lemon filling!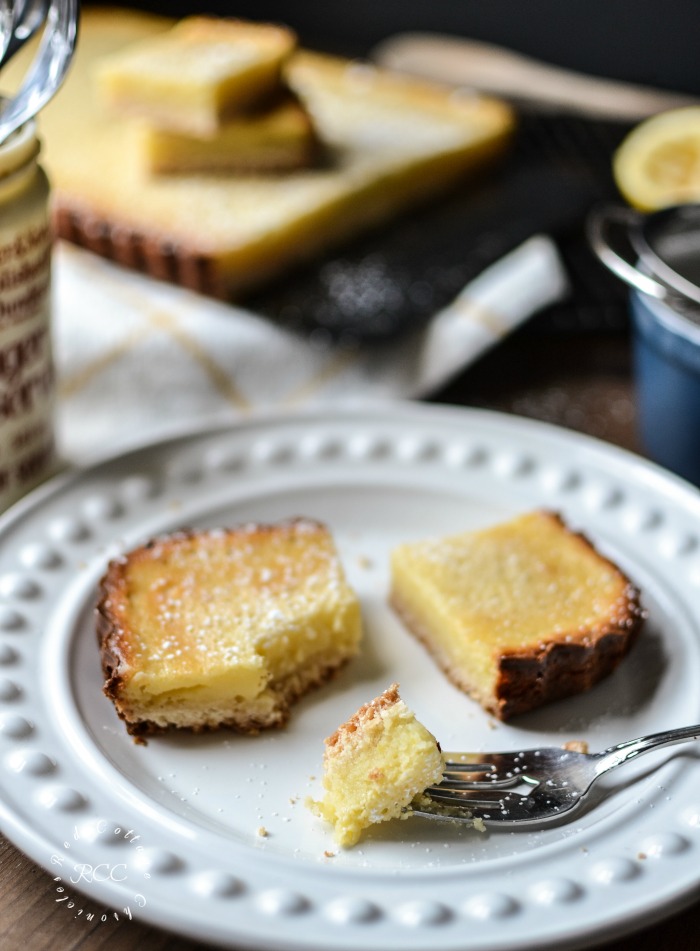 This is a recipe you will want in your recipe box. Whether you serve it for dessert, for brunch, or for a lunch box treat, everyone will be begging for the recipe!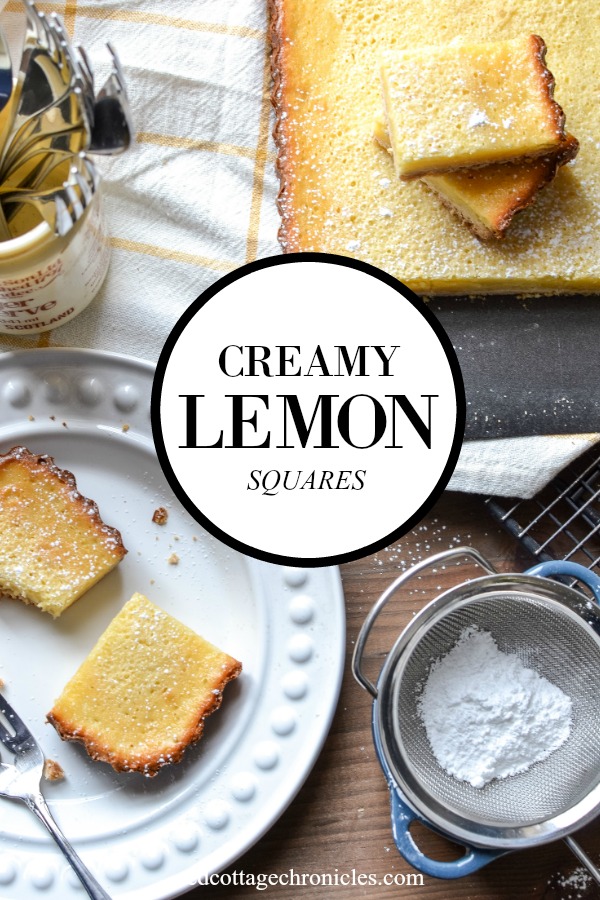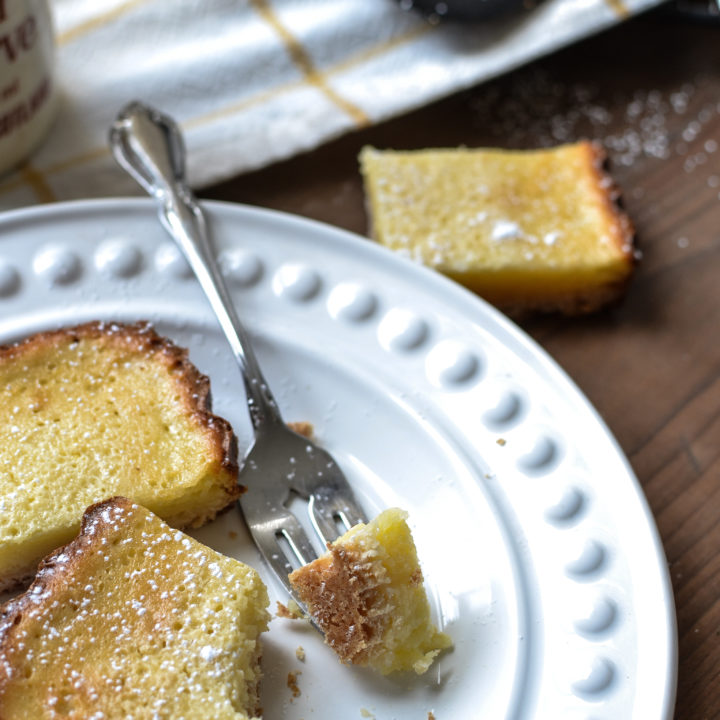 Creamy Lemon Squares
Yield: 6 to 20 squares

Prep Time: 20 minutes

Cook Time: 51 minutes

Additional Time: 2 hours

Total Time: 3 hours 11 minutes

Creamy lemon squares that can be cut small for snacks, or into big squares for dessert
Ingredients
Crust:
1 cup flour
1/4 cup sugar
1/2 cup cold butter, cubed
Filling:
4 ounces cream cheese, room temperature
1 1/2 cups sugar
1/4 cup flour
2 teaspoons lemon zest
1/2 teaspoon baking soda
1/2 cup freshly squeezed lemon juice
4 large eggs
Icing sugar for dusting
Instructions
Preheat oven to 350 degrees and line 8 inch square pan with parchment paper
Combine all ingredients for the crust in a food processor and pulse until mixture resembles course crumbs
Turn mixture into prepared pan and press down until firmly packed. Bake for 16 to 18 minutes (just until edges are slightly golden). Remove from oven and allow to cool slightly.
Meanwhile, prepare filling. Using the food processor combine the cream cheese and a 1/2 cup of the sugar until well blended.
Add the remaining 1 cup of sugar, 1/4 cup flower, lemon zest and baking soda and pulse to combine. Add lemon juice and eggs and blend until smooth, scraping down the bowl of the food processor as necessary.
Pour filling into cooled crust and return to oven to bake for 35 to 40 minutes. Squares are done when edges are set, but the centre is still somewhat jiggly.
Remove from oven and cool completely before refrigerating for 2 hours or until ready to serve. Lift square out of the pan by the parchment paper and cut into desired sized squares
Dust with icing sugar
Until next time…..