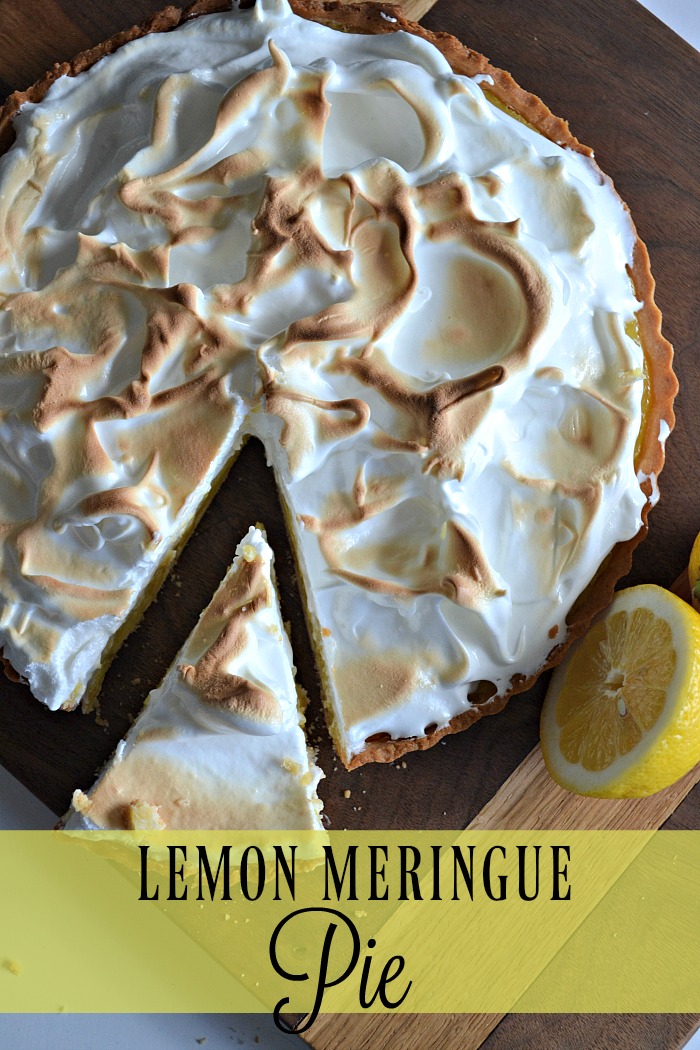 I never miss an opportunity to make a fresh baked pie, today being Pi(e) Day gave me the perfect excuse to try a new lemon meringue pie recipe!
Growing up lemon meringue pie was my least favourite. Don't get me wrong, I loved the lemon, but really disliked the meringue. When my nana made it, she made it look irresistible piling it high with meringue perfectly "toasted" with golden swirls. But, I always scraped it off and just ate the lemon and her buttery, flaky pie crust.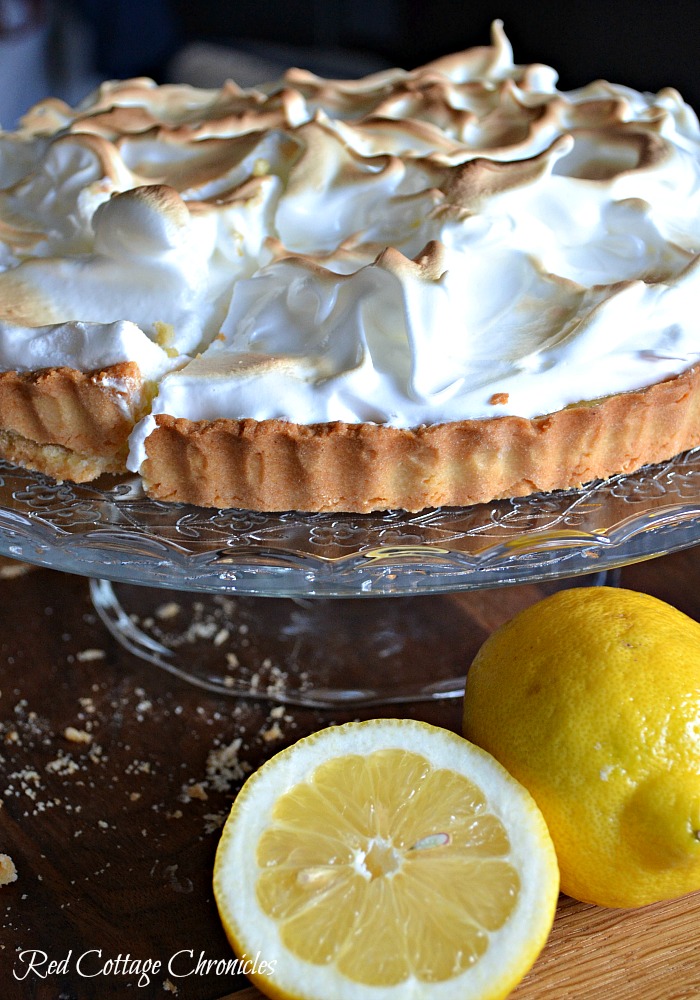 This post contains affiliate links for your convenience. If you purchase a product through the a link I may receive a small commission, however there is no increased cost to you!
When flipping through my well worn Fanny Farmer cookbook, I stopped at a recipe for meringue which said, and I quote "follow this somewhat unconventional method". The method recommended is said to prevent a shrinking, weeping and rubbery merignue. I figured what did I have to loose.
I am happy to report I can now eat a whole piece of lemon meringue pie without scraping off the meringue!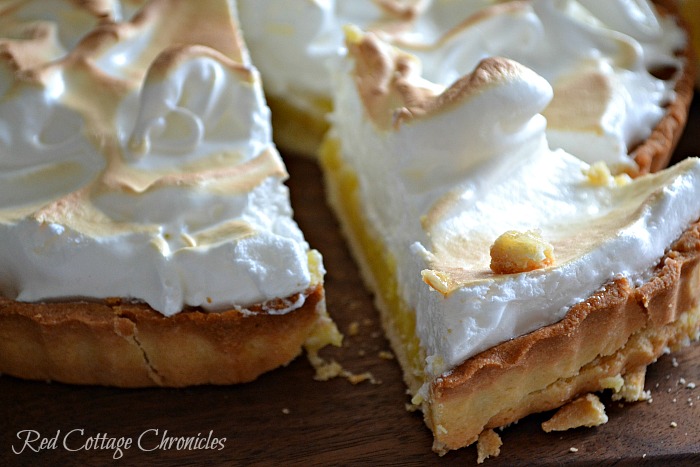 The recommended method is new to me, but perhaps you have been doing it this way all along. It involves gently heating the egg whites and sugar over a double boiler and whisking constantly until the sugar is completely dissolved and the egg whites are warm, and then beating them until stiff glossy peaks form.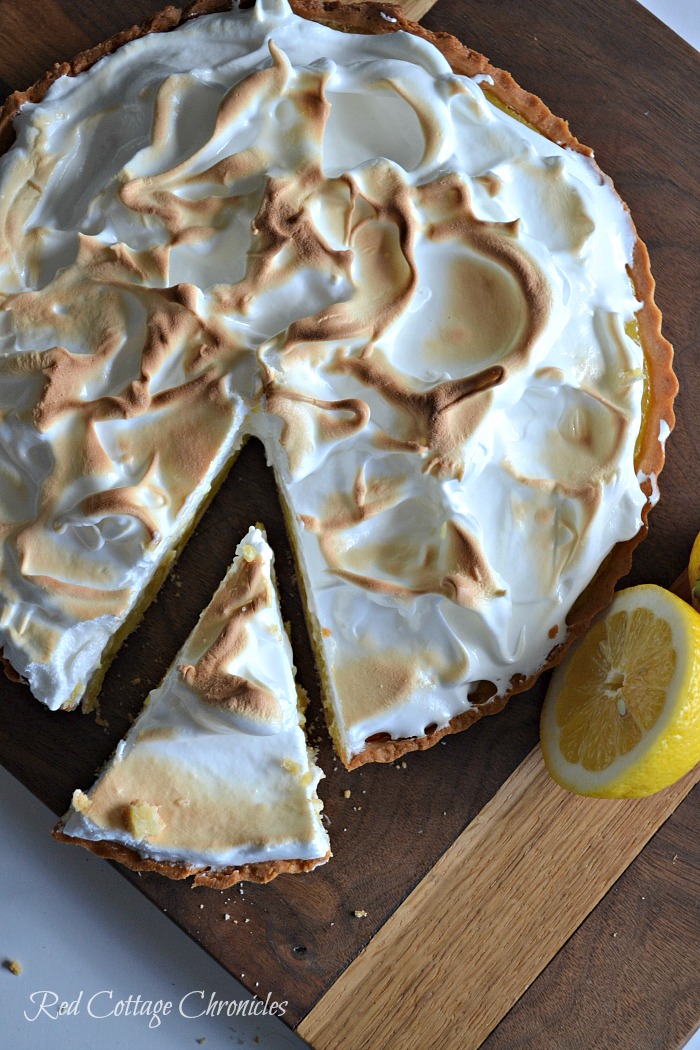 The resulting meringue turned out sweet and smooth and melt in your mouth. It didn't shrink away from the edges of the pie and even the next day it was like a fluffy cloud of sweetness.
Another thing I did a little differently with this pie, is to use an 8″ tart pan with a removal bottom like this one. And, since I was trying new things today anyway, I used a sweet pastry dough instead of pie dough. I think it looks extra special!
You kind find the recipe for the sweet pastry shell here. I always make a double batch and freeze 1/2 for another time.
You will be glad you stopped by the Red Cottage today, because in addition to sharing my lemon meringue pie recipe, I am joining with some of my favourite foodie bloggers as they share their favourite Pi(e) Day recipes as well! You can find the links right below my recipe.
While we are on the subject of pies, what kind of pie can you not live without?
Until next time……

Lemon Meringue Pie
2017-03-14 06:03:00
Serves 8
Ingredients
1 Prepared Tart Shell (Link in the post)
For Filling
1 cup granulated sugar
4 large eggs
2 large egg yolks (reserve whites for meringue)
1/2 cup fresh squeezed lemon juice, strained
2/3 cup unsalted butter, cut into cubes and at room temperature
For Meringue
4 large egg whites, at room temperature
1/2 cup granulated sugar
1/8 teaspoon cream of tarter
Instructions
Preheat oven to 325 degrees.
To Prepare the Filling
In a heatproof bowl whisk together eggs, egg yolks and sugar until well combined. Slowly add lemon juice, whisking constantly.
Place the bowl over a bowl of simmering water, continuing to whisk constantly until mixture thickens and it falls like a ribbon when the whisk is lifted (about 10 to 15 minutes).
Remove from the heat and quickly strain the mixture into a clean bowl using a spatula to press through a fine sieve. Add butter a few pieces at a time, whisking until butter is completely incorporated. Pour into the prepared shell.
Bake for 20 minutes, or until the filling is set. It should be a bit jiggly, but not runny.
Remove from the oven and allow to cool completely on a wire rack before placing in the refrigerator to fully chill for about 3 hours.
For the Meringue
In a heatproof bowl whisk together egg whites and sugar. (The bowl of a stand mixer works well for this).
Place the bowl over a pot of simmering water and continue whisking until the sugar has completely dissolved and the egg whites are warm.
Remove from the heat, add the cream of tarter, and using the wire whisk attachment beat until stiff, glossy peaks form.
Spread the meringue over the cooled pie using the back of a spoon to create heaps and peaks.
Place the oven rack in the top third of the oven and preheat broiler on high. Broil the prepared pie for 1 1/2 to 2 minutes (watching carefully after 1 minute) until the meringue is a golden colour
Serve immediately or refrigerate until ready to serve
Red Cottage Chronicles https://www.redcottagechronicles.com/
Check out these sweet and savory pies!