We are smack in the middle of peach season right now, and after a leisurely picnic in the park we strolled the main street where the annual Peach Festival was underway. It was packed with folks taking in all things peachy! I picked up some peaches and decided what better way to unwind on a summer evening then a delicious peach iced tea cocktail!
Our summer cocktail series may be over, but I couldn't miss sharing this delicious summer beverage with you.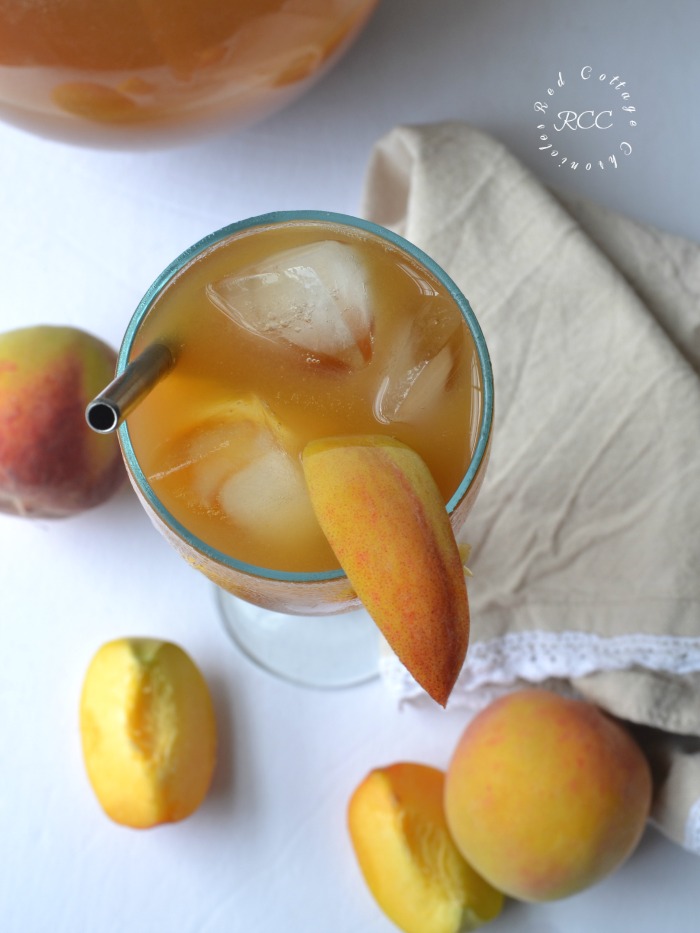 This is truly a homemade iced tea made with fresh brewed tea and fresh peaches cooked down to a peach puree. It is really simple and the result is so worthwhile.
Don't want a cocktail? Simply leave out the rum. Trust me, the peach iced tea is delicious all on its' own. The coconut rum just adds a bit of the tropics. Either way, it is a deliciously refreshing summer beverage.
Peach Iced Tea Cocktail
Ingredients:
4 cups freshly boiled water
3 tea bags, either black or green tea
3 ripe peaches, thinly sliced peels on + one peach for garnish
1/2 cup granulated sugar
1 1/2 cups room temperature water
Coconut Rum
Instructions:
Pour boiled water over tea bags, cover with a plate and steep for 5 minutes. Remove tea bags and set aside to cool.
In a medium saucepan, combine unpeeled peaches, sugar and 1 and 1/2 cups of water, bring to a boil over high heat. Lower heat to medium-low and simmer for 30 minutes. Stir and crush peaches about every 5 minutes.
Carefully transfer cooked peaches to a blender and blend until smooth. Pour through a fine sieve to remove any chunks of peaches left behind. I have a high speed blender which resulted in a very fine puree without the need for sieving.
In a large pitcher combine the peach puree and the tea. Chill. Add ice and one peach sliced thin just before serving
For cocktail, in a tall glass add 1 ounce coconut rum, fill with peach iced tea and stir gently.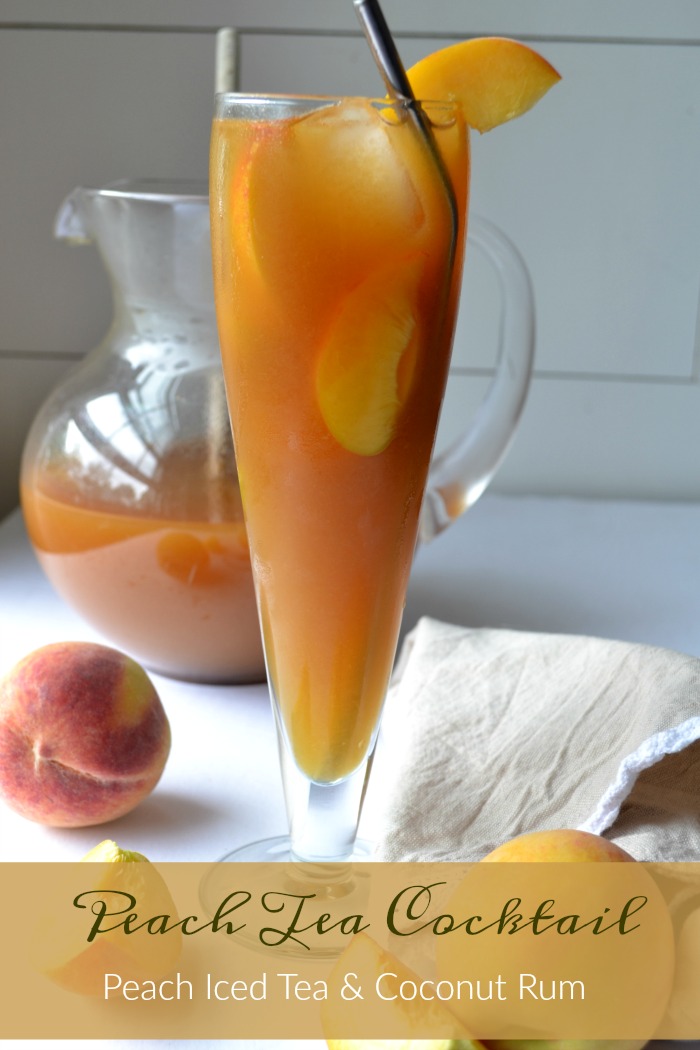 There is nothing quite like the taste a fresh picked peach in the summertime. The season comes and goes so quickly, so I love to enjoy them while they are in season. Tomorrow I am making a peach cake. Four layers of french vanilla cake layered with fresh peach filling and buttercream frosting! And of course it will be decorated with pretty peaches! I will be sharing that recipe later this week and linking it back here!
To keep up-to-date with all the happenings at Red Cottage Chronicles, be sure to subscribe! Simply click here to enter your email address and receive an email when a new post goes live (2 to 3 times per week), plus as a thank-you for subscribing you will receive your password to access our VIP library!
Until next time….