If yesterday's Valentine Cocktail wasn't enough to get you thinking about February 14th, then maybe these Valentine's dessert ideas will do the trick!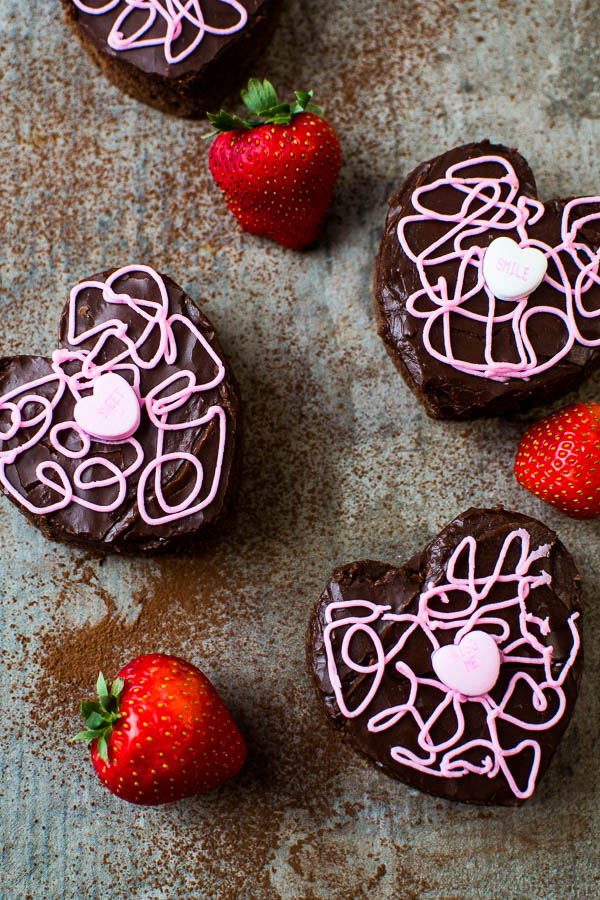 Weekends are for gathering with friends, and today I am gathering with some blogging friends to share some sweet treats for Valentine's Day or any day. I mean, who doesn't love a brownie!!
The brownies are the kind that chocolate dreams are made of. They are like mini fudgy chocolatey cakes frosted in a buttery chocolate glaze.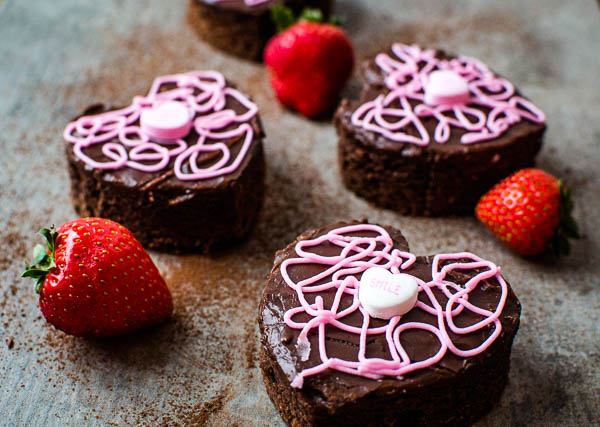 As delicious as these decadent brownies are, can we talk about the candy conversation hearts for a minute? What happened to the sentimental, mushy romantic sayings? I had to dig through the bag to find a few that fit the bill.
I mean seriously! No, I don't want to "text you". And, what exactly does "BAE" mean? Don't even get me started with "hand with me"! More than half were stamped with the word "nice". Come on! Out of about 60+ hearts I found 3 "smiles", 1 "you & me" and 1 "love you". What is this world coming too!!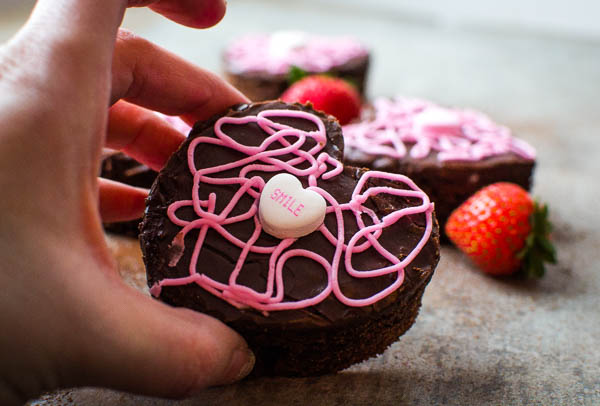 Back to the brownies! A simple lace pattern was added with pink frosting and a small round icing tip. A single conversation heart in the centre offers a little Valentine's message! Find the recipe below.
Whether you celebrate February 14th with your kids, your gal pal or your special someone, these sweetheart brownies will be a hit!
Another really easy, yet scrumptious heart shaped dessert is this Valentine's Strawberry Tart. Although I make it all year round!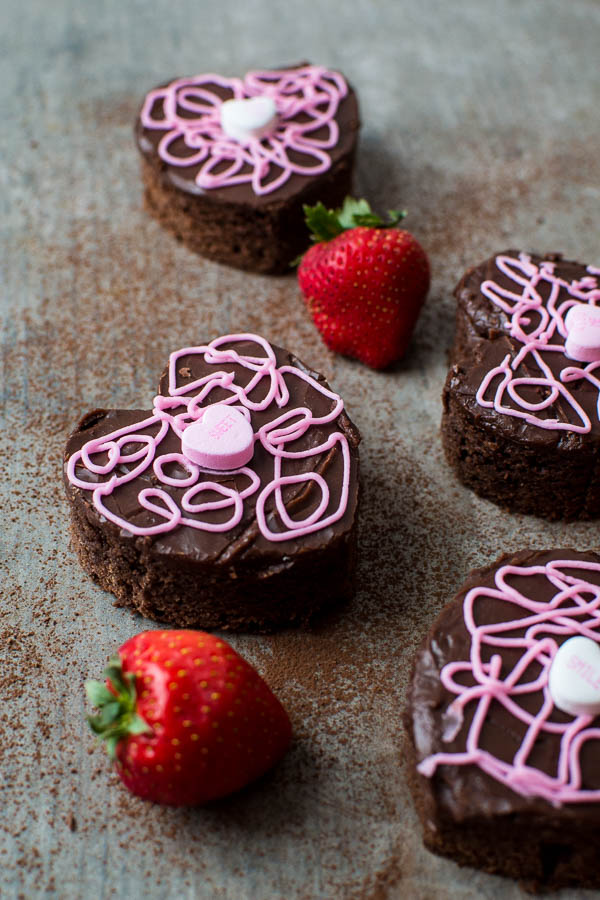 Don't forget to check out all the other links below for even more Valentine's dessert ideas!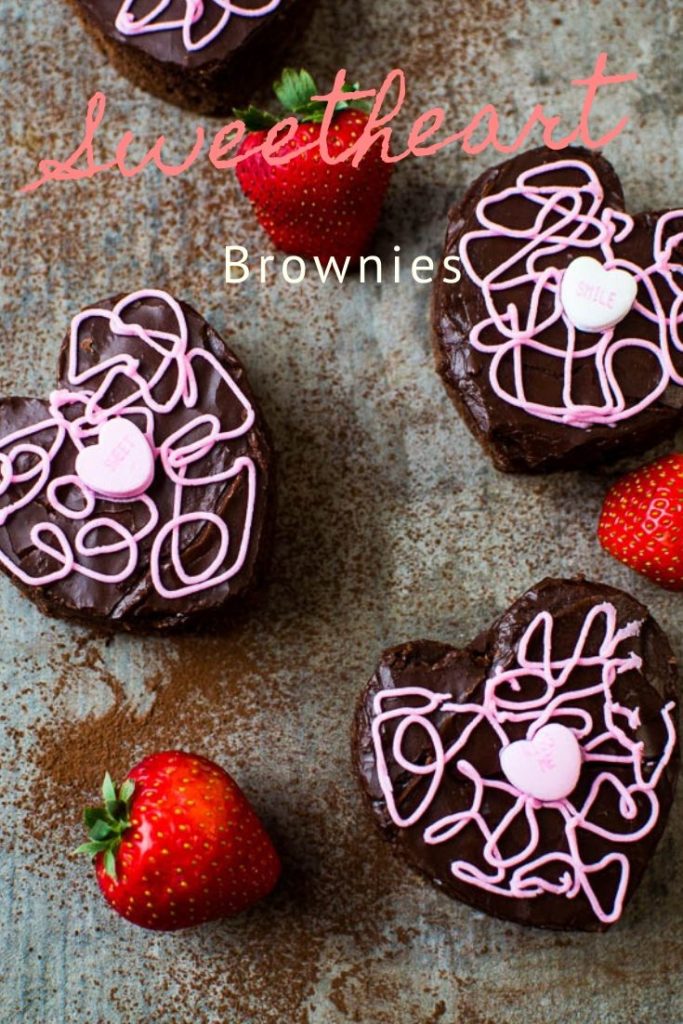 Be in the know! It may be a delicious recipe, a stunning tablescape, or decor tips to make your house a home! Simply click here to subscribe. I never sell or share your information, and you can unsubscribe at any time!
Until next time….

Sweet Valentine's Day Desserts

We share Recipes From Our Dinner Table! Join our group and share your recipes, too! While you're at it, join our Pinterest board, too!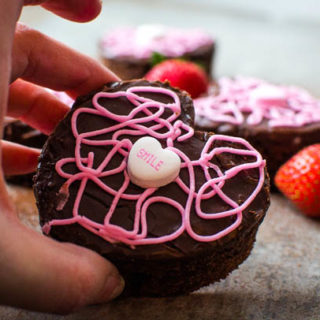 Sweetheart Brownies
Additional Time:
10 minutes
These fudgy frosted sweetheart brownies are the perfect Valentine's Day dessert
Ingredients
BROWNIES
1 cup butter, melted
1/2 cup unsweetened cocoa powder
2 cups all-purpose flour
2 cups sugar
4 large eggs
1 tablespoon pure vanilla extract
FROSTING
¼ cup butter, melted
¼ cup milk or cream
¼ cup unsweetened cocoa powder
3 cups confectioners sugar, sifted
Instructions
Preheat oven to 350 degrees.
Line a 9 x 13 inch cake pan with foil, smoothing up the sides and over the bottom, spray with non-stick spray and set aside.
PREPARE BROWNIES
In the bowl of electric mixer combine melted butter and cocoa powder. Using paddle attachment mix until smooth.
Add the flour and sugar and mix on low speed until combined.
Add eggs and vanilla and mix just until combined.
Transfer batter to prepared pan and smooth with an offset spatula.
Bake for 30 minutes (or until toothpick comes out clean).
Remove from oven and allow to cool for 10 minutes before frosting.
PREPARE FROSTING
Add all frosting ingredients to a medium bowl and whisk until smooth.
Frost slightly cooled brownies smoothing evenly.
Allow the brownies to cool completely and the frosting to set. Using a deep heart shaped cookie cutter, cut into hearts and decorate as you like.
Notes
Decoration ideas: conversation hearts, sprinkles, pink frosting, red and pink chocolate M & M's or serve with vanilla ice cream and caramel sauce.