This bright and cheerful lemon tablescape for summer makes outdoor entertaining both stylish and fun! Lots of photos for you to peruse today, so grab a beverage and settle in!
I am so happy to be joining the lovely Rita from Panoply as she hosts myself and 19 other bloggers as we share our vision of the perfect summer table! All the links are below so be sure to check them out after you explore my own festive summer table.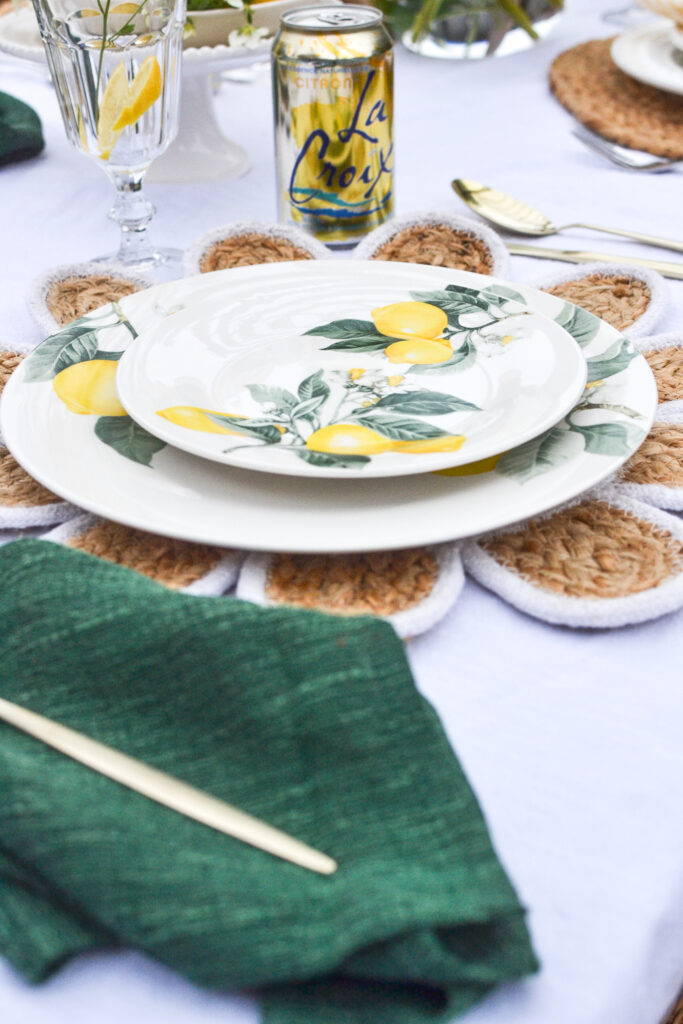 I have a confession to make. Summer is my least favourite season. Yes, I said it! Now, I do love the extended daylight and the sunshine, but the heat and humidity is enough to make me want to never go outdoors.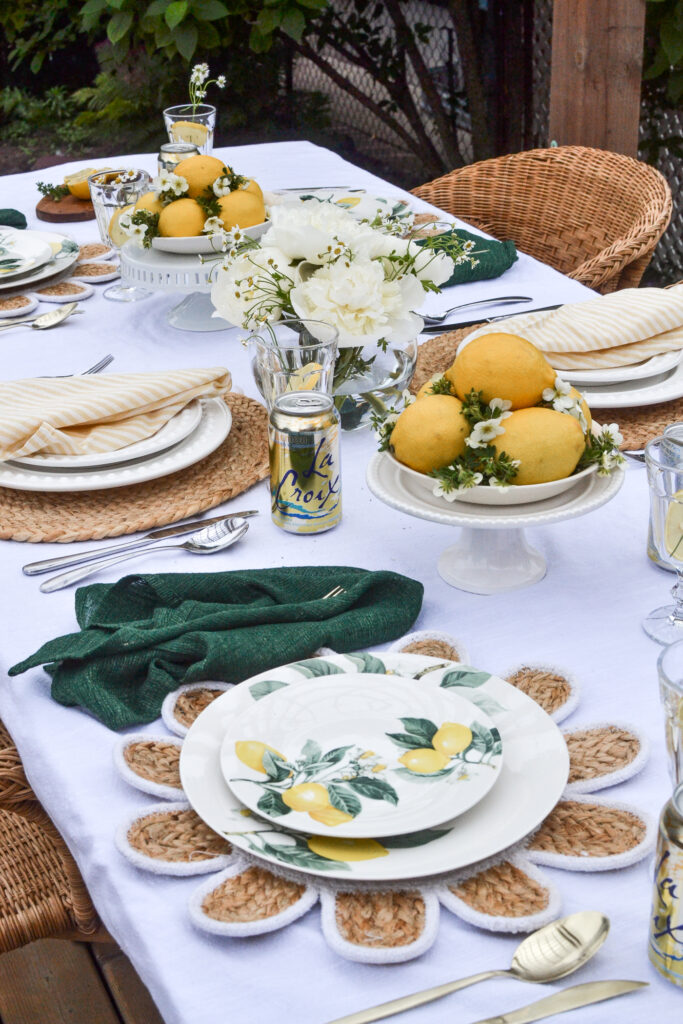 This poses a real dilemma since I also love to entertain and host family and friends to dine al fresco whenever I can. What's a girl to do?
Well, I do my best to embrace the season while secretly waiting for cooler temperatures. Setting a pretty table always elevates my mood, and this fun and cheerful lemon tablescape is no exception!
Usually I share a patriotic tablescape for summer, like this Canada Day tablescape, which was a favourite! But lemons just scream "it's summer"!!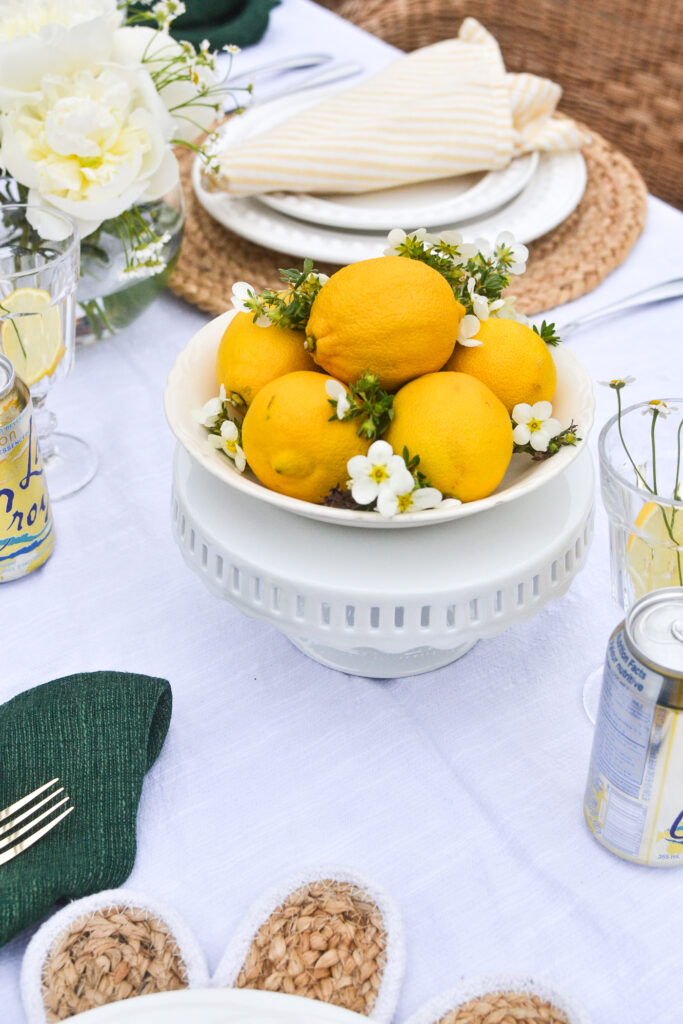 Today I am going to show you how to set a pretty table for summer entertaining that is easy, low cost and will set the stage for a lively evening of food and conversation.
Essentials for a lemon themed summer tablescape
dinnerware (I purchased my lemon themed plates at the dollar store, but below I show you how to highlight the lemon theme even if you only have plain dinnerware)
Glassware
Lemonade or lemon sparkling water
Fresh lemons
Tablecloth or placemats
Daisies or other simple white and yellow blooms
A delicious lemon dessert like this Boozy Frozen Limoncello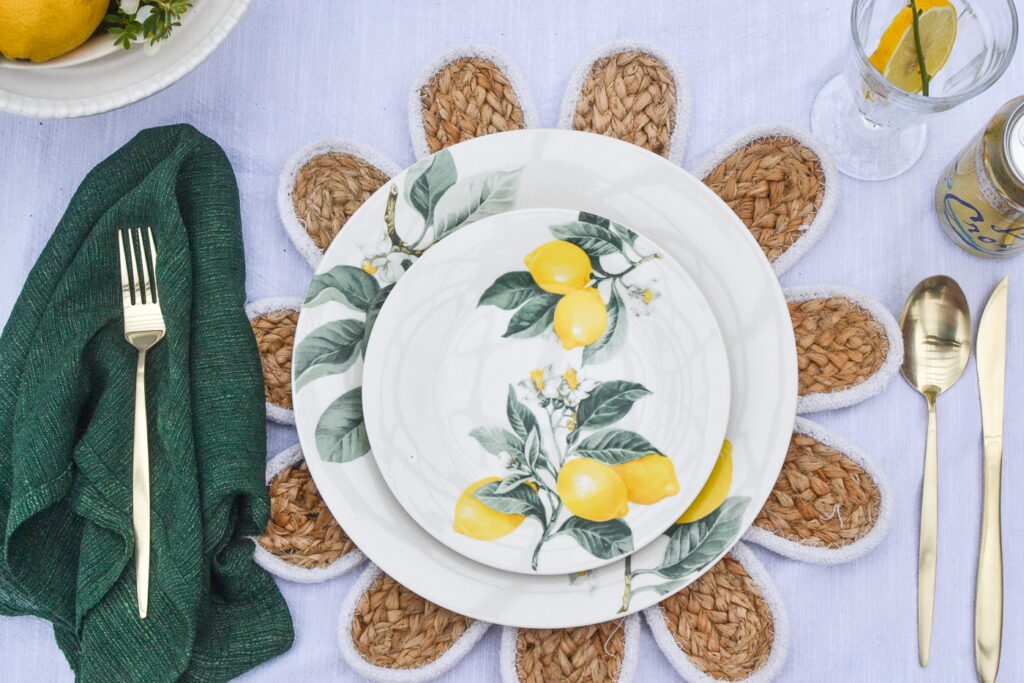 This table was put together with things purchased at Dollar Tree, the grocery store and blooms from my garden and farmers market.
Start with lemon themed plates. I purchased mine at the Dollar Tree, but you could also use inexpensive lemon themed paper plates.
The only purchase for this tablescape was the adorable daisy shaped rattan placemats. They were coming home with me whether I was setting this table or not! I anticipate getting a lot of use out of them this summer.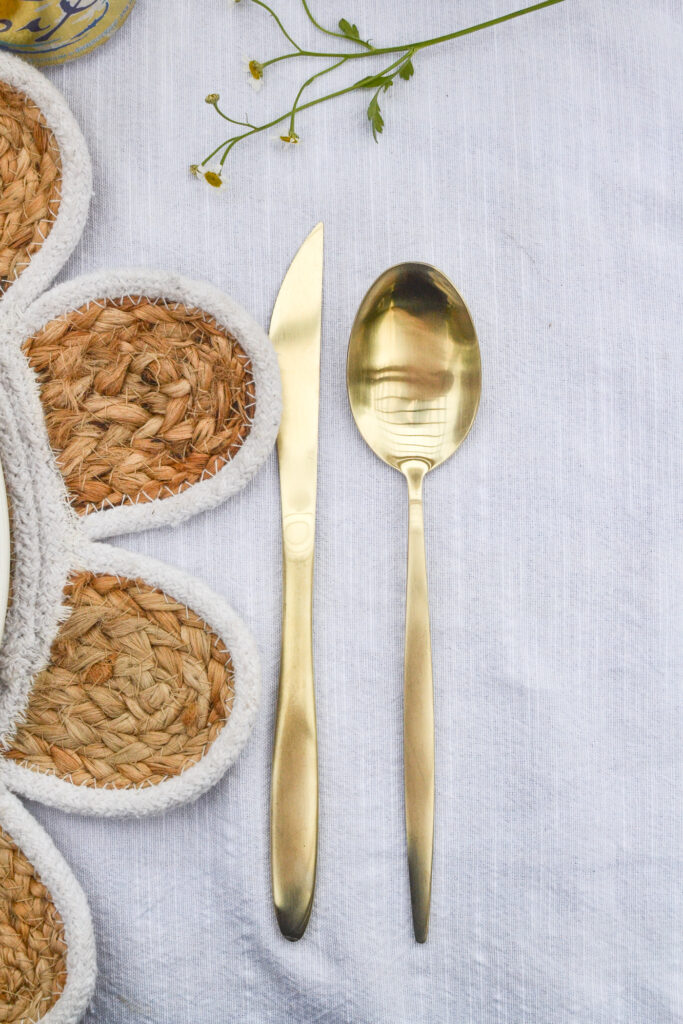 How to Mix and Match Place Settings with Ease
My dilemma was that I had only 4 dinner and salad plates in the lemon theme, but was setting a table for six. I also only had 2 yellow striped napkins and service for 4 gold flatware. And, only 4 daisy shaped placemats.
I didn't even bat an eyelash! I grabbed 2 of my trusty white everyday plates, 2 sets of my everyday flatware and 4 green linen napkins, and my round rattan placemats.
As long as all the place settings compliment one another, I think anything goes!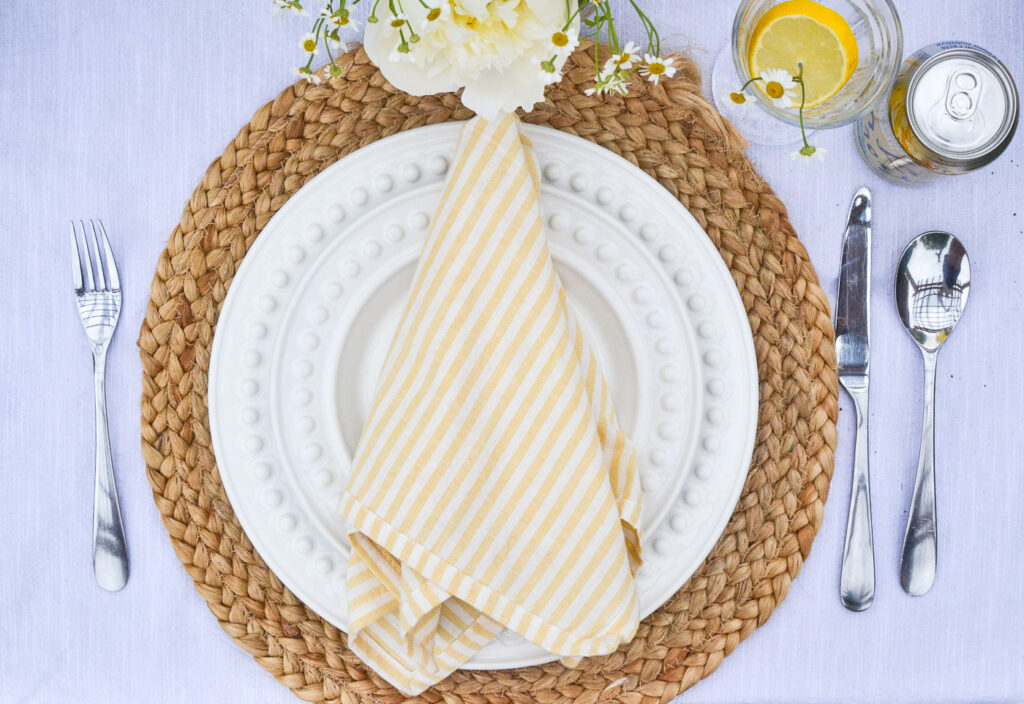 In the photograph below, you can see how well they all work together! I actually think I like the break it gives the eye, amongst all the lemons!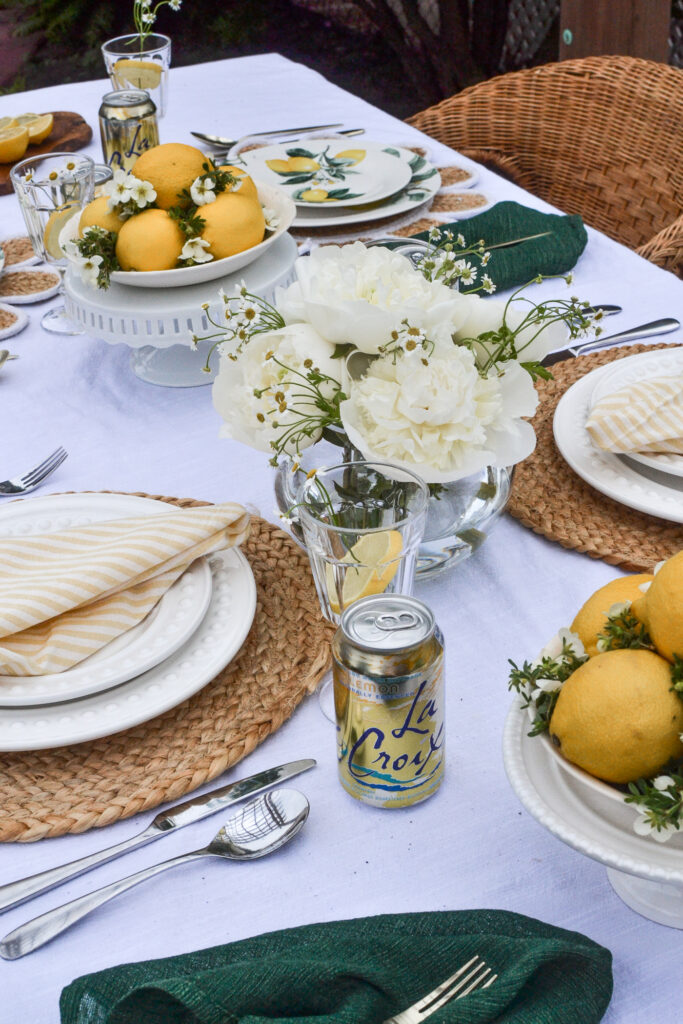 Simple everyday footed glasses from Ikea with a slice of lemon are waiting for the lemon La Croix to be poured in. A sprig of organic camomile in each glass adds a nice visual that ties win with the peony centrepiece.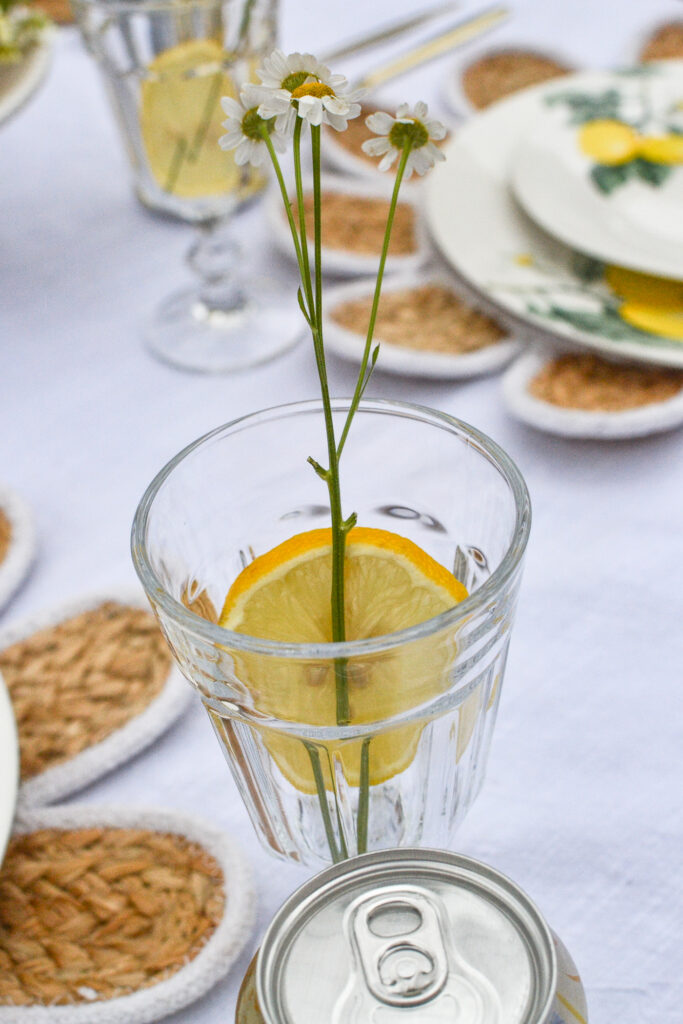 And speaking of centrepieces! This table features, not one, not two, but three lovely centrepieces!
Easy Summer Centrepiece ideas
Peonies are a favourite in my garden this time of year, but even better when they are cut and brought inside I an enjoy their amazing scent! These white peonies are paired with a few springs of chamomile for a bright and cheerful arrangement.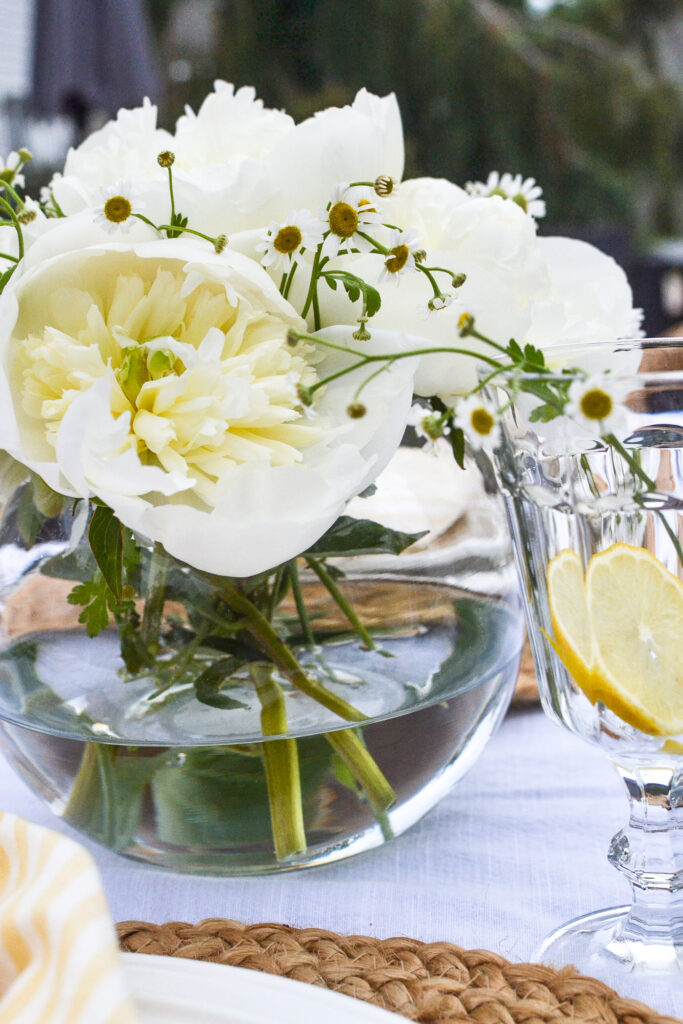 Another simple idea for a lemon themed summer tablescape is to stack lemons in a shallow bowl and tuck little white blooms amongst them to fill in the gaps. I can't recall the name of this flower, but it was picked from the garden.
I made two of these to flank the peony arrangement, and placed them atop cake plates to give them some height.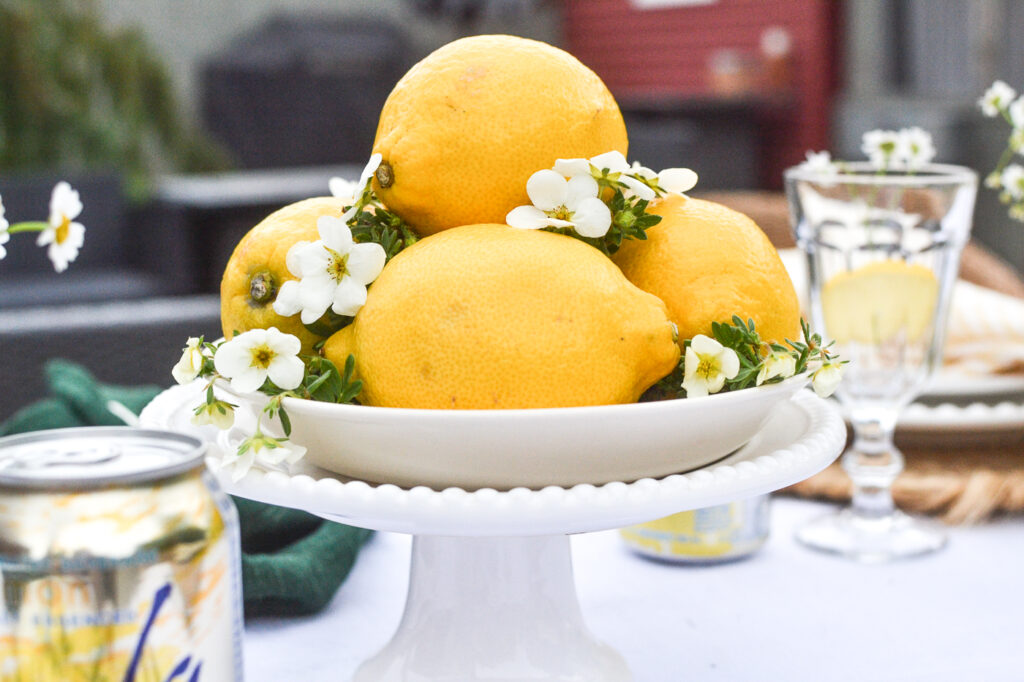 Took less than 10 minutes to make these two lemon centrepieces. And, I have plenty of lemons to make some fresh lemonade later! Or, maybe even some yummy lemon squares!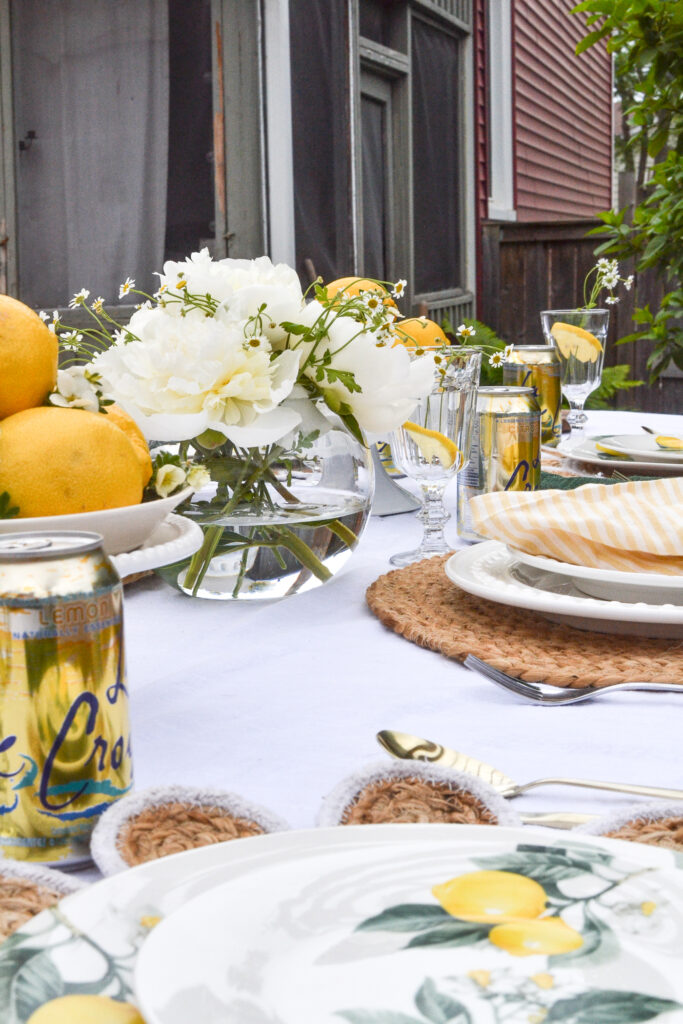 The table was just too long to fit in a proper overhead view, but I photographed from above in 3 separate sections!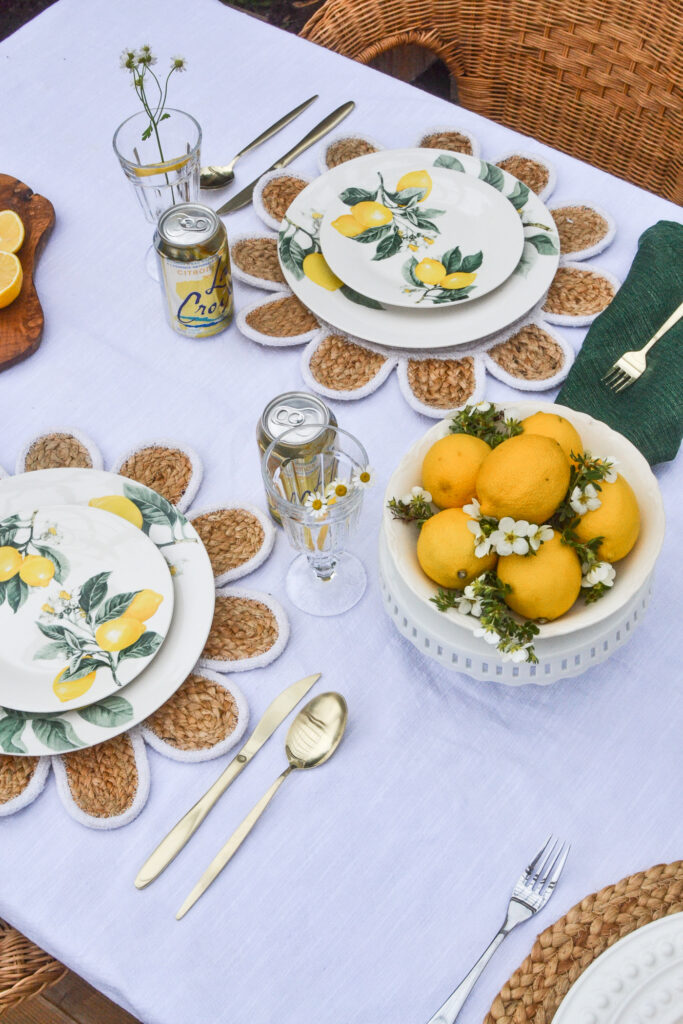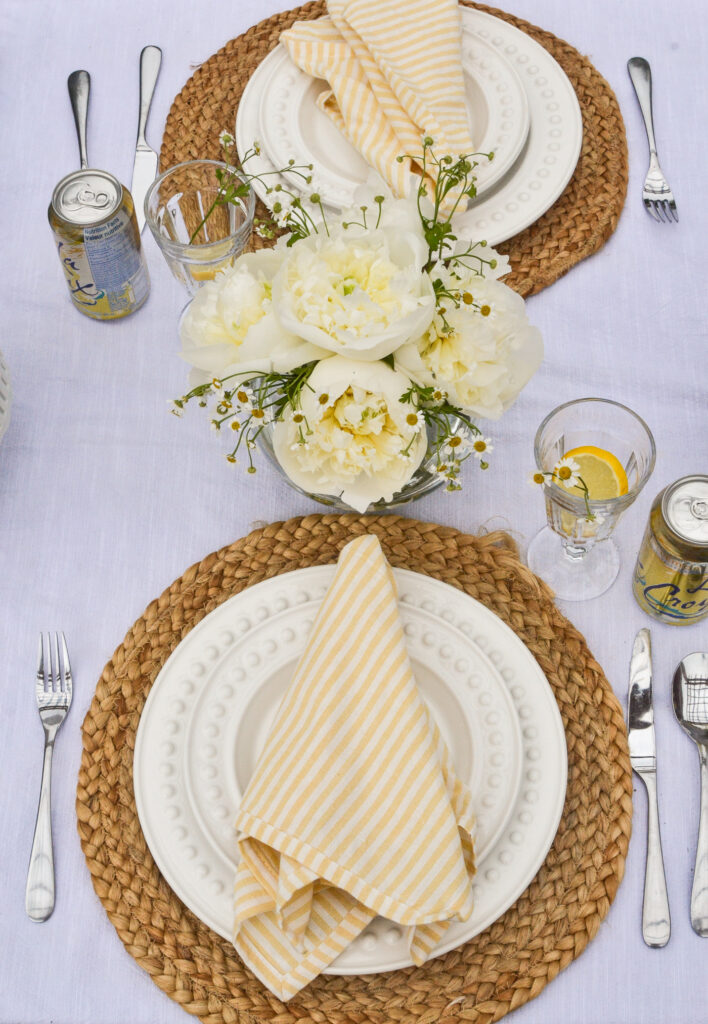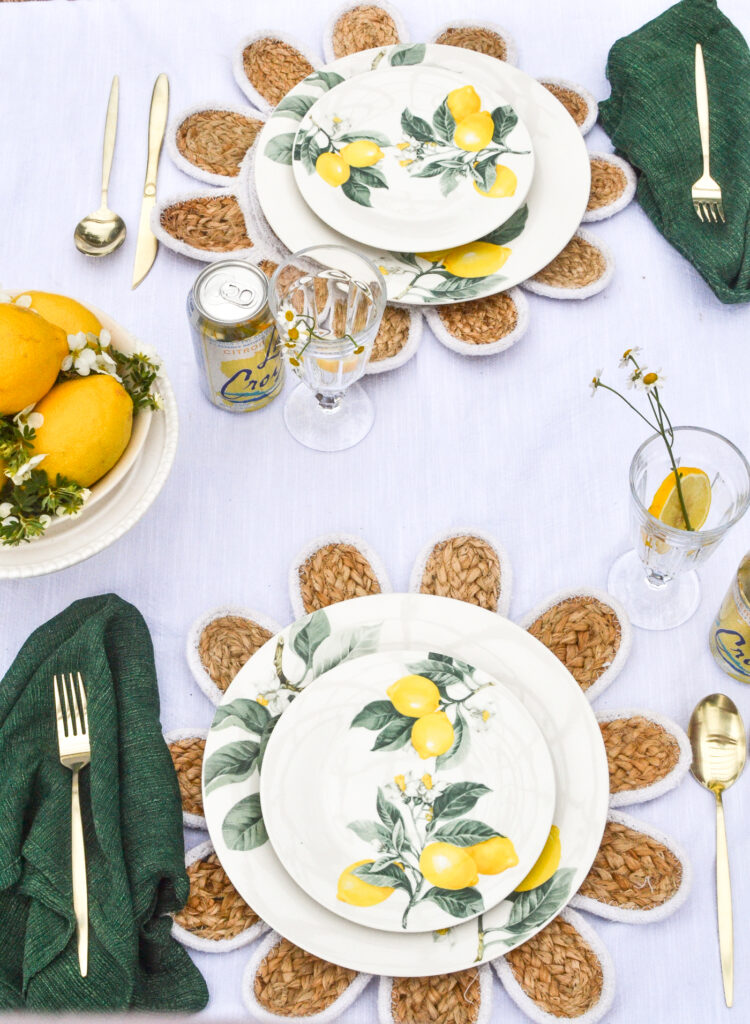 I love the contrast of the dark green Ralph Lauren linen napkins against the white linen tablecloth. The napkins I purchased for use at Christmas time, but they work perfectly for this summer tablescape as well.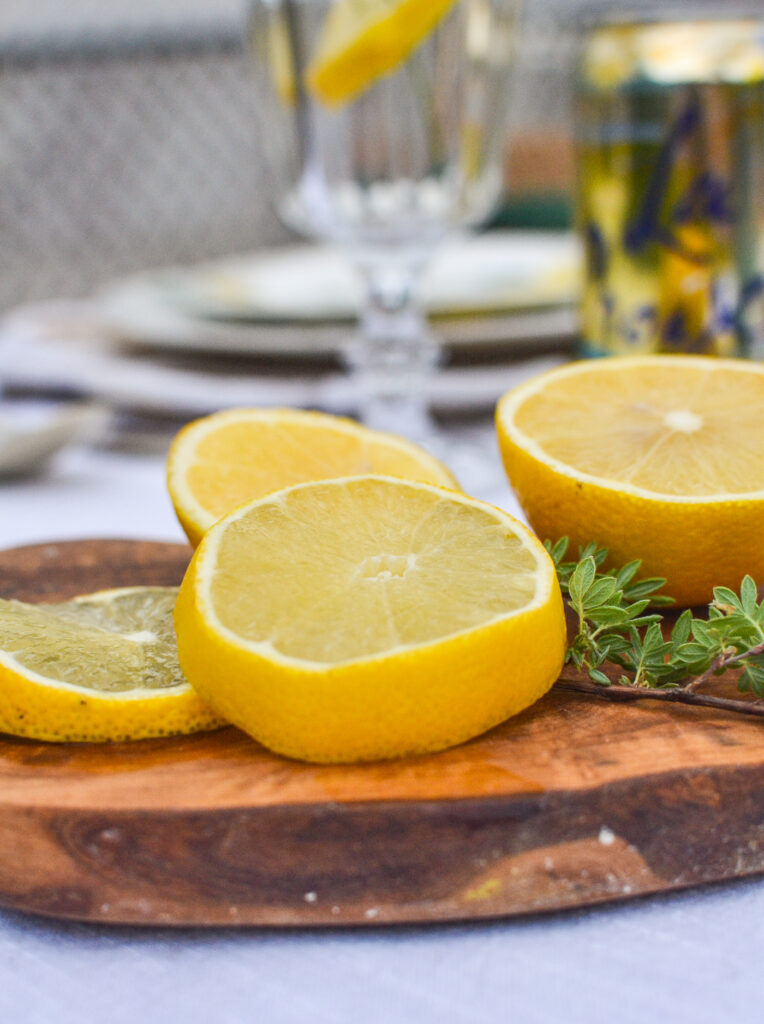 Of course there were plenty of fresh sliced lemons for adding to drinks too!
One last look at the stunning white peony centrepiece and then its' time to visit all the other bloggers and there summer tablescapes! The links are all below, and believe me when I say, get ready to be inspired!
I just love how gorgeous they are when the fully open up! They look like giant garden roses.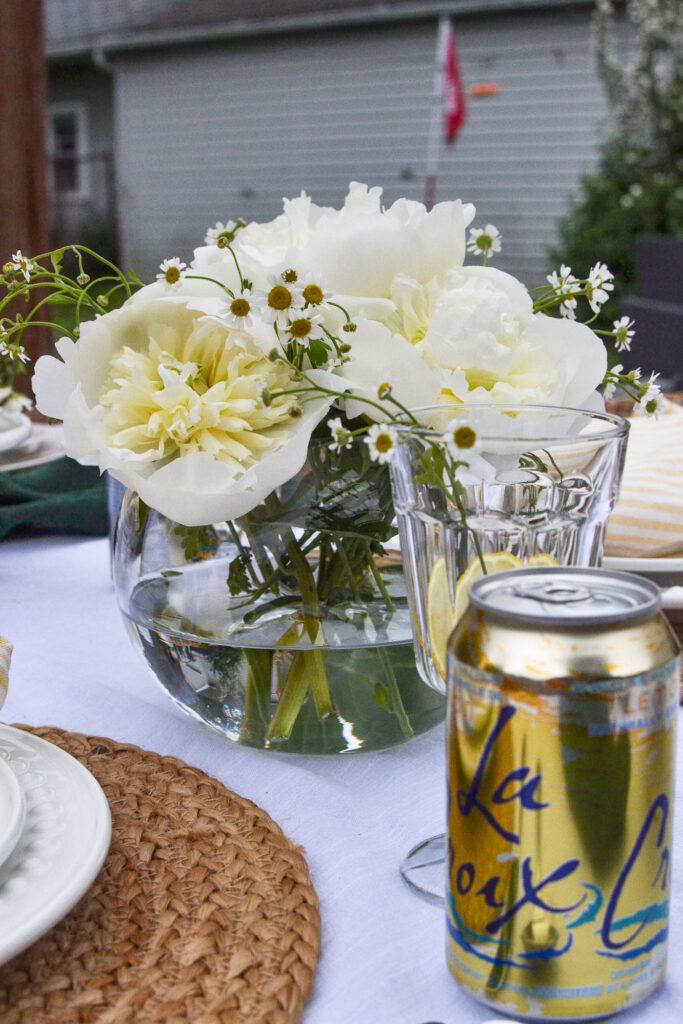 Without further adieu, please take some time to visit the tablescapes below! You won't be disappointed!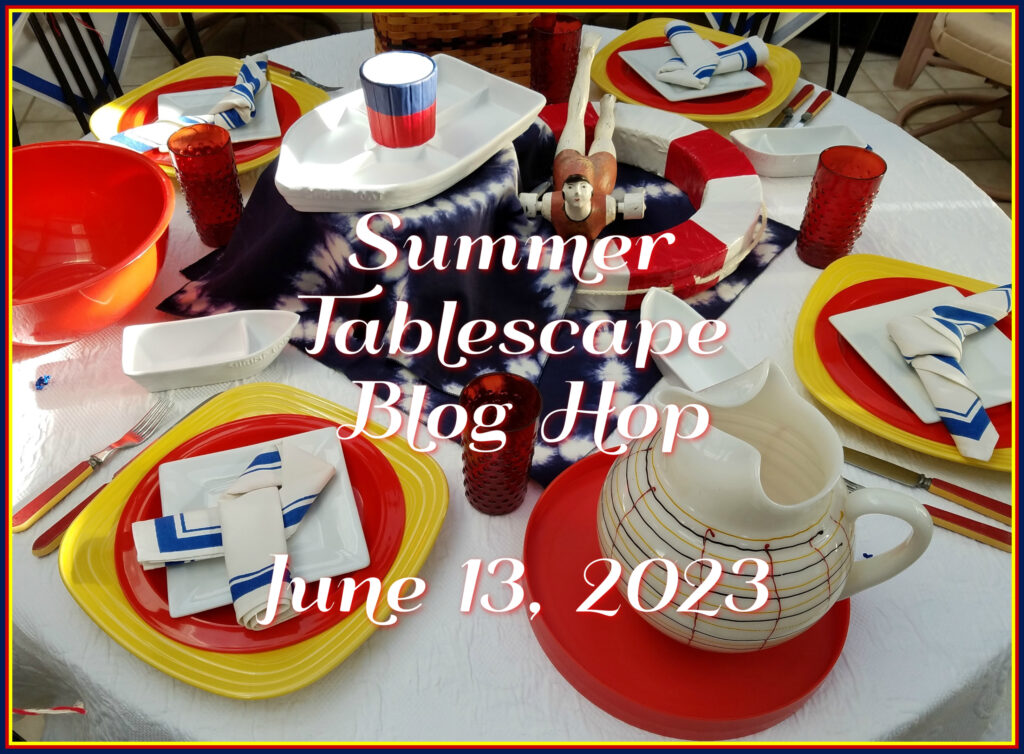 Panoply – Up, Up and Away With Summer Dining
Home is Where the Boat Is – Hydrangeas and Butterflies
Everyday Living – Welcoming Summer With A Garden Tablescape
Life and Linda – A Boho Alfresco Tablescape
Corner of Plaid and Paisley – Summer Plaid and Polka Dot Picnic
Living With Thanksgiving – Summer Blessings
Debbee's Buzz – Alfresco Bee Theme Table and Florals
The Painted Apron – Boats, Floats and Fish!
The Little Yellow Corner Store – Pucker Up Lemony Tablescape – It is Time to Have a Bee-utiful Day!
The Cat's Whiskerz – A summer picnic tablescape for Canada Day
Pandora's Box – Summer Blues
Me and My Captain – Florida Blue Crab Summer Tablescape
From My Carolina Home – Welcome Summer Tablescapes
The Bookish Dilettante – Summer Tablescape: Old Glory
My Thrift Store Addiction – Summer Picnic Brunch under the Texas Mountain Laurel
Red Cottage Chronicles – Lemon Tablescape for Summer
Hyacinths for the Soul – Long May She Wave
Celebrating Everyday Life – Create a Chic Seashell Table Setting This Summer
Dinner at Eight – A Summer of Colors
Bluesky at Home – Pretty Table for a Ladies Dinner Party