These chewy frosted Christmas Blondie cookies are so easy to make and decorate!
Welcome to #ChristmasCookies Week! That time of year when we soften the butter, fire up the oven, and make cookie trays for family, friends, and neighbors. This year more than 20 top-notch bloggers are sharing their very favorite creations for all to make and enjoy. Join us for a week's worth of Christmas cookie deliciousness.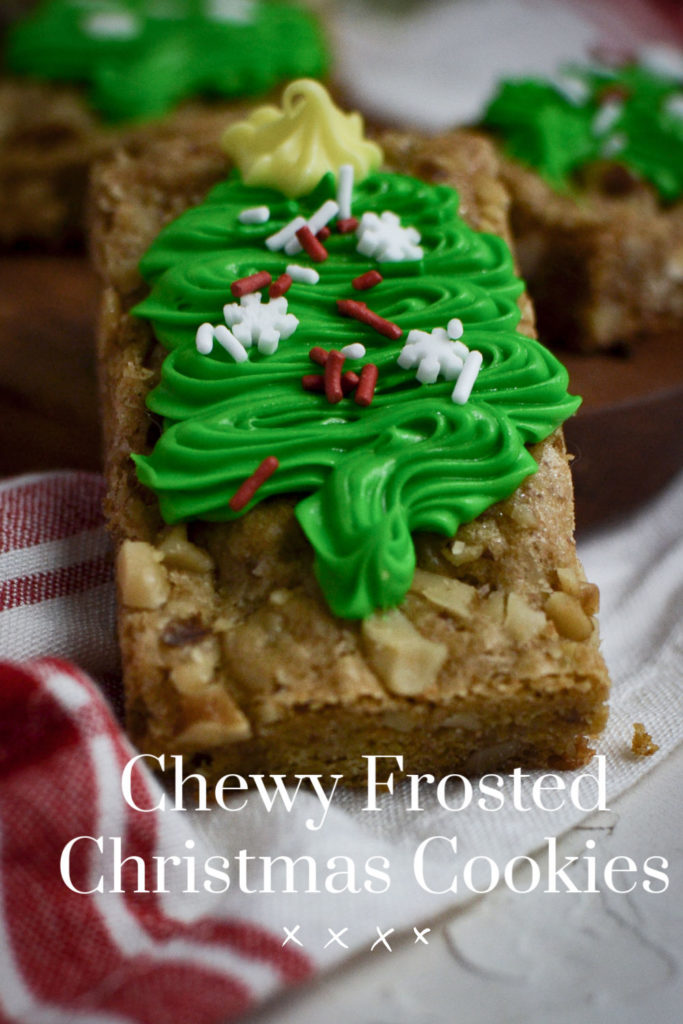 My second Christmas cookies of the week are these soft and chew frosted blondie cookies. Loaded with walnuts and white chocolate chips, and a rich toffee flavour these blondie cookies make a festive addition to your holiday cookie trays.
This post contains affiliate links to help you find the products I use. If you make a purchase through the link I may receive a small commission. I always appreciate your support!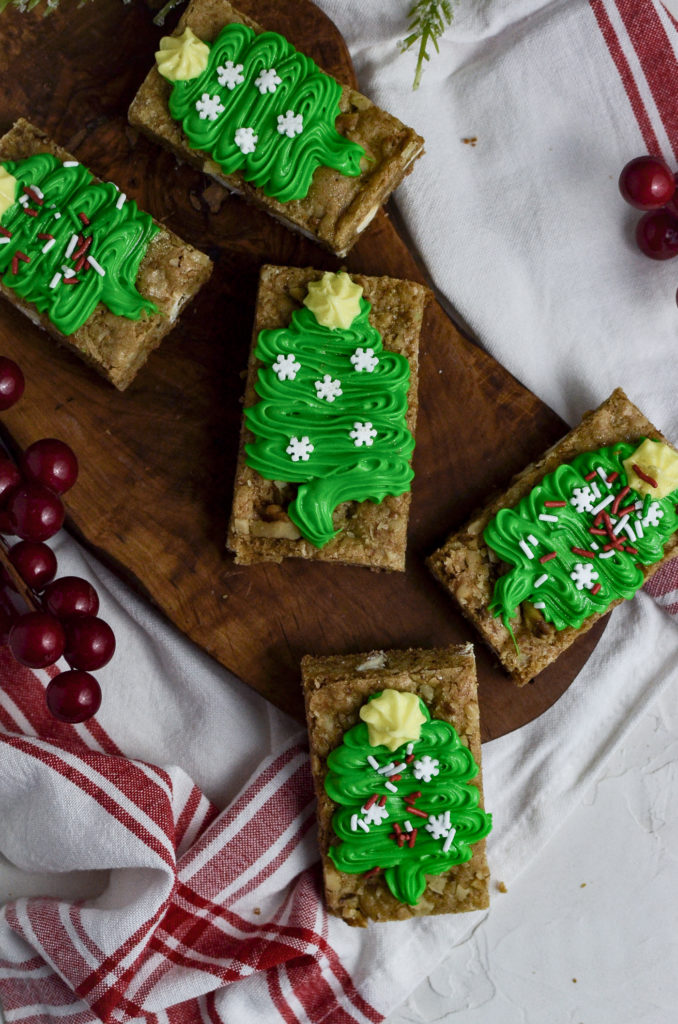 If you missed Monday's cookie, these German Rum balls is a recipe you will want to try!
Why you will love these Frosted Blondie Cookies
they are baked in single a jelly roll pan and then cut into bar shaped cookies when they are cool
a simple Christmas tree is easily piped onto each cookie for a festive touch
to make it even easier, simply frost the whole pan at once and sprinkle with Christmas sprinkles making them fun for the kids to help decorate
they are soft and chewy
they freeze well
equally delicious with no frosting at all!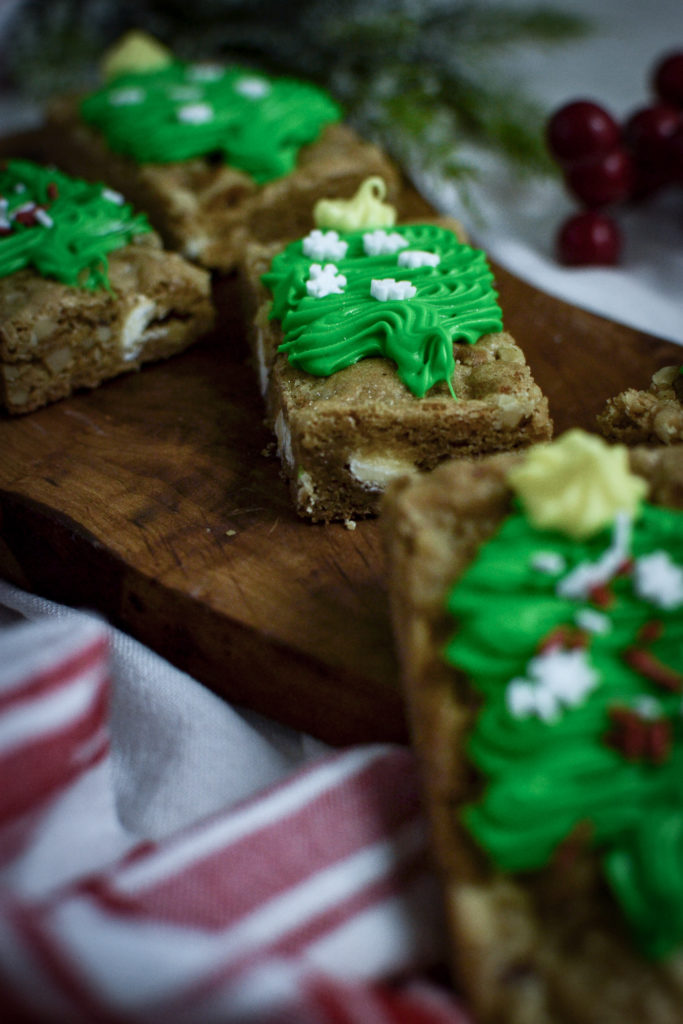 These remind me of a bar cookie my mom used to make that she called butterscotch squares. They have a similar butterscotch toffee flavour and are chewy like hers were, but I have added chopped walnuts and white chocolate chips.
Despite the brown sugar and chocolate that are in these blondie cookies, the are surprisingly not overly sweet. Even with the frosting!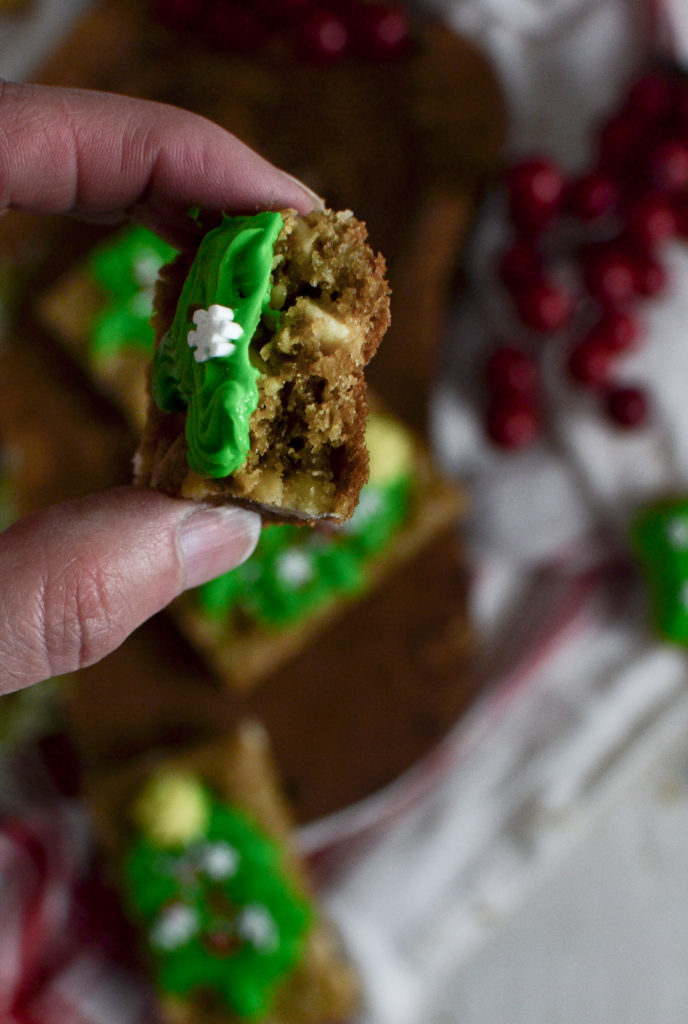 What you will need to make these Christmas Blondie Bars
ingredients found in the recipe below
your favourite frosting recipe ingredients
stand mixer or hand mixer and a large mixing bowl
a jelly roll pan (sheet pan with 1 inch rim)
mixing bowls or stand mixer
measuring cups and spoons
parchment paper (optional)
As I mentioned, I love bar cookie recipes because they are pretty much fuss free. Once they are in the pan, pop them in the oven and the prep is done. No need to repeatedly fill cookie sheets with dough over and over, in and out of the oven!
Other bar cookie recipes you might like
Easy Chocolate Chip Cheesecake Bars
Now is the time to start stocking up on all the key ingredients you are going to need to bake throughout the season. Having a well stocked pantry with flour, sugar, brown sugar, chocolate chips, etc. can make holiday baking stress free.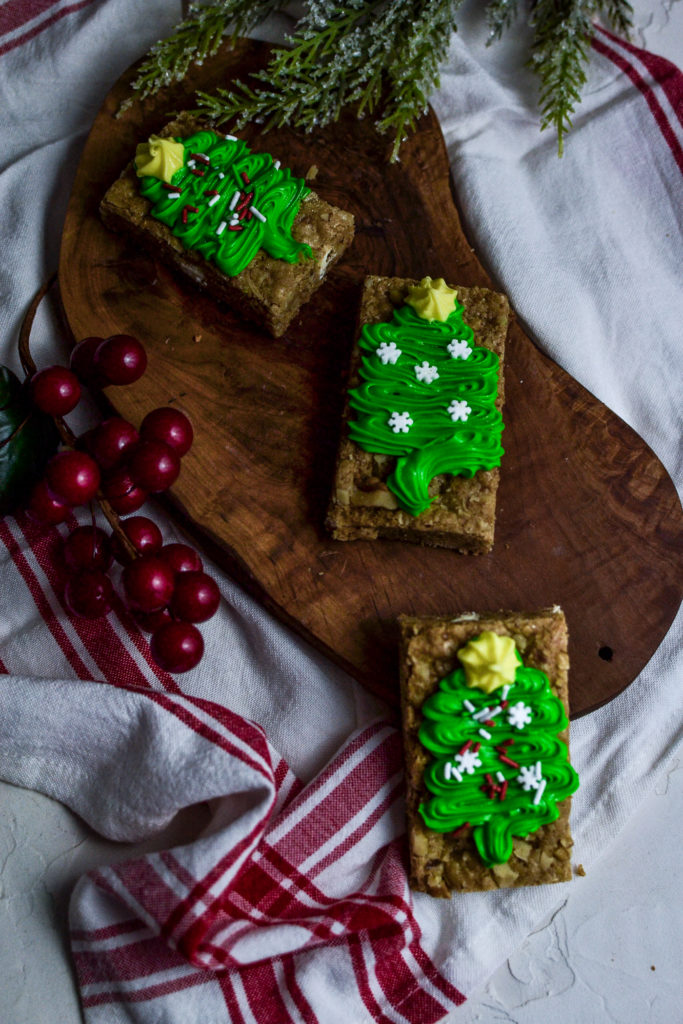 But, before you stock up, take some time to chose the recipes you want to bake this season, and make a list before heading to the store.
One of my favourite things about the holidays is spending time in the kitchen baking. I have always found baking to be somewhat therapeutic. However, if I wait until the last minute to get it all done it isn't long before I am frazzled mess.
So, now is the time to get organized and ready for the baking season. Starting with these scrumptious chewy Christmas blondie cookies!
Oh, and don't forget to check out all the other delicious recipe links below!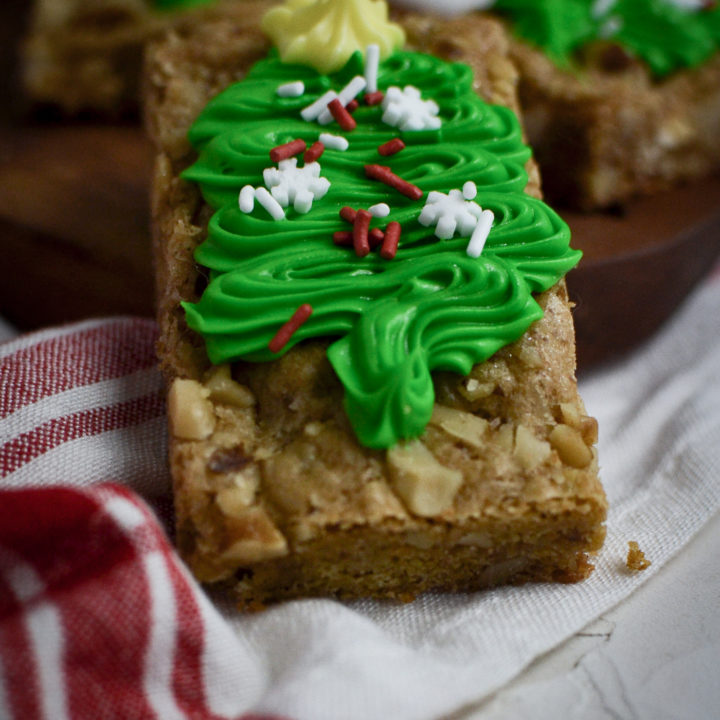 Christmas Blondie Cookies Bars
These chewy blondie cookies are baked in a jelly roll pan and then cut into bite sized cookie bars when cool. Frost with green Christmas trees and sprinkles.
Ingredients
2 cups all purpose flour
1/2 teaspoon baking soda
1/2 teaspoon salt
2/3 cup unsalted butter, slightly firm
2 cups light packed fresh brown sugar
2 large eggs
2 teaspoons pure vanilla extract
1 1/4 cup finely chopped walnuts, divided
1 cup white chocolate chips
Instructions
Preheat oven to 350 degrees. Line 10 1/2 by 15 1/2 by 1 inch rimmed baking sheet with parchment, or grease well with butter. Set aside.
In a medium bowl whisk together flour, baking soda and salt. Set aside.
In the bowl of electric mixer, beat butter until light and fluffy. Add brown sugar a bit at time, beating for 2 minutes after last addition. Beat in eggs, one at a time. Beat in vanilla.
Reduce mixer speed to low. Add the flour mixture in three additions, blending just to incorporate. Do not over beat.
Remove bowl from mixer and using a spatula, fold in 1 cup of the walnuts and the white chocolate chips.
Turn mixture out onto the prepared sheet pan, and using an off-set spatula, spread dough out eveny to fill the pan. Sprinkle the remaining 1/4 cup of chopped walnuts over the batter. Bake for 16-18 minutes, until edges are lightly browned and toothpick inserted in the centre reveals moist crumbs. Do not over bake.
Remove from oven and cool on a wire rack for one hour. Remove from pan and allow to cool completely before frosting and decorating with sprinkles. Cut into 24 large bars or 36 medium sized bars
Or, after cutting use a small star shaped tip, pipe frosting in the shape of a Christmas tree.