These easy vanilla bean cupcakes start with a boxed cake mix, but with a few little tweaks, it makes the most decadent cupcakes loaded with vanilla flavour!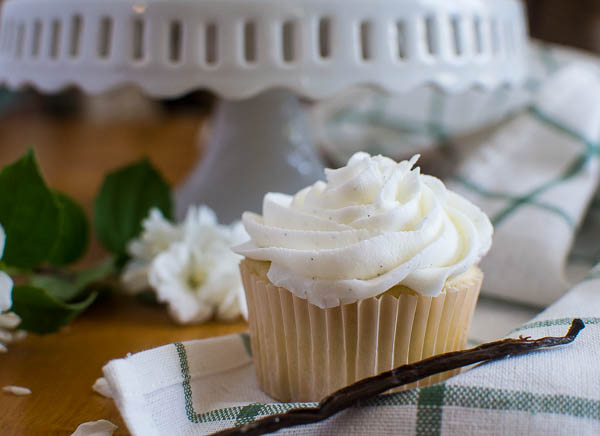 Everyone needs a delicious basic vanilla cupcake in their recipe box. Vanilla is such wonderful flavor on its' own but also the perfect backdrop to layer on other flavors as well.
I love cupcakes and have several favorites, like these orange creamsicle cupcakes and these decadent triple chocolate ones!
Today I am sharing this easy recipe for vanilla bean cupcakes, plus three different ways to serve them!
Plus I have partnered with some of my favorite baking blogger friends who are sharing their own yummy cupcake recipes too! You will find all the links at the end of this post!
Vanilla Bean Cupcakes 3 Ways!
First up, these vanilla bean cupcakes are perfect just as they are for everyday occasions. Serve them at book club, a PTA meeting or as a sweet treat with afternoon tea!
They are loaded with vanilla flavor, and the frosting is so creamy and delicious. Simple and understated, but oh so good!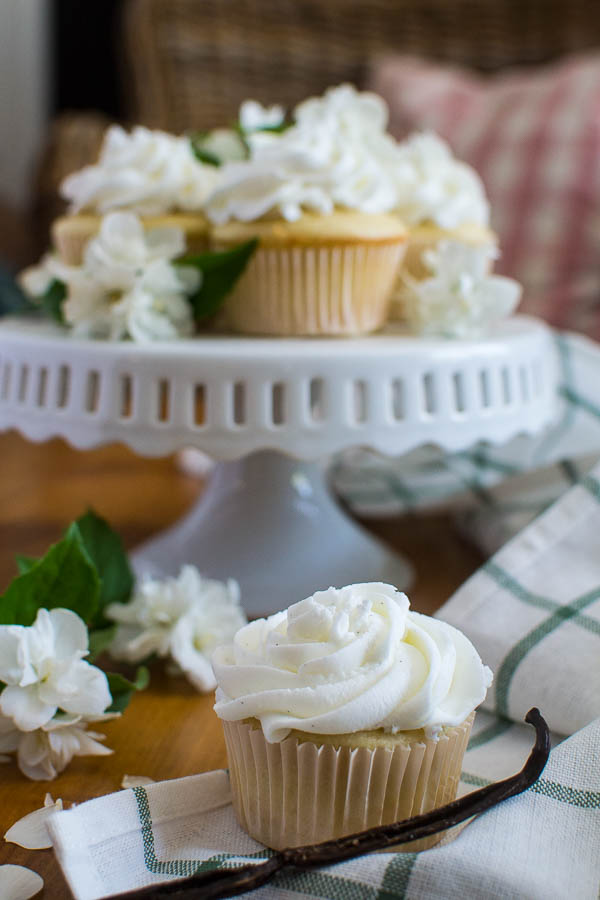 They also are the perfect blank slate to dress up for any occasion!
Which brings me to Idea No. 2…..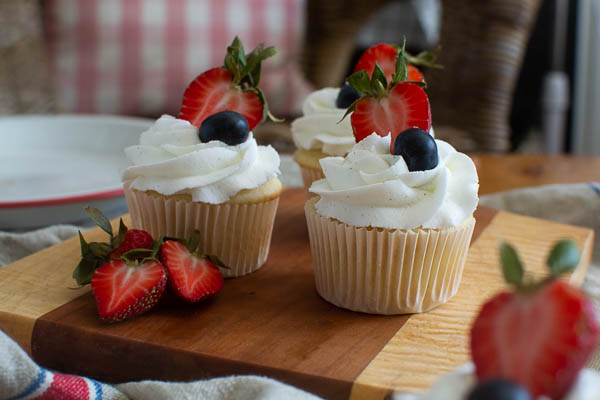 Hosting a backyard get together with friends or family? Dress these up with some fresh fruit for an extra special summer dessert.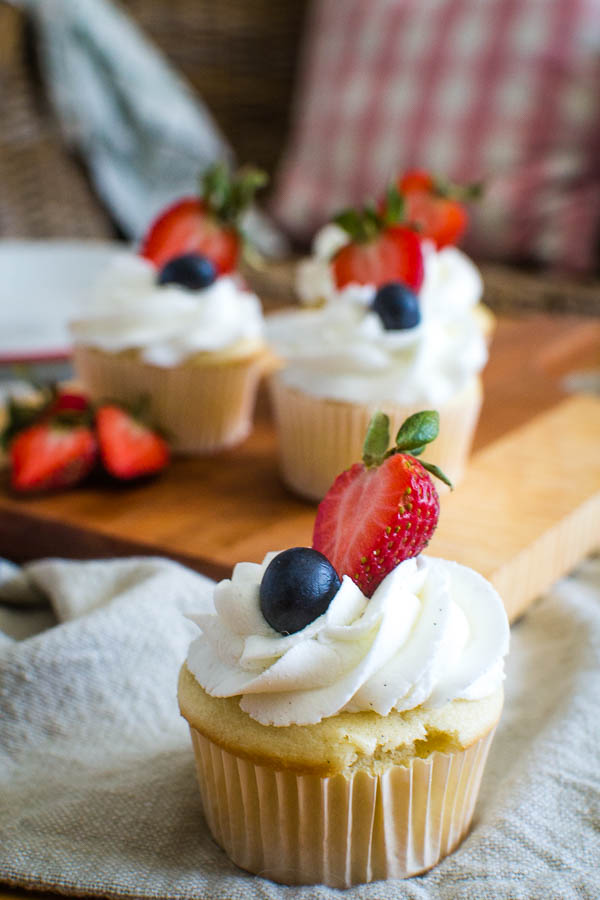 Add a sliced strawberry and a blueberry or two for your Fourth of July party, or just some juicy red raspberries if you are celebrating Canada Day, like I am!
Before I share the last idea, did I mention this recipe starts with a simple white cake mix? I added a few simple ingredients like all purpose flour, almond milk and vanilla bean, and the result is a light and fluffy cupcake that you can call homemade!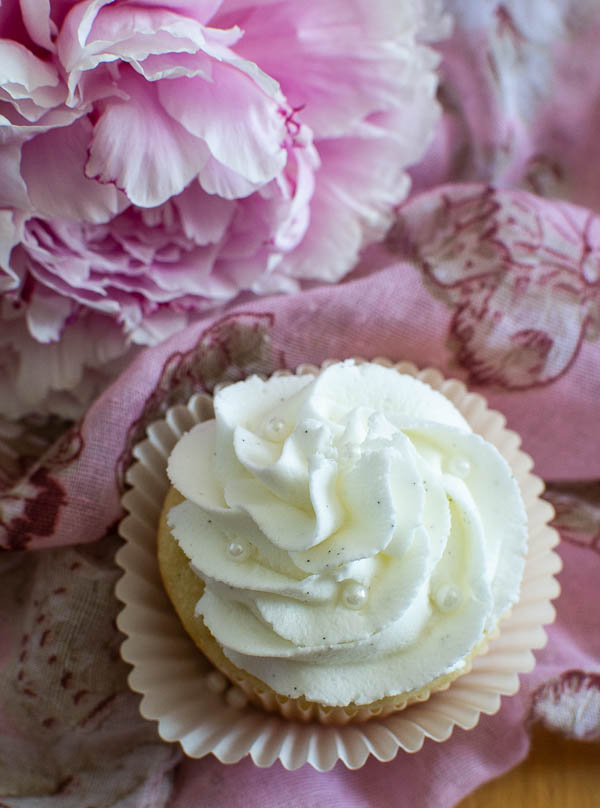 One last idea for serving these yummy cupcakes. Add a few edible pearls and style them as a pretty centerpiece with big flower blooms, like the peonies I used here, and you have a beautiful centerpiece for more fancy occasions.
Whether it is a wedding shower or fancy garden party, these delicious cupcakes will be the center of attention.
There you have it! The one must have cupcake recipe that is easy and delicious. And, is so versatile you can easily dress it up and serve it at for any occasion.
Be in the know! It may be a delicious recipe, a stunning tablescape, or decor tips to make your house a home! Simply click here to subscribe. I never sell or share your information, and you can unsubscribe at any time!
Until next time….

Don't forget to visit all the links below the recipe for even more yummy cupcake ideas!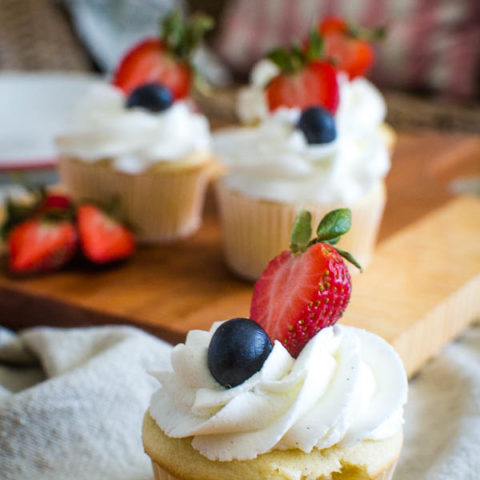 Vanilla Bean Cupcakes
Additional Time:
20 minutes
These yummy vanilla bean cupcakes are made from a cake mix, but a few simple ingredients elevate them to the next level!
Ingredients
1 White Cake Mix
1 cup all purpose flour
1/2 cup granulated sugar
3 eggs, large
1 1/3 cup milk (I used almond milk)
2 tablespoons canola oil
1 cup full fat sour cream
1 vanilla bean
1 teaspoon clear vanilla extract (optional)
For the Frosting
1 cup vegetable shortening
7 cups confectioners sugar
1/2 cup milk or cream
1 Vanilla Bean
Instructions
Preheat Oven to 325 degrees. Line 24 cupcake tins with paper liners.
Add cake mix. flour and sugar to bowl of electric mixer and whisk until combined
Add eggs, milk, oil and sour cream to the flour mixture and beat on low for 2 minutes.
Carefully slice open the vanilla bean and scrape seeds out with dull edge of a paring knife. Add the beans to the batter and mix to combine thoroughly.
Pour batter evenly into the prepared cupcake liners, filling each about 2/3 full.
Bake in preheated oven for 17 minutes, or until toothpick comes out clean. Allow to cool completely before frosting.
While the cupcakes are cooling prepare the frosting.
Add shortening, 4 cups of the confectioners sugar and 1/2 cup milk or cream to the bowl of electric mixer and carefully increase speed to medium high. Whip for 2-3 minutes.
Add remaining confectioners sugar one cup at a time, bearing well between each addition.
Scrape seeds from the vanilla bean and add to the frosting, beating until well combined.
Spread or pipe frosting onto cooled cupcakes.
Decorate to your liking.
Cupcakes for Cupcake Lovers Day!
Vegan German Chocolate Cupcakes
by The Baking Fairy
Bailey's Red Velvet Cupcakes
by Our Crafty Mom
Black Forest Cupcakes
by FoodTrails25
Buttermilk Cupcakes with Strawberry Whipped Cream
by One Sweet Appetite
Chocolate Covered Strawberry Cupcakes
by Daily Dish Recipes
Coffee Cupcakes with Coffee Buttercream Frosting
by Hezzi-D's Books and Cooks
Easy Vegan Chocolate Cupcakes
by The Urben Life
Fiori Di Sicilia + Elderflower Cupcakes
by Culinary Adventures with Camilla
Gingerbread Cupcakes
by Karen's Kitchen Stories
Maple Vanilla Cupcakes
by UpBeet Kitchen
Mickey Mouse Sprinkles Cupcakes
by For The Love of Food
Mint Chocolate Chip Cupcakes
by Join Us, Pull Up A Chair
Poblano Cornbread Muffins with Goat Cheese Frosting
by The Spiffy Cookie
Sourdough Strawberry Cupcakes
by Our Good Life
Vanilla Bean Buttercream Cupcakes
by Red Cottage Chronicles