So glad you stopped by! Today I am sharing my tips for simple Thanksgiving table decor that evokes that cozy, welcoming feeling.
If you missed my recipe for German Chocolate Rum Balls from yesterday, you will definitely want to circle back for that one!
I am also once again joining my US friends, a very talented group of table style enthusiasts, who are sharing their own tables all set and ready for Thanksgiving. You will find all the links at the end of the post!
If you are a regular visitor you may remember my cozy autumn dinner table. It was perfect for our Canadian Thanksgiving back in early October.
I have really embraced my love of all things cozy and snug lately! I think the colours of autumn are some of the coziest!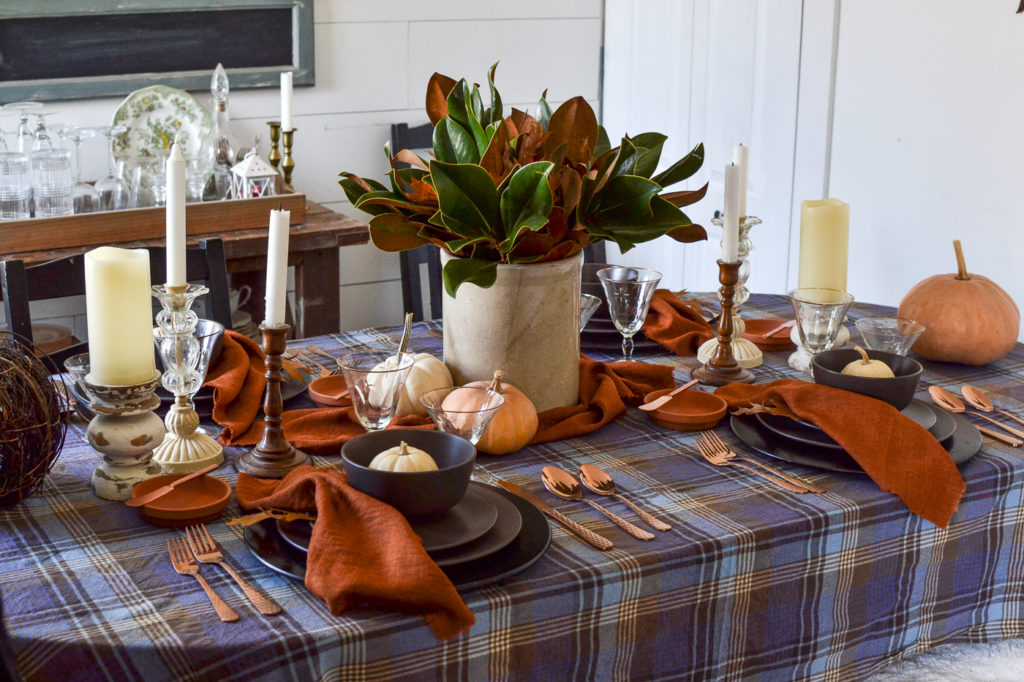 When styling a table, I often know exactly what I want to achieve well in advance.
Even though I was kind of flying by the seat of my pants when planning today's table, I still stuck with my 5 tips for making the task simple and low cost. I had a general idea of how I wanted it to look, but was happy to just let it flow together as I went.
5 Tips to create simple Thanksgiving table decor
Use what you have or can borrow
Purchase only things that you know you will use enough to warrant the cost
Use natural elements foraged from outdoors
Keep the centrepiece simple by using on one or two types of flowers, or better yet use only greens (foraged if possible)
And, finally, don't overthink it!
I will walk you through how I use all 5 of these tips to create simple Thanksgiving table decor you will not only wow your family and friends, but make them feel welcome, calm and cozy!
I always start my table decor by using things I already have or have easy access to. This saves not only money, but also time spent shopping for things I may never use again.
I do of course want my tables to look different from year to year. That is were thinking outside of the box comes in.
For example, I had these flowerpot saucers that I had tucked away and never used. They make perfect bread plates. My copper butterknives are a perfect match! And, now that I found the saucers again, I will leave them out to use as coasters!
Just a word of caution when using terracotta or clay coasters. Unless it is labelled food safe, make sure to place a piece of parchment or waxed paper between the bread or roll and the terracotta coaster. Some clays may contain lead or other heavy metals, as you do not want to have any food come into contact with it.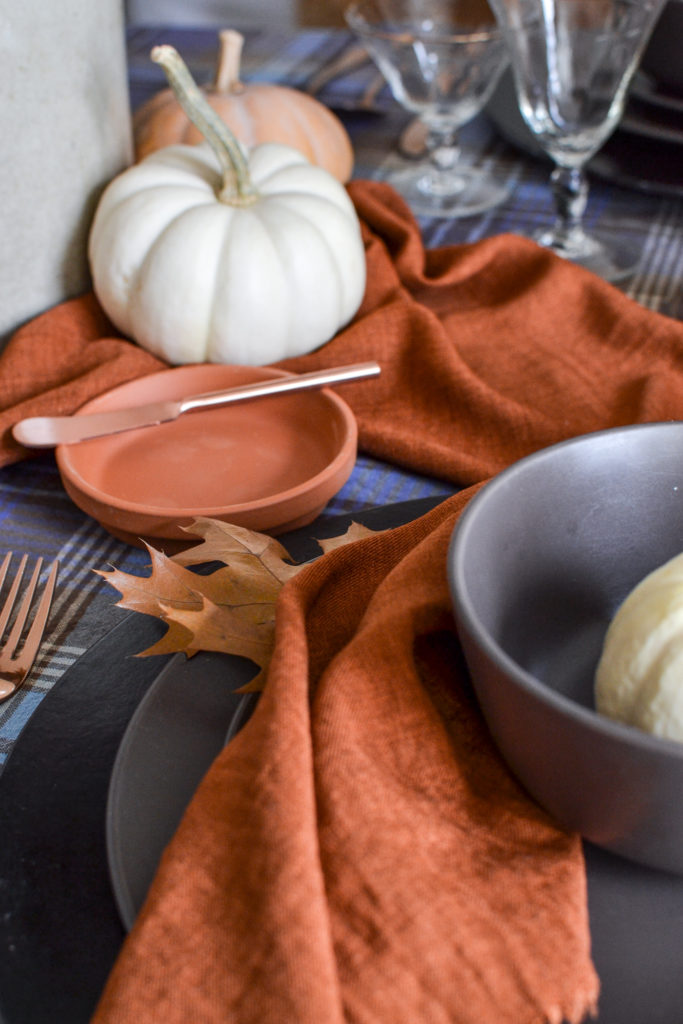 The candlesticks have been used over and over again. All purchased from yard sales or thrift stores. The distressed white pillar candles holders were a thrift store makeover, and get lots of use! They also double as cake plates with a bit of removable sticky tack.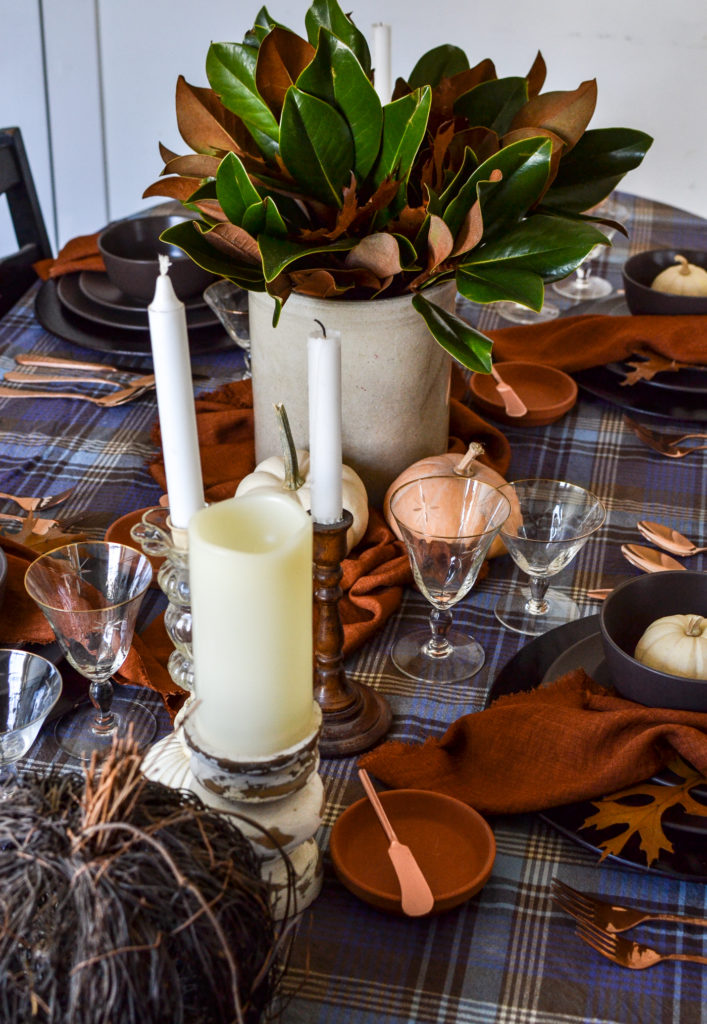 Borrowing things from family or friends is another example of how to make styling a table inexpensive.
I borrowed these dark chocolate brown plates and bowls from my sister. I knew they would work with perfectly with the blue and brown plaid tablecloth, and the dark wood charger plates.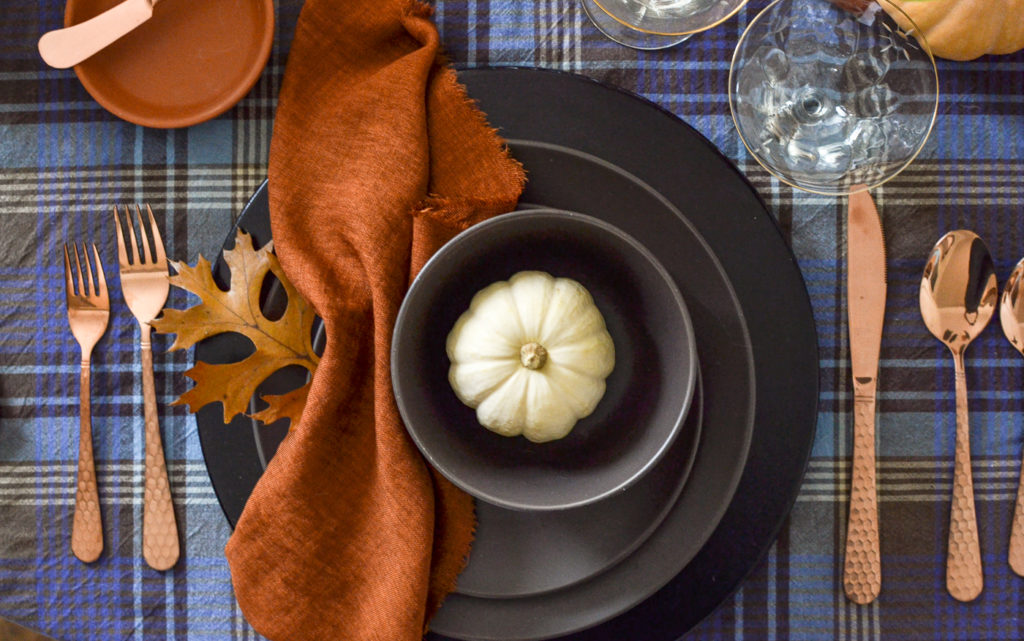 Admittedly, and this is rare for me, I was stuck on what to use as a centrepiece. I wanted something different. Something simple that would last throughout the season.
My vision of using shades of brown and terracotta was coming together nicely, but I didn't want to fuss looking for the perfect shade of flowers to compliment my color scheme.
A recent visit to the Christmas open house at a local nursery presented me with exactly what I didn't know I was looking for. If that makes any sense!
Easy Magnolia Leaf Centerpiece
Fresh magnolia branches were out in abundance, and as soon as I saw them, I knew I had my centerpiece figured out! Two bundles of magnolia branches arranged in a simple piece of crockery, also borrowed from a friend. I love shiny the green leaves and the warm terracotta undersides. Mother nature at her finest!
I think it makes quite a statement.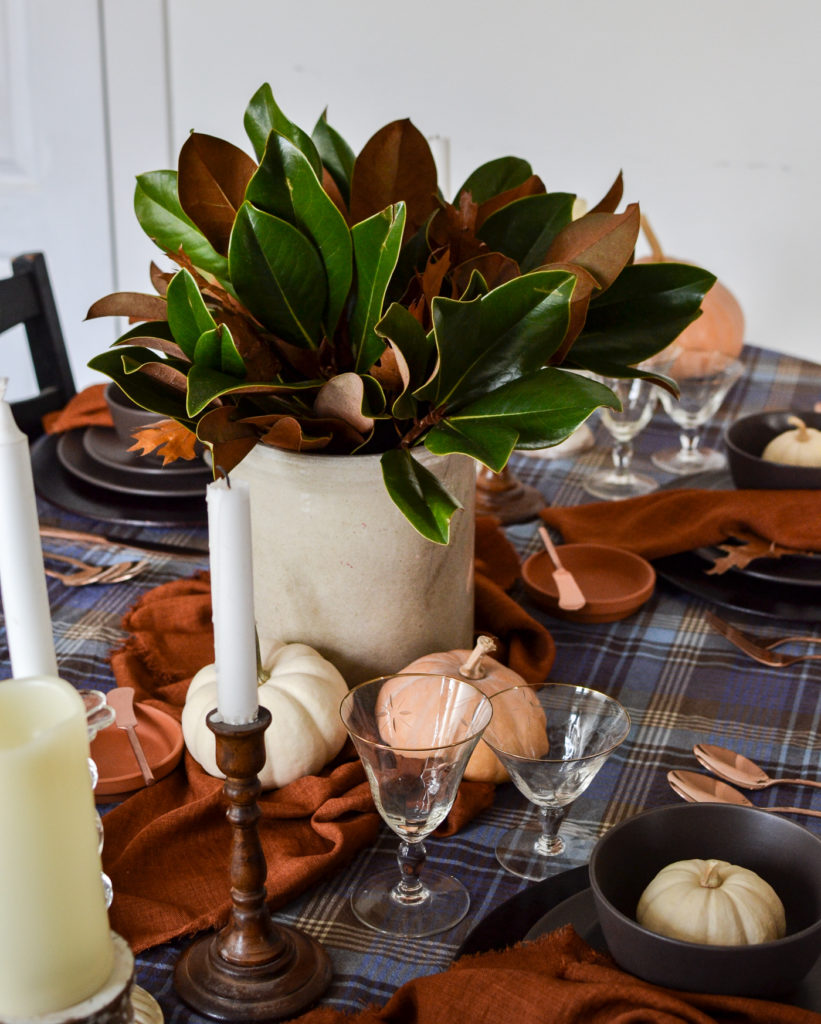 I tucked in a few oak leaves that I had collected on a walk for an extra bit of texture.
This magnolia centerpiece will very easily transition from autumn to winter, and I plan on using them to make a holiday wreath for the front door. Just a bit of money well spent.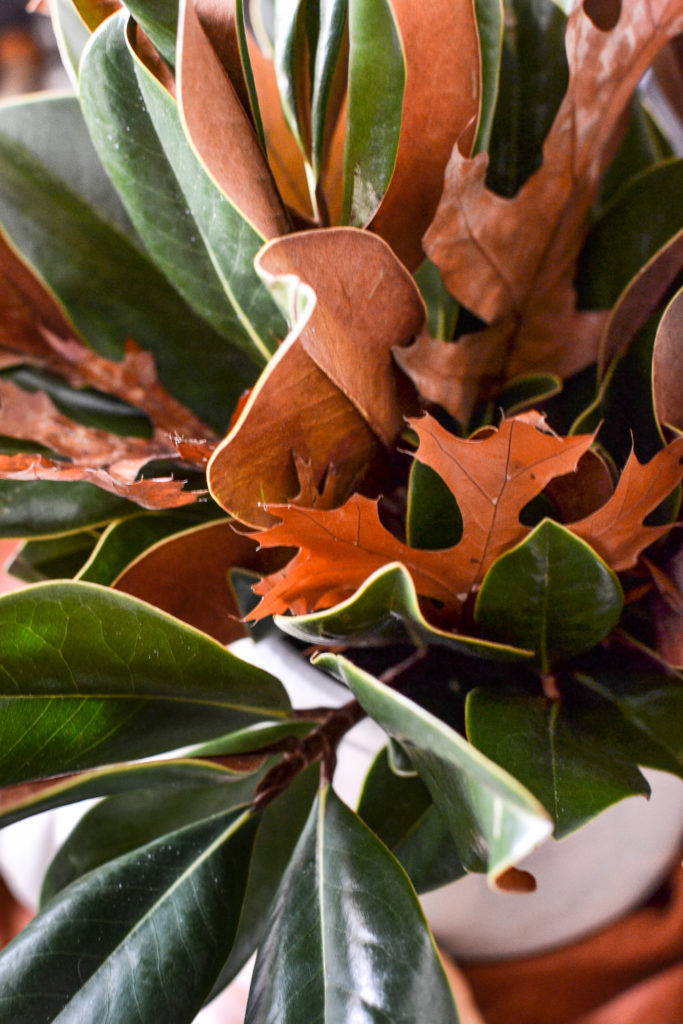 I could have considered purchasing glassware to better match my table but keeping it simple was my goal.
My favourite hand-me-down glasses from my Nana work just fine. A dainty gold rim is in keeping with the warm metallics and compliment the cooper flatware.
I did purchase a yard of fabric (at 50% off) in a terracotta coloured fabric and literally ripped into 4 napkins. The leftover piece of fabric was just enough for a table runner that I scrunched up and pooled around the crock. I don't have one ounce of talent when it comes to sewing, so I chose a fabric that could be torn easily and still a good weight to be used as a napkin. Win. Win!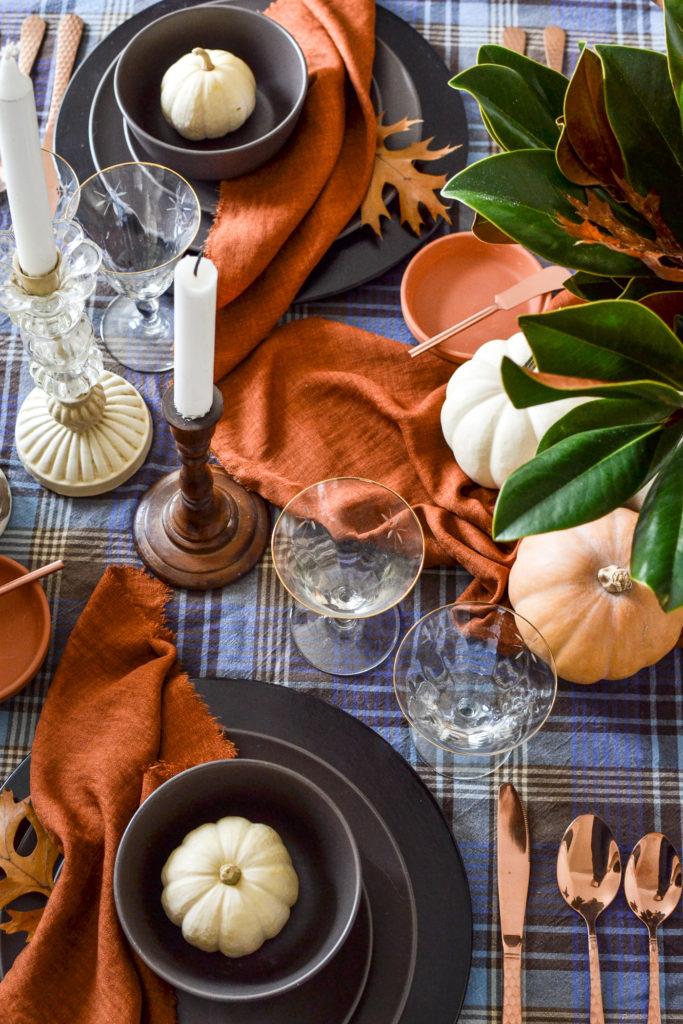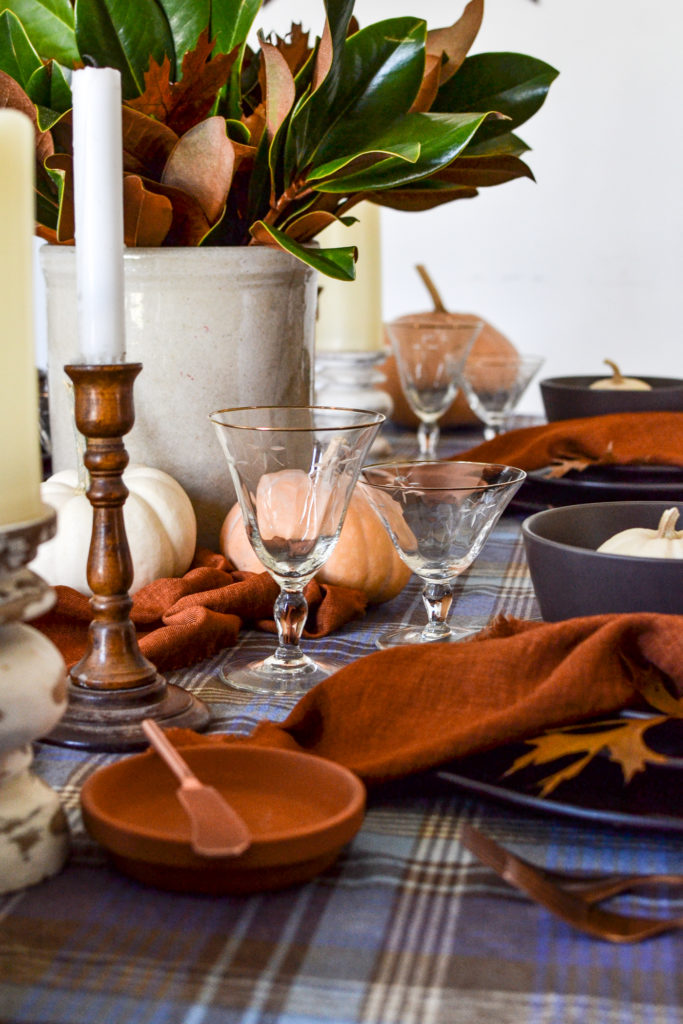 After I have established what I have or have access to, then I look to nature to inspire simple
Again, foraged oak leaves were tucked under each napkin as a nod to season. They cost nothing yet make a real impact.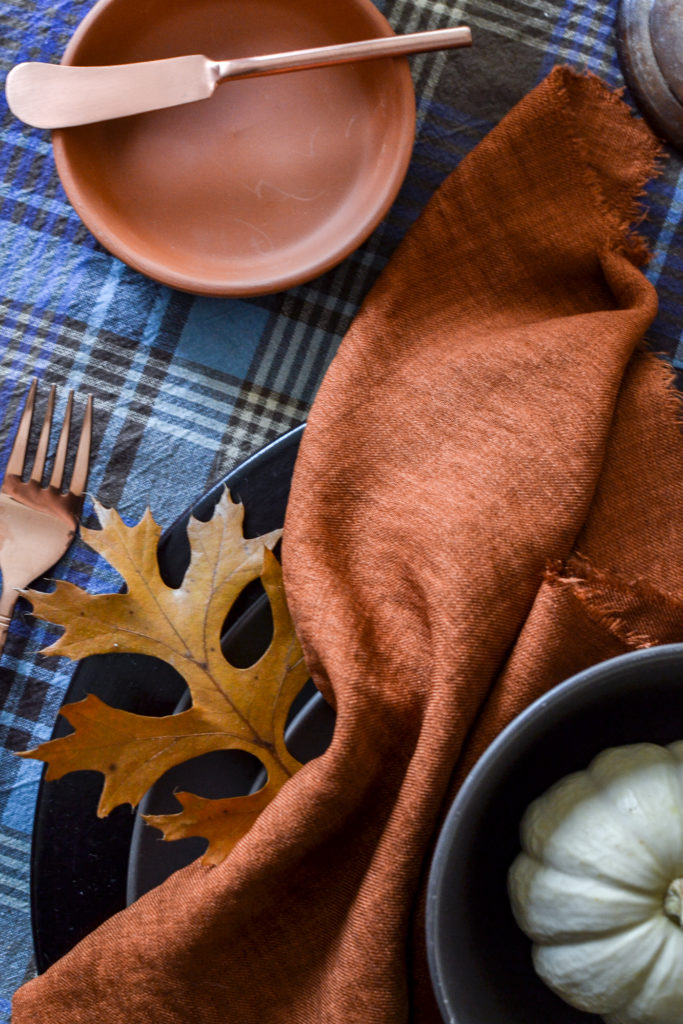 Pumpkins are quintessential and inexpensive autumnal decor. Miniature cream pumpkins provides nice contrast and another natural element to the table. They also bring out the creamy stripe in the plaid tablecloth and the ceramic crock.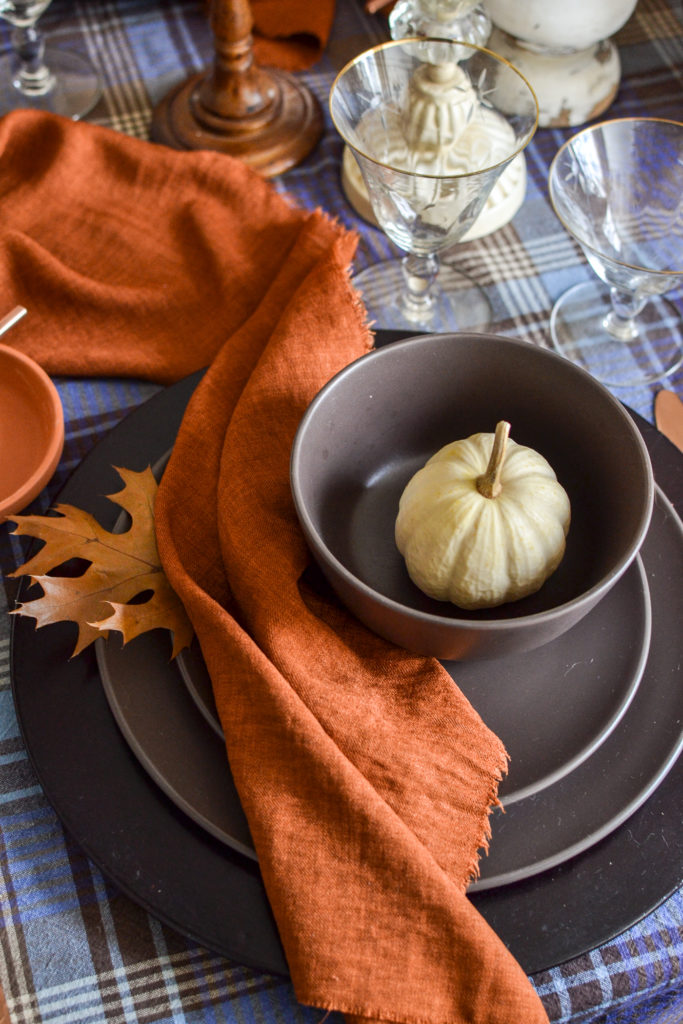 And, finally if you want to make setting your Thanksgiving table easy, don't overthink it!
If you run into a snag, or get hung up on an idea like I did with my centerpiece, try to find inspiration from your surroundings. By overthinking or second guessing yourself, it easy to waste time and money. Just do your best and move on.
I hope I have given you some inspiration and food-for-thought when it comes to simple Thanksgiving table decor.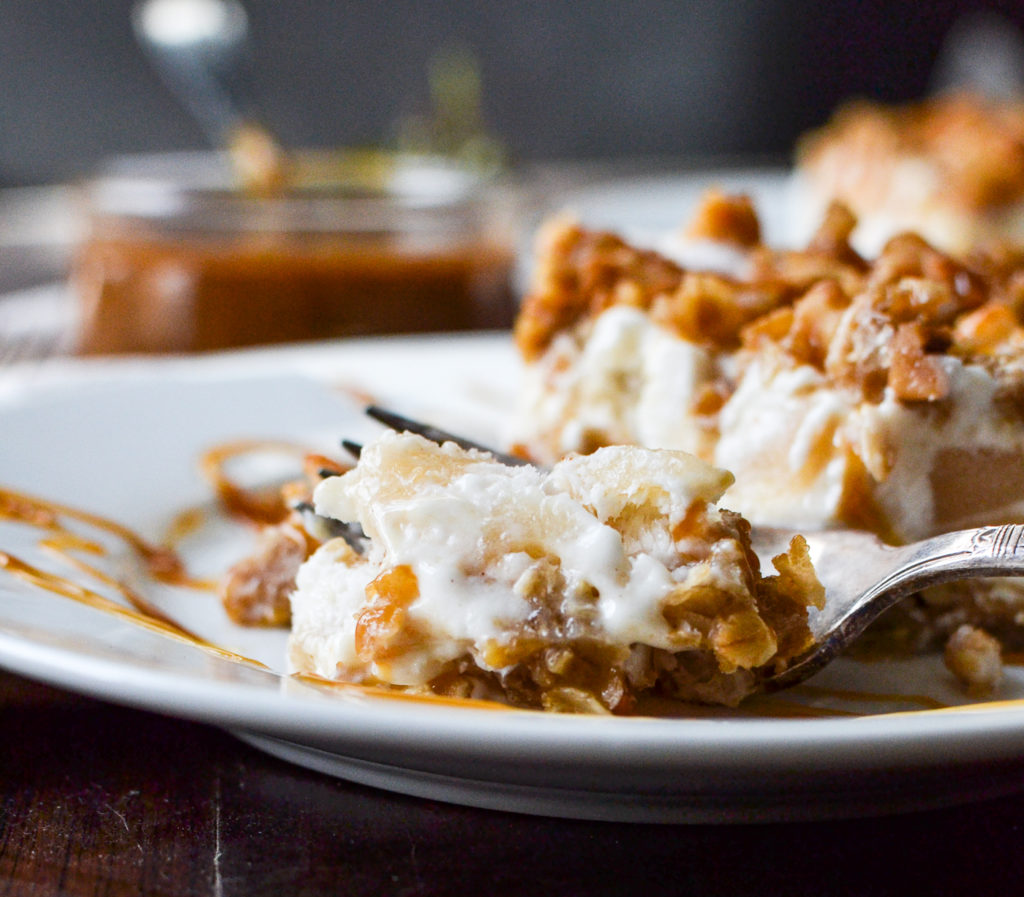 And speaking of food….you might want to try my frozen apple crisp as your Thanksgiving dessert!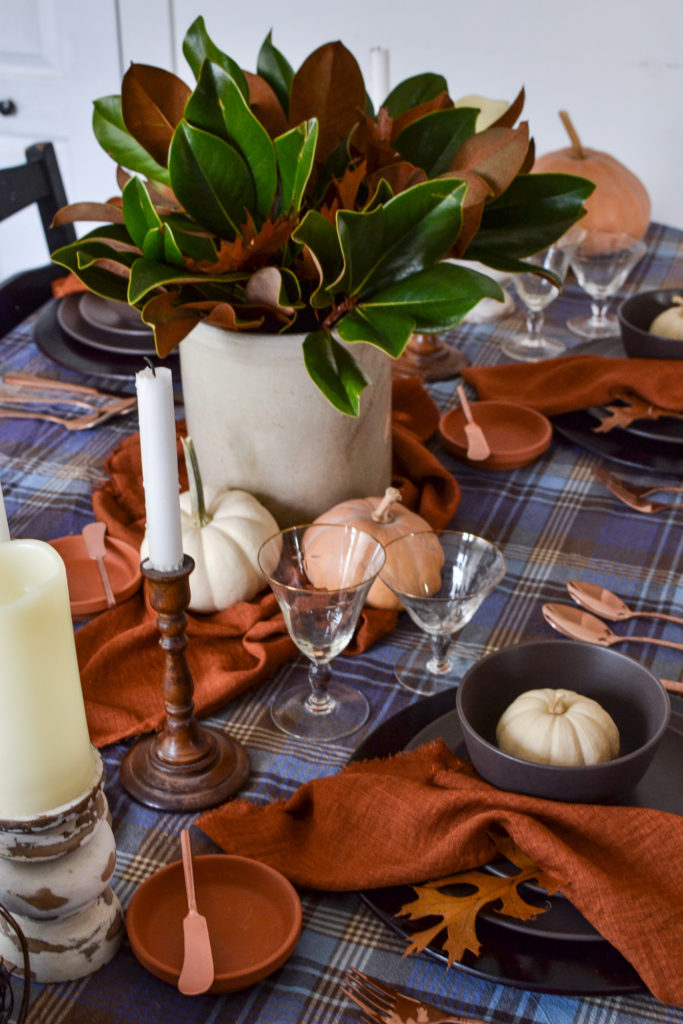 Just remember that in the end, it really doesn't really matter what is on your table, as much as taking the time to be thankful for those around it!
Time to check out all the other fabulous ideas! Many thanks to Rita from Panoply who gathers us all together to share our ideas with all of you!
Me and My Captain – Those Were the Days and I Am Very Grateful
Pandora's Box – Thanksgiving Brings Back Memories
Living With Thanksgiving – Thankful and Blessed
Everyday Living – Thanksgiving Traditions
My Hubbard Home – Pumpkins and Pears Thanksgiving Holiday Table
Thrifting Wonderland – Give Thanks…Thanksgiving Tablescape
Panoply – Homeland Merriment Thanksgiving
Home is Where the Boat Is – Porch Dining with Plaid & Proud Tom Turkey
Corner of Plaid and Paisley – Give Thanks
My Thrift Store Addiction – In Everything Give Thanks – Garden Tea for Two
Life and Linda – A Copper and Blue Pumpkin Table
Karins Kottage – Come set an outdoor Thanksgiving table with me
The Painted Apron – Grateful Gathering
Belle Bleu Interiors – A Time to Give Thanks
Dinner at Eight – Patterns in Blue for Thanksgiving
Red Cottage Chronicles – A Cozy Cottage Thanksgiving Tablescape
The Bookish Dilettante – Thanksgiving Table in the Breakfast Room
The Little Yellow Corner Store – A Northwoods Thanksgiving