Okay, a little late……but these lemon blueberry muffins are worth the wait!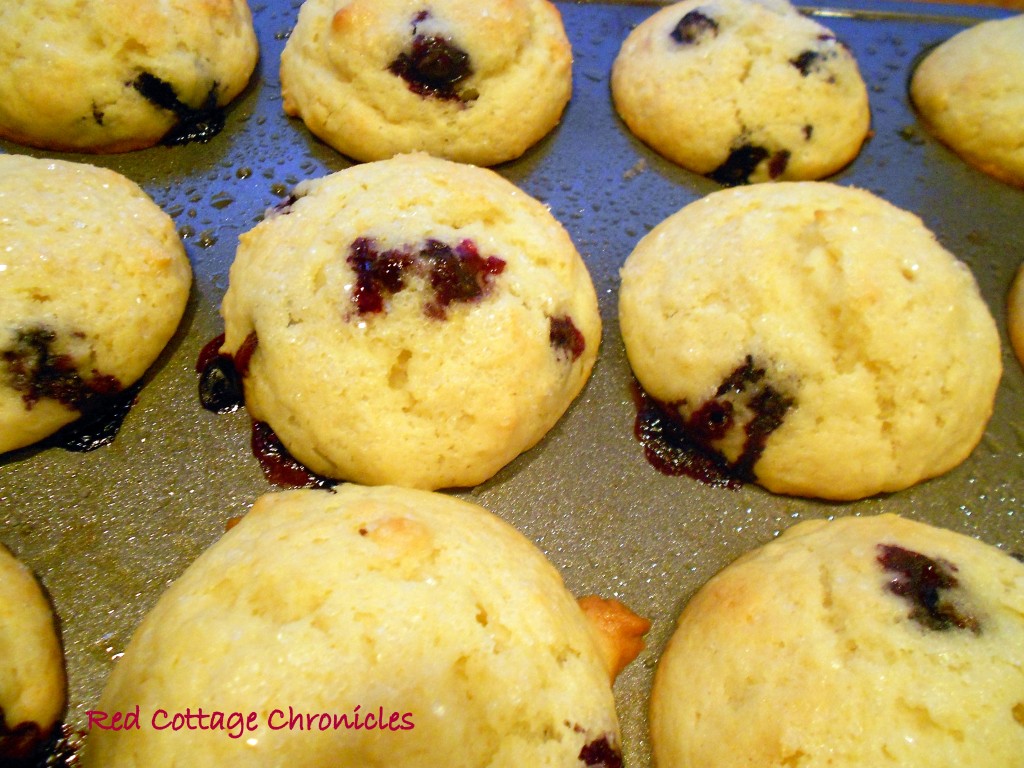 My family love these muffins, and as I recently found out Tripper is a real fan!  He ate 5 out of the last batch I made!  My fault….I left them on the edge of the counter and forgetting how big he is now, he just helped himself!
So, today I whipped up a new batch and made sure they were well back from the edge.
Begin by setting the oven to 375 degrees.  Gather your ingredients.  Prepare muffin pans by lining with paper cups or spraying with non-stick spray, which is the method I use.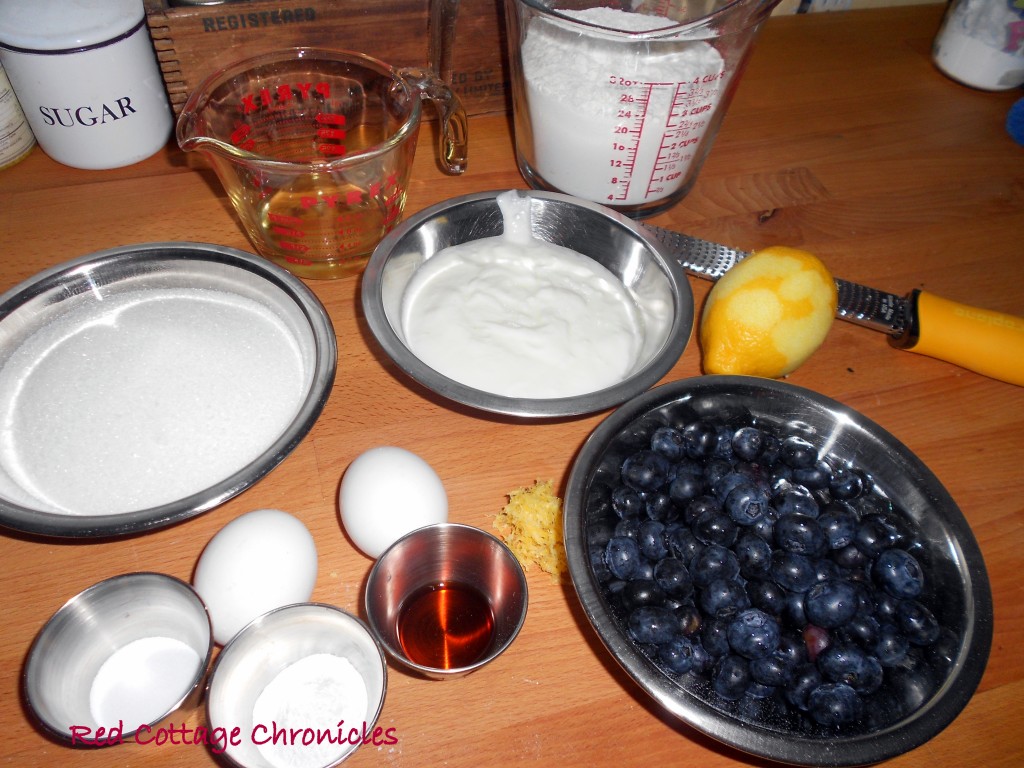 In a large mixing bowl add 1 1/2 cups sugar, 1 cup plain yogurt, 1/4 cup canola oil, 2 eggs,  1/4 cup margerine or butter, melted, 1 tsp pure vanilla extract and 1 heaping tsp grated lemon rind.  Whisk until well blended.  Add the juice of 1/2 lemon and whisk until well combined.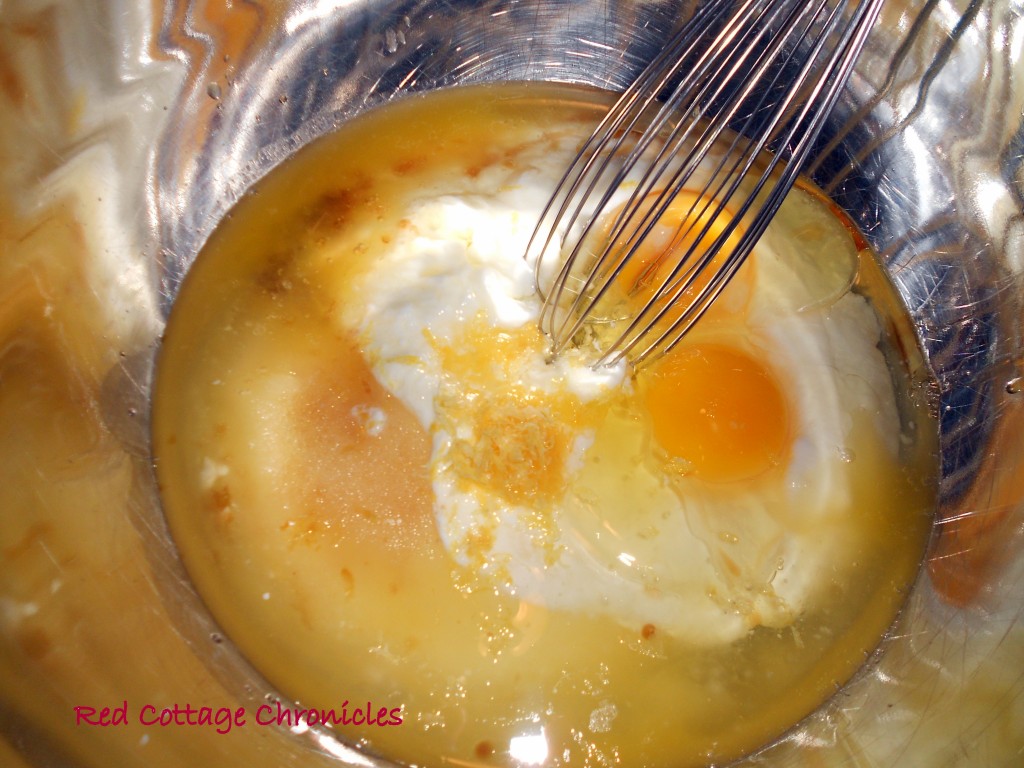 Into this mixture sift 3 cups all purpose flour, 2 tsp baking powder, 1 tsp salt.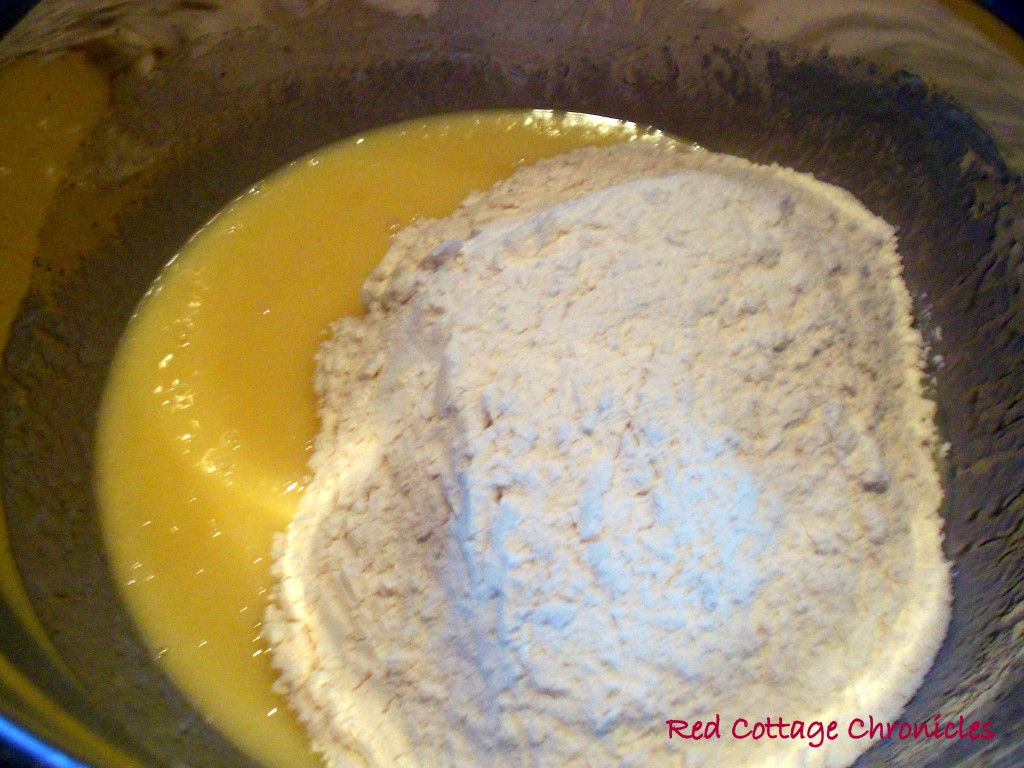 Stir just until combined.  Do not overmix.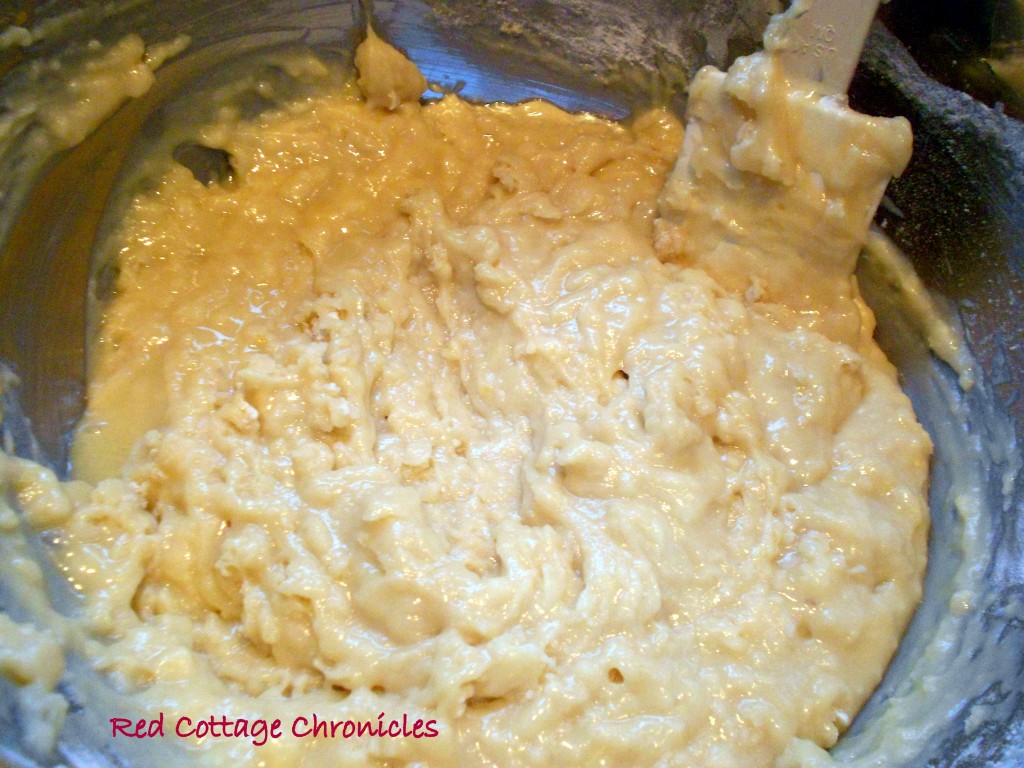 Add 2 cups fresh blueberries (or frozen-not defrosted) and fold in.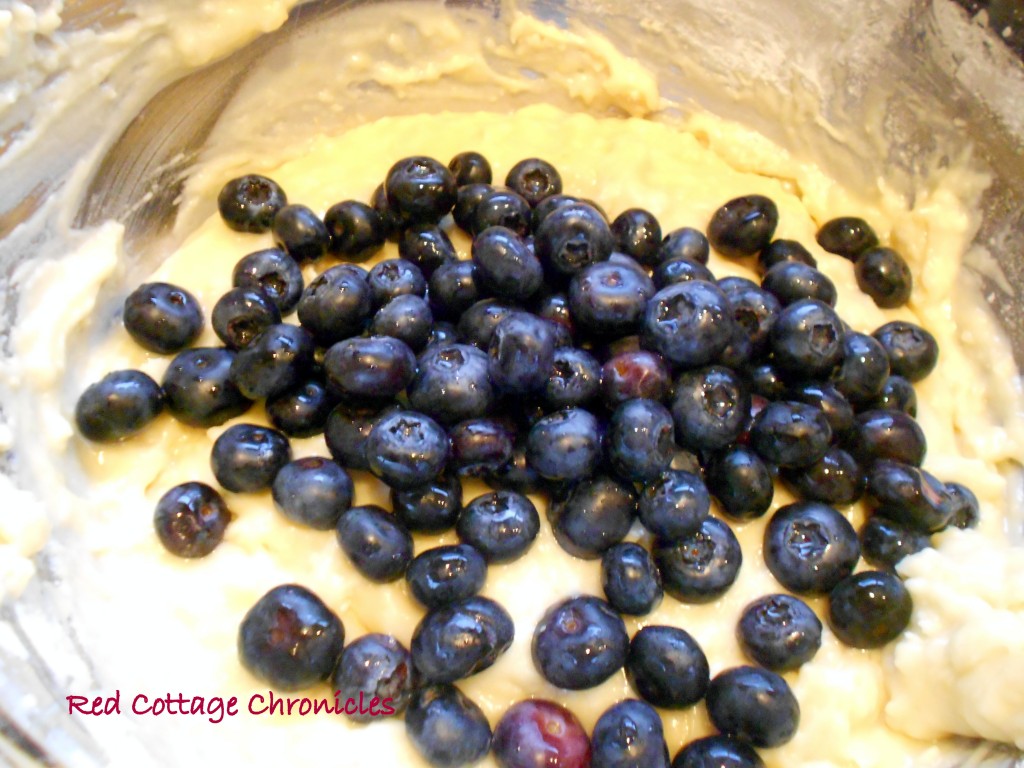 Using a large "ice cream" scoop, scoop into prepared muffin pans.  I over fill them a bit to get 12 nice, large muffins, but filling 3/4 full will get you 16 to 18 muffins.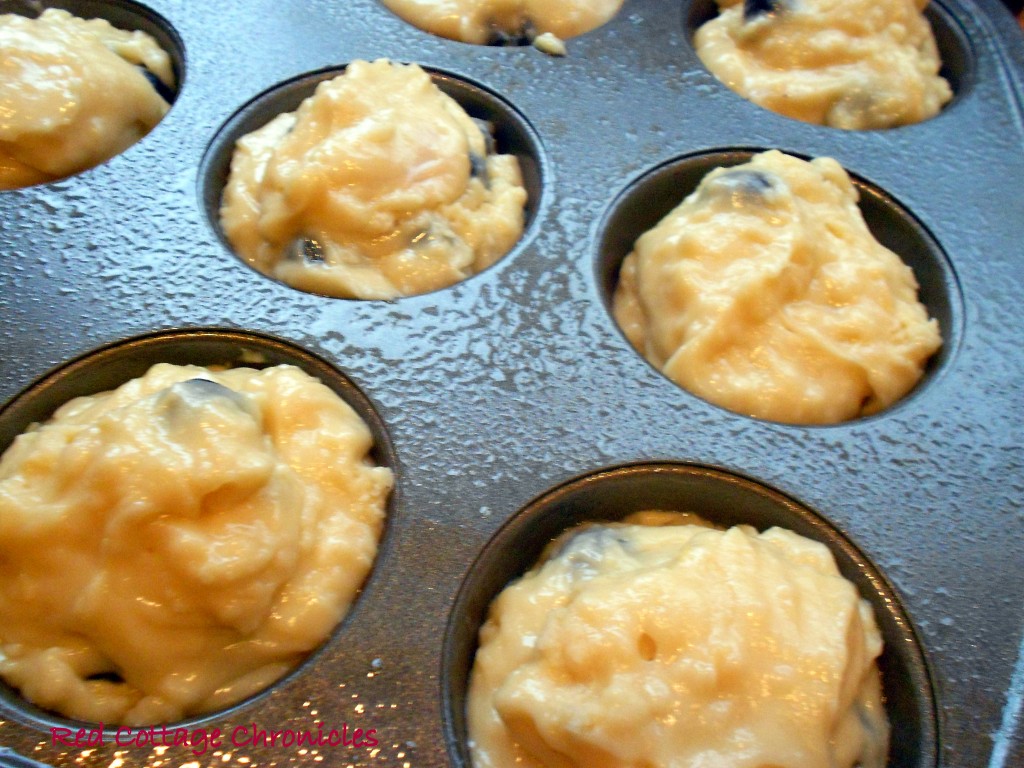 Bake for 20-25 minutes, depending on size of muffins.  I usually rotate the muffin tin at the half way mark to ensure even baking.  After 20 minutes check with a skewer to make sure it comes out clean.  Remove from oven and cool slightly on a wire rack before removing from tins.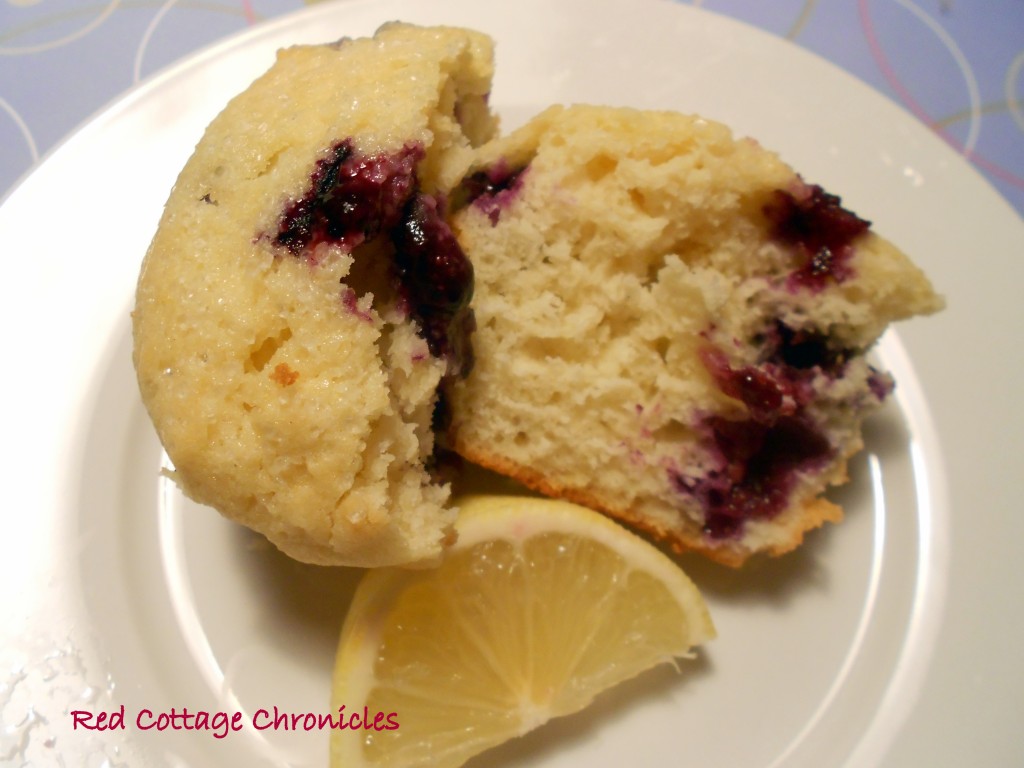 Enjoy warm with butter or if you are a lemon lover like me, try spreading on a bit of lemon curd for some extra zip!
On another note…..a blog I have followed or a couple of years now The Lettered Cottage is written by the cutest couple Layla and Kevin Palmer.  Today the embarked on a journey to Peru with Compassion where they will be doing great work for this organization.  They will also get to meet they child the sponsor through Compassion while they are there.  I invite you to follow their journey, as I am sure it will be a very moving experience.  Through Layla's words and Kevin's amazing photography it is a story you won't want to miss!
Now….on to the recipe!
Lemon Blueberry Muffins
Prep time:
Cook time:
Total time:
Ingredients
1 1/2 cups sugar
1 cup plain or lemon yogurt
2 eggs
1/4 cup canola oil
1/4 butter or margerine, melted
1 tsp pure vanilla extract
1 heaping tsp grinding lemon rind
juce of half a lemon
3 cups flour
2 tsp baking powder
1 tsp salt
2 cups fresh bluberries or frozen blueberries (unthawed)
course sugar
Instructions
Preheat oven to 375. Prepare muffin tins by lining with paper cups or spray with non-stick spray.
In a large bowl whisk together sugar, yogurt, eggs, oil, melted butter, vanilla, lemon peel and lemon juice.
Sift in flour, baking powder and salt
Stir just until combined, do not over mix
Fold in blueberries
Scoop into prepared muffin tins and sprinkle with sugar
Bake for 20-25 minutes
Muffins are done when toothpick inserted into centre comes out clean
Cool for a few minutes on wire rack before removing from pan.