These chocolate caramel peanut butter thumbprint cookies are so easy to make, and so ooey gooey good!
Welcome to #ChristmasCookies Week! That time of year when we soften the butter, fire up the oven, and make cookie trays for family, friends, and neighbors. This year more than 20 top-notch bloggers are sharing their very favorite creations for all to make and enjoy. Join us for a week's worth of Christmas cookie deliciousness.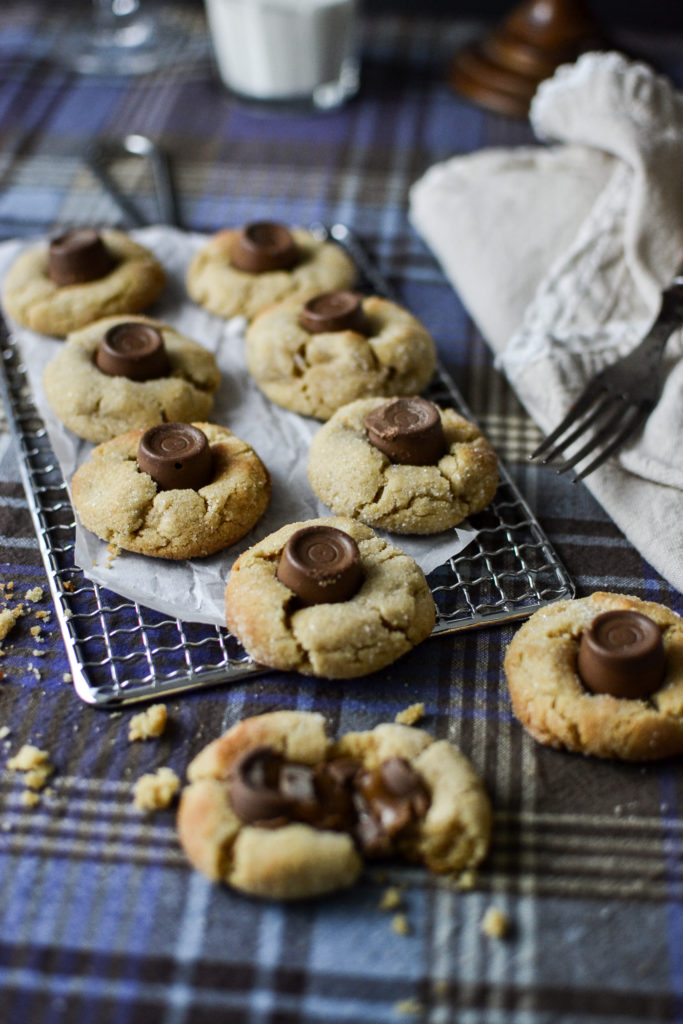 You will find all of the links below, and I am confident there is something for everyone's taste!
Earlier this week I shared recipes for German rum balls and chewy frosted Christmas cookies.
My final recipe of the week is the perfect combination of a soft and chewy peanut butter cookie, smooth milk chocolate and gooey caramel!
And, I have to admit, putting this post together made me happy I spent lots of time in the kitchen baking with the girls when they were younger!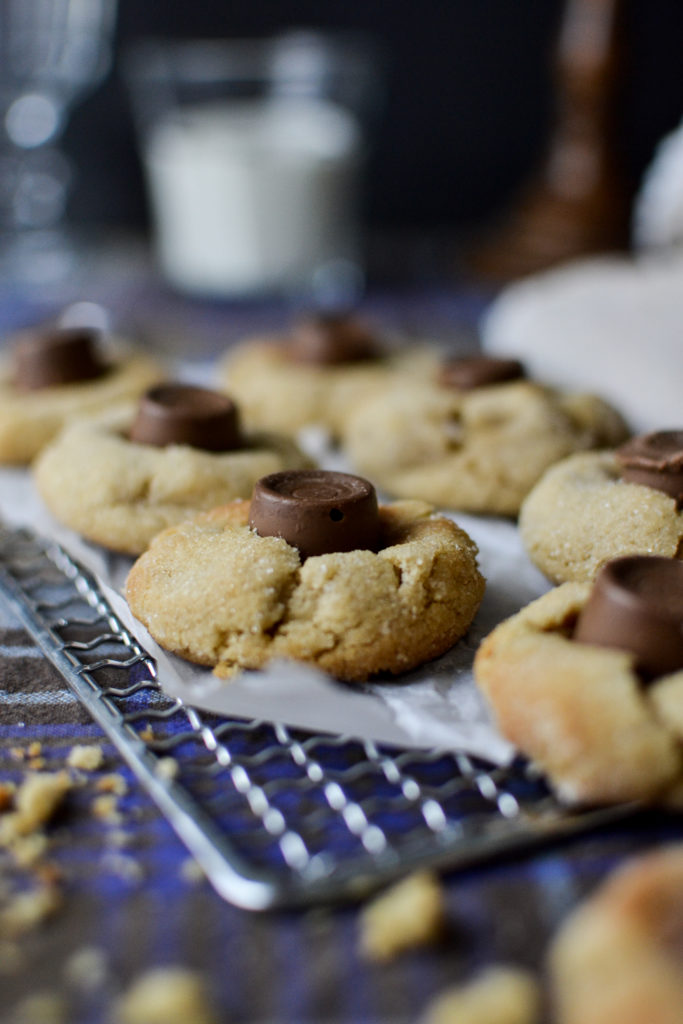 I was lucky to have my youngest daughter (who is now 31, and I have no idea how that happened so fast!) bake these for me. Both my girls love to bake as much as I do, and I so their help and new cookies and squares they bring to the table!
Chocolate Caramel Peanut Butter Thumbprint Cookies are the perfect cookie to bake with the kids!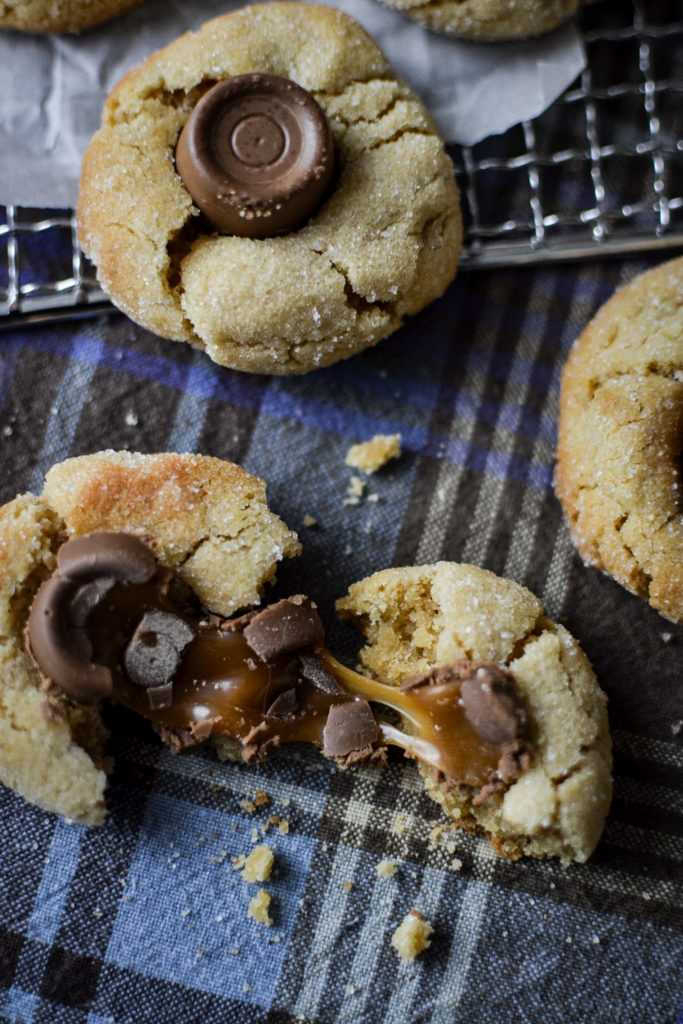 The kids can help to measure and mix the ingredients, and roll them into balls. When they come out of the oven they can press a Rolo chocolate caramel in the centre of each warm cookie!
These cookies are a favourite, not only for their chocolate peanut butter flavour, but because even after the cookies have cooled, it is soft and chewy and the milk chocolate and caramel is soft and oh, so good!
We might be at the end of Christmas cookie week for 2022, but be sure to check my recipes for more yummy holiday treats!
Another yummy Rolo recipe to try are these chocolate Rolo stuffed cookies from At Weekend Craft. Extra chocolatey goodness!
And don't forget to check out all the other recipe links below. Be prepared to be wowed!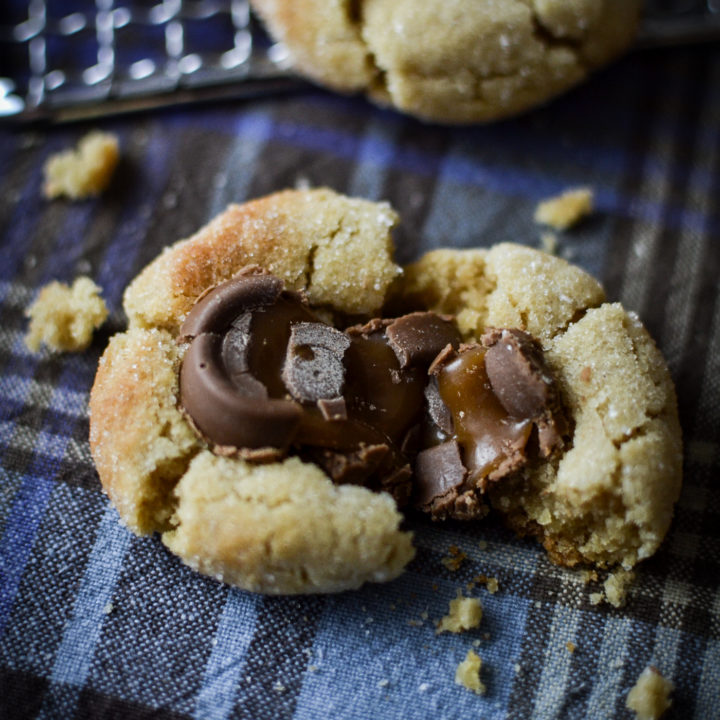 Chocolate Caramel Peanut Butter Thumbprint Cookies
These scrumptious chocolate caramel peanut butter thumbprint cookies are soft and chew with ooey gooey chocolate and caramel combined with the classic flavour of peanut butter!
Ingredients
1 1/2 cups all purpose flour, spooned in and levelled
3/4 teaspoon baking soda
1/2 teaspoon baking powder
1/2 cup granulated sugar
1/2 cup packed brown sugar
1/2 cup creamy peanut butter
1/2 cup butter, softened
1 egg
Course sugar for rolling
Instructions
Preheat oven to 325 degrees. Line baking sheets with parchment or Silpat non-stick baking mat an set aside.
In a medium bowl whisk together flour, baking powder and baking soda. Set aside
In the bowl of electric mixer (or a large mixing bowl using a hand mixer) beat granulated sugar, brown sugar, peanut butter and butter until well blended and fluffy, about 2 minutes. Add egg and beat until well incorporated.
Add dry ingredients and beat on low just until combined and soft dough forms.
Roll dough into 1-inch balls and then roll each ball into the course sugar. Place each ball on baking sheet about two inches apart.
Bake 8 to 10 minutes, until edges are just lightly golden. Remove from oven and immediately gently press 1 Rolo chocolate caramel into the centre of each cookie with your thumb. Transfer cookies one at a time to cooling rack to cool completely.
Notes
Store cookies in an airtight container for up to 3 days at room temperature. Freeze, well wrapped in an airtight container for up to 2 months.
When freezing, I use a cookie tin or plastic freezable contaner with a tight fitting lid. I place a layer of parchment between each layer of cookies and then lightly press a piece of plastic wrap over the top before securing the lid.