Oh, my word! What a crazy 6 week adventure it has been! The One Room Challenge has come to an end and we made it. Renovating a small kitchens on a tight time line and an even tighter budget is not for the faint of heart!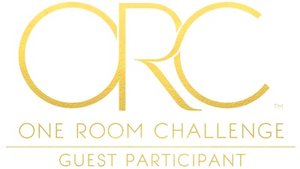 I encourage you to look back on earlier weeks to see how our renovation progressed.
WEEK ONE | WEEK TWO | WEEK THREE | WEEK FOUR | WEEK FIVE
The question is, did we finish? Yes and no. Yes, the room essentially is all finished but there are some small details that need to be addressed.
Left on the to-do list is….
caulking of all the trim to fill in gaps
caulking around subway tile
install door to utility room (when we find the right one!)
installing flooring in the remainder of the house (so this doesn't really count!)
adjust an electrical outlet and repair a subway tile
install 2nd shelves above the ones that are there
Are we happy with how it turned out? Over the moon!!
I think these photos speak for how hard we Tim and Samantha worked on this room.
(Just please ignore the curtain covering the utility room door – instead envision a gorgeous set of vintage French doors painted black!!)
Lets take a look at where we started, shall we…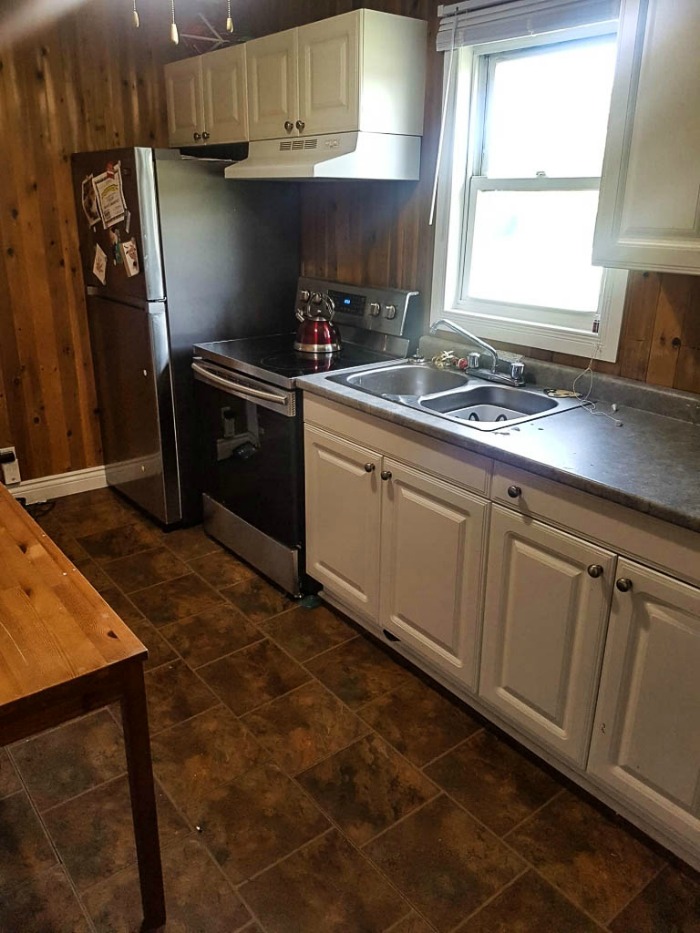 And, here is the same view today….
Samantha did a lot of work too! She helped Tim with the demo and she assembled and painted all the cabinets, which in itself was a daunting task!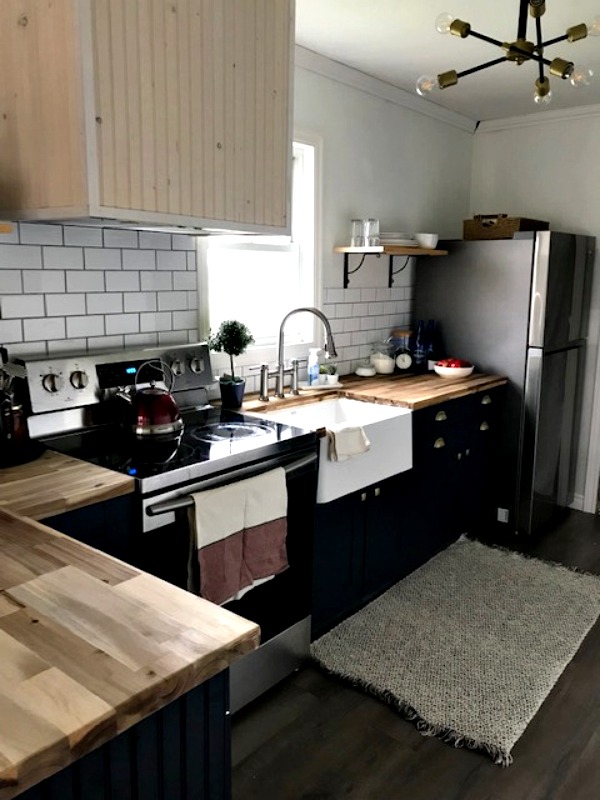 From where the above picture was taken, used to be a wall and a doorway. Removing it was such a smart move on Samantha's part. It really opens everything up.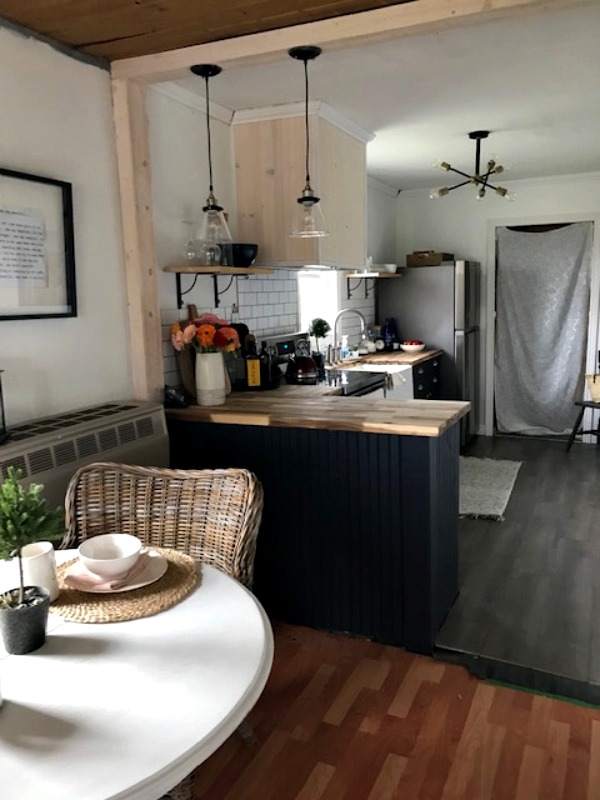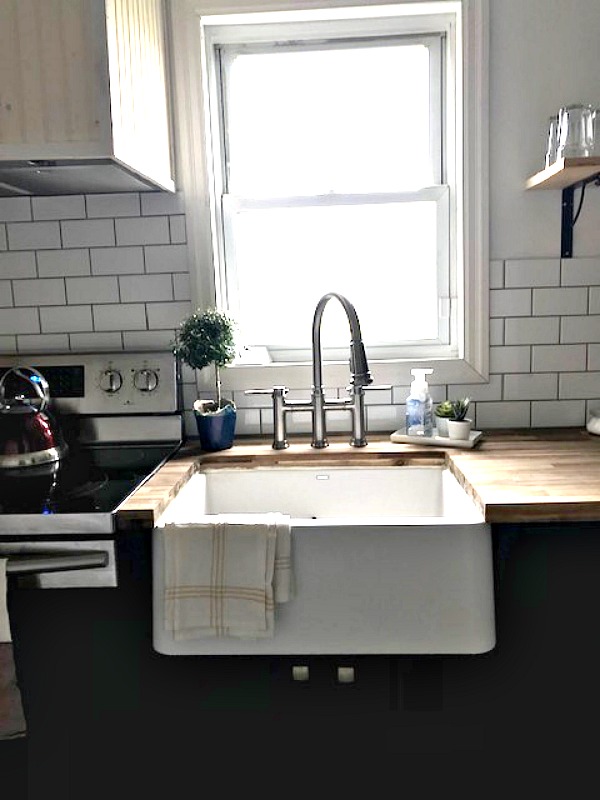 Samantha LOVES her white farmhouse sink and faucet from Blanco Canada. It is deep, and so easy to keep clean. We opted for the black farmhouse sink when we renovated our kitchen a few years ago and love it!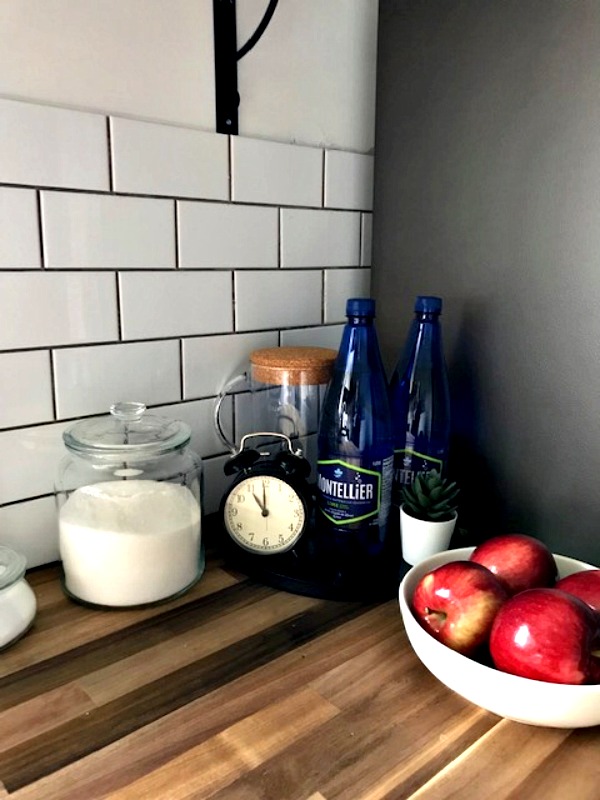 There is plenty of counter space for all the things. Always a concern with small kitchens is counter space and storage space. We were able to check both those boxes with this renovation.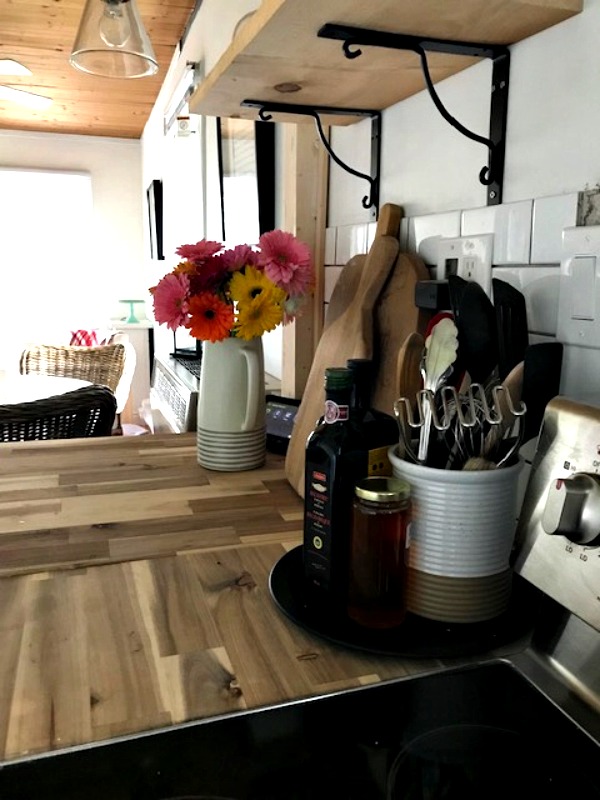 Adding the peninsula literally doubled her counterspace and cupboard space. The addition of the lazy Susan is all the pantry space she needs.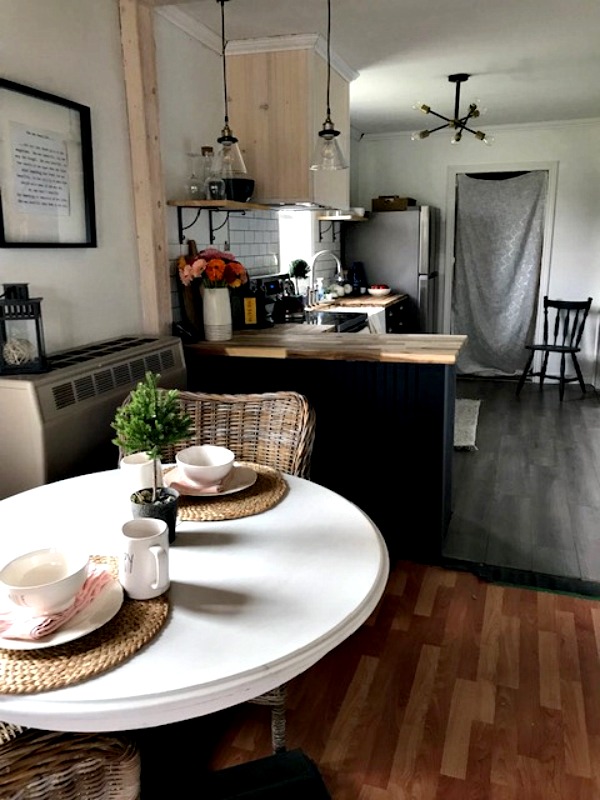 We really do need to find a door for that utility room!! Samantha knows she wants French doors with glass in the top panels. So far not an easy find.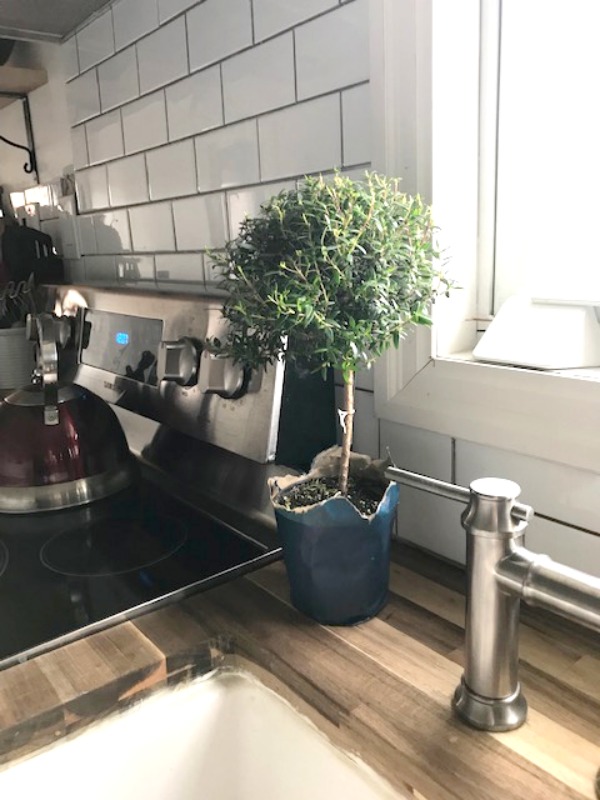 The light floods in the kitchen window, which makes doing the dishes less of a chore. We opted not to install a dishwasher so we could maximize cupboards space.
Small kitchens can also be challenging to light. Before we took the wall down the shadows from the central light fixture were awful.
The addition of the 6-light sputnik light fixture and the two pendant lights over the peninsula really make the room bright and cheery. Especially now that it is dark at 5:00!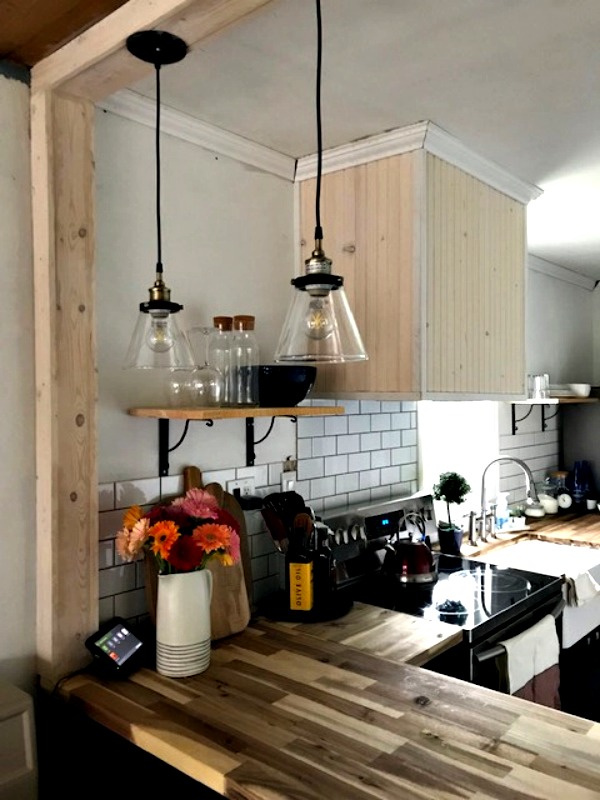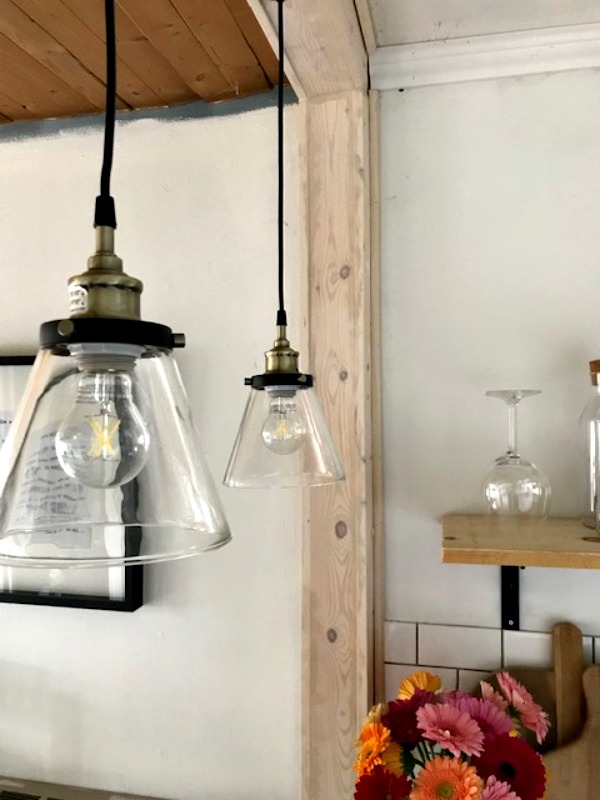 In the New Year the dining area will be renovated with the ceiling and floor be replaced and another wall coming down.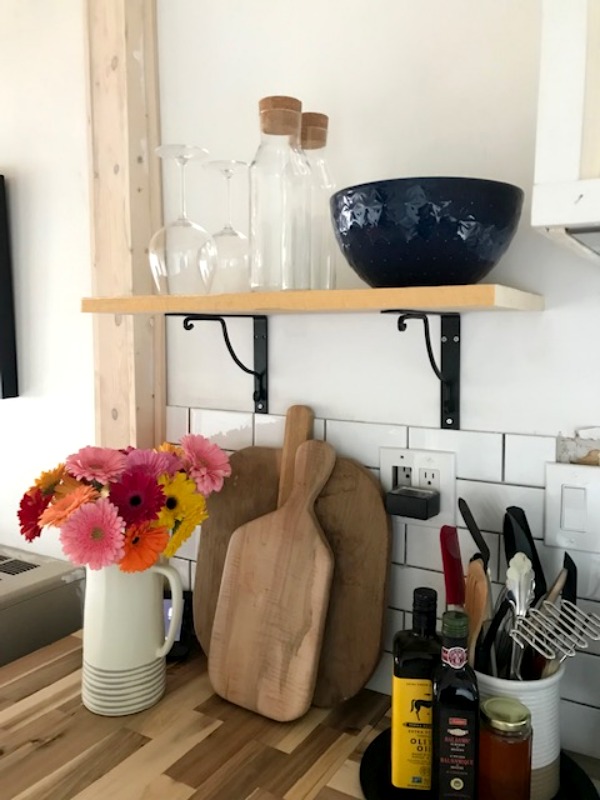 Oh, my gosh! I really need to find a door….and quick. That curtain tacked up there looks like a sore thumb.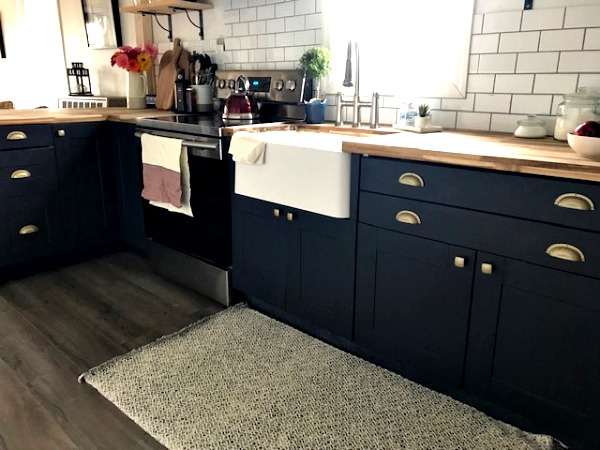 Next week Tim will pop up and complete all the finishing touches. But first, we having flooring arriving for our own renovation. We put our family room on hold while we tackled this project, but with boxes of furniture stacked in my living room and office it is high time we finish it!
I am very blessed to have a husband that is pretty handy, and willing to trust my vision!

I am so glad you stopped by today. I hope that we have given all those with small kitchens and a small budget some ideas and inspiration! You can find all the links for this One Room Challenge project at the top of this post.
Be in the know! It may be a delicious recipe, a stunning tablescape, or decor tips to make your house a home! Simply click here to subscribe. I never sell or share your information, and you can unsubscribe at any time!
Until next time….