Welcome to Christmas Cookie Week! I am kicking it off with my mom's recipe for white chocolate cranberry shortbread cookies.
There is something about shortbread that evokes so many warm and fuzzy memories of Christmas's past. My Nana always made the best shortbread, and I can remember vividly taking a bite and it just melted in my mouth.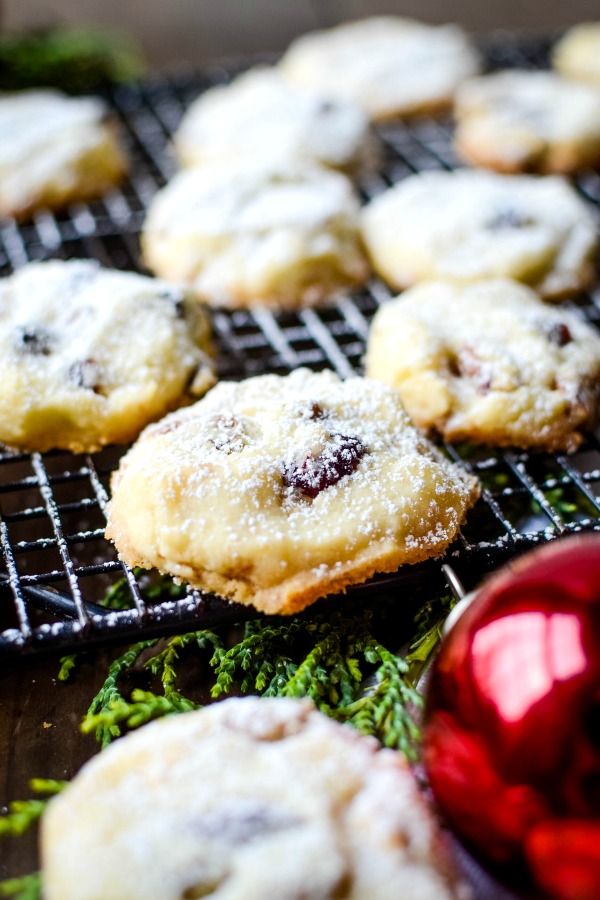 These white chocolate cranberry shortbread cookies are melt-in-your-mouth delicious with just the right touch of sweetness and a hint of crunch from finally chopped pecan pieces.
All week a talented group of food bloggers will be sharing their favorite Christmas cookie recipes. All of today's link can be found below. I think you will find you won't need any other resource for your Christmas baking this year!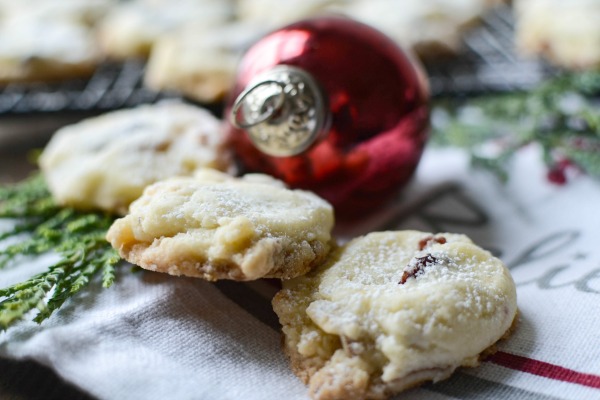 Before our church closed, one of our main fund raisers was Christmas cookie trays. Mom and I, and many of the ladies from the church baked dozens and dozens of our holiday favourites and sold them on festive trays with 4 dozen cookies on each.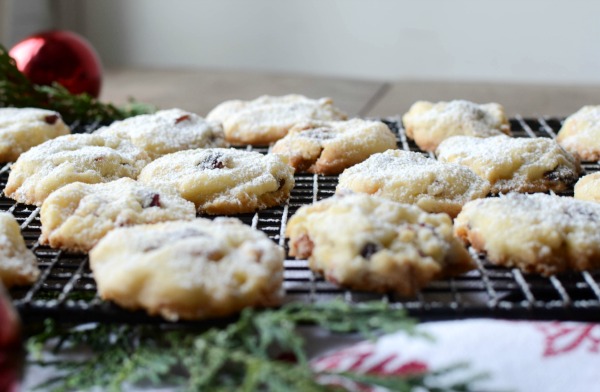 These white chocolate cranberry shortbread cookies always looked so good on the trays. It was so nice to see so many different varieties of cookies and squares. There were several years when we had to cap the orders at 100!
That meant 4800 cookies and squares had to be baked, sorted and packaged. But, between regularly scheduled tea breaks, we all got the job done!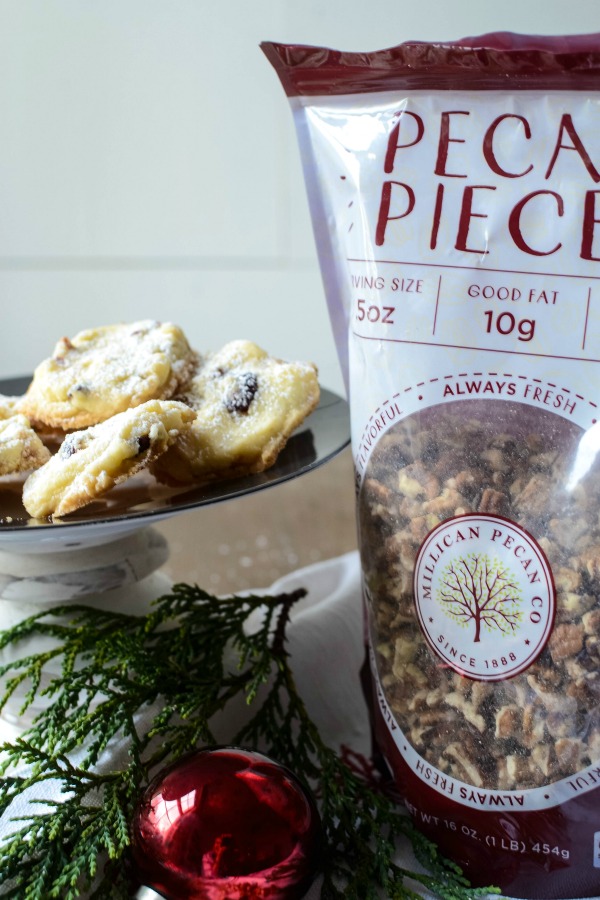 Millican Pecan Company pecan pieces are just the right size. No extra chopping required. I used their pecans for these Caramel Pecan Muffins and they were a huge hit.
For this Northern girl, having pecans fresh from the farm makes all the difference!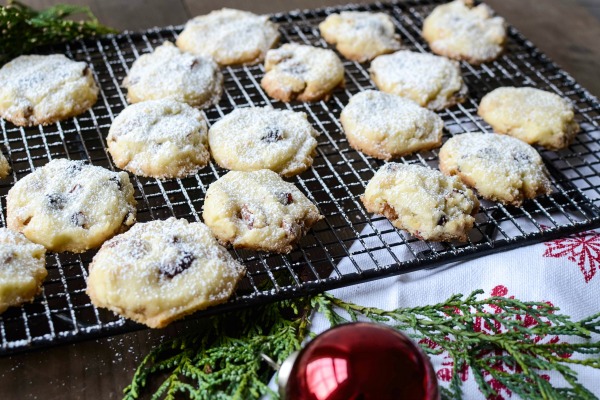 A dusting of confectioners sugar gives them a festive touch!
Making and storing White Chocolate Shortbread cookies
butter should be soft, but not melted
be sure to whip the butter until very light and fluffy
superfine sugar helps to achieve that smooth, melt-in-your-mouth texture
drop by heaping tablespoons onto baking sheet, no need to flatten
after cookies are completely cooled, dust with confectioners sugar and store in airtight container for up to 7 days
these freeze well, but recommend freezing without confectioners sugar, and adding that after cookies have been thoroughly defrosted and brought to room temperature
If you plan to freeze these cookies, freeze them without the confectioners sugar and add it after they have thawed completely.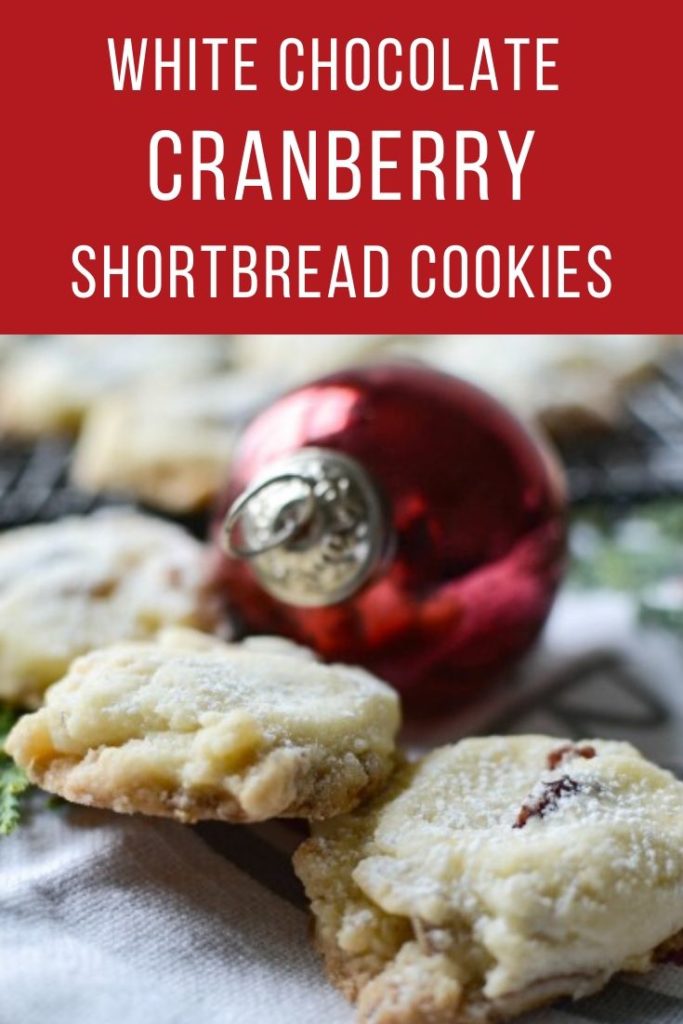 Wednesday I will sharing a recipe for fruitcake cookies and on Friday the most delicious, chewy ginger spice cookies you ever did taste!
You may also want to check out my mom's recipe for Cherry Chews. It is hands-down my favorite Christmas treat, and was always very popular on the church cookie trays!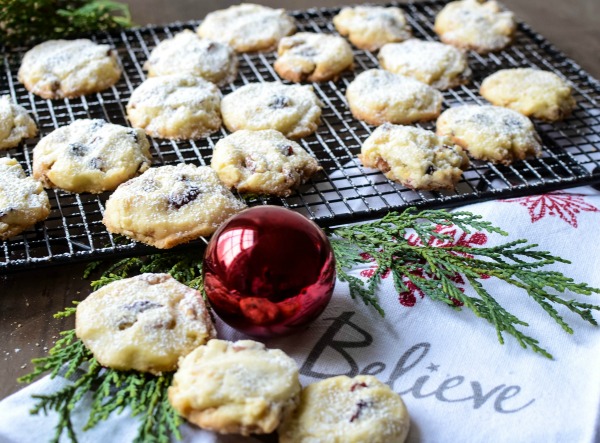 Be in the know! It may be a delicious recipe, a stunning tablescape, or decor tips to make your house a home! Simply click here to subscribe. I never sell or share your information, and you can unsubscribe at any time!
But first, you will find the recipe for todays cookie plus links to many more Christmas cookie recipes below.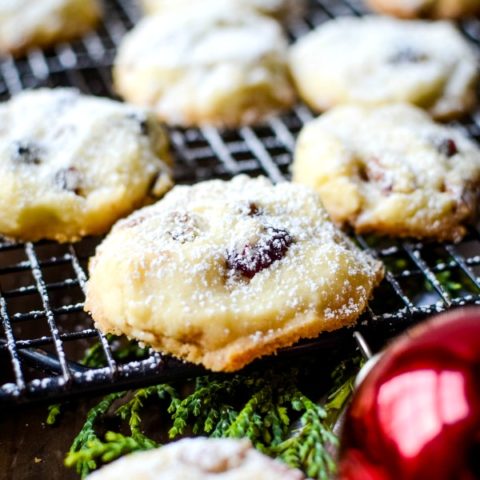 White Chocolate Cranberry Shortbread Cookies
A buttery, melt in your mouth Christmas cookie loaded with chunks of white chocolate, dried cranberries and pecan pieces.
Ingredients
2 cups butter, softened
1 cup superfine sugar
3 1/2 cups all purpose flour
1/2 cup corn starch
1 pkg (6 ounces) Baker's white chocolate, chopped
3/4 cup dried cranberries
1/2 cup chopped pecan pieces
3 tablespoons sifted icing sugar
Instructions
Set oven racks to top and bottom third of oven. Preheat oven to 350 degrees. Line 2 baking sheets with parchment paper or Silpat baking sheets
In bowl of electric mixer combine butter and sugar until light and fluffy
In a small bowl combine flour and cornstarch. Gradually add to butter mixture, beating between each addition to combine
Add white chocolate chunks, cranberries and pecan pieces and stir (lowest speed) until blended
Drop by heaping tablespoons onto prepared baking sheets leaving 2" between. Press down slightly
Bake for 15 minutes or until edges are lightly brown, turning and switching top to bottom after 8 minutes
Remove from oven, transfer to cooling racks and dust lightly with icing sugar when completely cool
Repeat until all the cookie dough is gone
Notes
Store in an airtight container. These cookies freeze well.
Check out today's cookie recipes:
Brown Sugar Christmas Cookies by Intelligent Domestications
Browned Butter Cookies with Browned Butter Frosting by Daily Dish Recipes
Chocolate Peppermint Biscotti by Sweet Beginnings
Chunky White Chocolate Cranberry Shortbread by Red Cottage Chronicles
Cinnamon Pecan Snowball Cookies by The Spiffy Cookie
Cream Cheese Red Velvet Thumbprint Cookies by Faith, Hope, Love, & Luck Survive Despite a Whiskered Accomplice
Dark Chocolate Orange Crinkles by A Kitchen Hoor's Adventures
Eggnog Crackle Cookies by Hezzi-D's Books and Cooks
French Toast Snickerdoodles by Love and Confections
Gluten Free Hungarian Rugelach by Frugal & Fit
Grinch Shortbread Cookies by Cheese Curd In Paradise
Hazelnut Oatmeal Cookies by Food Above Gold
Iced Chocolate Pumpkin Spice Cookies by Family Around the Table
Iced Molasses Cookies by Palatable Pastime
Kipplens AKA: Pecan Snow Balls by Hardly A Goddess
Lemon Sponge Tassies by Cindy's Recipes and Writings
Little Oatmeal Cookies by Creative Southern Home
Pecan Sandies by Everyday Eileen
Peppermint Madeleines by Books n' Cooks
Pumpkin Spice Latte Biscotti by Strawberry Blondie Kitchen
Raspberry Shortbread Cookies by Blogghetti
Salted Chocolate Pecan Cookies by Cookaholic Wife
Speculoos (Belgian Spice Cookies) by Karen's Kitchen Stories
Until next time….