Oh, how I long for a big bedroom, but the reality is ours is not getting any bigger! However, refreshing a small bedroom is a great way to give it a whole new look and feel.
Our bedroom always gets put on the back burner as we tackle other projects or work schedules get in the way. But, with all that is happening with the pandemic currently, it looks like we will be spending a lot of time hunkering down at home this winter.
Now, don't get me wrong, this girl is all for cozying up at home when the days get shorter and the weather gets colder. However, our bedroom is not currently feeling cozy or a place where I want to spend any more time than I have to. I have never really even bothered to hang any art work on the walls.
The cat seems to like it though!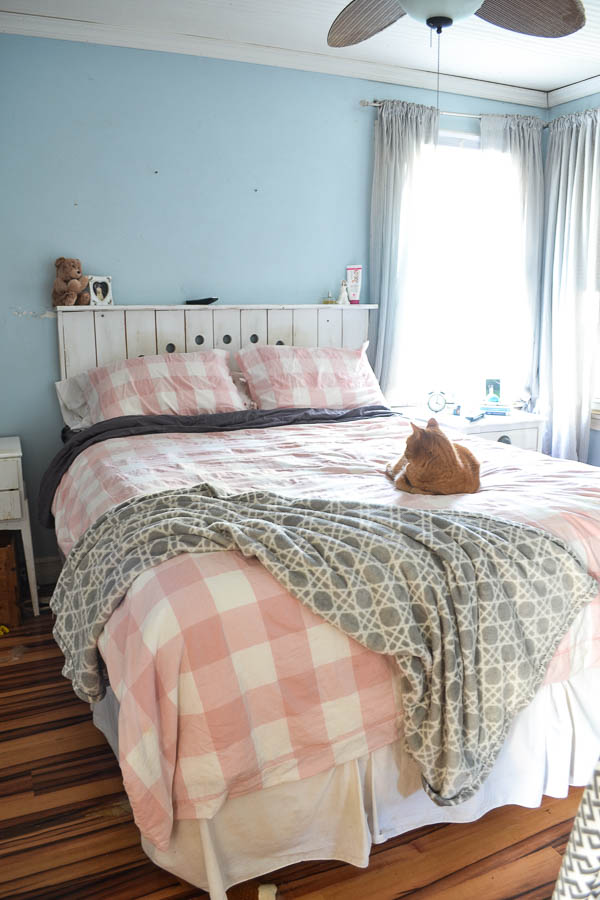 There is nothing like the One Room Challenge to light a fire under me and get to work on refreshing a space. So, when the opportunity came, I decided to refresh our small bedroom as my challenge project this year!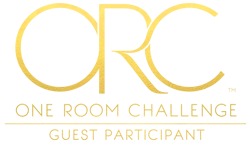 I adore English country cottage style, and currently our bedroom does not reflect my style at all. However, with some paint, new furniture, textiles and accessories, I hope to have a cozy haven to escape the craziness at the end of every day.
But, also a place where I can go to spend some quiet time, reading or napping on cold winter weekends.
Over the next 6 weeks I will be taking you along as we renovate our bedroom and make it all that I hope it will be.
Lets take a look a few more before pics shall we, and then I outline a timeline as to what is planned for each week.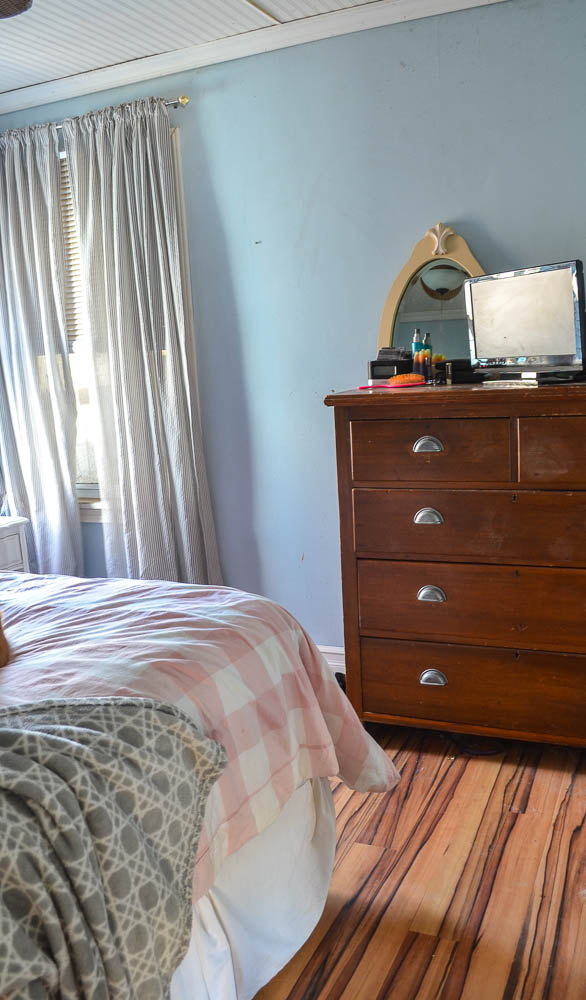 I have plans to relocate this old wood dresser to the living room for extra linen storage.
The jury is still out on the floors. I really dislike the laminate that is in this room, and would prefer to tear it all out and assess the hardwood that is underneath.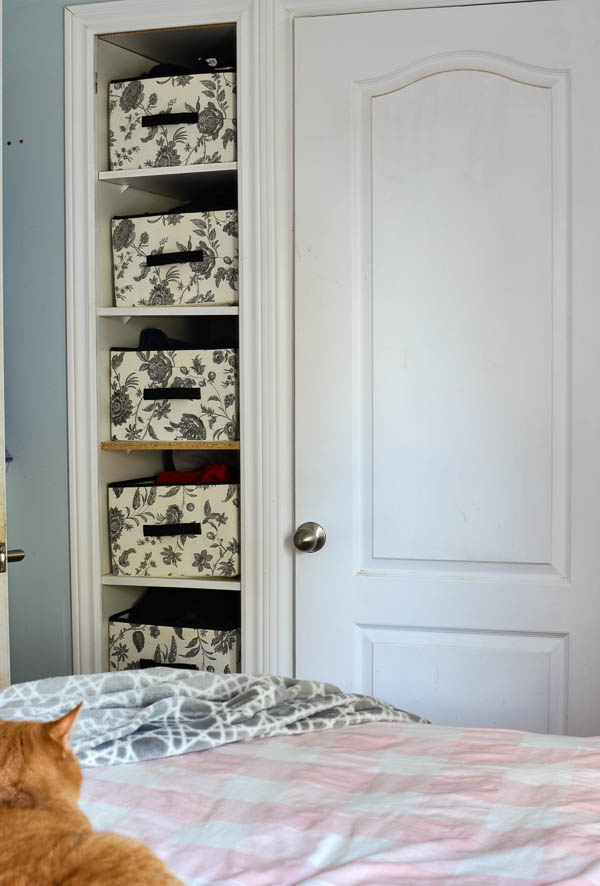 The storage we added a few years ago, (you can see how here), which is where I store all of my clothes, is going to be updated a bit and repurposed as bookshelves. I will be sourcing wicker baskets for one or two of the shelves for hidden storage.
The tiny hand-me-down side tables (badly in need of some fresh paint) on either side of the bed will be replaced with chest-of-drawers for cloths storage. One on either side of the bed, which also will function as side tables.
One Room Challenge Timeline
Week 2 – I will be sharing the full plans for our English country bedroom including paint colours, furniture choices, textile and accessory inspiration ideas
Week 3 – Complete the painting, crown molding completed and ceiling repaired and painted. Share a peek at the new headboard and our new mattress (which I am very excited about!)
Week 4 – This is the week we will tackle the floors. Wish me luck!
Week 5 – Hang window coverings, chest-of-drawers should arrive this week, a peek at the carpet
Week 6 – THE REVEAL. A look back at where began and lots of photos of the overall room and close up looks of all the details that create the overall look.
It may seem like a daunting task, but last fall we completely renovated our daughter's kitchen and it turned out amazing!
While shopping is going to be a bit of a challenge, I think I have it all figured out.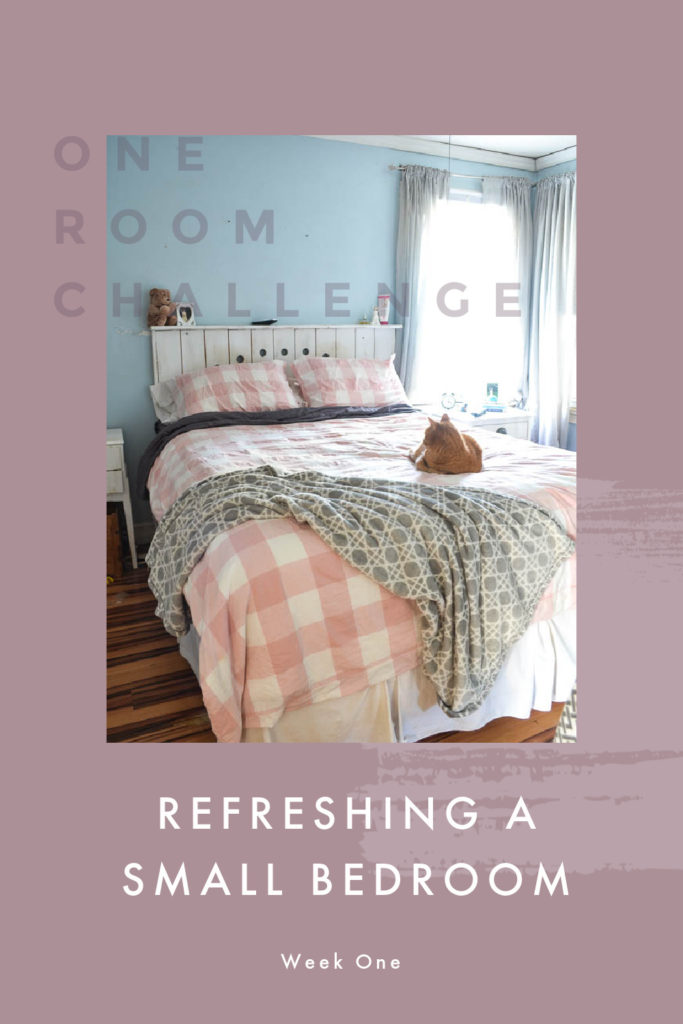 I hope you will join me every Thursday for the next six weeks. I will be sharing tips and tricks to making the most of the space when refreshing a small bedroom.
Be in the know! It may be a delicious recipe, a stunning tablescape, or decor tips to make your house a home! Simply click here to subscribe. I never sell or share your information, and you can unsubscribe at any time!
Until next time…..