Welcome to week two of the One Room Challenge! This week I am sharing the kitchen mood board as well as the progress so far. I am very happy with what we accomplished, and what a difference it has made in the room already.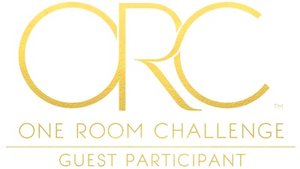 If you missed week one, you can find it here. It will bring you up to date on our cottage kitchen renovation! You can also find past ORC project posts here.
Kitchen Mood Board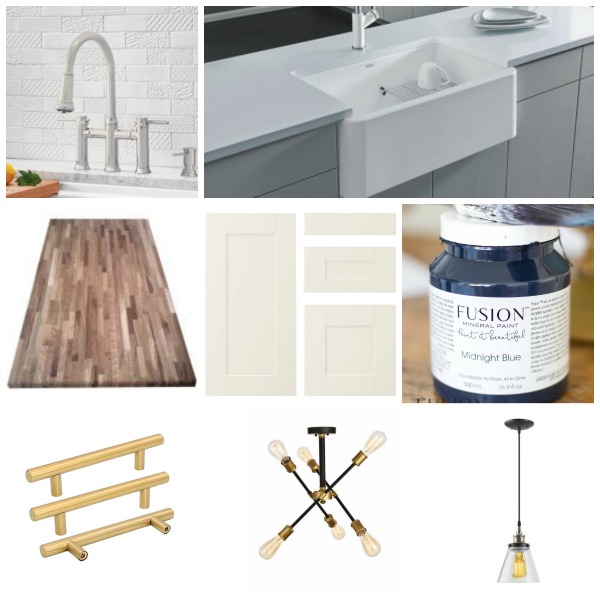 Although this is our daughters kitchen, she does look to me for guidance and help with some design decisions. After reading Joanna Gaines book Home Body, I think her style is a mix of Modern and Farmhouse with a splash of industrial and rustic!
Farmhouse elements include the apron front sink and bridge faucet. I am very excited to share them in detail in week four if all goes according to plan! Open upper shelving is planned, and the butcher block countertop all play into the farmhouse feel.
Modern elements include the clean lines of the Grimslov Ikea cabinet doors. They are pictured above in white, however she had her heart set on navy blue cabinets. Unfortunately they were way out of her budget, but she has opted to paint them using Fusion Mineral Paint in Midnight Blue. Which made this momma very nervous!
She has been working on painting them while the demo has been going on, and I have to say I am really impressed! I will share them next week!
Other modern elements are the brush gold cabinet hardware in a clean, square style. The walls will be painted Simply White by Benjamin Moore. The wall dividing the kitchen from the dining room has been removed to create a more open concept.
Mixed metals and a fun Sputnik light fixture add a splash of industrial style. Clear and brushed gold pendent lights that will be installed over the peninsula also feel industrial!
Now that you have had a peak at the kitchen mood board, lets see how things are coming along!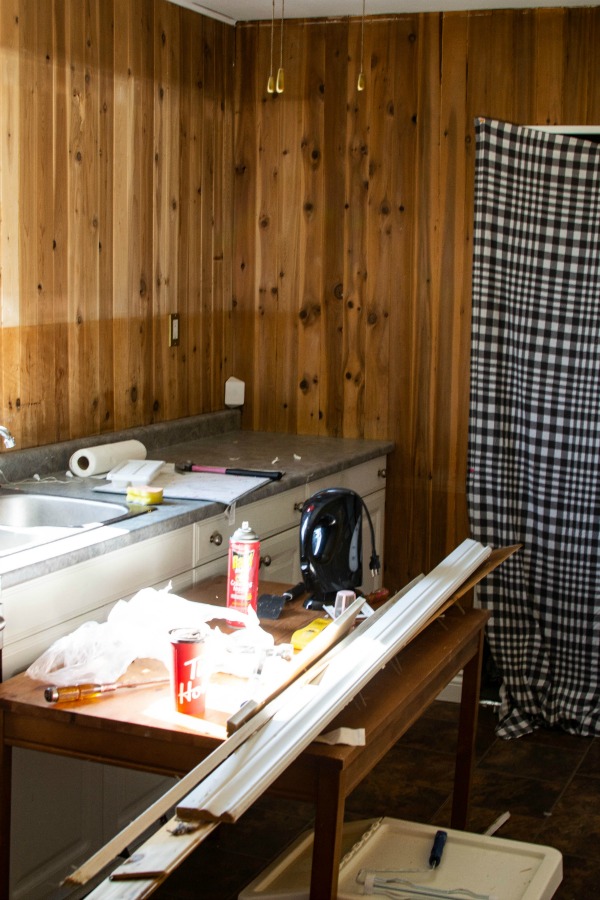 First to go where the upper cabinets. Sam had taken down on her own before Tim got there to start demo! Since she is all about reduce, reuse and recycle, she carried them out to the curb and placed a "free sign" on them.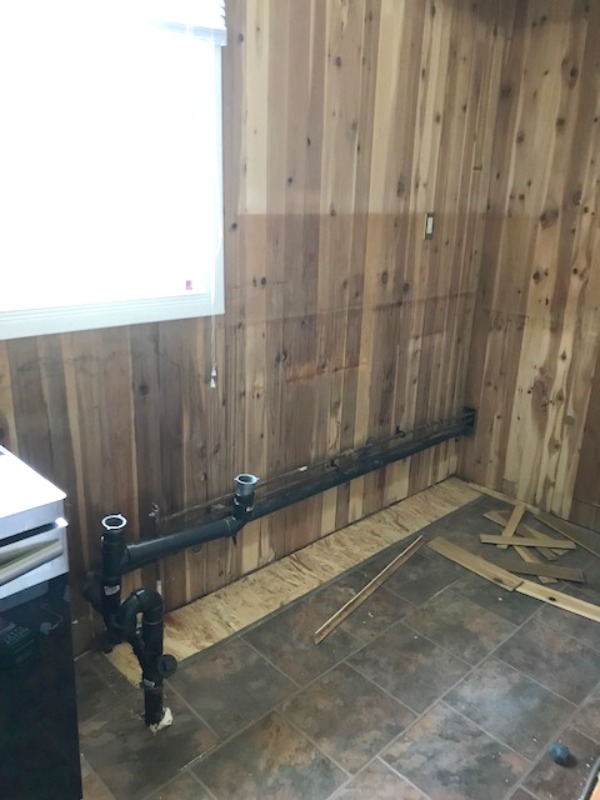 Together they removed all the lower cabinets, and carried those all out to the curb as well.
The uppers had been picked up by someone the first day. When Tim was carrying the lowers out, someone taking the kitchen sink commented to him that our daughter was becoming the most popular girl in the neighbourhood, because of the great things she was offering up for free!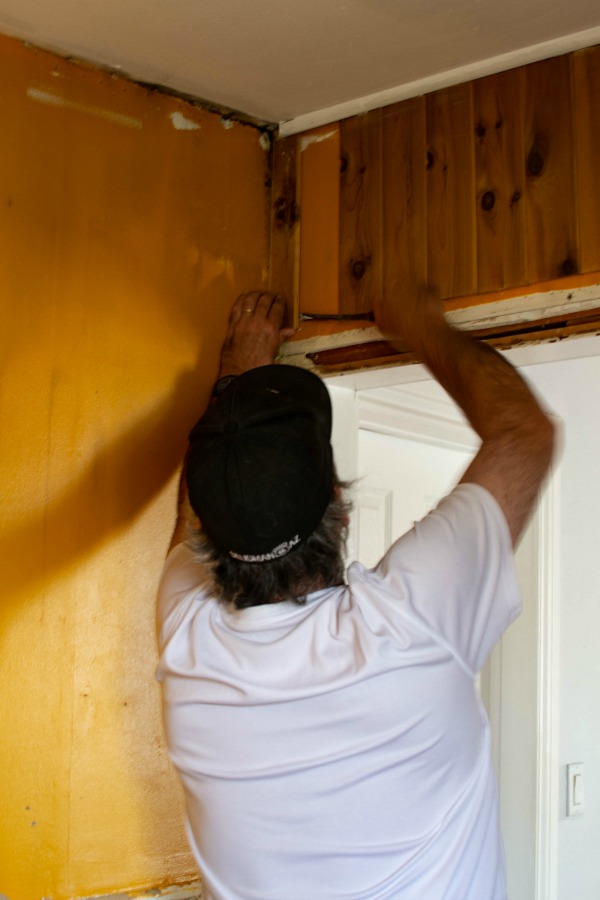 Removing the tongue and grooved pine revealed a lovely wall, painted yellow on the top with the remnants of stripped off linoleum on the bottom.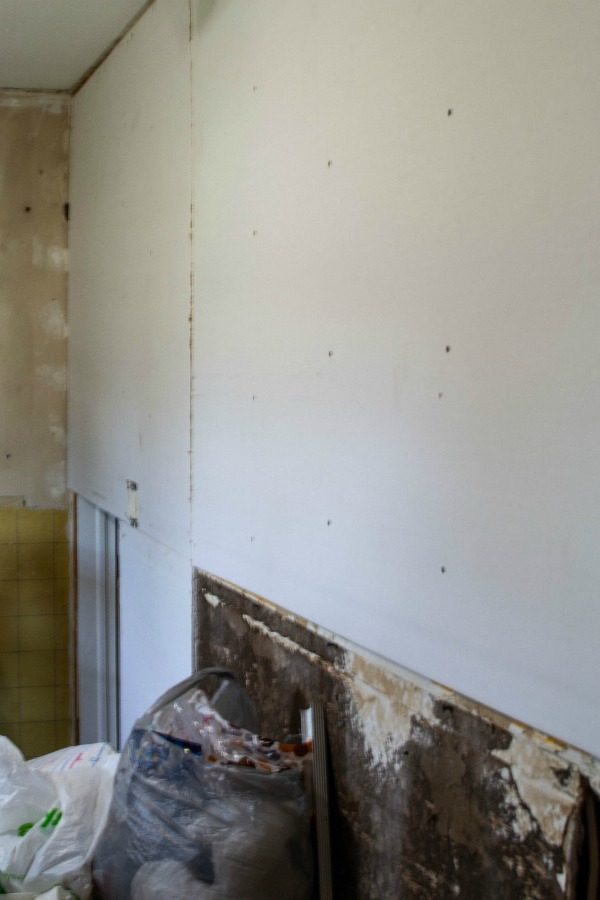 Tim was quick to get new drywall installed. Immediately the entire room started to look bigger now that the dark wood was gone and being replaced with white drywall!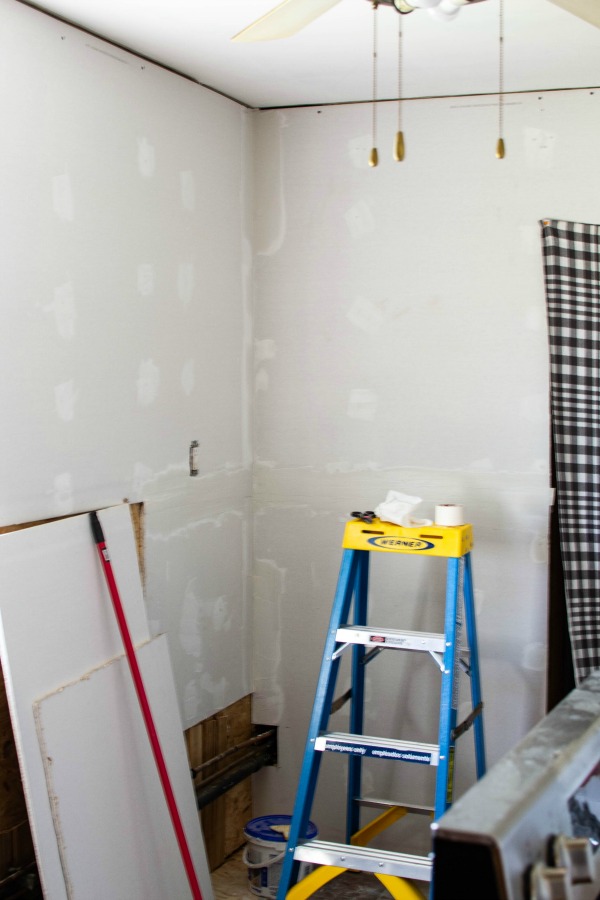 So much better! But, the best part was when the wall was removed!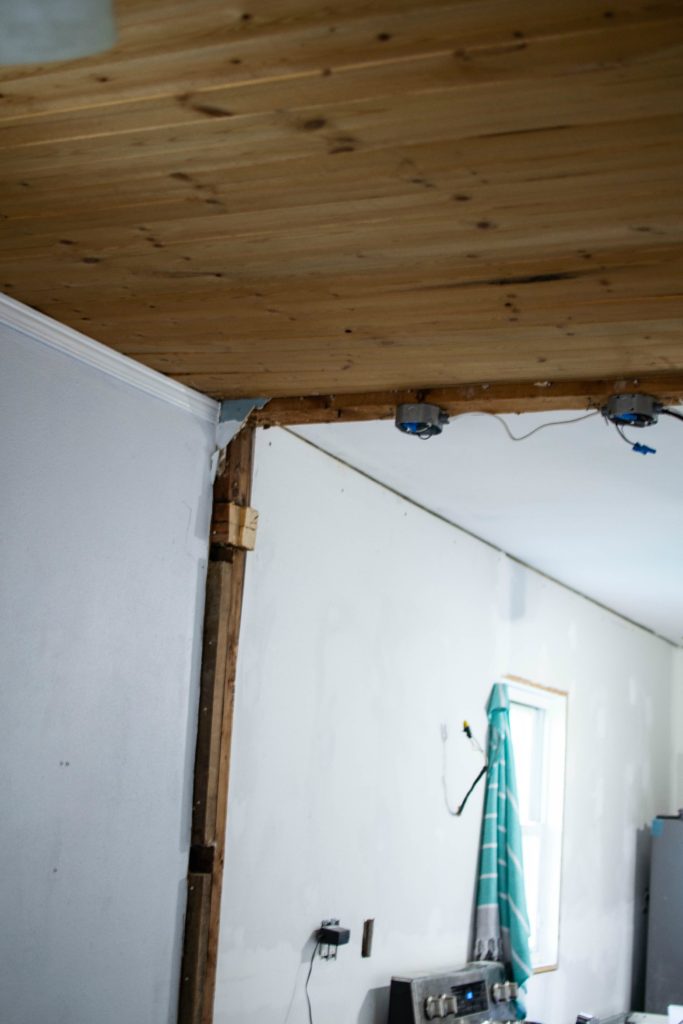 Oh my goodness. What a difference. We had an electrician come in and relocate the wiring that was inside the wall that was removed. There were three outlets on that wall, and the electrician was able redirect two of them above the counter where there were none before.
He then was able to install the rough-ins for the two pendent lights and wired them to a switch on the other wall. He also took out the old ceiling fan/light fixture and it is all ready to install the new light, which should arrive tomorrow!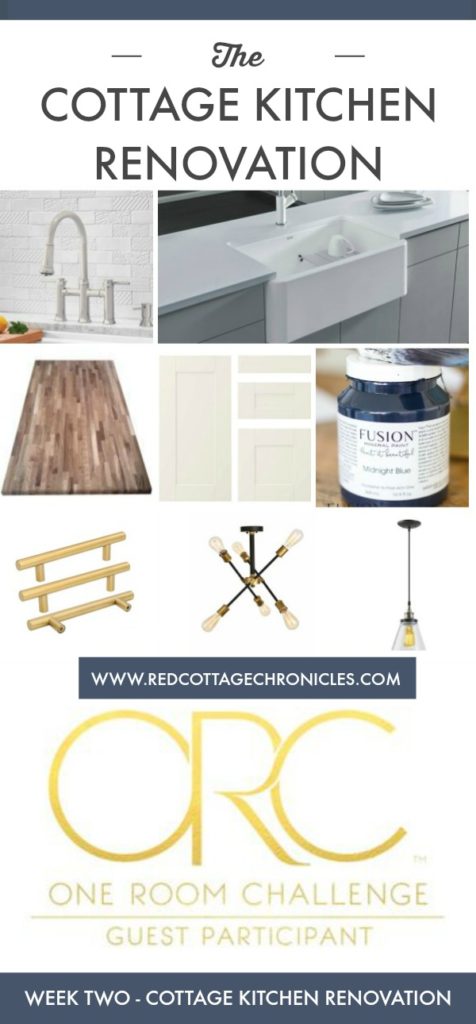 Now that most of the hard work has been done, we are moving on to installing the cabinets and casing in the beams that were left after taking down the wall. Fun times!
Be in the know! It may be a delicious recipe, a stunning tablescape, or decor tips to make your house a home! Simply click here to subscribe. I never sell or share your information, and you can unsubscribe at any time!
Until next time……