Welcome to the Thrift Store Decor Upcycle Challenge – February Edition! The fourth Tuesday of each month a group of blogging friends get together and transform/restore/upcycle/re-purpose something we have picked up at a yard sale, thrift store, etc. At the bottom of this post you will find links to each of the participating bloggers thrift store upcycle project for the month, and I encourage you to check out all the fun and thrifty projects!
The Rules:
Upcycle an item(s) from a thrift store, resale store, or garage sale into a new piece of decor.
There's no monthly theme.
There's no budget to stick to.
Meet the Hosts
Amanda | Red Cottage Chronicles Kim | Made in a Day
Dru | Polka Dot Poplars Erlene | My Pinterventures Colleen | Life on Kaydeross Creek Pili | Sweet Things
Shirley | Intelligent Domestications Debra | Shoppe No. 5 Marie | DIY Adulation
Chelsea | The Johnsons Plus Dog Jes | My DIY Envy Lindsay | Crazy Organized
Molly | Just a Little Creativity Ashley | 3 Little Greenwoods Kimm | Reinvented Michelle | Our Crafty Mom
Jeannee | Shepherds and Chardonnay Sue | A Purdy Little House Sara | Twelve on Main
Claire | Pillar Box Blue Chelc | Inside the Fox Den Kim | Farmhouse Made Victoria | Dazzle While Frazzled
Sherry | Savvy Apron Jennifer and Vicki | 2 Bees in a Pod Lora | Craftivity Designs
Denise | My Thrifty House Toni | Small Home Soul Megan | C'mon Get Crafty Ann | Duct Tape and Denim
Make sure you follow our board on Pinterest for more upcycled decor inspiration!
---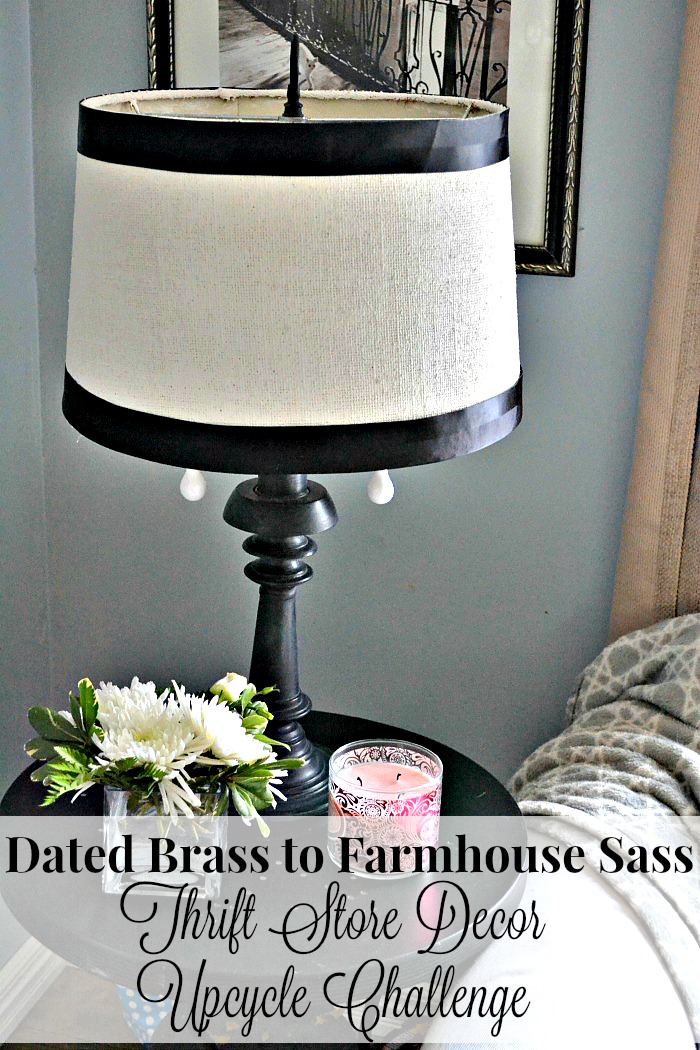 Living with animals can be a real treat. And, no I am not talking about my husband and kids! They are a whole other story! I am talking about my beloved golden retrievers and two cats. The cats are relatively harmless and don't get into too much trouble. The dogs and their enthusiastic tail wagging however, have been cause for many an "accident" in our household!

Recently, more like before Christmas, one of those wagging tails took aim at a lamp on a side table in the living room. I ran to try and catch it, but it came crashing down and smashed all over the floor. This of course sparked the interest of the other dog who wanted to see what all the fuss was about, which had me diving over the couch to grab him before he went prancing through the broken glass.
Life with dogs! I wouldn't have it any other way!
So, since December we have gotten by with only one tiny lamp and a floor lamp in the living room. It was high time I got to buying a new one.
While wandering through the third local thrift store of the day looking for something to spark my interest for this month's upcycle challenge, a new lamp was the furthest thing from my mind. Then from across the aisles I spotted a couple of brass lamps and that is when the light went off! (No pun intended!)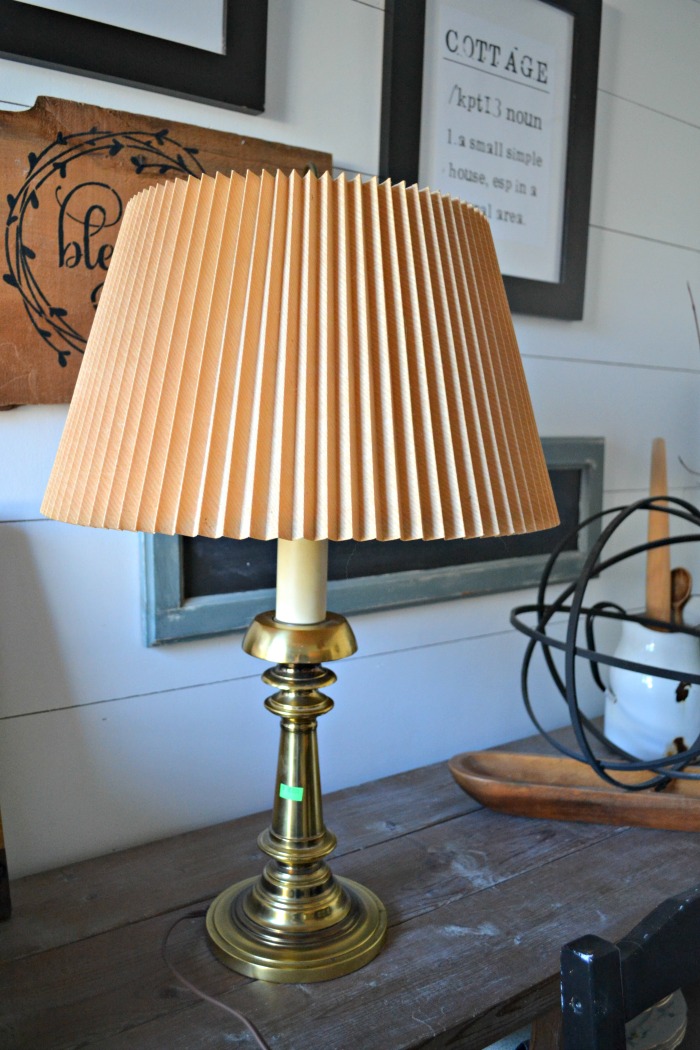 I need a new lamp, and I need a thrift store upcycle project. Win, win! I choose one with a yellowing and brittle old pleated shade, but was tall and I really liked the shape of it.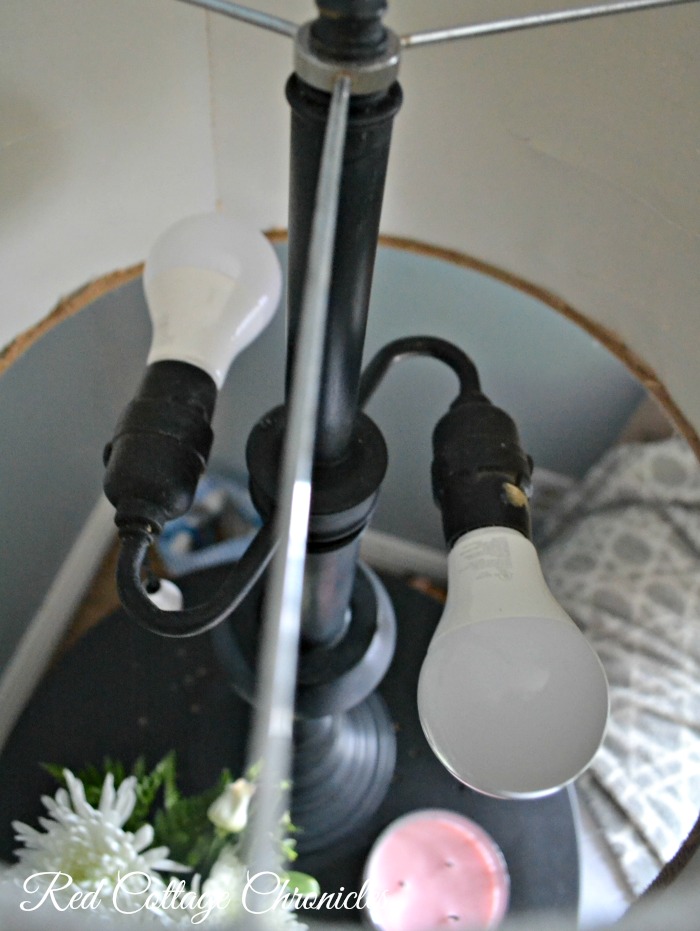 On closer inspection it had spots for two bulbs and pull chains to turn on each bulb separately, albeit broken pull chains, but that would be an easy fix. I knew I had a shade that would fit nicely, but would also need a coat of paint if I wanted it to look like the vision I had in my mind.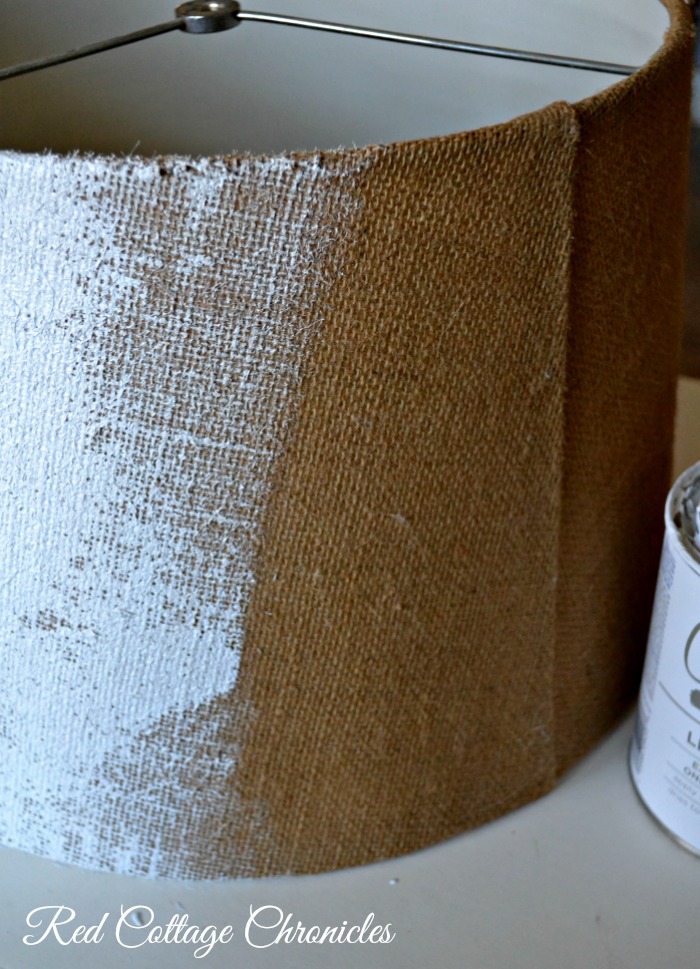 Once I got it home I immediately ditched the ugly shade and gave the lamp a good cleaning. I wanted to use up paint I already had to keep the cost low, so I grabbed the two half empty cans of Rustoleum chalkboard paint and gave it three light coats. While waiting for each coat to dry I used a brush to paint the burlap shade with Rustoleum's Chalked Paint in Linen.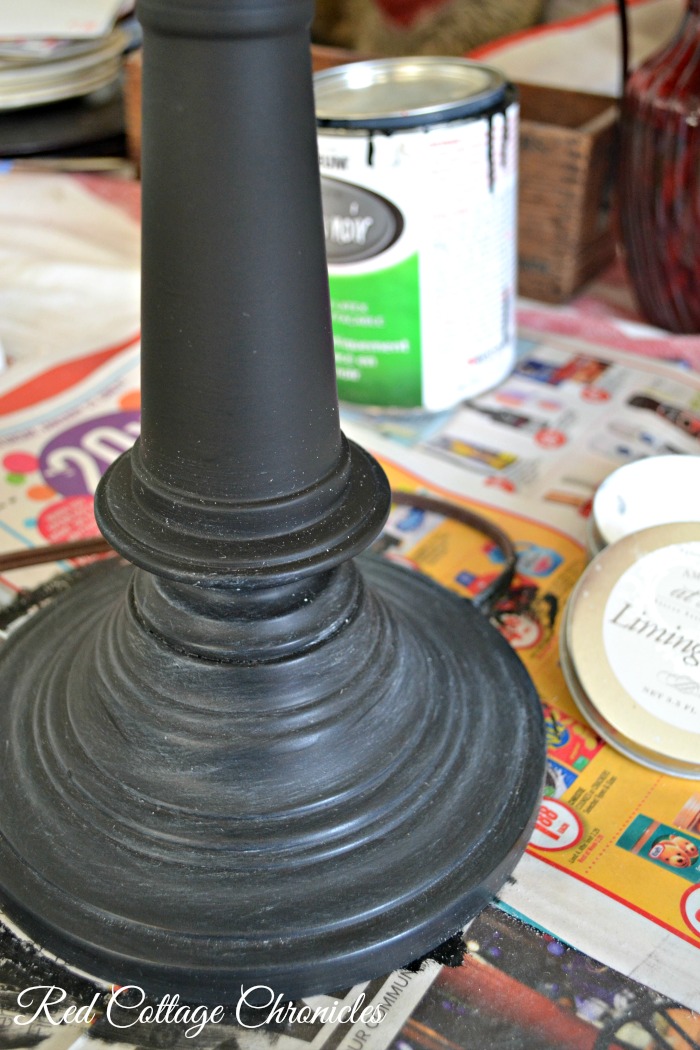 The next day I used Amy Howard at Home's liming wax to add a protective coating to the lamp base and to soften the black chalkboard paint. I love how it kind of looks like soapstone. The wax gave it a super soft finish, that should resist any knicks or scratches from direct hits by a dogs wagging tail!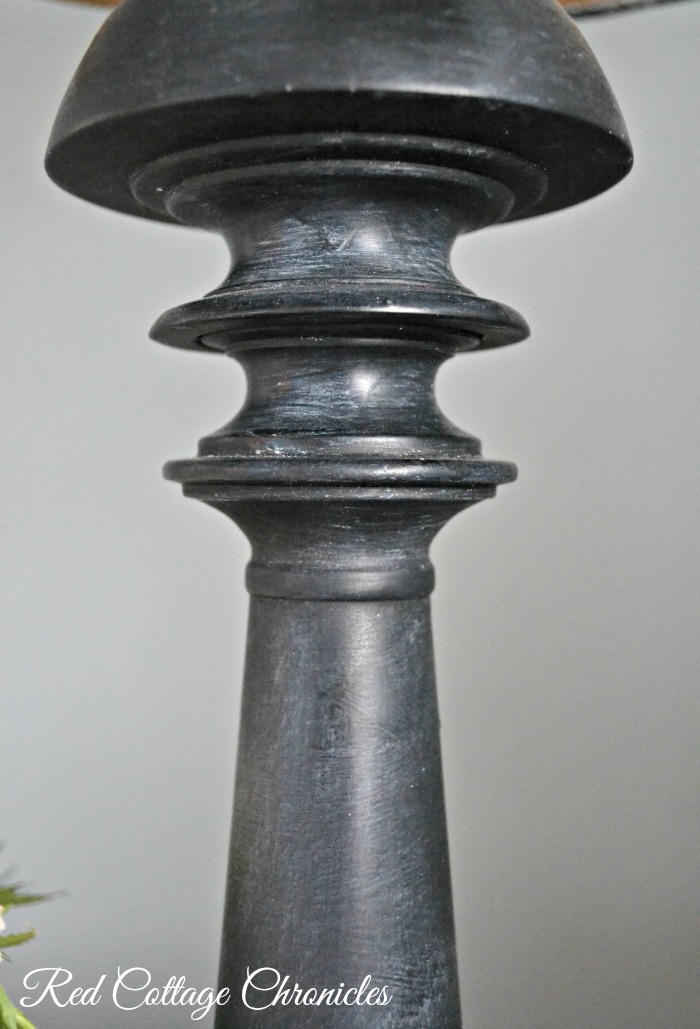 At Michael's I had picked up a roll of 1 1/2 wide black satin ribbon and hot glued a band around the top and bottom edge of the shade.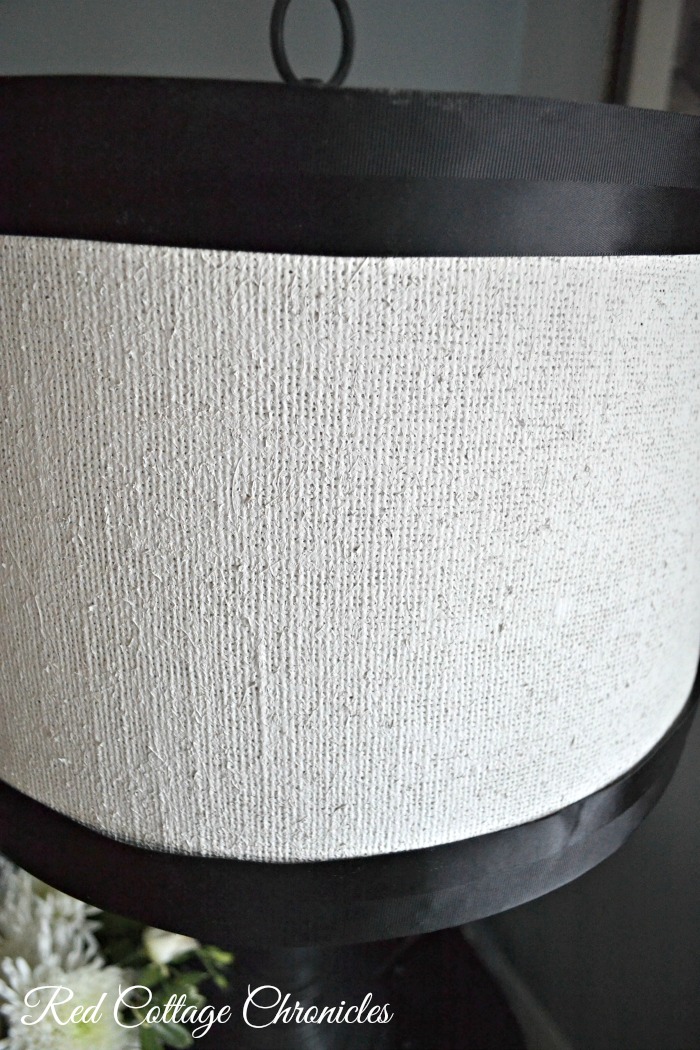 I purchased two new pulls to lengthen the broken pull chains. The new chains were a bright brass so I dipped them into the chalkboard paint and let them dry before snapping them in place.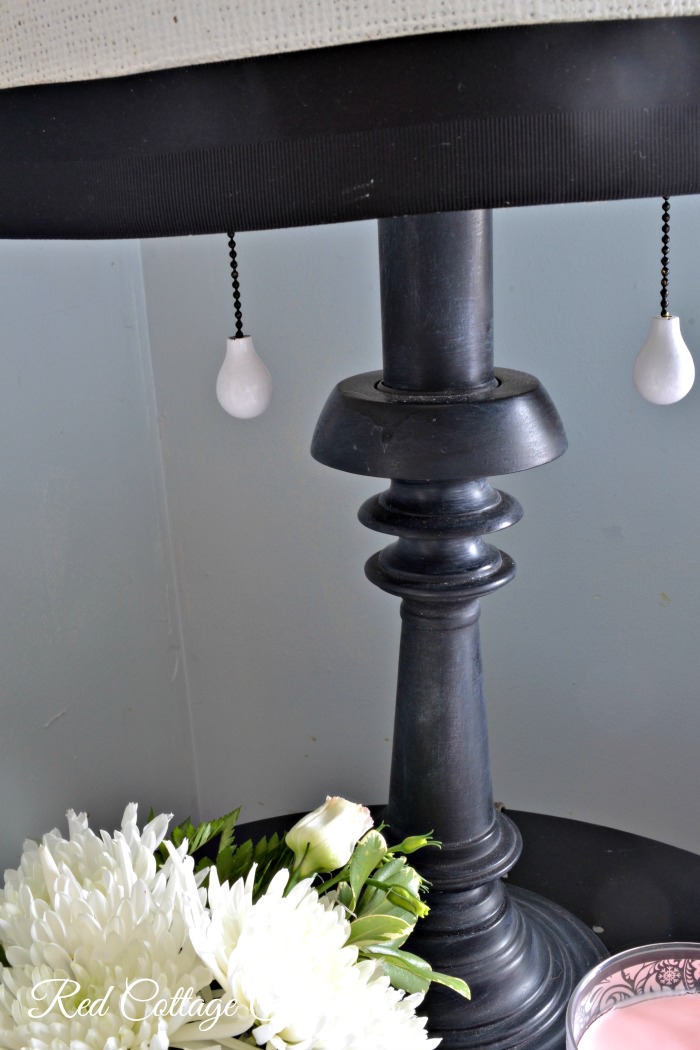 I have to admit I surprised myself with this Thrift Store Upcycle Challenge. Never did I think of choosing a lamp as my project, but I couldn't be happier with how it turned out!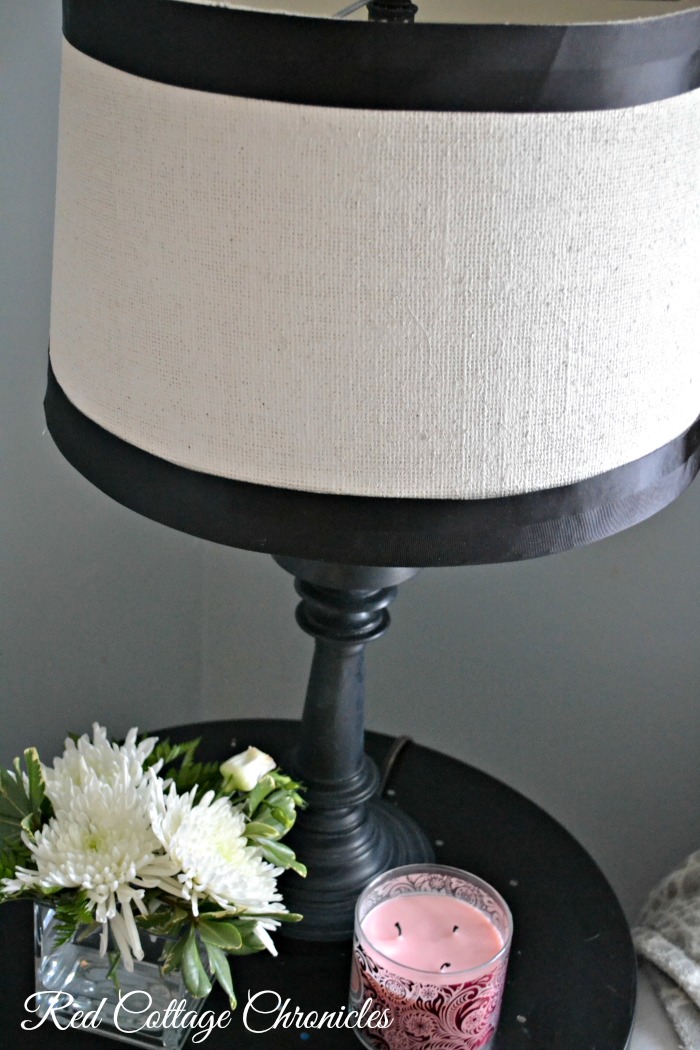 Not to mention, this lamp is significantly heavier than the glass one the dog sent flying, so I would hazard a guess it won't budge when it gets whacked with a wagging tail!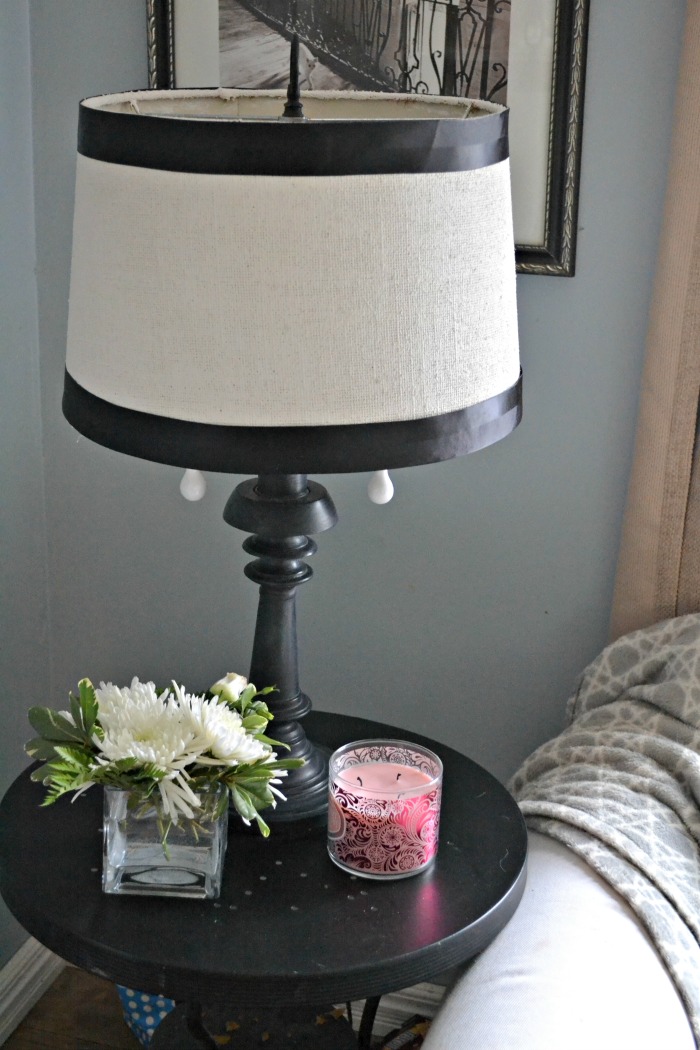 One last look at how this old brass got some farmhouse sass!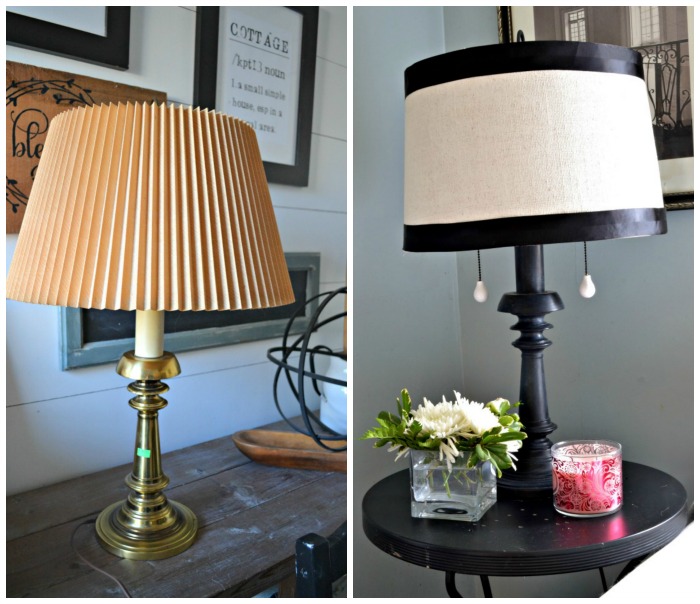 The total cost of my "new" lamp was $14 including the lamp itself, ribbon and new chain pulls. I already had all the paint and liming wax with lots left over for another project!
Until next time….

And now for more thrifty goodness!
Check out what my fellow upcyclers created below!