I am not going to lie. I am feeling a wee bit panicked! How is it that we are already at week 4! On a more positive note, the white farmhouse sink is in! And, it looks fabulous!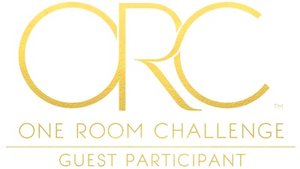 If you are just joining us for the first time, the ORC – One Room Challenge is a twice yearly event where feature designers and guest participants transform a in just six weeks.
You can catch up on the first three weeks of our kitchen renovation by clicking the links below.
I am very grateful to Blanco Canada, who so graciously provided us with the Ikon Silgranit farmhouse sink and the Empressa High Arc bridge faucet for this project. As always, the opinions expressed are my completely my own.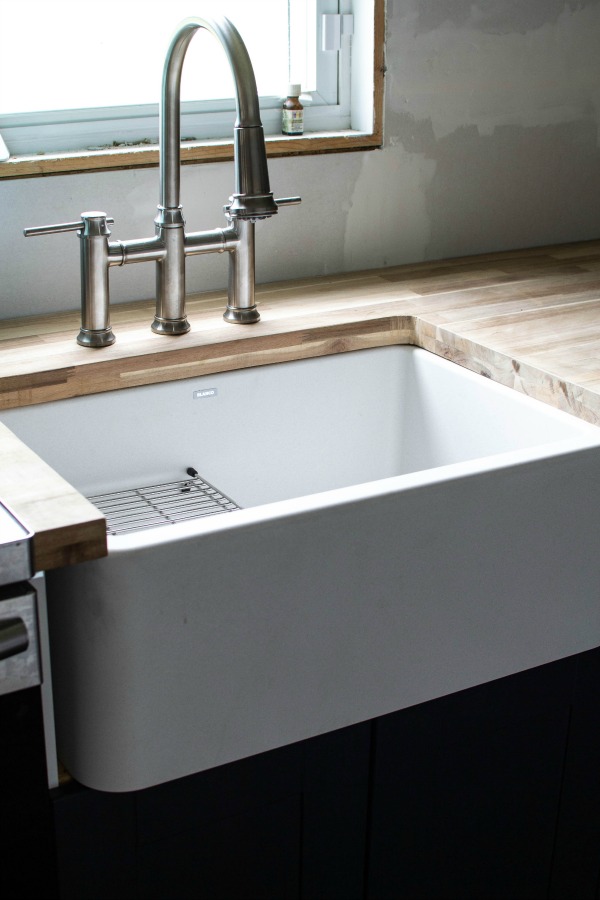 If you followed our own kitchen renovation, you may recall we chose a black farmhouse sink, the Blanco Ikon farmhouse sink in Anthracite. Two and a half years later I am still couldn't be happier with our choice.
Samantha knew she wanted a white farmhouse sink and since her counter space is at a premium, she opted for the Ikon 27 (inch). I was pleasantly surprised at the overall size of the sink.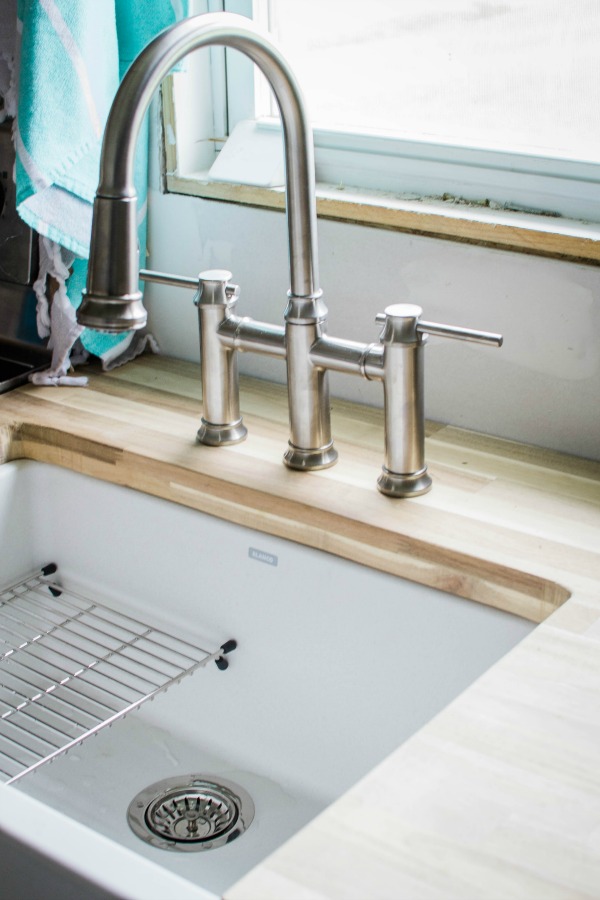 She also opted for the elevated stainless steel grid. It is a little less than half the width of the sink and sits about half way down the depth. It is perfect for air drying dishes or rinsing fruits and veggies.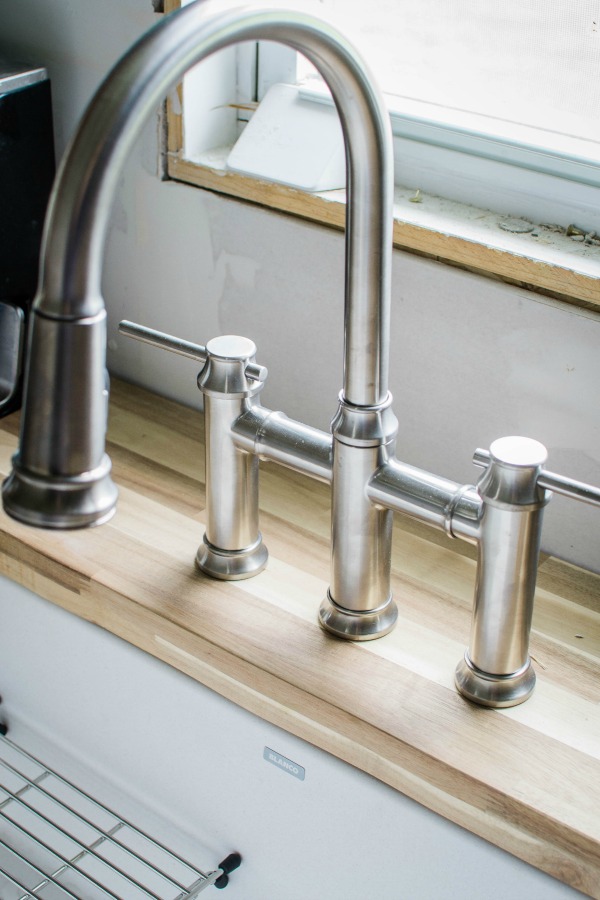 I have always loved the look of a bridge faucet. I think it is the perfect balance of farmhouse and modern!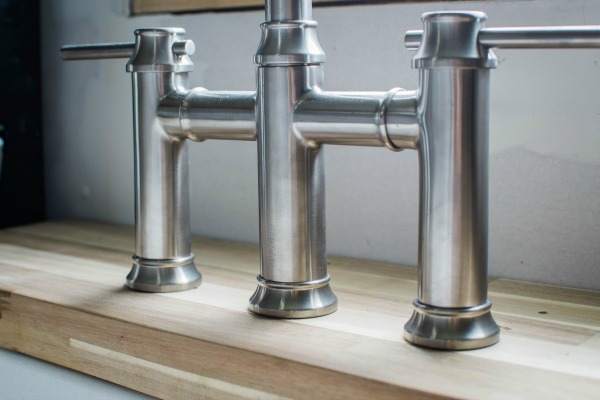 It has a pull down spray, which is a great asset when it comes to faucets.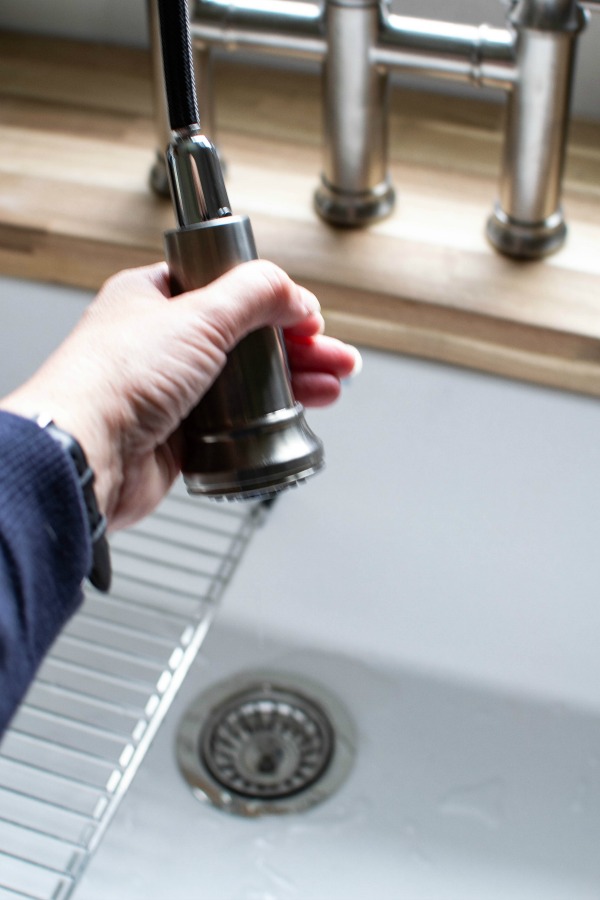 The sink wasn't the only progress we made last week. The butcher block countertops were installed and most of the subway tile backsplash installed.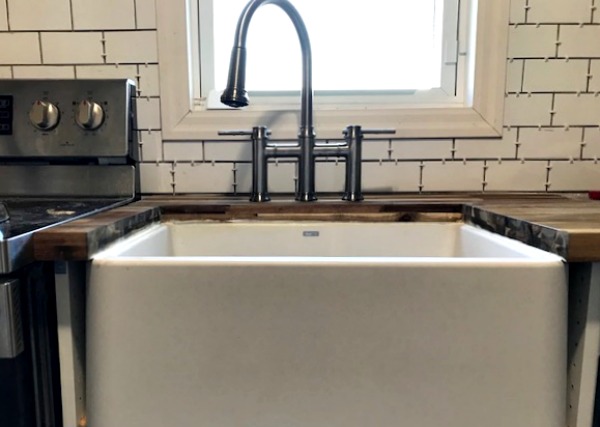 Once the range hood has been installed Tim can finish the tile work.
We also sat down and made a punch list of what is left to do. It looks a lot scarier when you see it on paper!
buy flooring
install flooring
install lights
install range hood and custom surround
finish backsplash tile (almost done) and grout
paint
install trim and moldings
purchase and install cabinet hardware
touch up cabinet paint
We did get the flooring purchased. She really hit the jackpot! She was able to get enough flooring to complete her entire house (keep in mind it is small) for $500. Rona had a clearance on discontinued flooring and it was more than enough to do her whole house, and in a colour she loves!
Well, that is a wrap for this week's ORC update!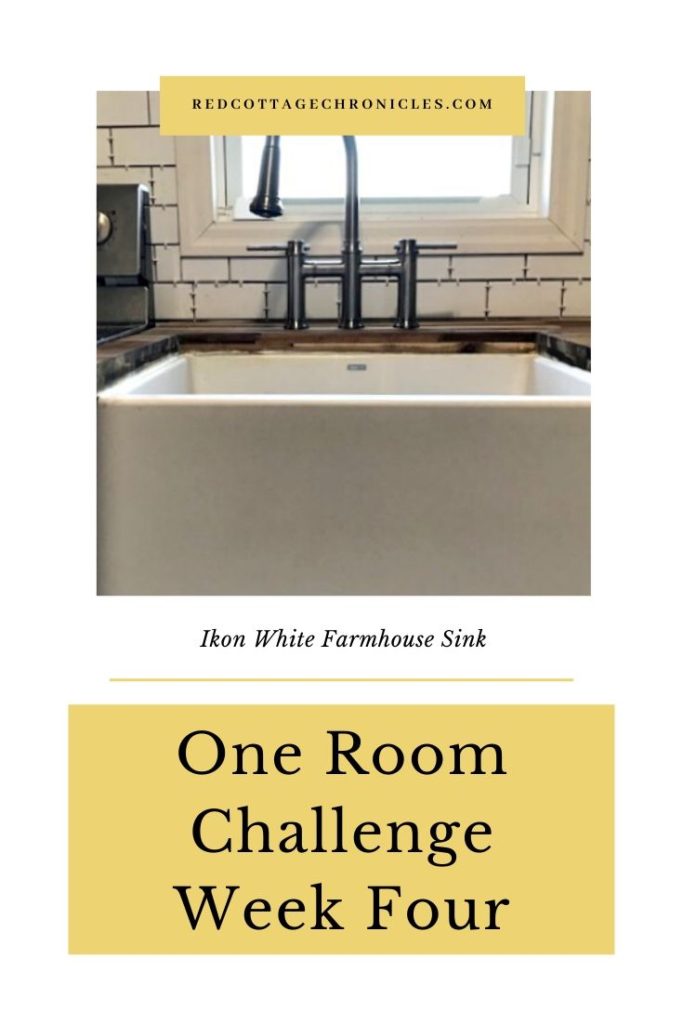 Tune in next week as we are closing in on the finish line and things are going to get kicked up a notches if we are to finish on time!
Be in the know! It may be a delicious recipe, a stunning tablescape, or decor tips to make your house a home! Simply click here to subscribe. I never sell or share your information, and you can unsubscribe at any time!
Until next time…