This luscious berry semi naked cake finishes out my spring sweets week! It is so easy, I almost hate to call it a recipe!
Admittedly, I am not a cake decorator! If you want to read more about my failed attempt at following in my very talented mother's footsteps, I share it in this fresh strawberry cupcakes post!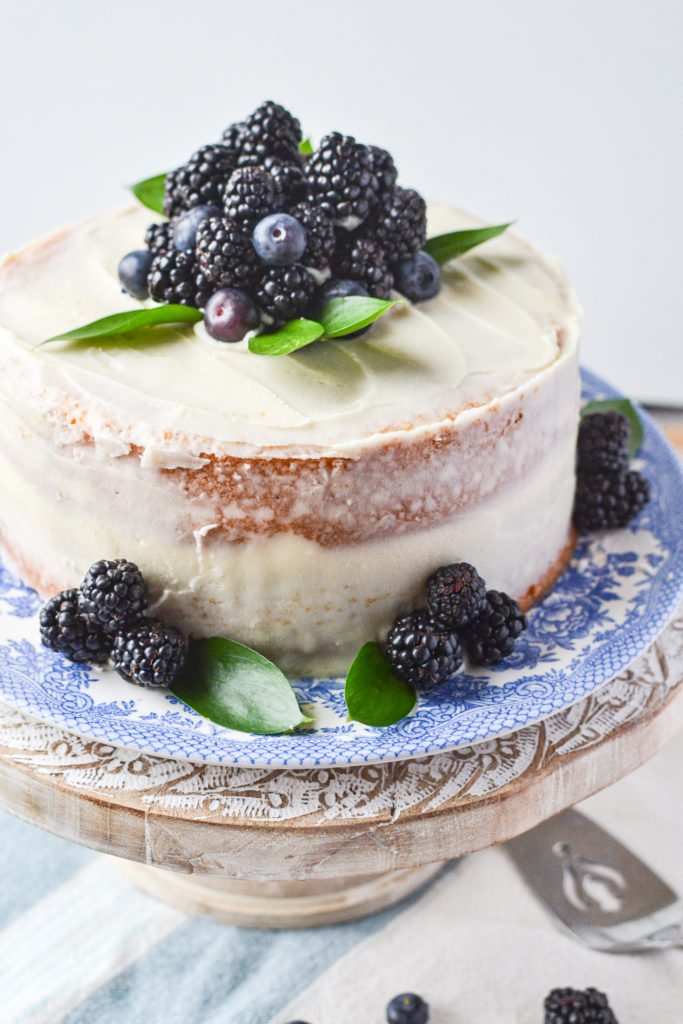 I will always love autumn the most, but I do enjoy knowing that fresh local fruit will soon be in abundance!
Since I was styling a spring table I decided to make a cake to use as a centerpiece! As the centre of attention, I needed it to be extra special. But, with no real cake decorating skills to speak of, I always lean towards a rustic naked cake.
This time however I went with a semi naked cake. Not too much frosting, but just enough to give the cake that extra creamy flavour!
Isn't she pretty!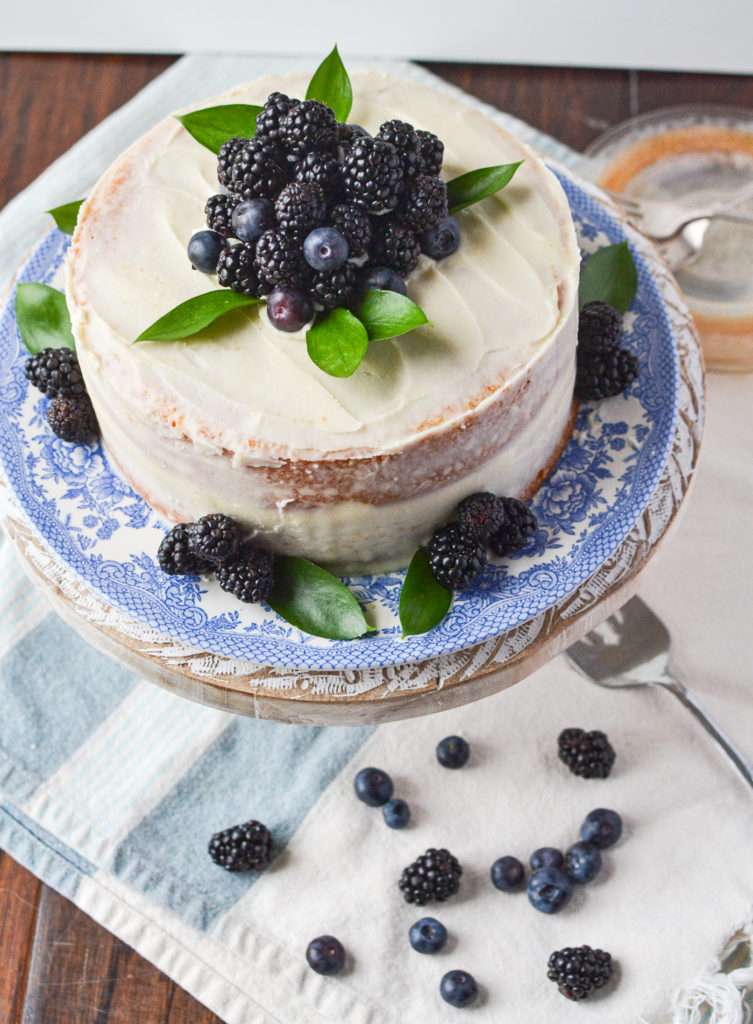 I have been admiring all the plump blackberries and blueberries in the grocery stores lately, so I took advantage of a sale and snapped up several of each. Be warned, set some aside for your cake if you don't want your family to eat them all first!
What makes this cake so easy
it starts with a boxed cake mix
blueberry jam makes for an easy filling
it is impossible to mess up with its' rustic appeal
simply pile on the frosting, and then scrape almost all of it back off with a spatula
plunk some berries on top and call it a day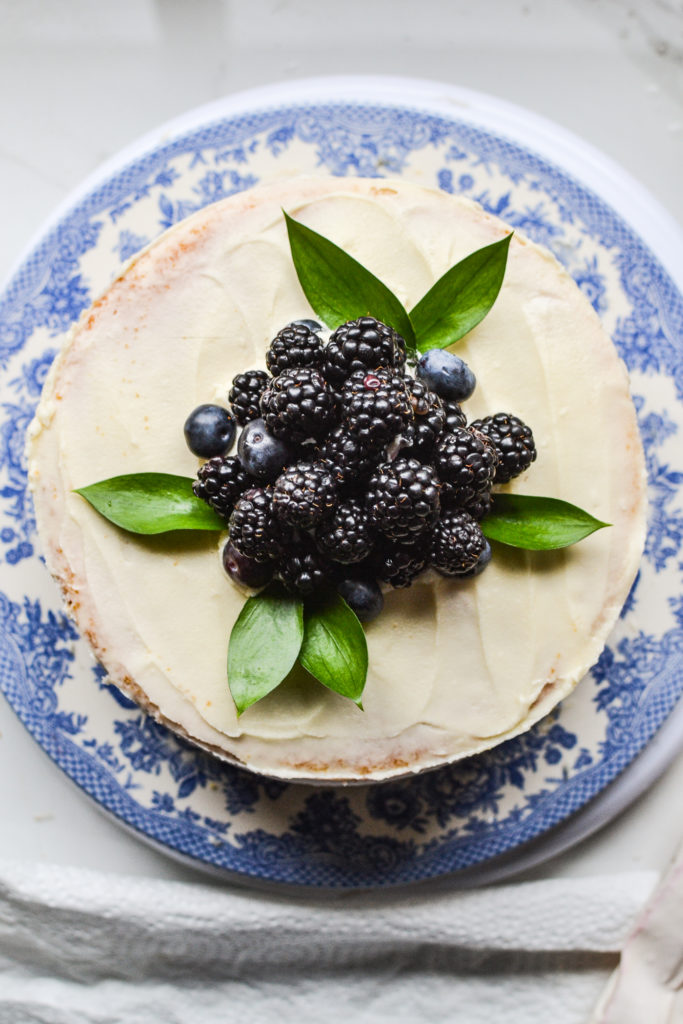 How do you smooth the frosting on a semi naked cake
I have included links (affiliate) below to a few tools that make smoothing out the frosting easier. But by far the best way to ensure a smooth frosting is using a spatula that is dipped into warm water.
I find that starting with a layer of frosting that is somewhat thick. Not overly so, but definitely enough that you will be scraping some off with each pass of the spatula. Dipping the spatula into a glass of water will help the spatula glide effortlessly as you apply just enough pressure to remove enough frosting to create that semi naked finish.
Also, as mentioned below, having a turntable to easily turn the cake as you smooth out the frosting makes the job much easier.
Handy tools for cake decorating
How to decorate a semi naked cake
When it comes to decorating a semi naked cake, the possibilities really are endless. For this tutorial, I am using fresh blueberries and blackberries, but cherries, strawberries or even peach slices would be lovely.
I have created a simple video to take you step by step through my process for creating a show stopping semi naked cake! Simply pause the video anytime you need to take a closer look! (The full recipe is below)
I have been so inspired by all the fresh fruit starting to pop up in the Farmer's market! My creative juices are flowing and I will be sharing lots of fresh new recipes throughout the spring and summer season!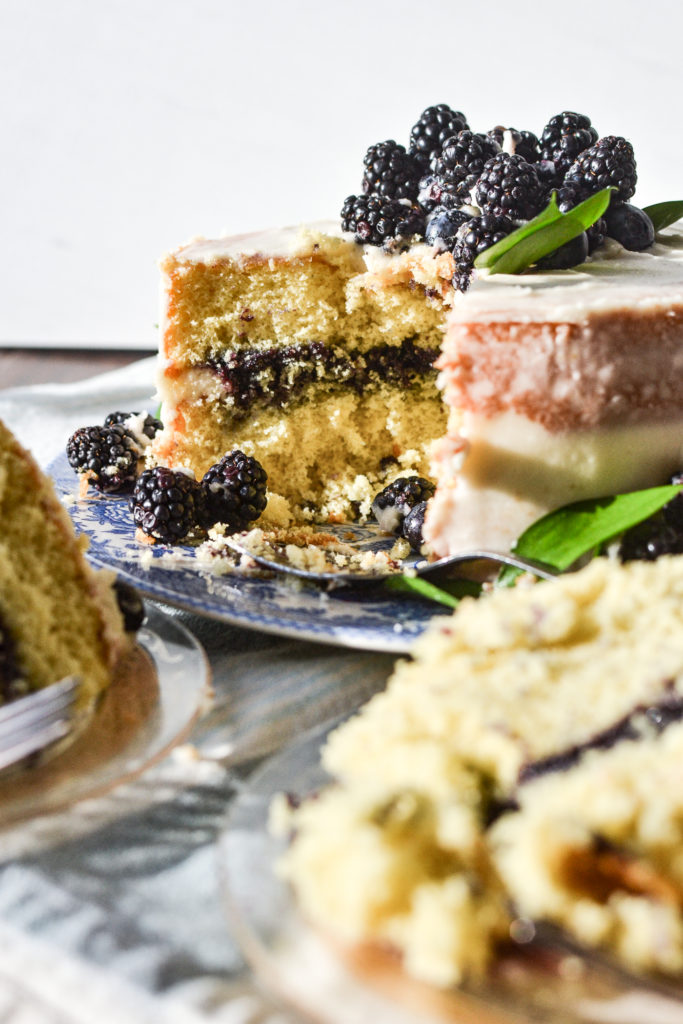 I really encourage you to give this semi naked cake a try! No matter what your cake decorating skill level, you can create a masterpiece that will wow your family and friends. Take it from me, someone who was kicked out of cake decorating class!!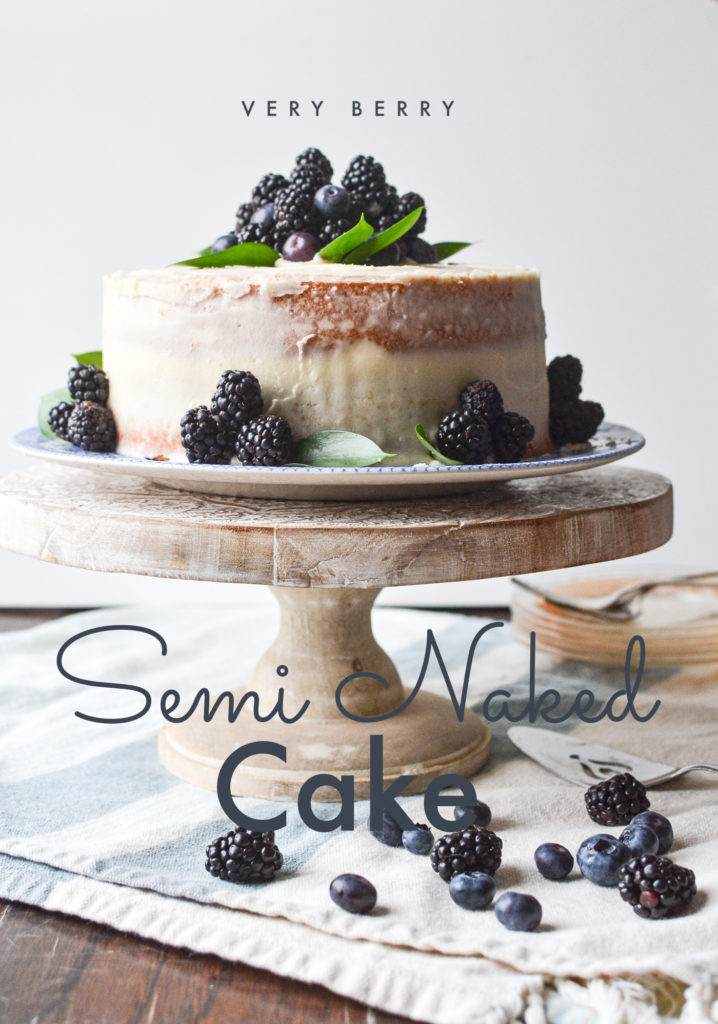 Other cake recipes you might like
Easy Birthday Cake (ready in 10 minutes!)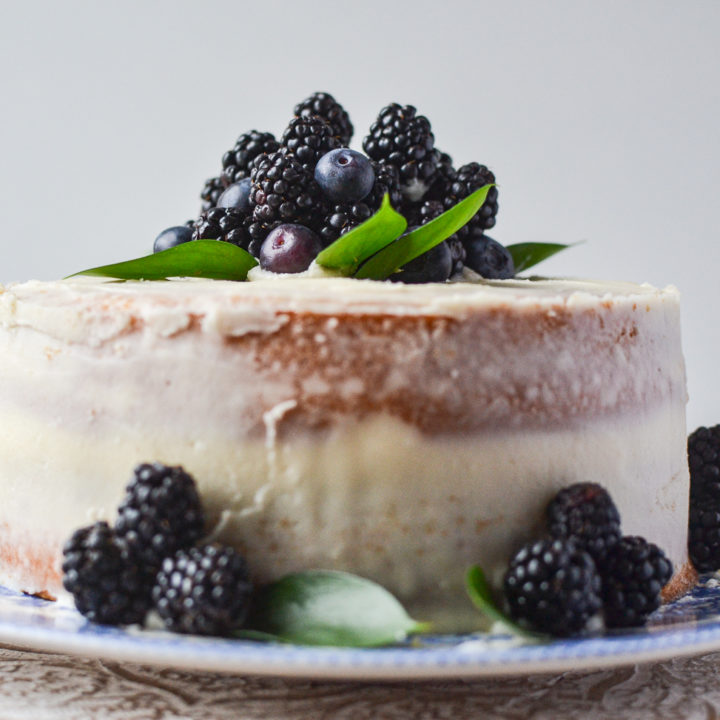 Very Berry Semi Naked Cake
Additional Time:
30 minutes
Total Time:
1 hour
10 minutes
This delicious berry naked cake is so easy, it almost isn't a recipe! No matter what your skill level, you can decorate this stunning cake in no time!
Ingredients
Vanilla boxed cake mix plus ingredients to prepare
Fresh blueberries and blackberries
Faux or fresh green leaves
Blueberry jam
Instructions
Prepare cake mix according to package directions and cool completely
Using a serrated knife, trim the top of cake layers to ensure a level surface
Place the bottom layer of the cake on a cake plate or platter
Fill a piping bag with frosting and without using a tip, draw a circle of frosting around the perimeter of the bottom layer
Using an offset spatula, spread a layer of blueberry jam within the frosting circle
Carefully align and press top layer gently over the bottom layer, cut side down
Using the piping bag, fill in the space between layers with frosting and using offset spatula, spread frosting along sides of cake. Use the spatula to add more frosting as need to cover the sides with a light layer of frosting.
Dip the offset spatula in water and using the edge, smooth the frosting, removing some of the frosting as you go, to create a smooth, thin layer of frosting.
Add a slightly thicker layer of frosting on the top of the cake, allowing the outer edges to show through. Add a mound of frosting in the centre of the cake
Gently press the first layer of berries into the mound of frosting. Add more berries using the piping bag to dap each berry before positioning it in place. The frosting will help hold it in place.
Using clean fresh leaves (or faux is fine), tuck them in amongst the bottom of the berries.
Notes
Feel free to substitute any seasonal fruit for the blueberries and blackberries