Cozy Up Around an Autumn Dinner Table
My favourite season is finally here, and I have been looking forward to cozy dinners at our autumn dinner table styled with all the colours of the season.
Welcome to our annual Welcome Autumn tablescape blog hop hosted by the lovely Rita from Panoply. Grab a hot cup of tea or coffee and settle in for the most incredible dinner tables all set for the season! You will find links to the other 19 fall tables at the end of this post.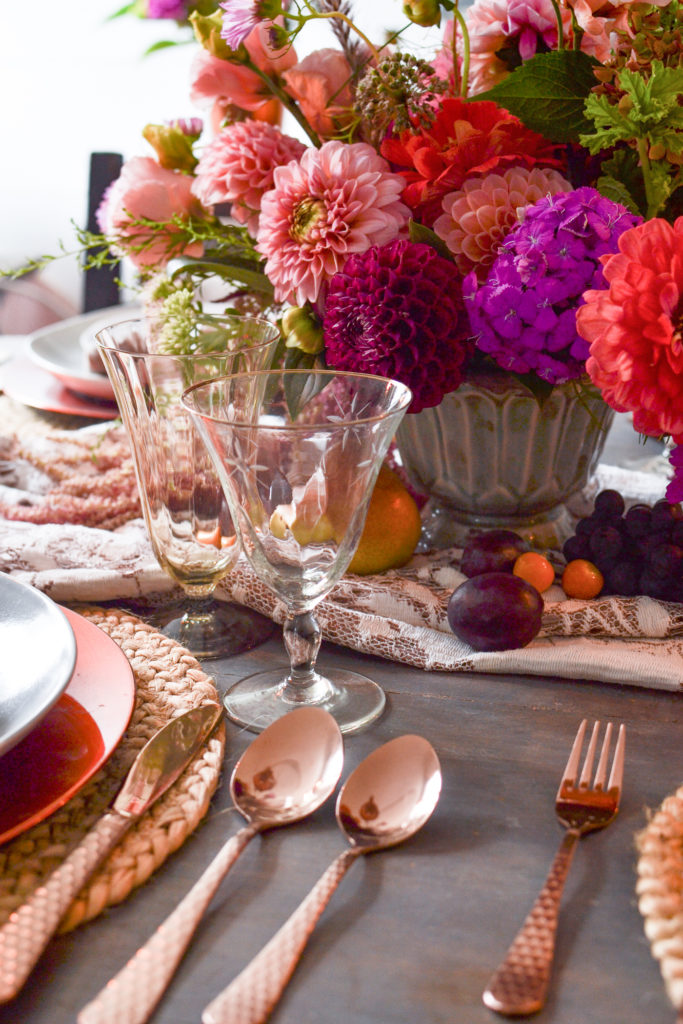 With the summer being so hot and humid, I have been looking forward to autumn even more than usual this year.
Autumn brings with it shorter days and crisp, dewy mornings and crispy leaves. Just the thought of it conjures up visions of coziness. Soft blankets, warm jewel tones, and some of the most gorgeous sunsets.
Today's autumn dinner table, my first of the season, captures all of those beautiful colours of the season. The coppers, oranges, browns, soft blues, pinks and peaches. With a touch of soft brown reminiscent of the changing leaves and seed pods in my garden.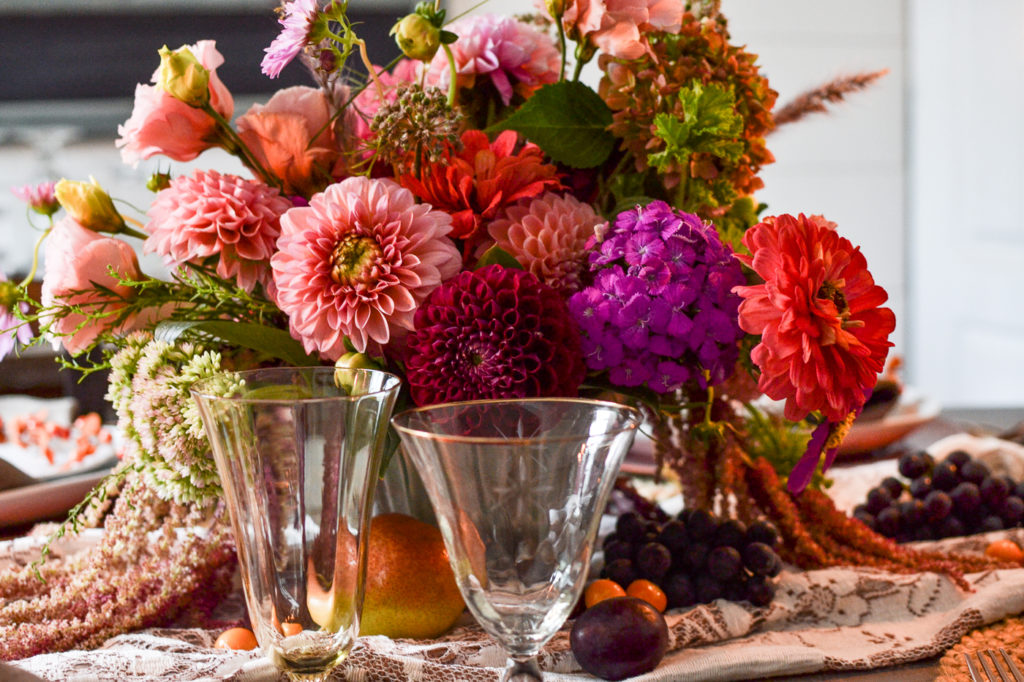 In this post, Simple Autumn Tablescape, I give you lots of ideas for using what you already have to set your table. And, that is exactly what I have done here.
I was tempted to go out and and buy amber glassware, faux pumpkins and a few other autumnal goodies, but after "shopping my house" I found almost everything I need to inspire my fall table this year.
My only purchases were flowers and fruit. Both of which I purchase every week anyway, so I won't even count them!
This post contains affiliate links to help you find the products I use. Should you click a link and make a purchase, I may earn a small commission with no increase in cost to you.
What colours to use for an autumn dinner table setting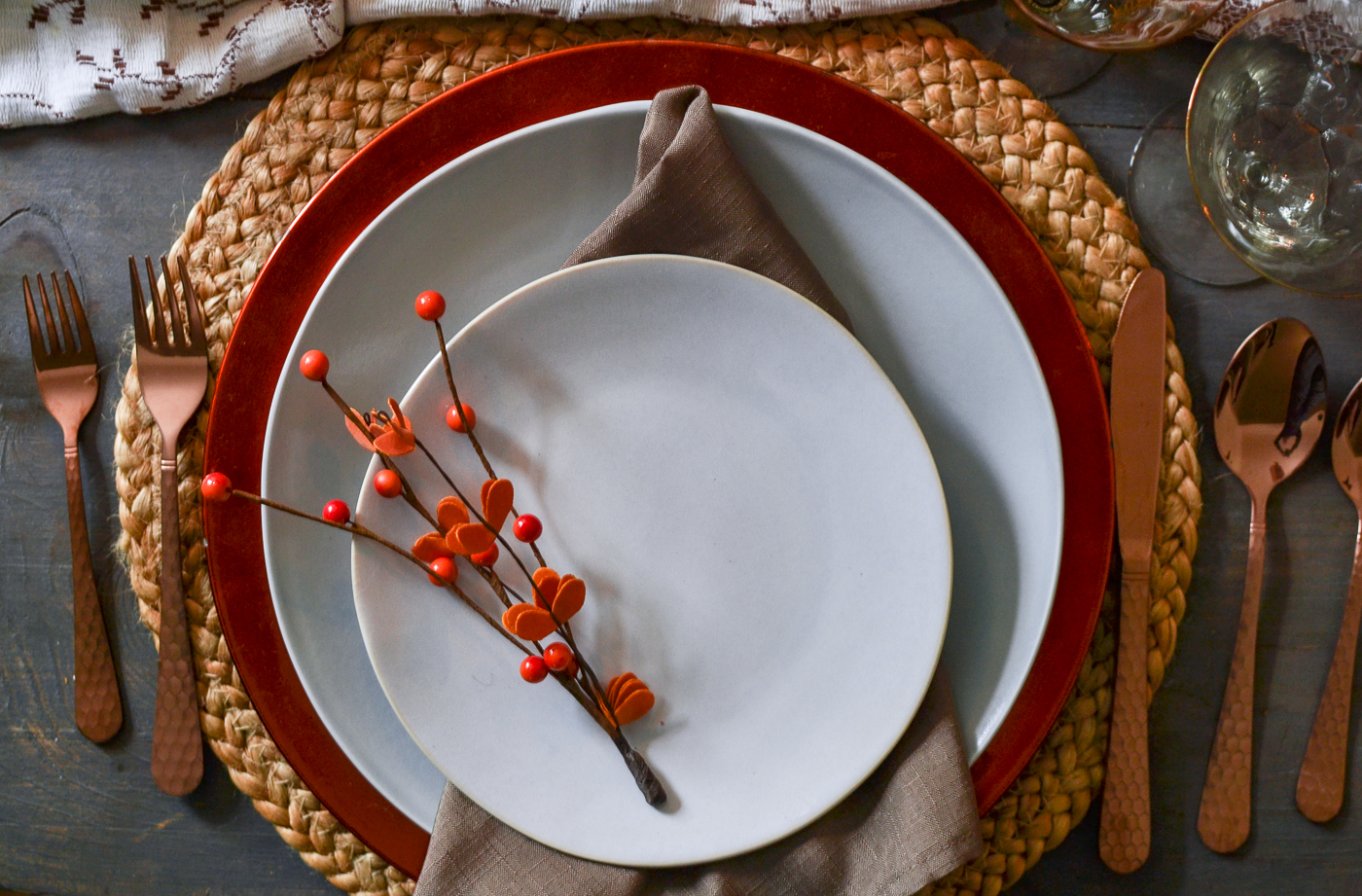 Each place setting is inspired by an autumn sunset. The dinner plates are a soft shade of an aqua/blue, paired with salad plates that lean a bit more gray. Both set atop an orange charger plate and a natural rattan place mat. A soft brown napkin is layered between the plates.
A spring of berries and felt leaves found in my craft stash bring an extra touch of orange and visual interest to the top of each salad plate.
This time of year the dahlias are in abundance and the colour selection is glorious! Last year I made a centrepiece of dahlias in more muted shades for my Pink and Gold Autumn Table.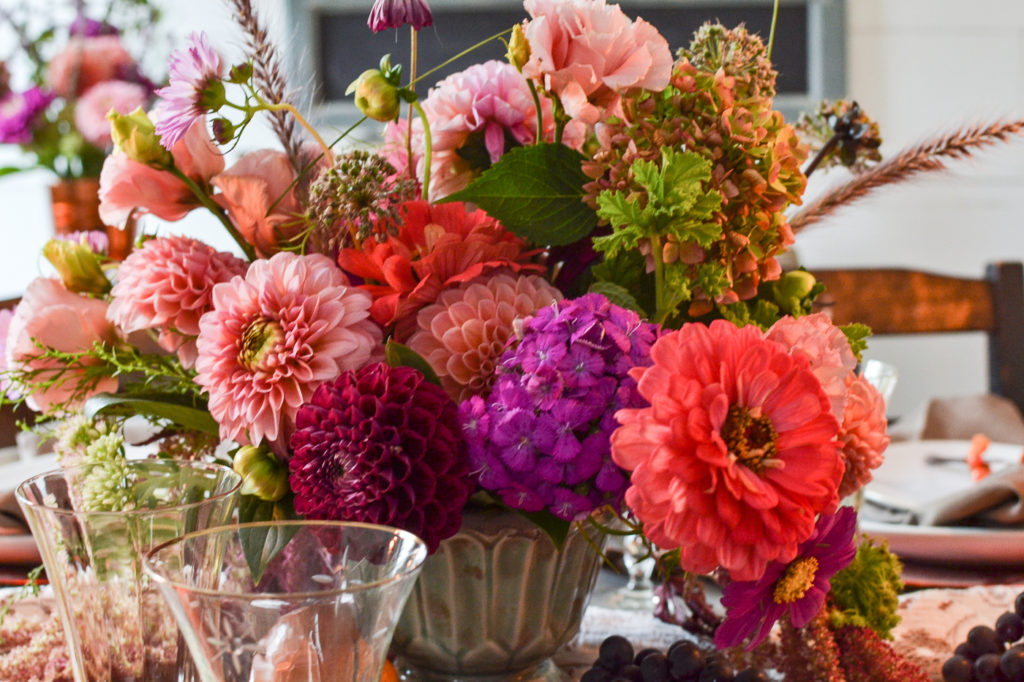 This year I choose deeper, more jewel toned dahlias to create a centrepiece that echoes so many of autumns colours. I also harvested some blooms that have already begun to dry out from my own garden. Everything is arranged in a soft turquoise footed bowl.
I used the Holly Chapple pillow to help keep the blooms exactly where I want them. I stopped using floral form when I discovered these gems. So much better for the environment!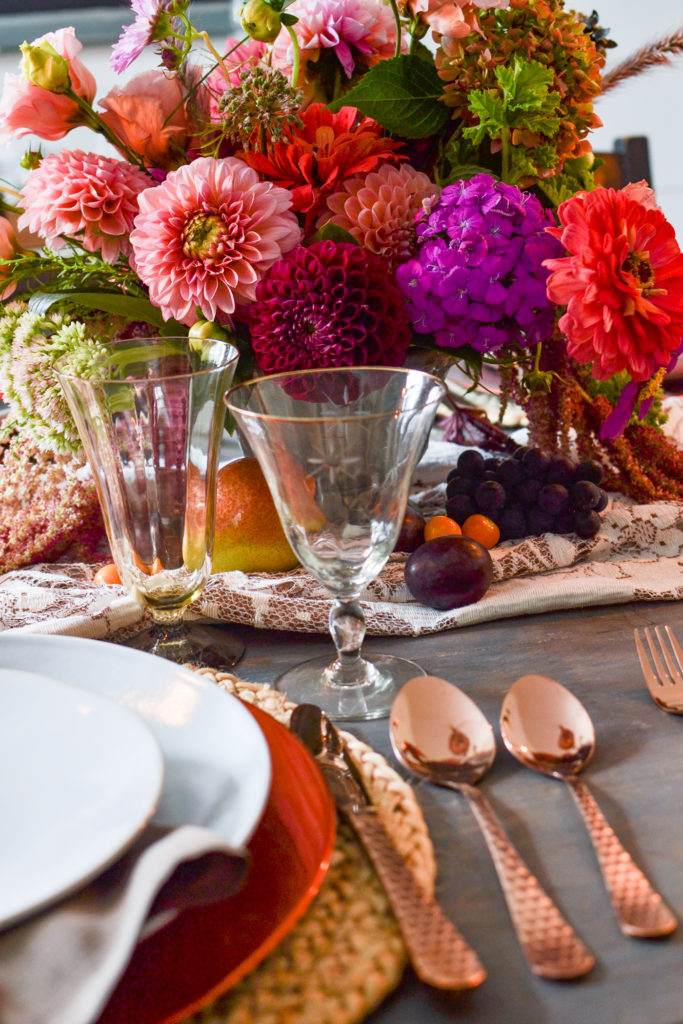 Copper is the perfect addition to any fall tablescape. This hammered copper flatware is similar to mine. I use it all through the colder months. It adds a nice warmth and texture to any dinner table.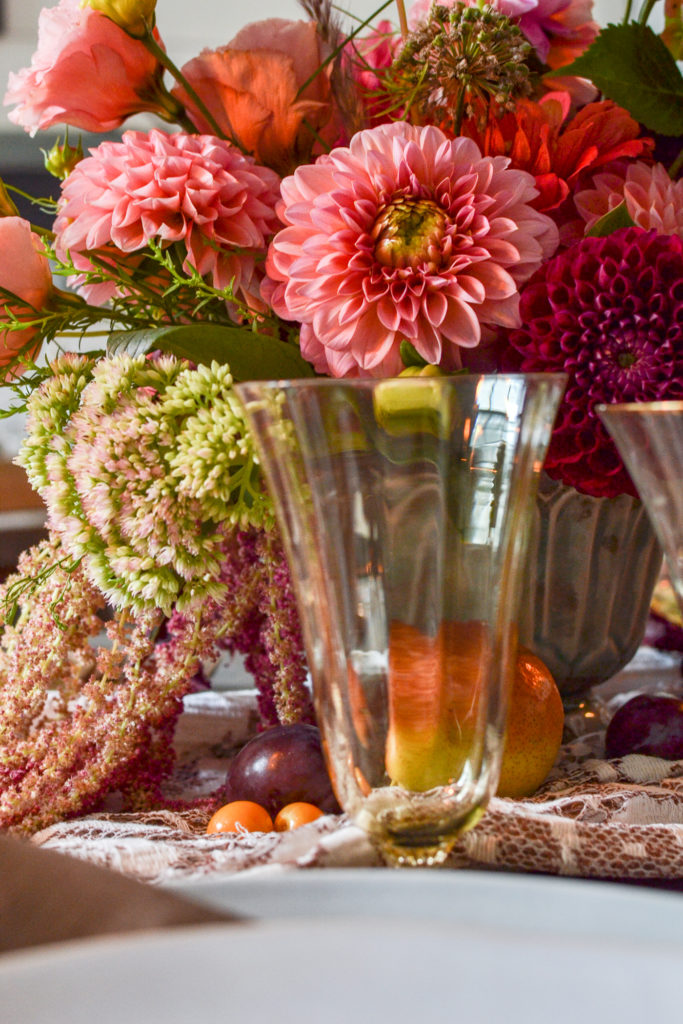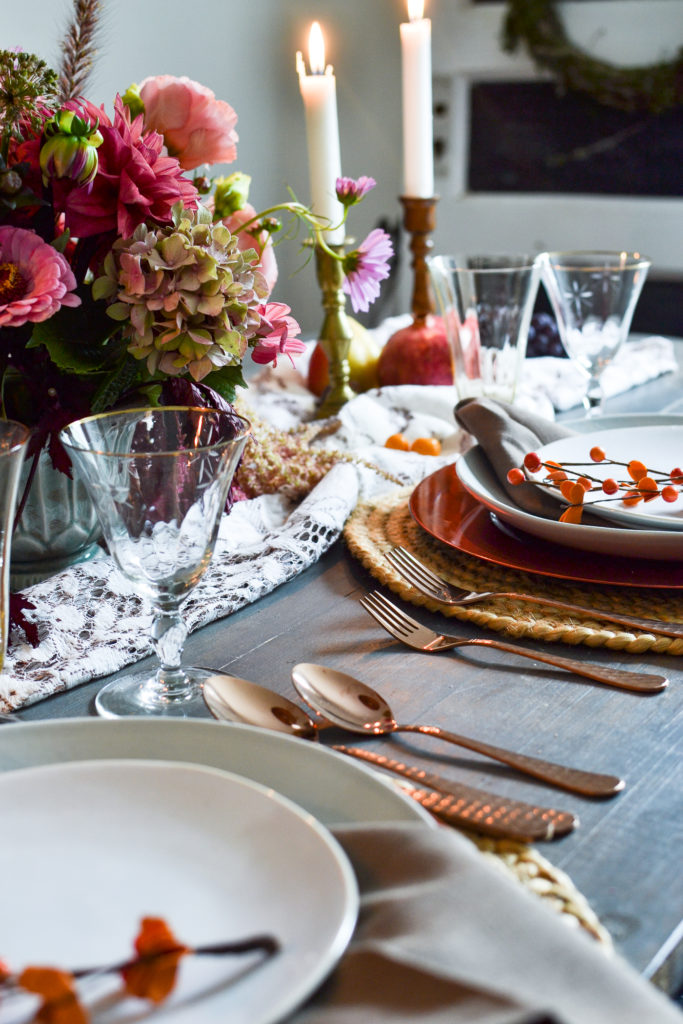 My favourite gold rimmed wine glasses passed down from my Nana are paired with a soft yellow, almost amber coloured water glasses I found at an antique store many years ago.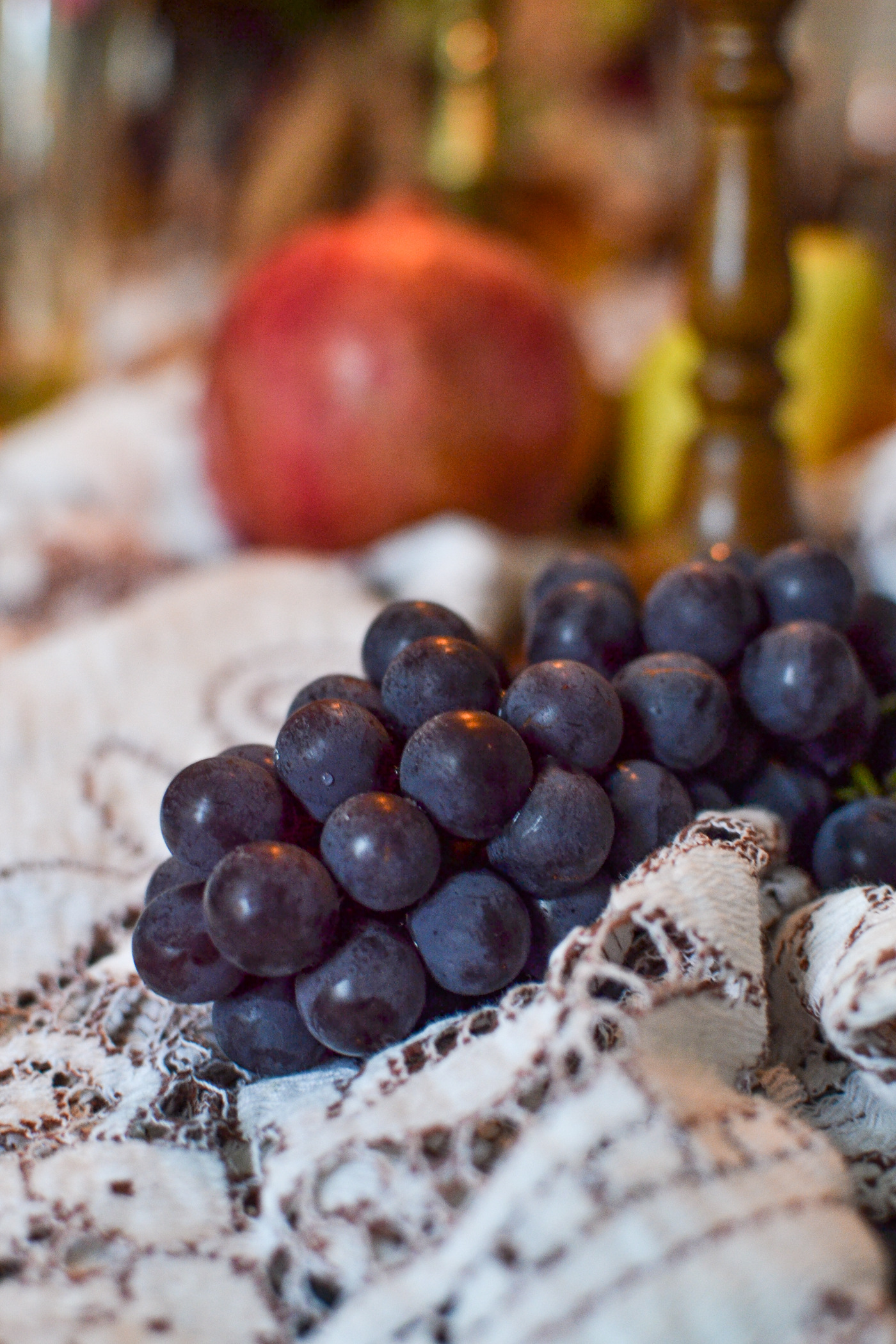 Fresh Fruit is the Perfect Low Cost Table Decor
The farmer's market really heats up in the autumn. In addition to fresh local grapes and pears, I also picked up some pomegranates and golden berries. Not only do they add to the decor of my autumn dinner table, but they will be enjoyed after tucked in lunches and for snacks!
Add atmosphere to a fall table with candles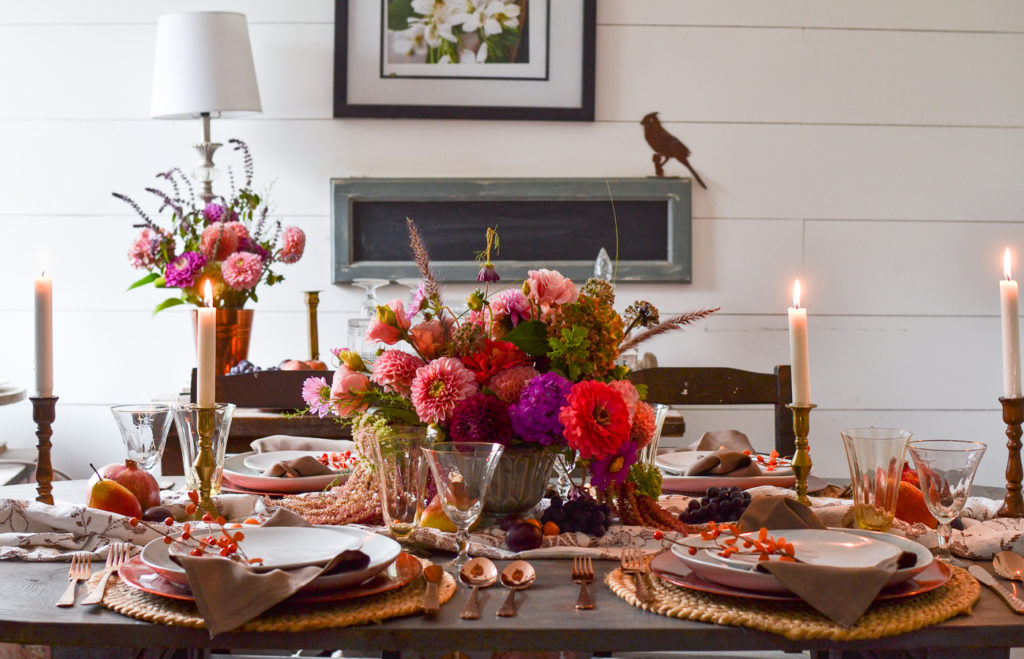 Brass and turned wood candlesticks are also thrift store finds. I mean really, how cozy is that?! I love the way the wax had started to drip down the sides of the candles.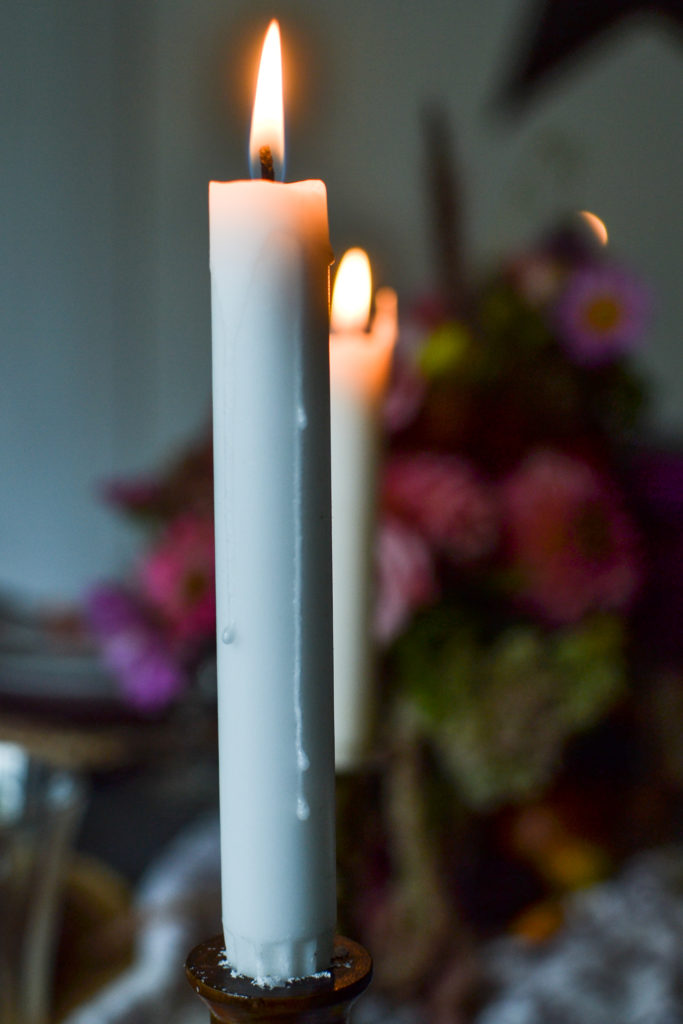 The glow that candles give add a whole extra level of cozy. Just be sure to use unscented candles, placed in sturdy candle holders. And of course, never leave a lit candle unattended!
A safe option that involves no flame are these flameless taper candles with dripping wax and have a flickering flame just like the real things!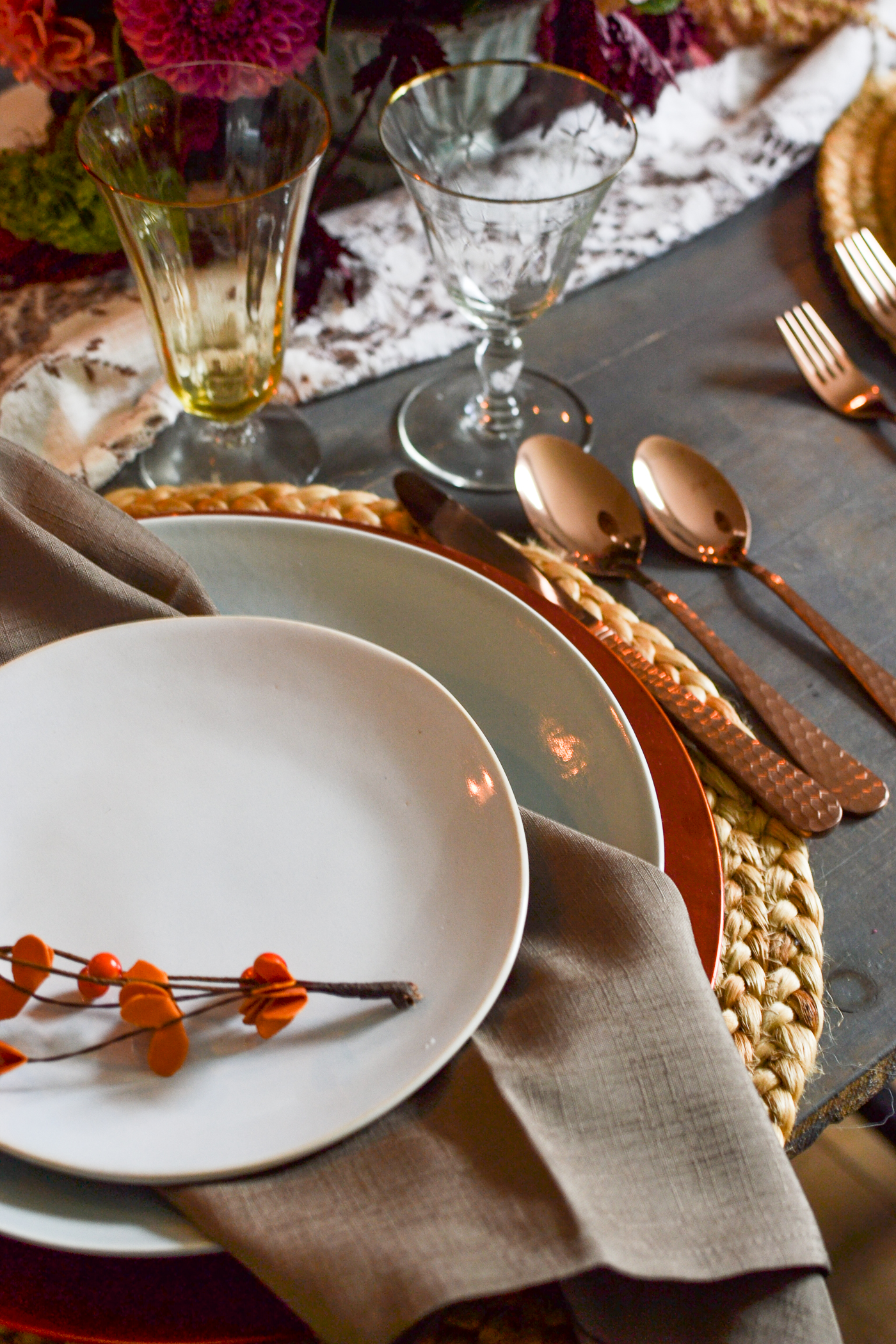 The day I set this table it was dreary, rainy day. I actually loved the light it created across the table. Soft and cozy, just like the season!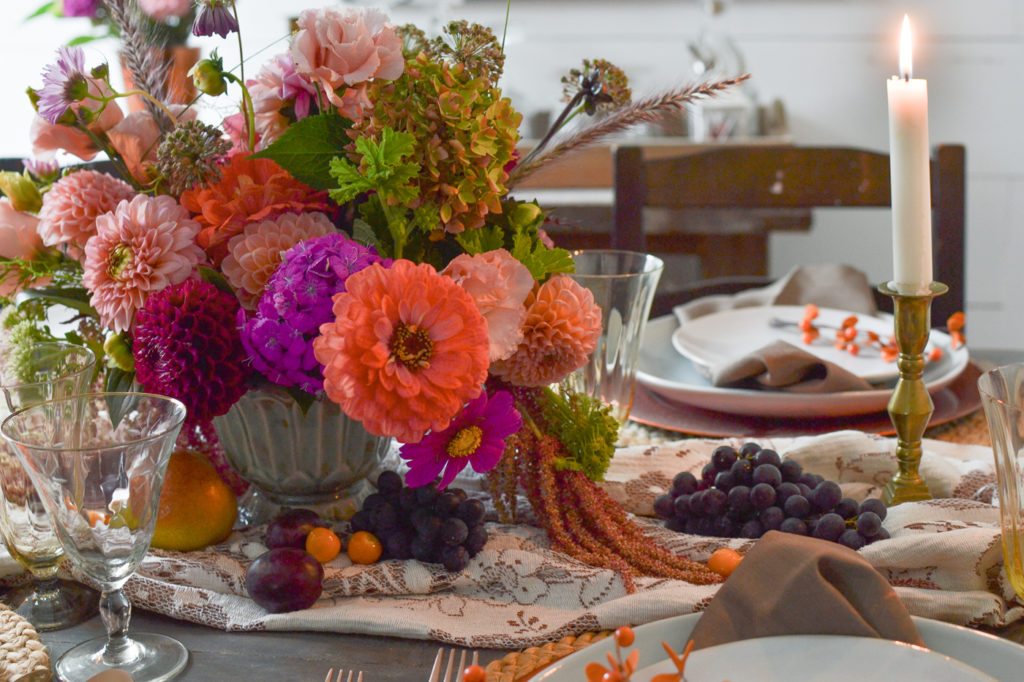 I hope you have enjoyed exploring my first autumn dinner table of the season as much as I enjoyed styling it!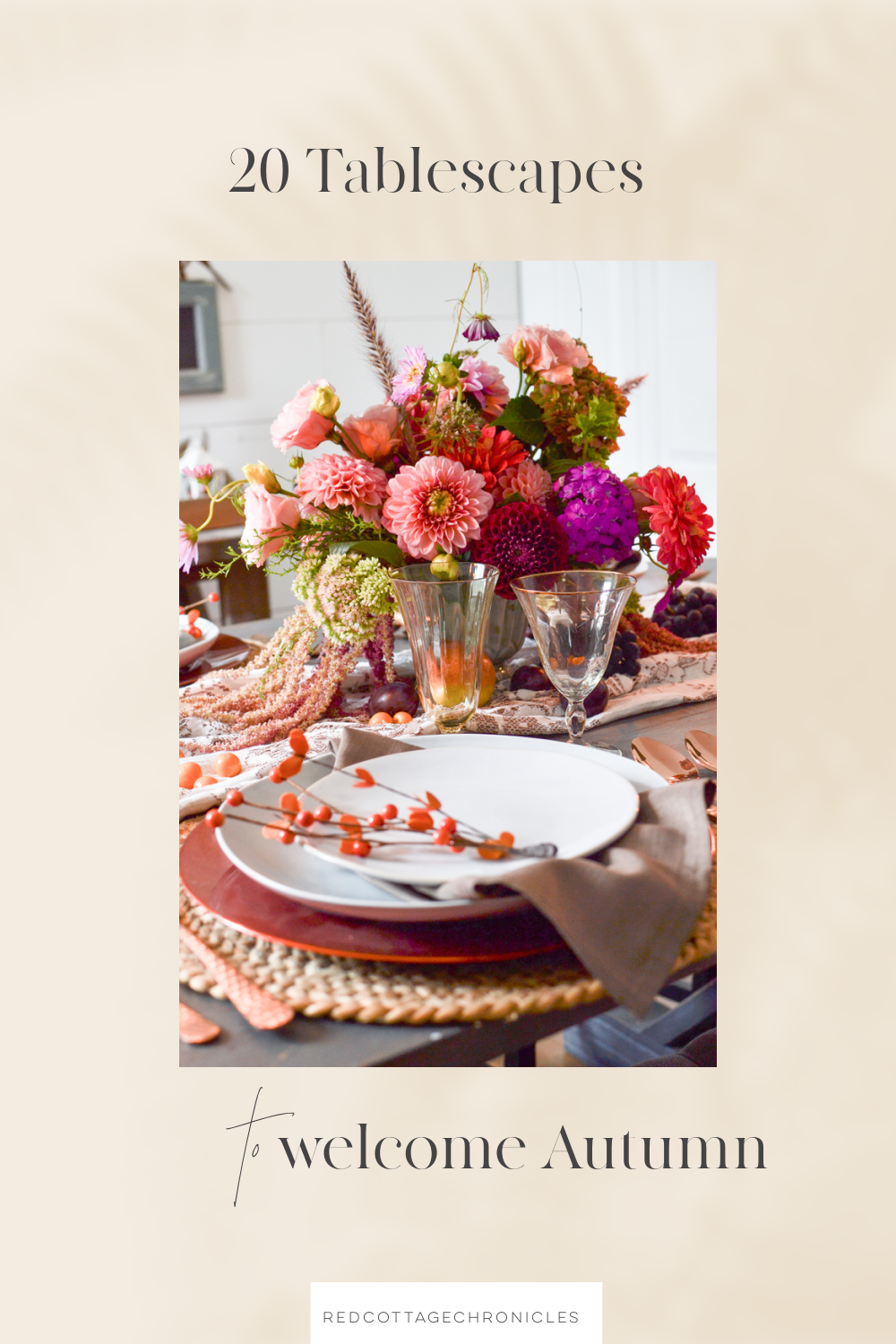 Other Autumn Ideas You May Enjoy
Maple Roasted Butternut Squash Soup
Now it is time to visit the other 19 table decor enthusiasts as they share their autumnal tables. You are in for a real treat! As always, so much inspiration.
19 Welcome Fall Tablescapes
Everyday Living – Anxiously Waiting Autumn's Arrival
Panoply – Ready for Fall: Game On Tablescape
My Thrift Store Addiction – Simply Elegant Velvet Pumpkin Fall Tablescape
Me and My Captain – Shine On Harvest Moon
Home is Where the Boat Is – Cusp of Fall with Woodland Friends
Hyacinths for the Soul – Whoooo is Ready for Autumn?
Debbee's Buzz – Alfresco Brunch Peacock Table & Napkin Fold
My Hubbard Home – Country French Autumn Table Using Classic Red Toile
Pandora's Box – A Yellow Table for September
The Painted Apron – Early Fall Pumpkin Patch
From My Carolina Home – Autumn Apples Tablescape
Celebrate and Decorate – A Fall Tablescape in Shades of Blue
Living With Thanksgiving – Fall Vibes
Dinner at Eight – Mums Lead the Way to Fall
Thrifting Wonderland – It's Time for a Fall Tablescape
The Bookish Dilettante – Back to (Art) School
Life and Linda – Welcome Fall
Bluesky at Home – How to Decorate a Table with Fall Leaves
Corner of Plaid and Paisley – Fall Tablescape – Autumn Gnome
Red Cottage Chronicles – Cozy Up Around an Autumn Dinner Table