I was so excited to come across this recipe for Chocolate Truffle Tarts.  Milk and dark chocolate blended and swirled together, poured into a flakey tart shell and topped with homemade caramel!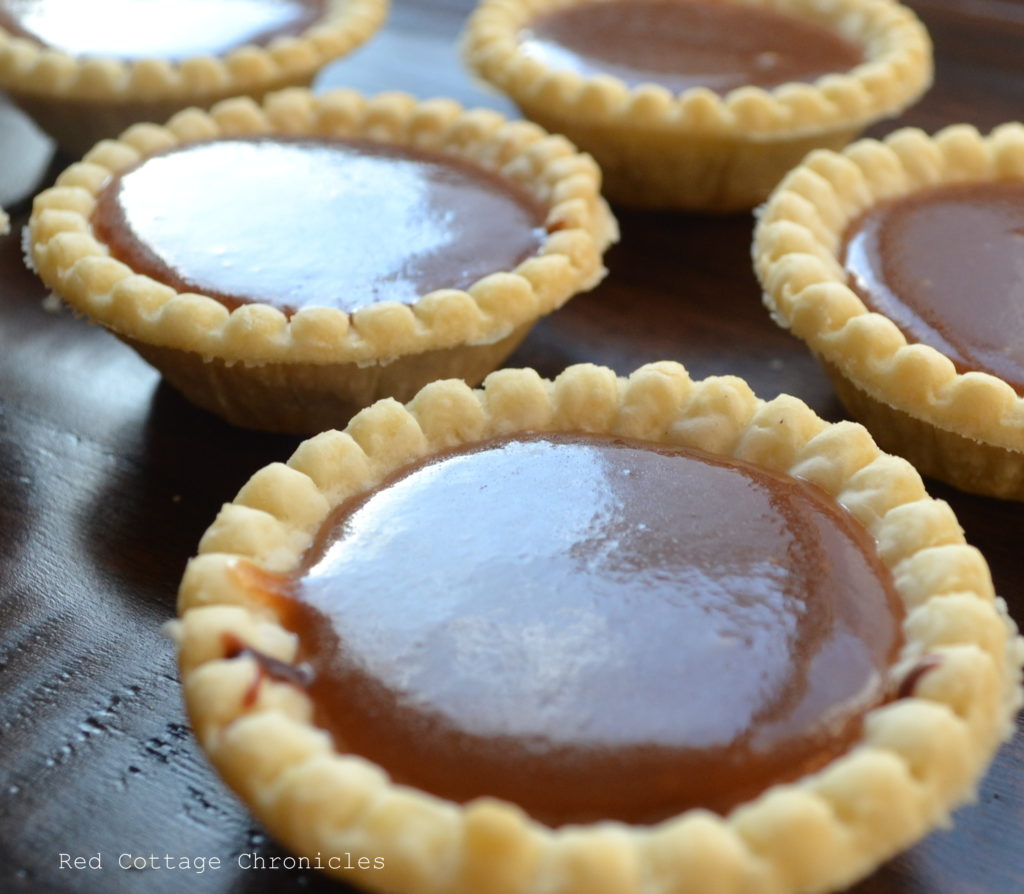 One of my favorite indulgences is to pick up one or two chocolate truffles from a fancy chocolate shop.  I couldn't believe how decadent and smooth these tarts were.  The caramel topping sealed the deal.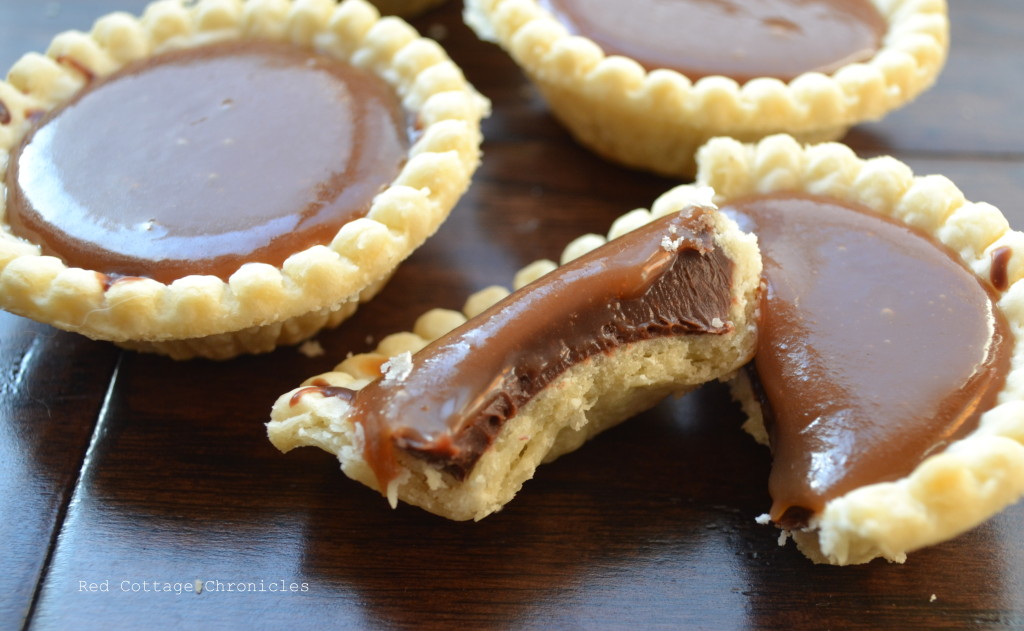 Now that I have tried the recipe once I have lots of ideas for next time I make them.  Although they are perfect just the way they are, I am thinking a mini version with some Bailey`s Irish Crème or some orange liquer blended into the chocolate.  What a delightful addition to my Christmas cookie trays.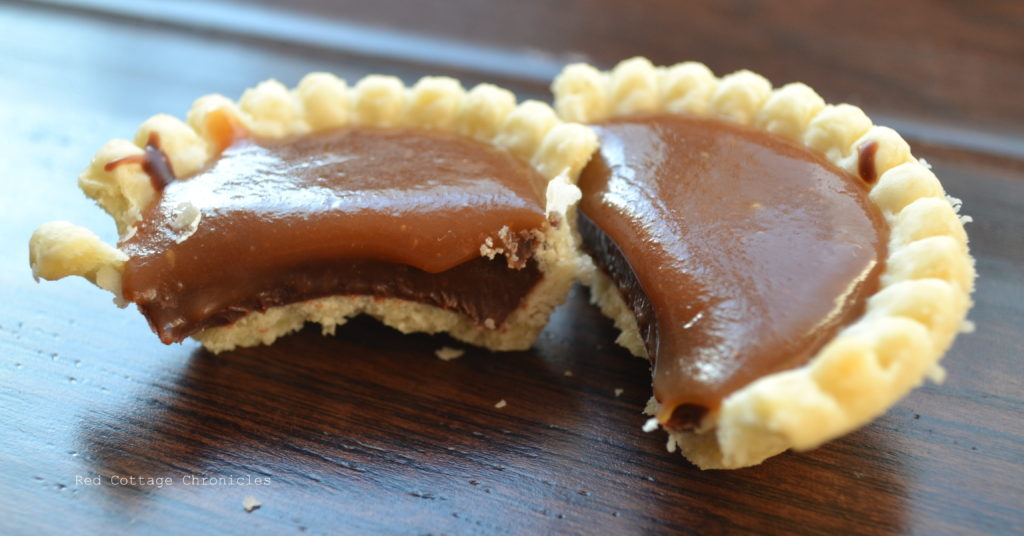 You can easily use a good quality caramel sauce if you don't want to make your own.  But making your own is really super easy, can be made with or without a candy thermometer and is WAY cheaper than buying a good quality caramel sauce.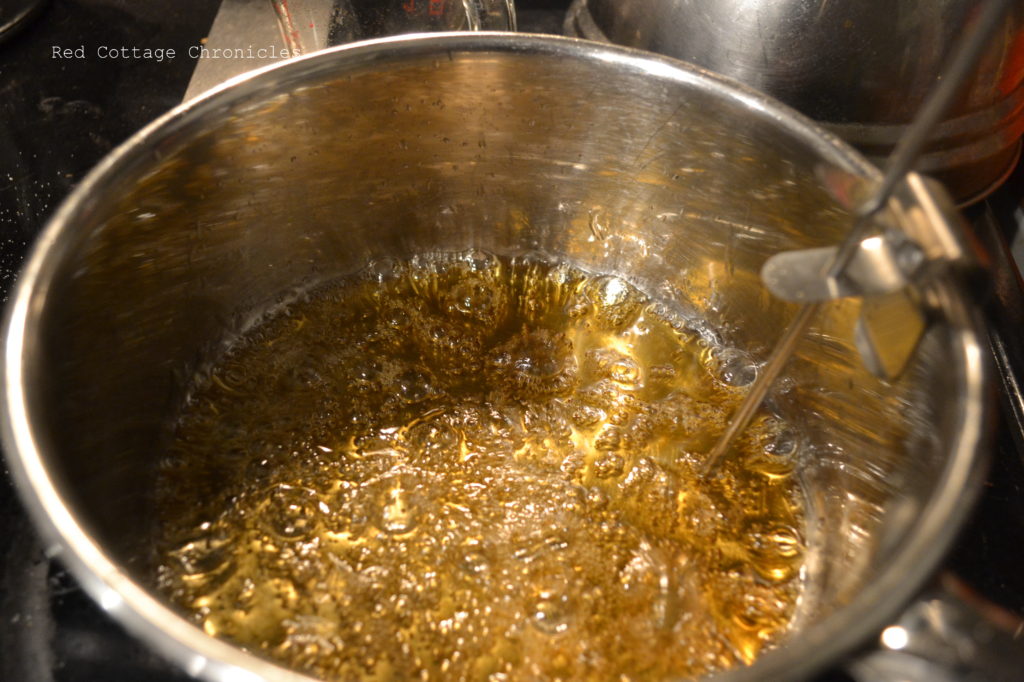 Water/sugar mixture at the caramel stage (340 degrees).  Note the dark amber color.  If you let it get too dark it will take on a burnt taste.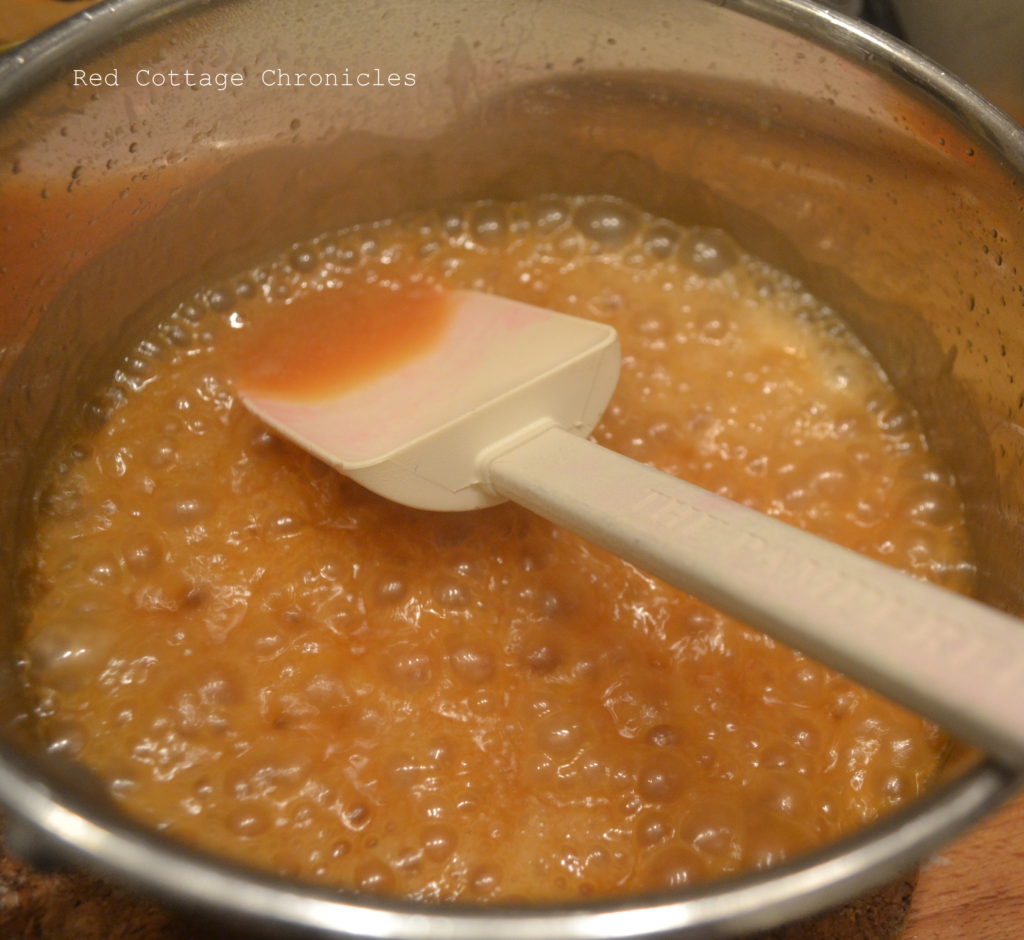 This is how it will look right after adding the cream.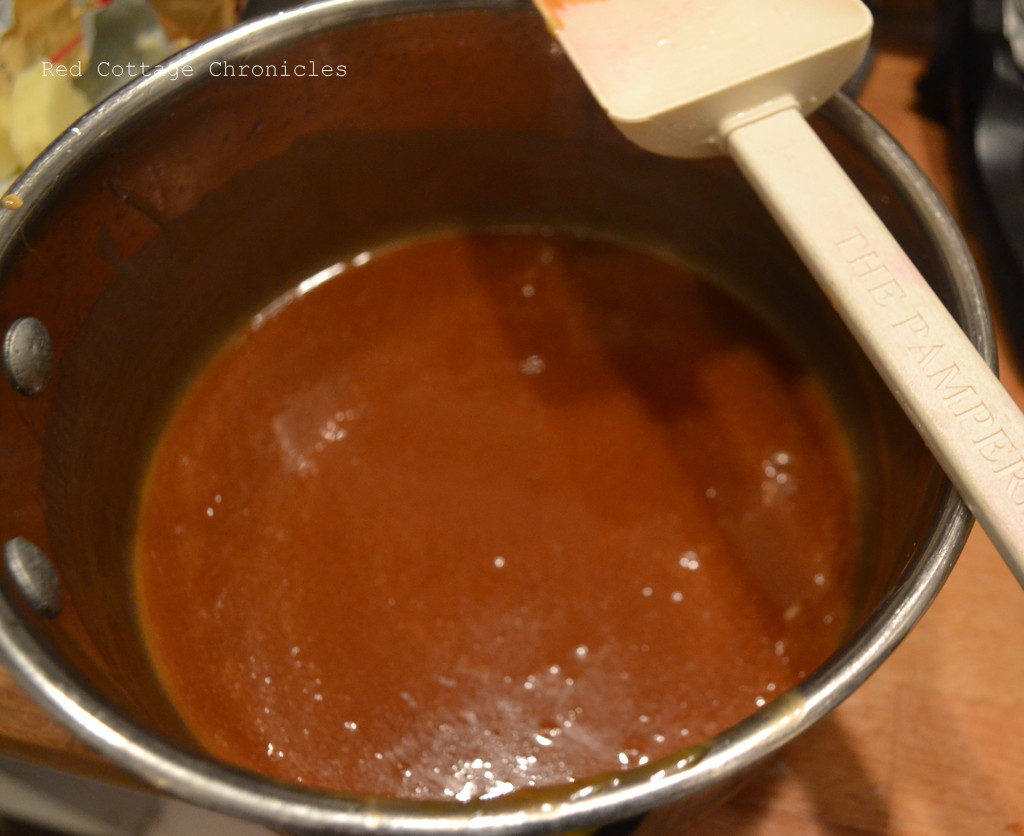 And this is the final caramel after blending the butter and vanilla in!  At this point, step away from the bowl and let it cool for about 20 minutes.  It would be easy to eat the whole batch with only a spoon!
These tarts were gone before I knew it.  My husband refused to bring any to work to share with his co-workers.  He was hoarding them for himself!  I did manage to slip one to my mom before she headed off to Florida for a few weeks.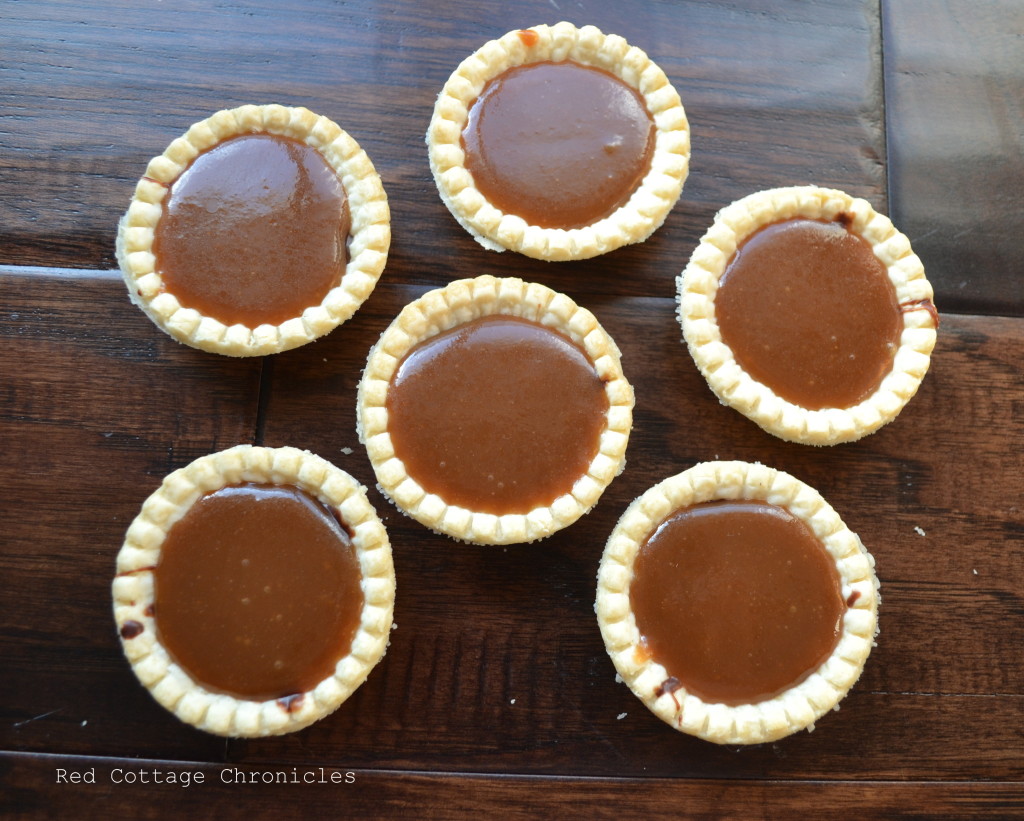 I savoured mine and took my time!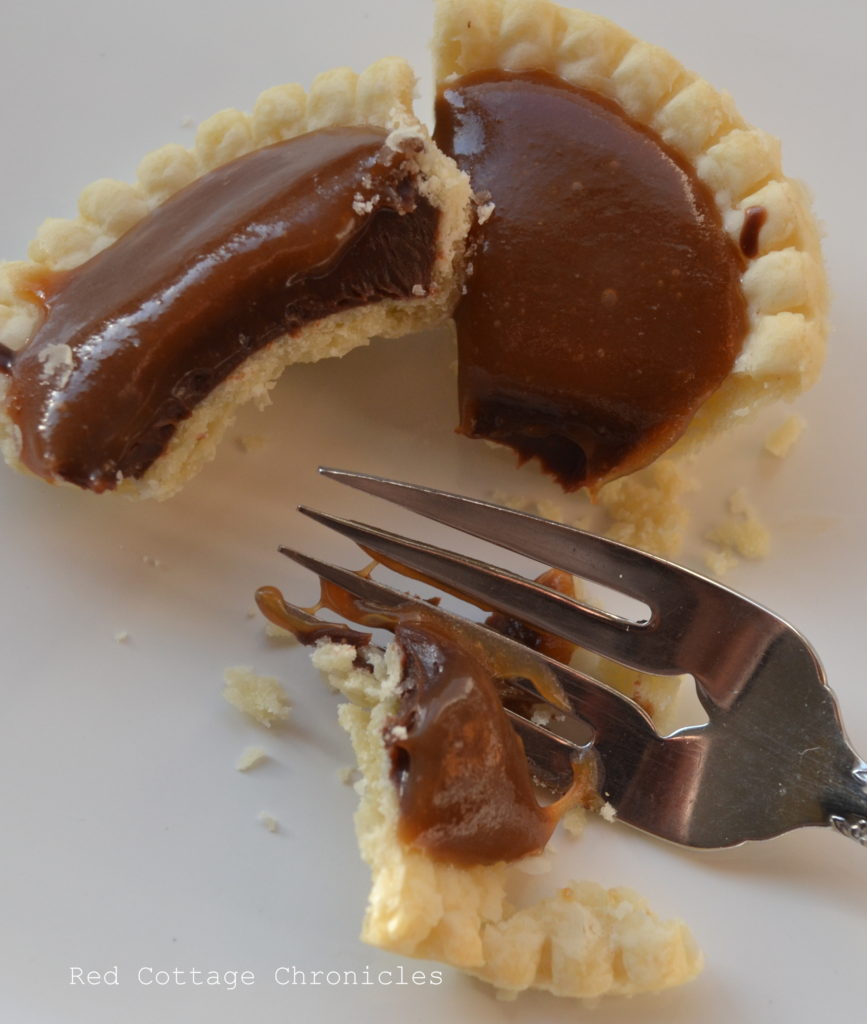 The booklet that this recipe comes from is called "Bake Fest" and came with both my November issue of Chatelaine and Canadian Living.  Not only is it packed full of some really good sweet and savoury recipes, but also several coupons for butter, pastry shells, and several other kitchen staples!
ENJOY!
Want to stay on top of all the sweet treats from the Red Cottage kitchen.  Follow on twitter or facebook!
Chocolate Truffle Tarts
Author:
Prep time:
Cook time:
Total time:
Source – Bake Fest mini magazine The tarts can be stored in an airtight container, in the refrigerator for up to 3 days)
Ingredients
12 tart shells, either your own homemade pastry shells or store bought
1/3 cup heavy (whipping) cream
1/3 cup Belgian dark chocolate chips
1/3 cup Belgian milk chocolate chips
1 tablespoon salted butter
For the Caramel
1/2 cup granulated sugar
1/4 cup water
1/4 cup heavy (whipping) cream
1 tablespoon butter
1 teaspoon pure vanilla extract
Instructions
Preheat oven to 375 degrees and if using homemade pastry, form into 12 muffin tins; if using premade tarts arrange them on a baking sheet.
Pierce the bottom of each tart shell a couple of times with a fork.
Bake for 12 minutes, remove from oven and allow to cool.
Meanwhile, for the chocolate filling, heat the cream in a medium sized microwave safe bowl for 1 minute. Remove from microwave and add the chocolate chips and butter. Stir until chocolate is melted and mixture is smooth.
Pour into cooled tart shells, and chill in refrigerator until set.
For the Caramel, pour the sugar in a mound in the centre of a heavy bottom saucepan.
Add the water, cover and bring to a boil without stirring or disrupting the pan. This should take anywhere from 4 to 5 minutes using medium heat.
Remove the lid and continue to cook, not stirring but swirling the pan often, until the mixture turns a deep amber colour.
Using a candy thermometer set to caramel (340 to 350 degrees) is a handy helper.
When you have achieved this stage immediately remove from heat, and wearing oven mitts slowing whisk in cream (it will really steam up – hence the reason for the oven mitts!).
When you have a smooth mixture, add butter and vanilla and stir until combined.
Allow the caramel to cool for about 20 minutes.
Spoon over set chocolate tarts.
Return to the refrigerator to set caramel.