This decadent Vegan Chocolate Cake is rich and moist and frosted with the most delicious dark chocolate frosting!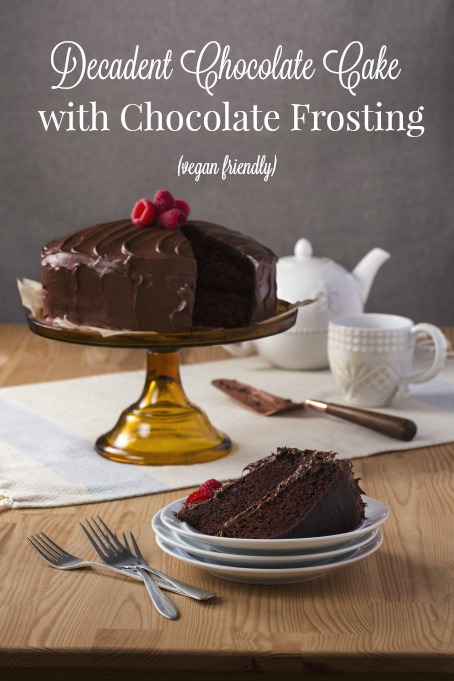 Between the middle of April and the end of May we have 7 immediate family member birthdays and of course Mother's Day.  Trying to find new ideas for cakes can be a bit tricky.  Some of us have our favourites while others aren't fussy as long as there is cake!  Throw in a couple of vegan's, and things get a little more challenging!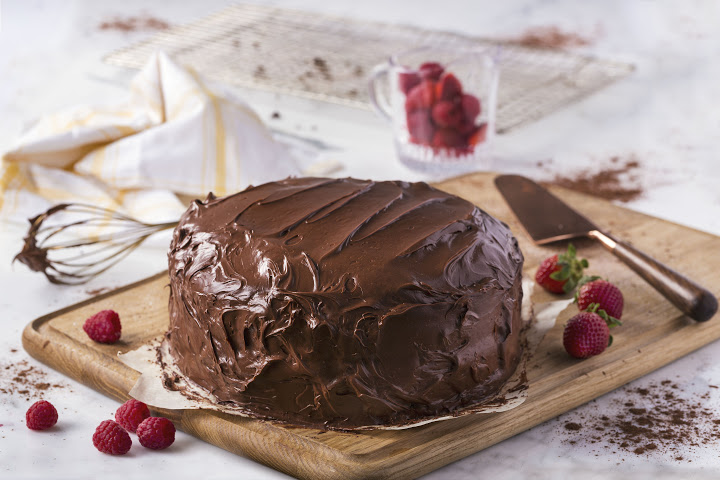 When it comes to Mother's Day I like to make something really special that everyone can enjoy. What better than a decadent Chocolate cake with a rich fudgy chocolate frosting that just happens to be vegan friendly!
When I came across this recipe for chocolate cake it caught my attention immediately. Made with Vanilla Almond Beverage from Almond Breeze, it calls for absolutely no dairy products or eggs.
But, exactly how moist and flavourful could it possibly be?
Well I can assure you it is moist, rich, and full of chocolaty flavour.  I would challenge anyone to notice that it wasn't a conventional chocolate cake made with eggs and milk!
Are chocolate chips vegan?
 To ensure this was a vegan chocolate cake, I was careful to use Good Life vegan chocolate chips that are known to be vegan friendly so everyone in the family can enjoy a slice. You could easily use semi-sweet chocolate chips, ensuring they are 80% dark chocolate as well.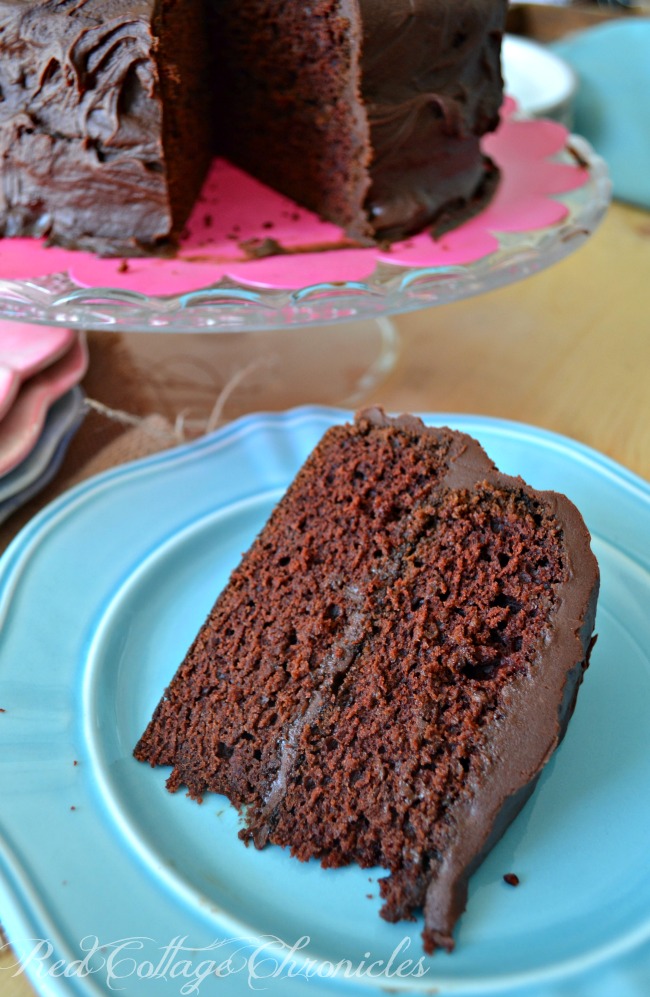 The recipe is for a single layer cake but easily doubles to make a two layer cake, and if you double the frosting recipe as well you will have enough frosting to easily frost a two layer cake with a little left over to eat straight from the spoon!
Until next time……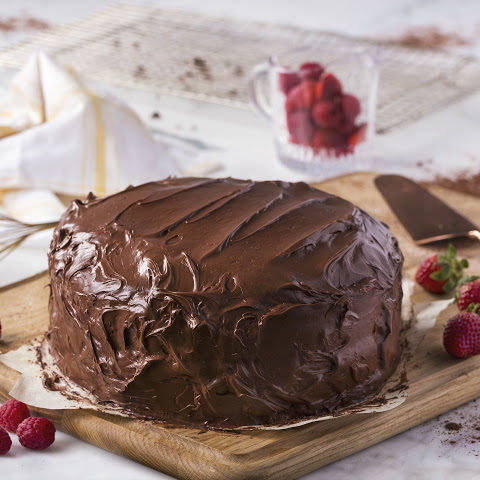 Vegan Chocolate Cake
This decadent vegan chocolate cake is made with almond milk
Ingredients
FOR CAKE
1 1/2 cups all purpose flour
3 tablespoons unsweetened cocoa powder
1 cup granulated sugar
1 teaspoon baking soda
1/2 teaspoon salt
1 teaspoon white vinegar
1/3 melted coconut oil
1 cup vanilla almond milk
FOR FROSTING
1 cup vegan chocolate chips (such as Good Life brand)
1/4 cup vanilla almond milk
2 tablespoons melted coconut oil
1 cup confectioners sugar
Instructions
Preheat oven to 350 degrees and line an 8 inch cake pan with parchment paper..
In a large mixing bowl sift together all dry ingredients, whisking until well blended
Add almond milk, and coconut oil and whisk until well incorporated. Add vinegar and keep whisking until smooth. The batter will be thick
Transfer batter to the prepared cake pan and bake for 30 to 35 minutes or until tooth pick inserted in centre comes out clean
Remove from oven and cool on wire rack
Prepare frosting right before you are ready to frost the cake. Melt chocolate in a double boiler until smooth. Slowly whisk in almond milk until well combined. Pour in coconut oil and whisk until combined. Remove from the double boiler. Whisk in confectioners sugar a half cup at a time, until it is well combined.
Using an offset spatula frost the cake on the top, spreading down over the sides.
Garnish with fresh fruit