An under-used coat closet became a stylish open pantry thanks to my vision and my husbands DIY skills.
Well hello friends! It is a been a while. And, our brand new pantry project has been a while in the making too!! I am over-the-moon with how it turned out.
When you live in a small home you know how important it is that every square inch is used to its' fullest potential!
Since it is just me and the mister here now, the open coat closet in the hallway off the kitchen was no longer fitting that bill! Given it's location between the kitchen and the back door, it has always been used for coats, boots, shoes, etc., but also the place everybody put the "stuff" they didn't know what to do with.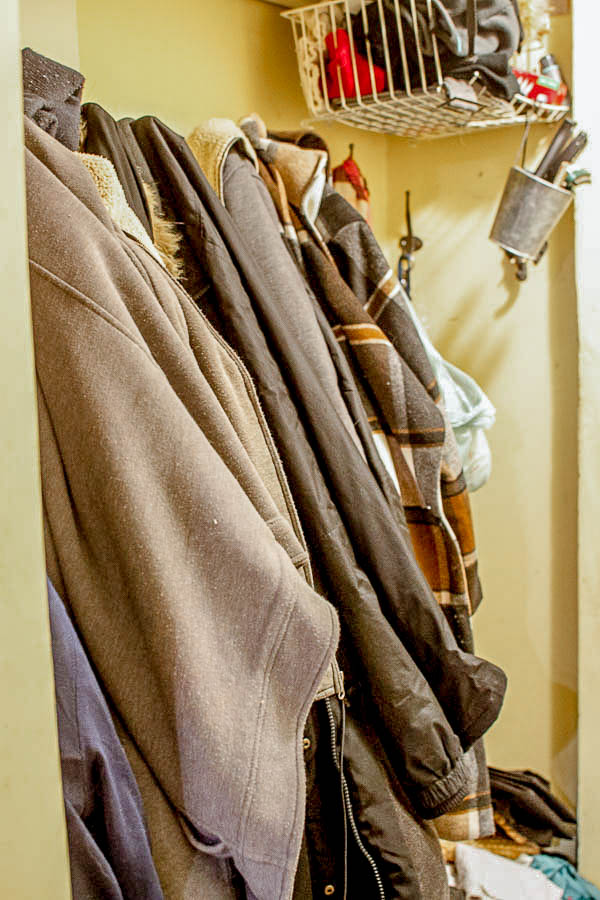 There were two problems with that. First, we have way too much "stuff" if we don't even know what to do with it, and second, two people don't need that many coats!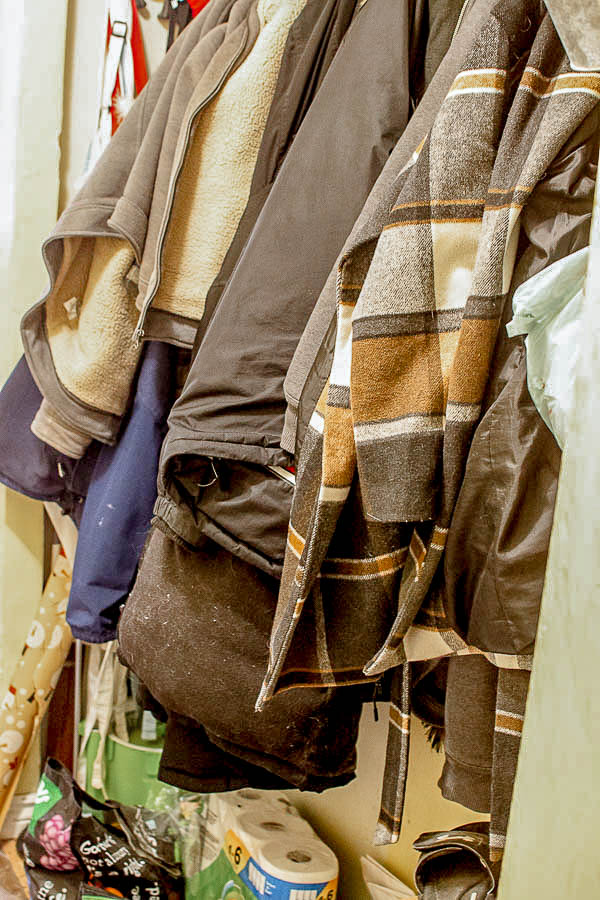 And, since I have always wanted a pantry it wasn't hard to make the decision to turn the closet into an open pantry space.
The mister has turned many of my ideas into reality. Everything from farmhouse tables to fireplaces! He really hit it out of the park with this one! I mean, is it wrong to stop and admire your pantry every time you pass by?!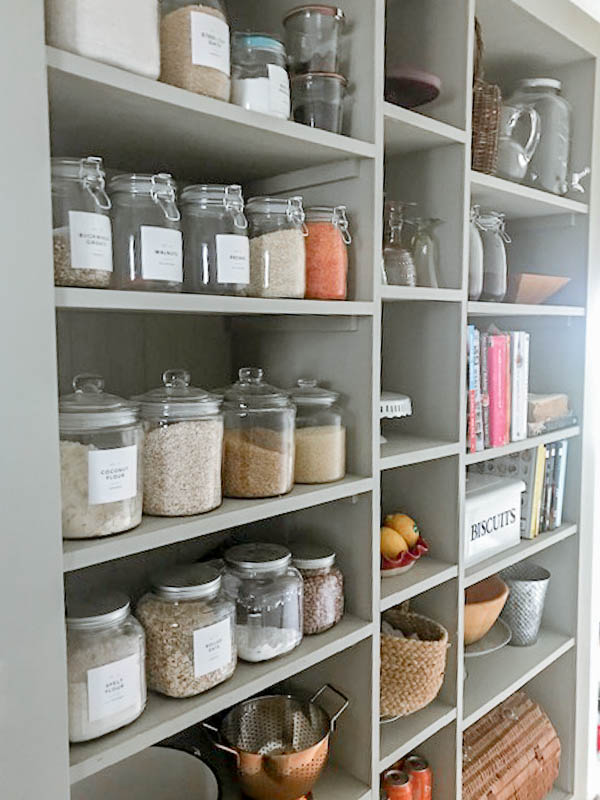 Can you even believe it was the same space?
Now, this is a VERY narrow hallway, at just 2 feet 7 inches wide. The pantry itself is recessed into the wall and doesn't impede on the overall width of the hall.
Photographing the space was a bit of a challenge given that narrow width, but I think I was able to capture it pretty well.
However, it was a challenge to build the frame in such a small space! But, he did it!
Our Open Pantry Supply List
4 foot x 8 foot x 3/4 inch plywood good one side cut to fit your project
4 foot x 8 foot x 1/4 inch MDF cut into 1 inch strips
1″ x 2″ x 8 foot spruce
tongue and groove pine
PL Premium Adhesive
table saw (or circular saw)
Brad Nailer and nails
2 1/2 inch wood screws
Paint (we used Fusion Mineral Paint)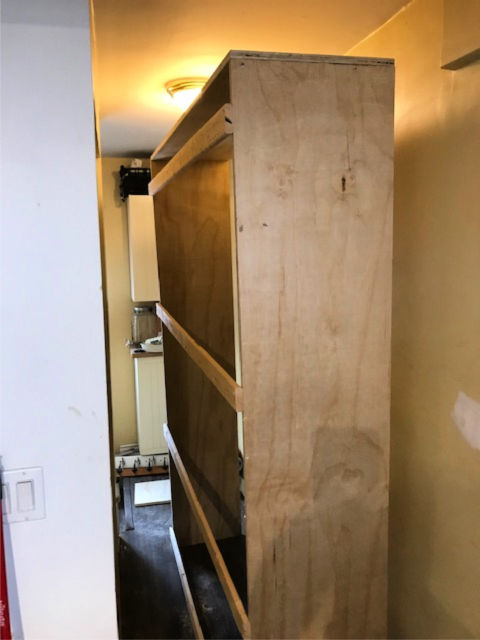 The frame was made using 3/4 inch good one side plywood. It was cut to fit the exact height, width and depth of our closet opening.
Once the frame was constructed, he slid it into place and secured it inside the closet opening using wood screws. We wanted the pantry slightly less deep than the actual closet itself.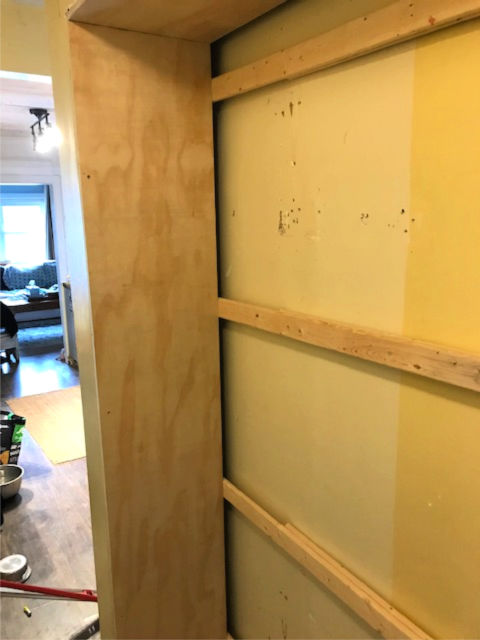 One by two spruce was used across the back to provide stability. It also served to attach the tongue and groove pine. Solid plywood could also have been used across the back, but this option was much more cost effective.
The 2-1/2 inch by 8 foot tongue and groove pine came in packages of 10. We needed two packages.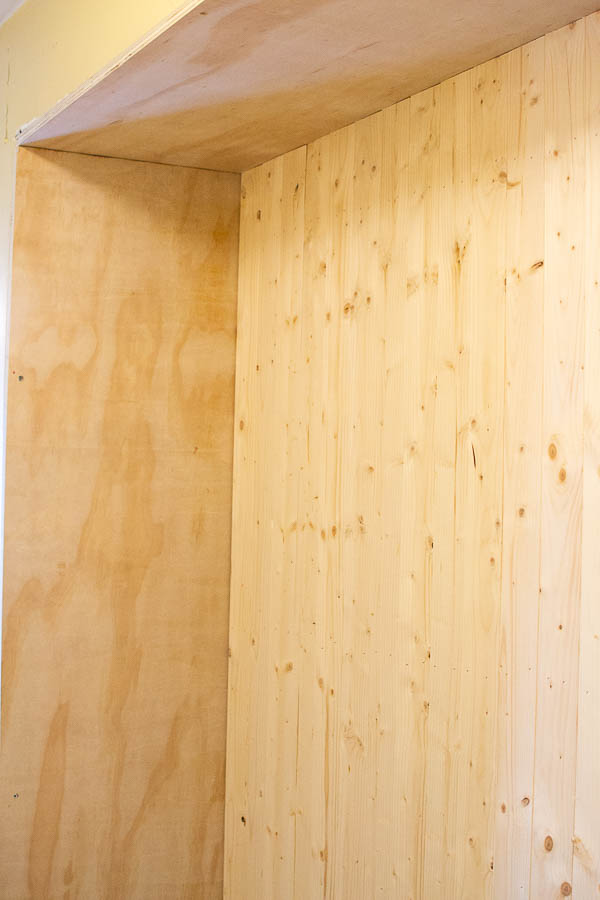 I opted for tongue and groove pine on the back just to add a bit of texture and interest. It was also quite inexpensive, costing much less than plywood.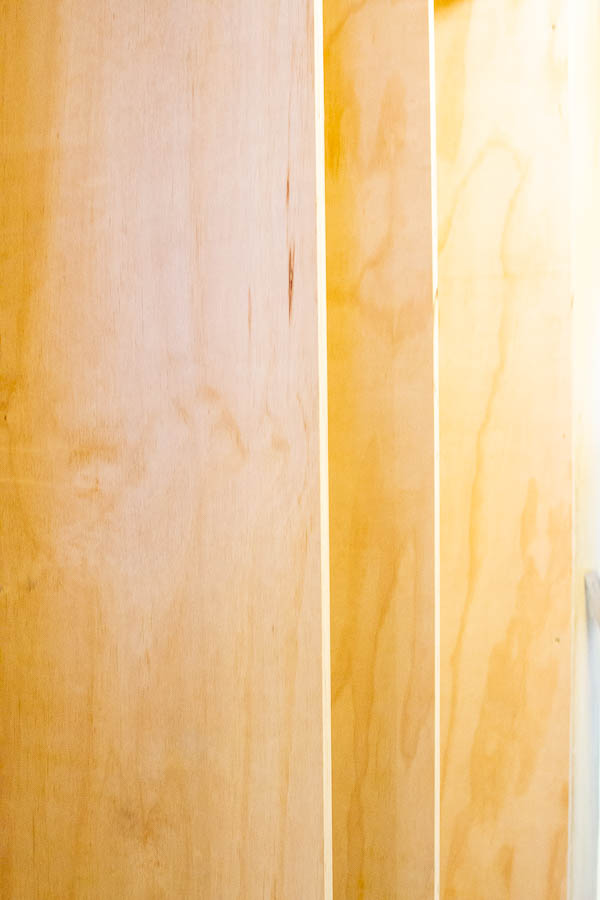 After the tongue and groove pine was in place, the two vertical dividers were put into place using wood screws. Tim uses a counter sink drill bit on an angle to hide the screw. A Kreg jig would be perfect to hide the screws as well.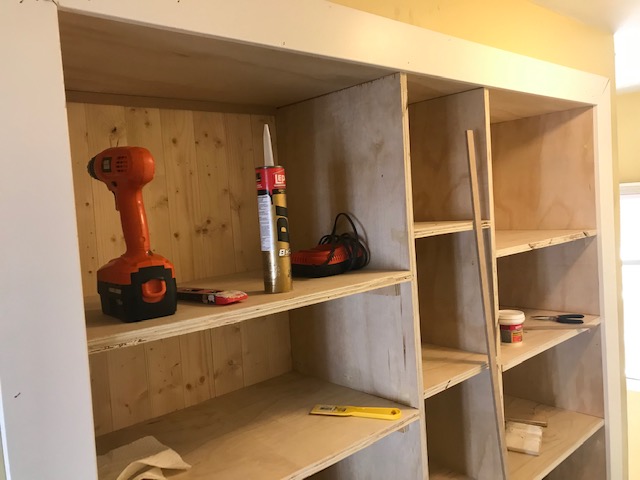 We measured out were we wanted to place the horizontal shelving based on the size of the jars and cannisters, and other things we planned to store on them.
You will notice the centre section is narrower and shelves offset to those on either side. I just felt that shelves evenly spaced all the way across wasn't the look that I wanted.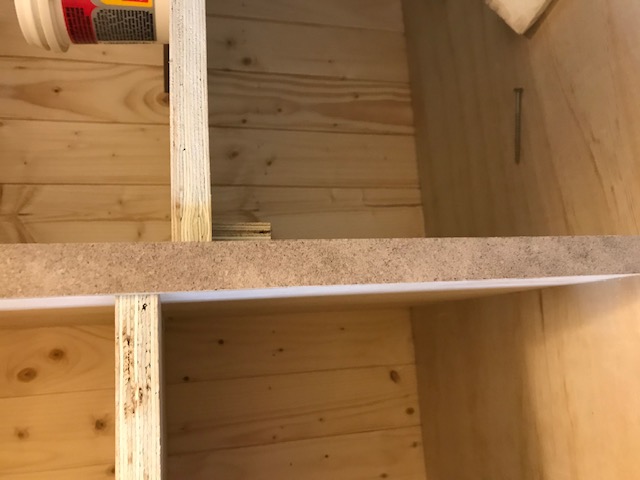 The front edges of the plywood were faced with 1″ strips of MDF to create a smooth front finish.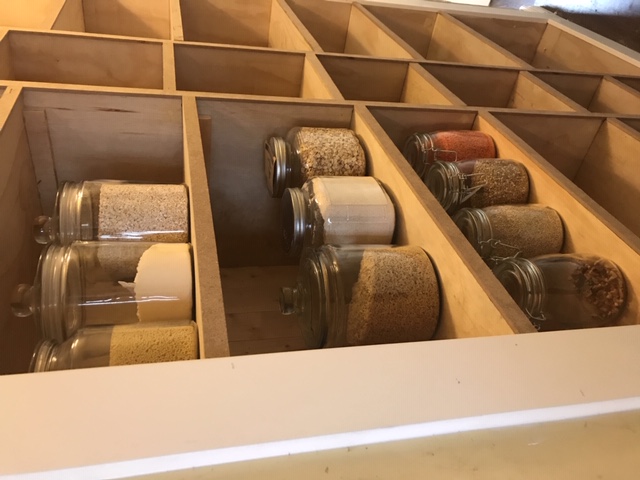 I couldn't resist a sneak-peak of what it was going to look like with all my pantry staples on the shelves! All that was left to do now was paint!
Choosing the paint colour was the hardest part. Well, the hardest part for me anyway!! I first thought about painting it white, or even black to add a bold contrast to the rest of hallway, which will all be painted white.
In the end, a friend suggested green and given that is one of my favourite colors, I just needed to find the RIGHT shade of green!
I found the exact colour I was looking for in Fusion Mineral Paint – Bedford. It is actually a grey, but definitely on the green spectrum. The pictures really don't show the true colour.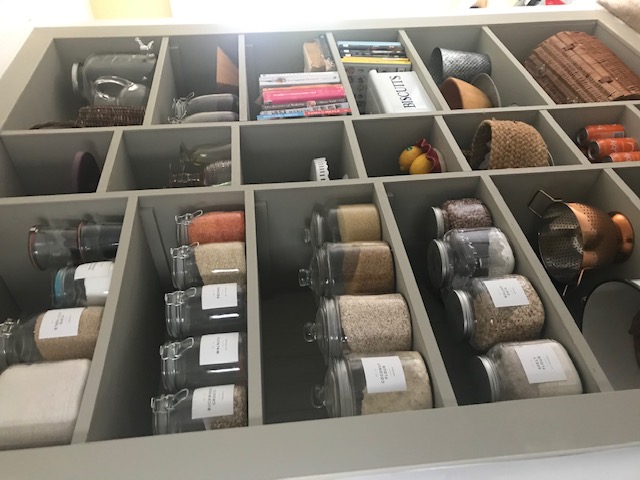 Oh my gosh! I am so happy to finally have the extra storage. And, to have it right off the kitchen has made life so much easier!
The coat closet served its' purpose for many years, but it was time for a change!
Let's have a look at that before again!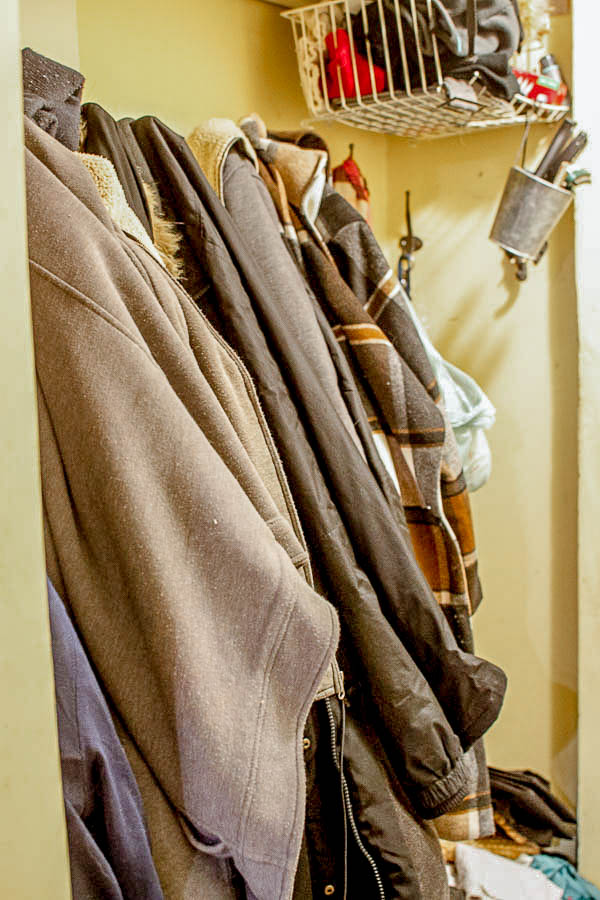 What a difference! Again, the lighting and small space makes it hard to get great photos, but I am sure you can get the idea of how much better and most importantly, how much more functional this open pantry is!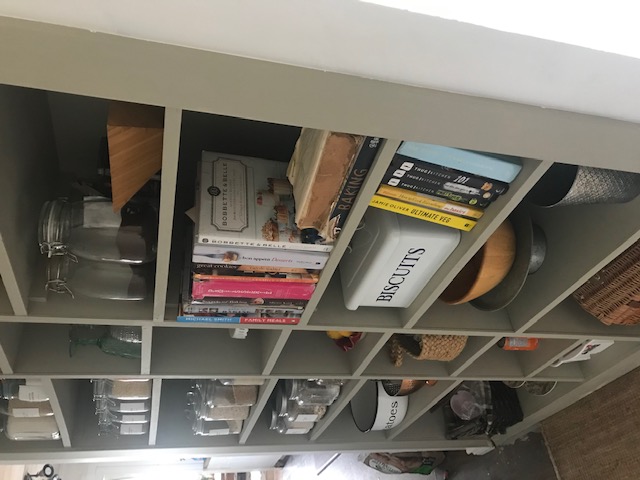 I have lots of room for all my pantry dry goods, cookbooks, cake stands, bowls, and so much more!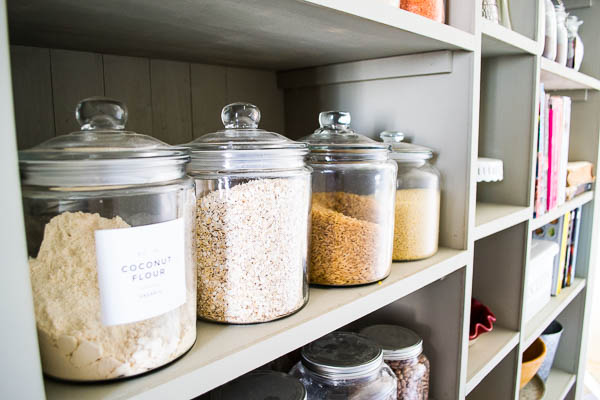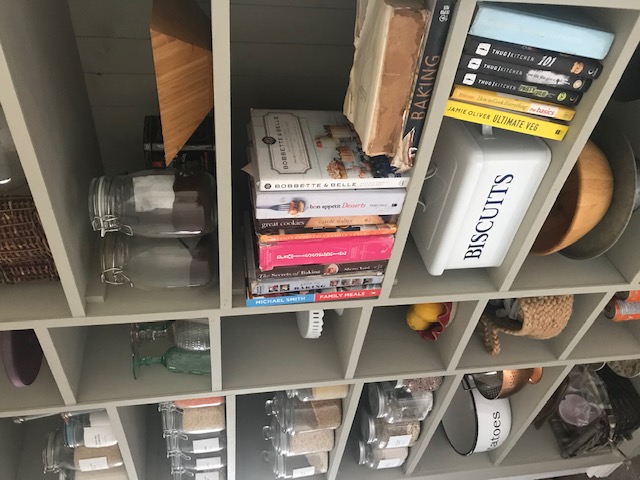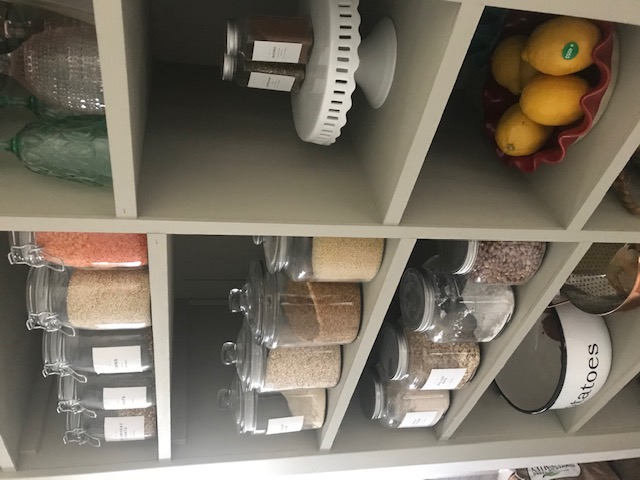 I still need to order more pantry jars, and jar labels. The shelves are wide enough to hold a double row of the smaller square and round jars. All of which are greatly needed!
I love the look of an open pantry, plus the ease it offers of grabbing things quickly when needed. I also knew that it would need to be easy to keep neat and organized, and customizing the shelving heights for our unique needs helps tremendously!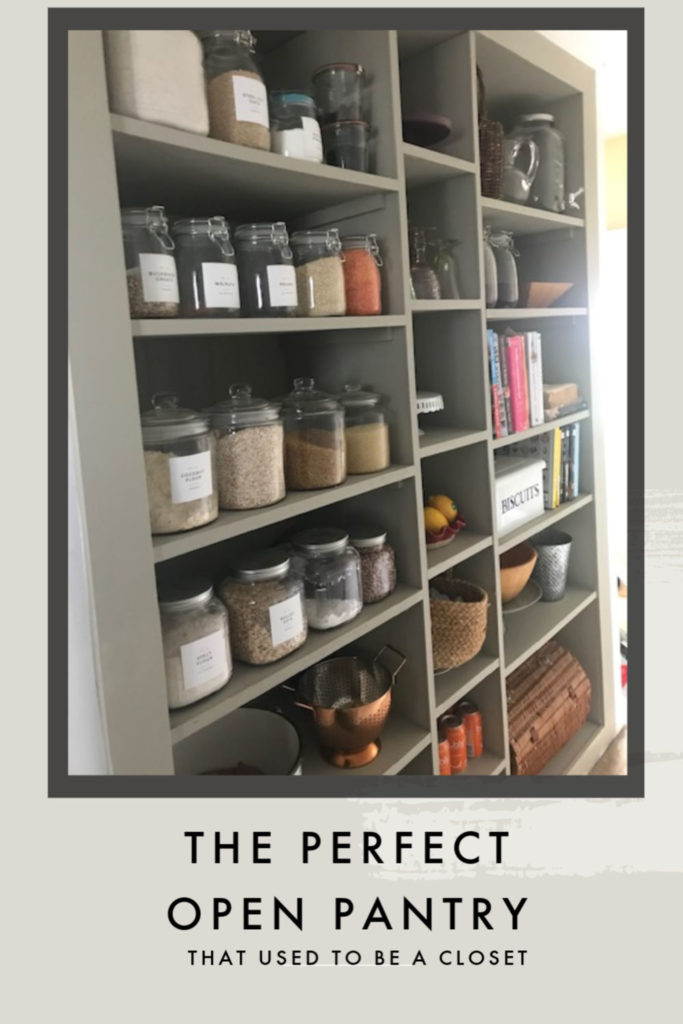 Another benefit of keeping the pantry open and not adding doors, is that even though the hallway is very narrow, the openness of the shelving makes it feel less so.
I hope we have inspired you to look to for those lesser used or poorly used closets and nooks in your own home that can be repurposed into functional storage!
Be in the know! It may be a delicious recipe, a stunning tablescape, or decor tips to make your house a home! Simply click here to subscribe. I never sell or share your information, and you can unsubscribe at any time!
Until next time….