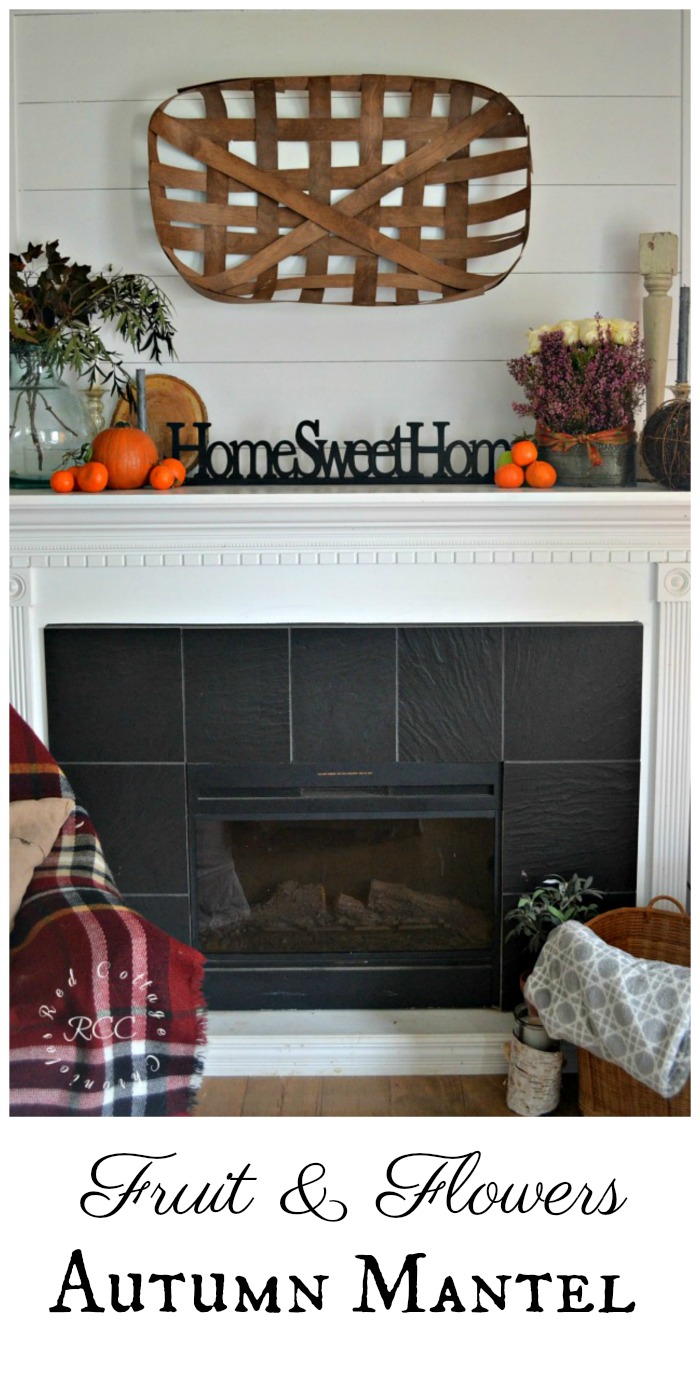 It has been so hard switch into Autumn mode this year, with temperatures way above average. In years past I have my autumn mantel ready before the end of September, but here it is mid-October and I finally have it finished.
Turns out that all it took to get me into the mood was actually getting the fall decorating started! Temperatures are forecast to take a turn lower over the next week. Perfect timing!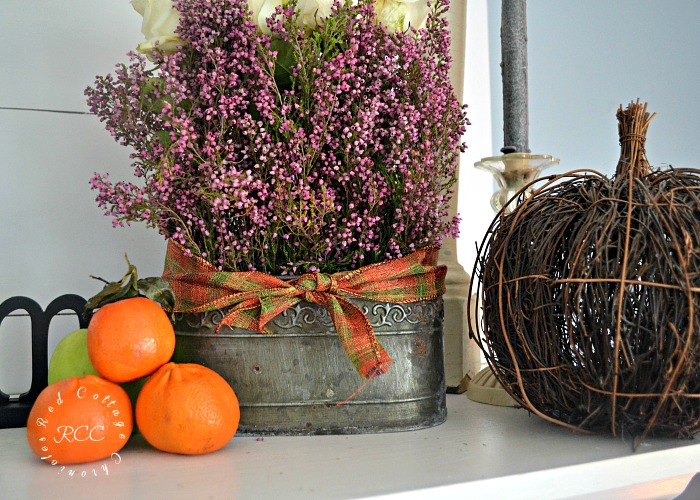 Decorating our fireplace mantel is always the first place I start my decorating for any season. Usually I comb over dozens of "pins" to find inspiration. This year I looked no further than the kitchen, the farmer's market and my mom's backyard.
Decorating your home does not have to cost a lot. My fruit & flowers autumn mantel is a great example of that!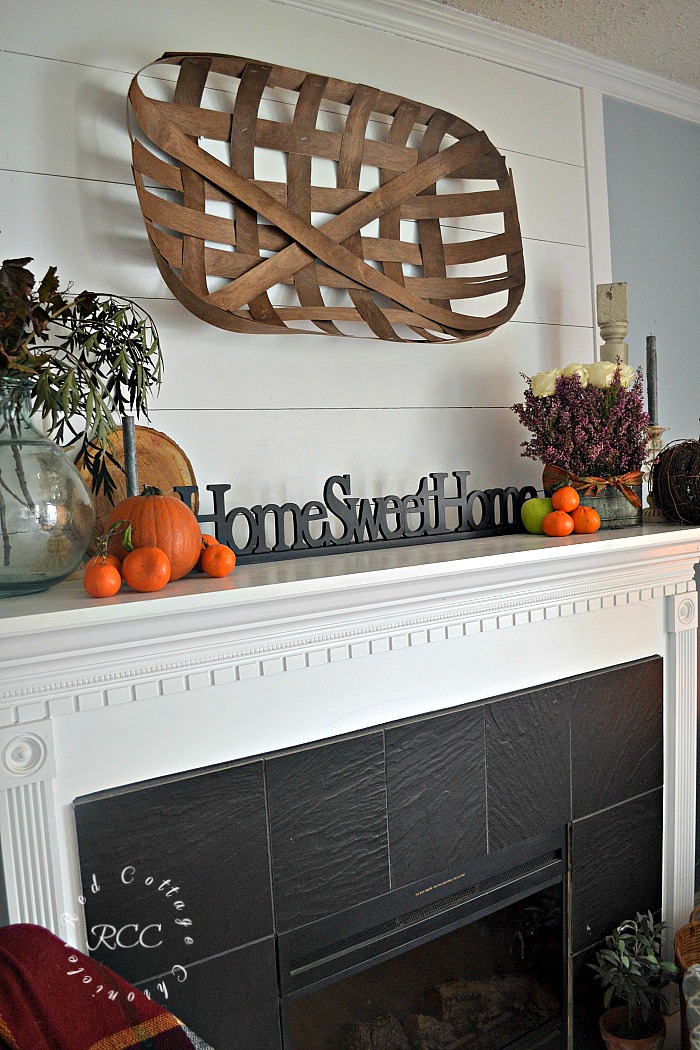 I started by re-hanging my DIY tobacco basket back up above the mantel.
From the farmer's market I bought a couple of bunches of fresh heather and some bridal white roses. Bridal White's are my favorite rose. The blooms are really large and they have just a hint of pink in the middle petals.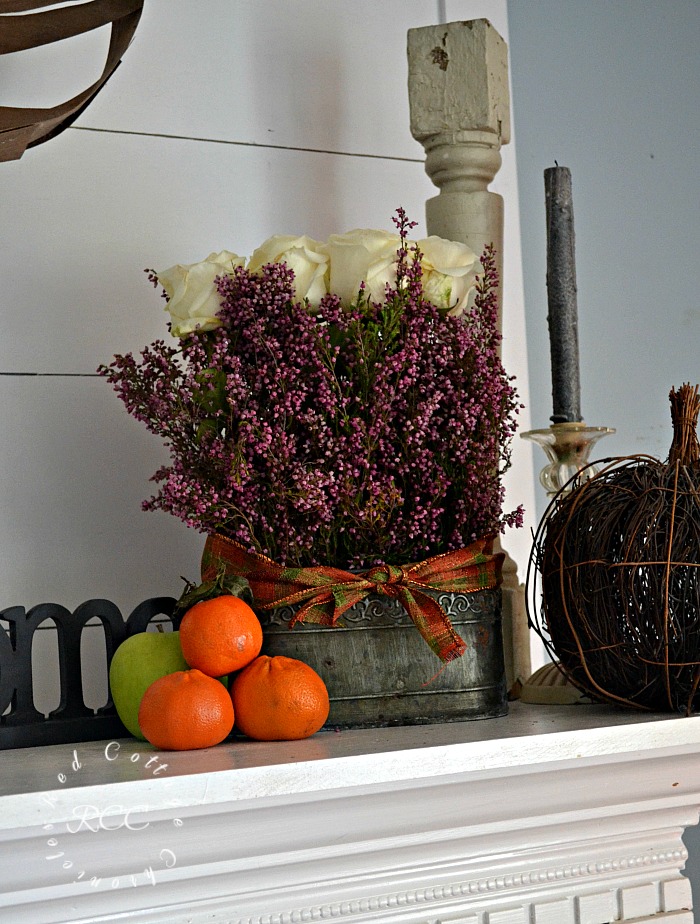 This arrangement was super simple and requires no floral design skills. One row of white roses surrounded by branches of heather. I used an oval tin about 8 or 9 inches long fitted with a piece of floral foam for wet arrangements that I had soaked in the sink for a couple of hours. Both the heather and the roses have strong sturdy stems, which make them perfect for this type of arrangement.
I had a little bit of ribbon left over from the hydrangea wreath so I tied it around the top of the tin. I love the combination of purple and orange.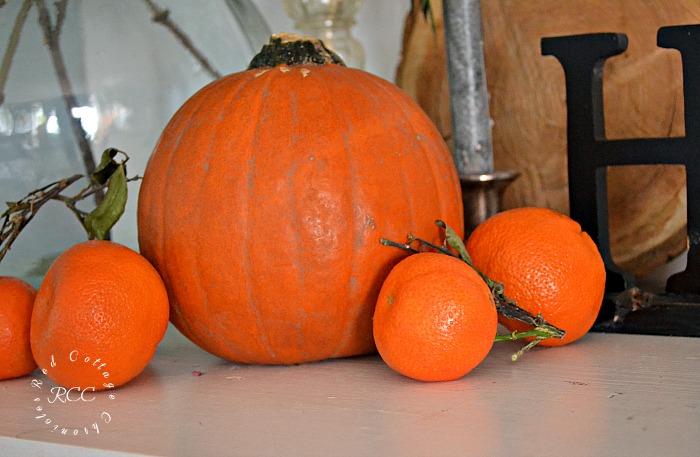 A big bowl of clementines and a pie pumpkin from the kitchen add pops of orange and balance to the design.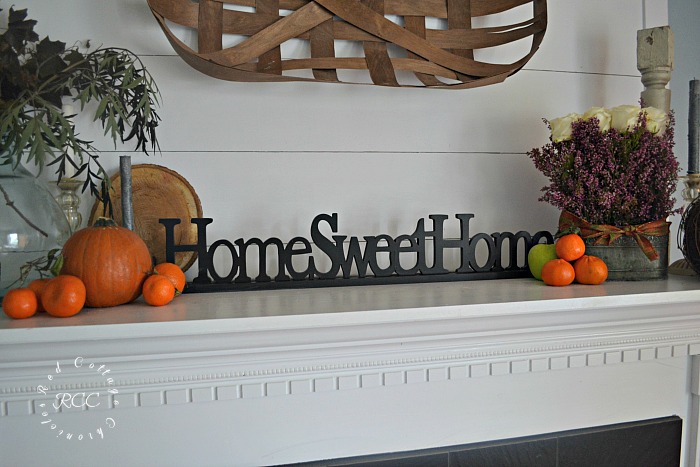 I foraged some branches from my mothers backyard. The dried maple leafs were clipped from a red maple that my dad planted in his backyard more years ago than I can count. It is kind of comforting having them in the house given it would have been his birthday this month. We all have been missing him for 13 years.
There has always been one branch on the tree that is lower than the others and it kind of flips and around and waves. Dad always told his grandchildren that his tree was waving at them. To this day they still look for the waving branch and it is there waving!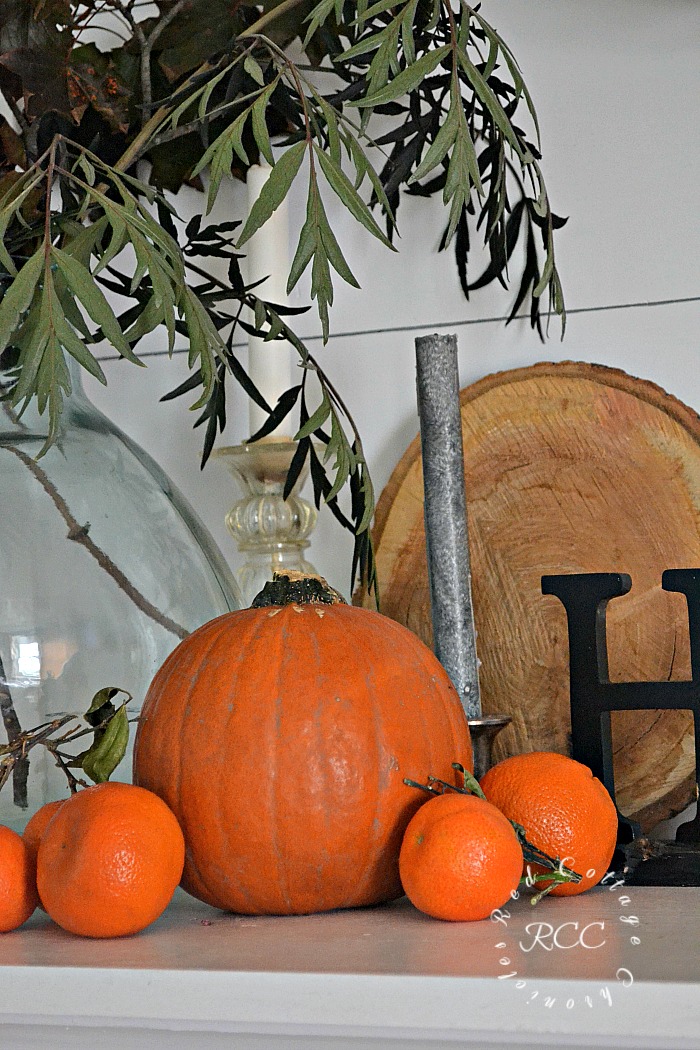 A couple of years ago for Father's Day my youngest daughter bought Tim a red maple tree. We must have walked around the garden centre for over an hour until she found one that "waved" at her just like "Pampie's tree!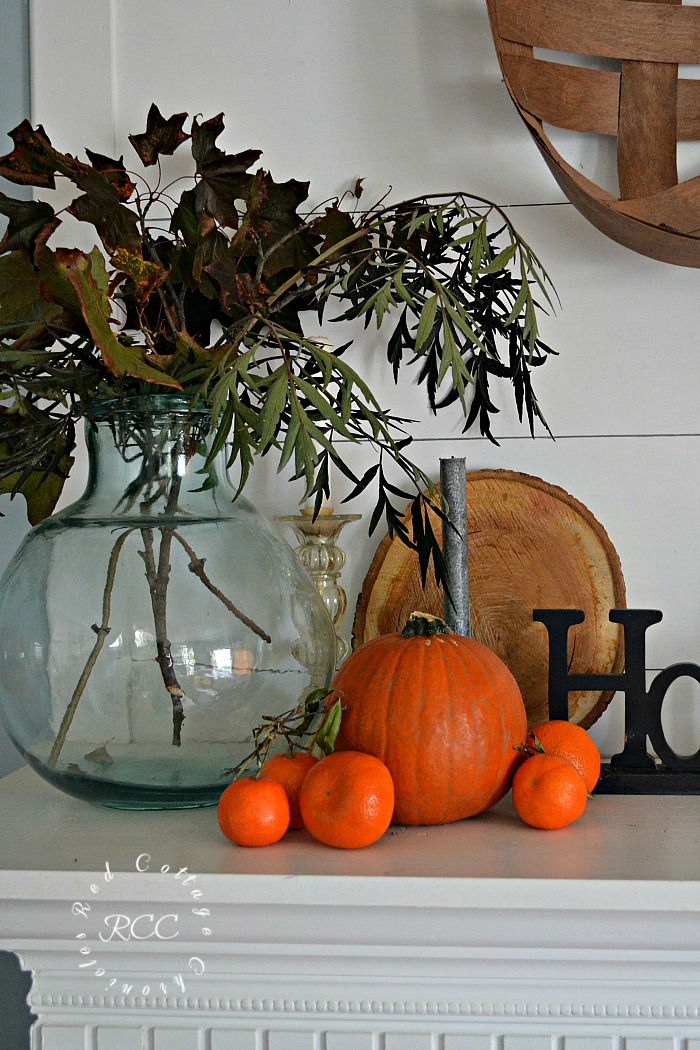 I placed the branches in a tall round vase to add height to that end of the mantel.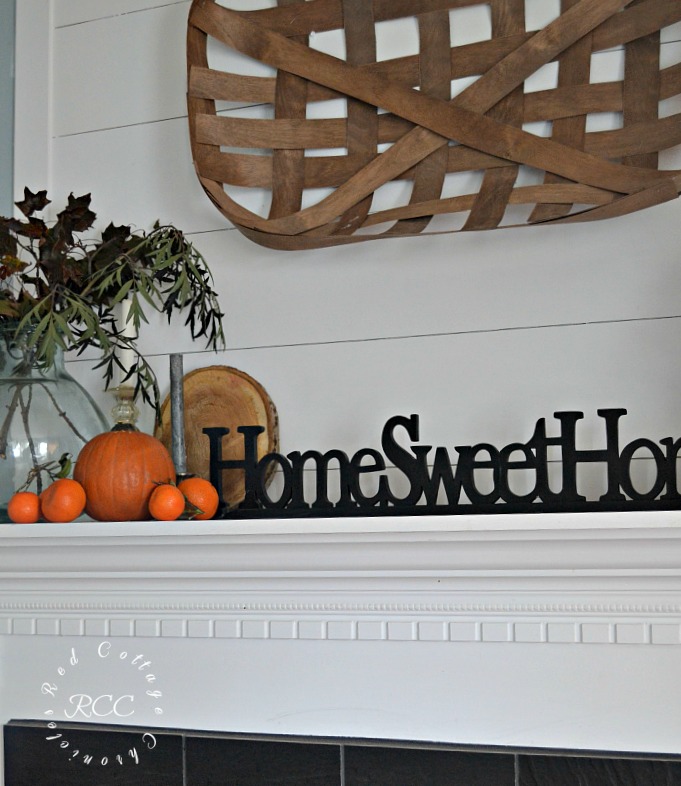 A slice of wood and a grapevine pumpkin injects a bit more of the outdoors! An old chippy baluster adds a bit of texture against the shiplap.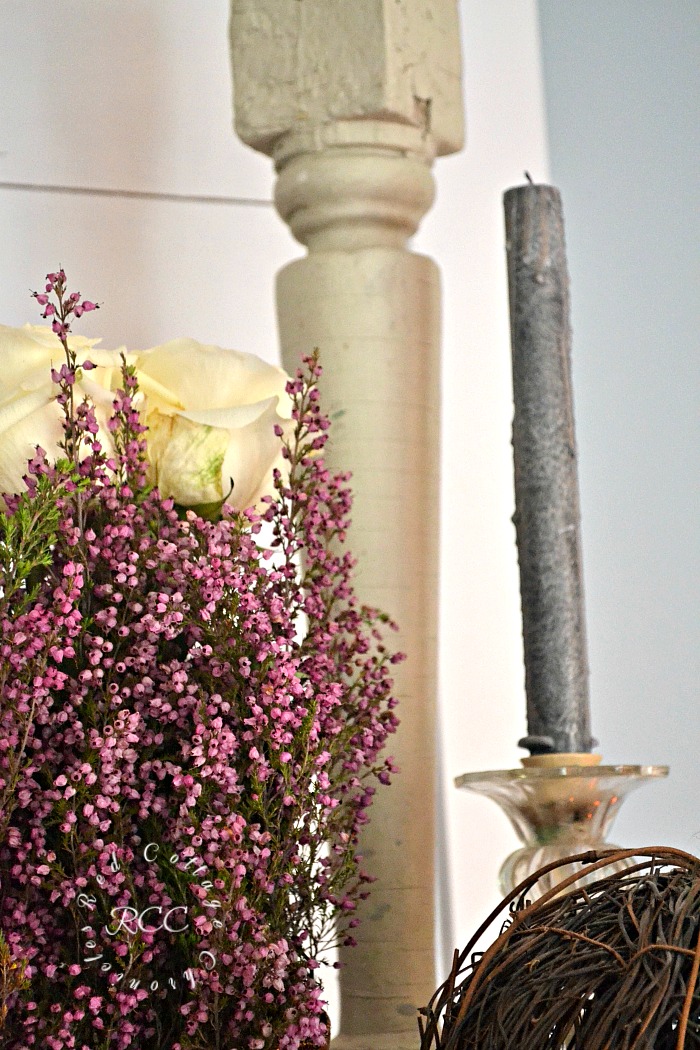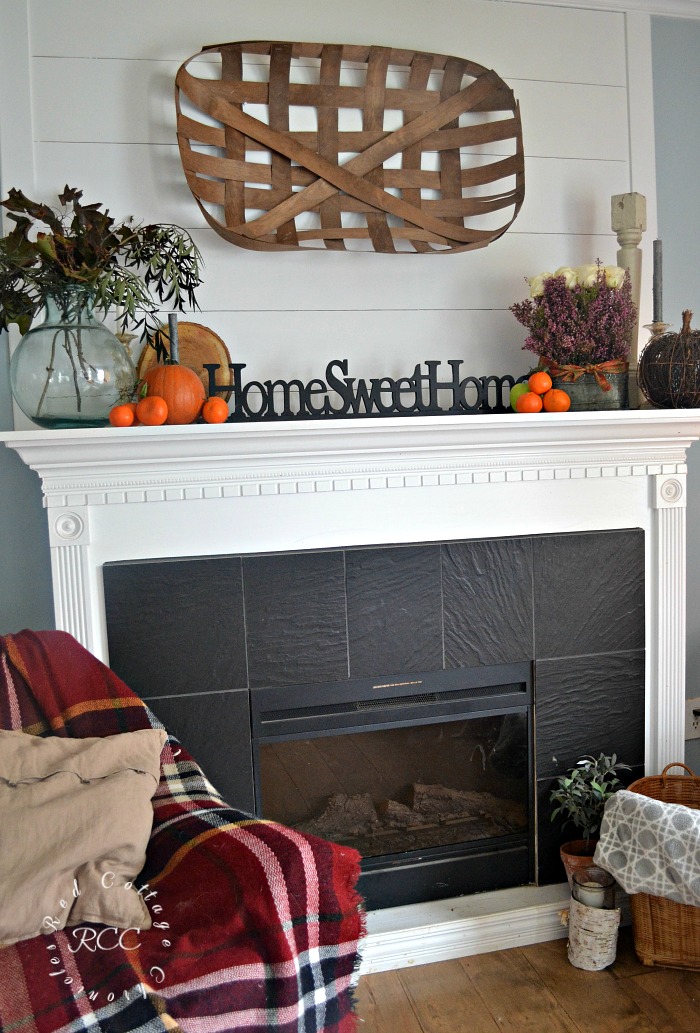 Finally, my black Home Sweet Home sign offers contrast and grounds the overall look of our autumn mantel. Not to mention the phrase pretty much sums up how I feel at the end of each day, especially as we enter into the colder months were being at home all comfy and cozy is my ultimate pleasure!
Call me crazy, but give me a cold autumn evening, a cup of hot tea, a good movie and a blanket to cuddle under and I am a happy camper!!
Until next time……