Pecan Cranberry Wild Rice
This easy cranberry rice recipe can be served hot or cold and is even better the second day, making it the perfect make ahead side dish!
The calendar might say that fall hasn't yet arrived, but Mother Nature says otherwise!
Today was an overcast day with a cool breeze and the promise of an even cooler evening. To say I am ready for all the things autumn is an understatement, but all the wonderful comfort foods that come with the cooler temperatures have been at the top of my mind.
Recipes like this yummy lentil chili and maple roasted butternut squash soup!
This post may contain affiliate links to products I use in preparing this recipe. If you make a purchase through these links I may receive a small commission with no increase in price to you!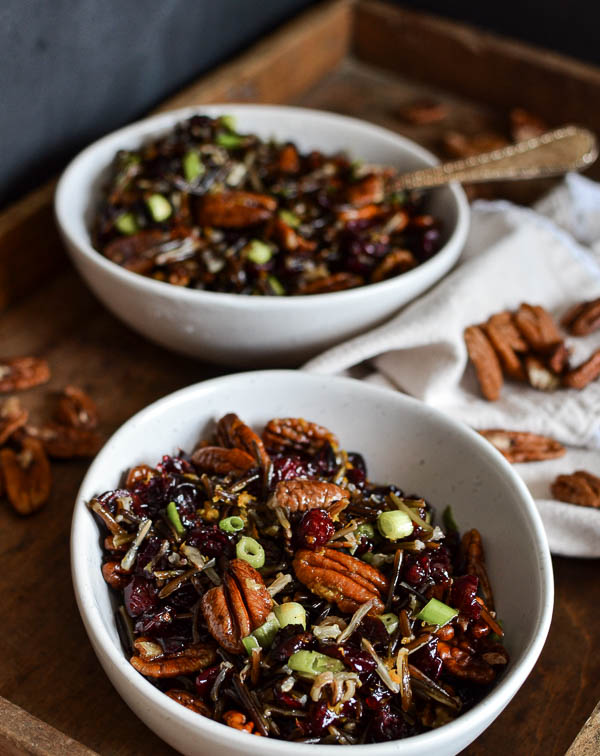 Wild rice, while it intimidated me for years, has quickly become one of my favorite kinds of rice to cook with. This wild rice recipe is not only easy, but also very versatile. Especially come holiday season.
What can I add to my cranberry rice?
Served hot or cold, this pecan cranberry wild rice has all the flavors of fall. Toasted pecans, dried cranberries and onions. Add the rice and a lovely citrus based dressing and you have a wonderfully hearty side dish.
Any combination of nuts and dried or fresh fruit would be delicious too. Think walnuts and diced apples, or slivered almonds and chopped figs.
Try cooking the rice in low sodium vegetable broth instead of water for extra flavor.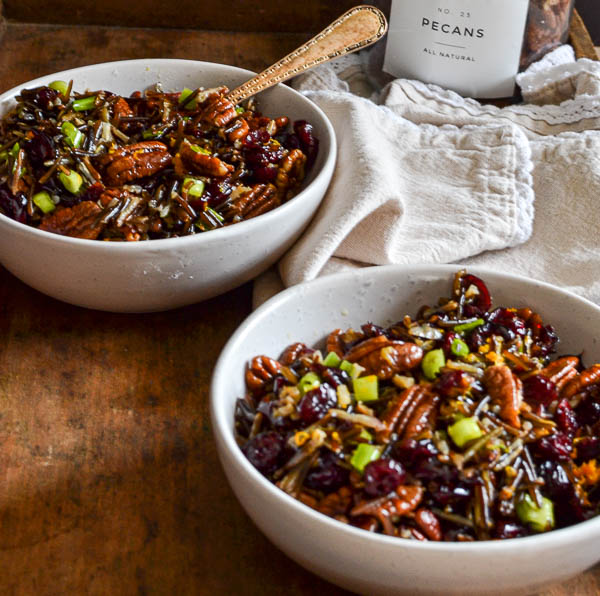 Do you have to soak wild rice before cooking?
While soaking wild rice overnight prior to cooking can help to shorten the cooking time, it isn't really necessary. I didn't soak the rice for this recipe.
Always make sure to give it a good rinse with fresh water prior to cooking!
How long does it take wild rice to cook?
The trick is to make sure not to under cook the rice to avoid a hard or overly chewy texture.
I find the sweet spot to getting wild rice the exact texture I love, firm but still slightly chewy, is about 40 to 45 minutes cook time.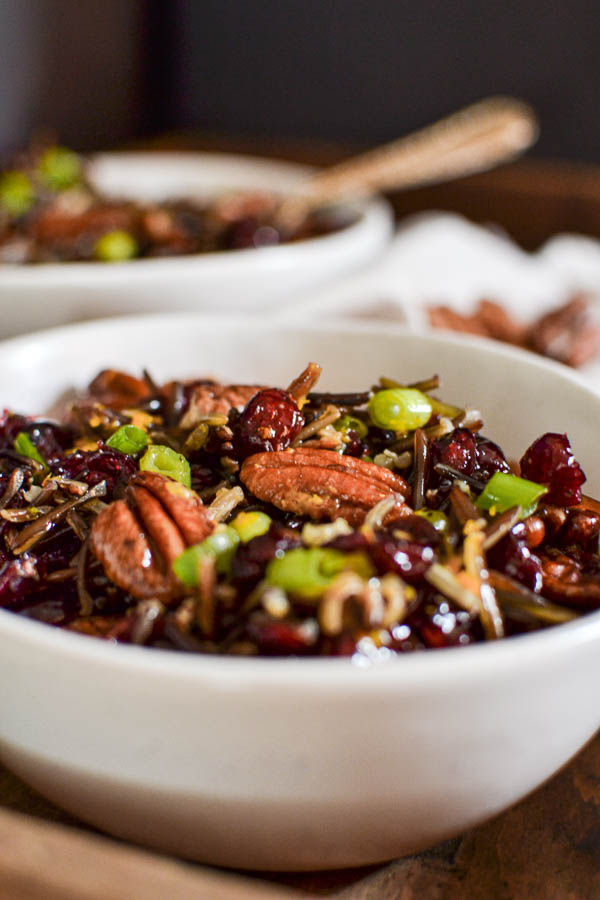 What makes this wild rice recipe extra perfect is that the flavor gets better after a day or two of marinating in the slightly sweet citrus dressing.
It also makes a great quick meal all on its' own. Wild rice has 6.5 grams of protein, plus the protein from the pecans make it a wholesome quick lunch or snack!
I have a dutch oven, similar to this one, I use to prepare this and other rice dishes. It is deep enough to cook the rice, and also makes a nice serving dish!
As the cooler weather sets in and fall officially arrives in just under a week, you will find me cozied up at home enjoying all my favorite comfort foods, and this wild rice recipe will be making an appearance on our meal plan often!
This Cashew Fried Rice is another rice recipe that is a staple in the cold winter months.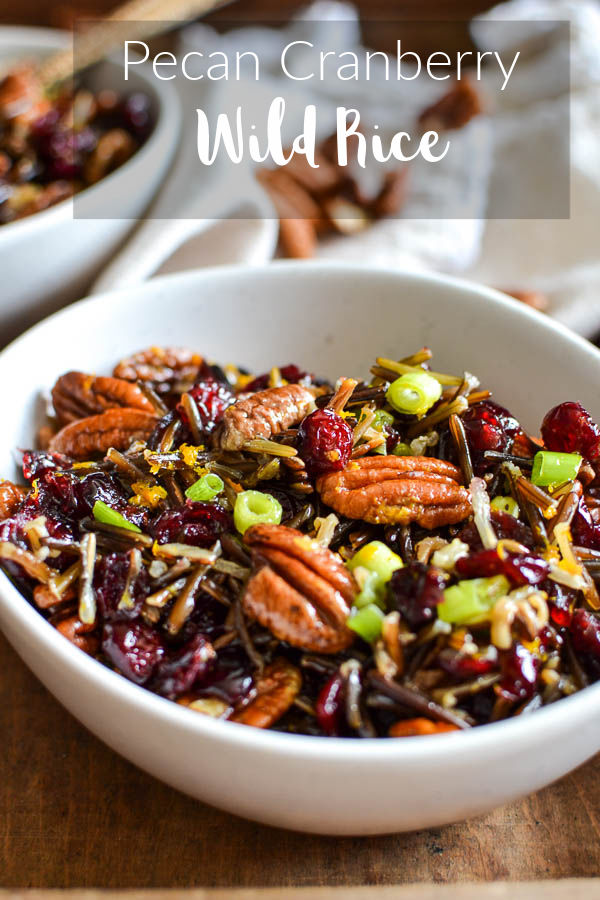 Be in the know! It may be a delicious recipe, a stunning tablescape, or decor tips to make your house a home! Simply click here to subscribe. I never sell or share your information, and you can unsubscribe at any time!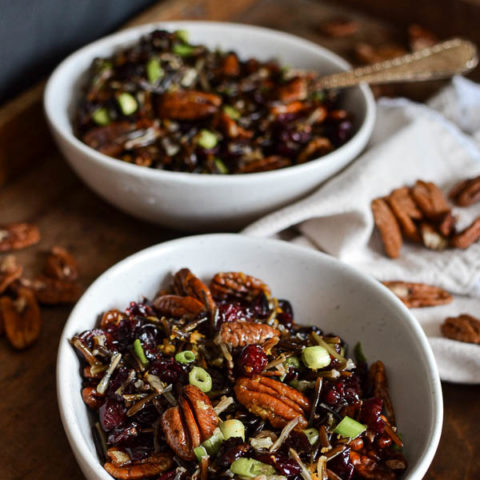 Pecan Cranberry Wild Rice
Total Time:
2 hours
45 minutes
This delicious wild rice recipe is full of nutty flavor with the addition of pecans, plus dried cranberries and green onions is the perfect make ahead side dish.
Ingredients
1 cup dry wild rice, rinsed and drained
5 cups vegetable broth
1 cup pecan halves
1 cup dried cranberries
grated orange peel from one large orange
3 green onions, thinly sliced
1/4 cup extra virgin olive oil
1/2 cup fresh squeezed orange juice
salt and pepper to taste
Instructions
Add rice and vegetable broth to a large saucepan, bring to a boil, reduce heat, cover and simmer for 40 minutes. Do not over cook.
Drain rice, add remaining ingredients, stir well to combine.
Allow to sit for 2 hours or refrigerate overnight.
Serve at room temperature or warm in the microwave if you prefer.
Notes
This is even better after 1 to 2 days! Always store in the refrigerator and bring to room temperature to serve.