Elegantly Eerie Halloween Tablescape
I have been so excited to share my Halloween tablescape with you. You would never guess that Halloween is my least favorite holiday!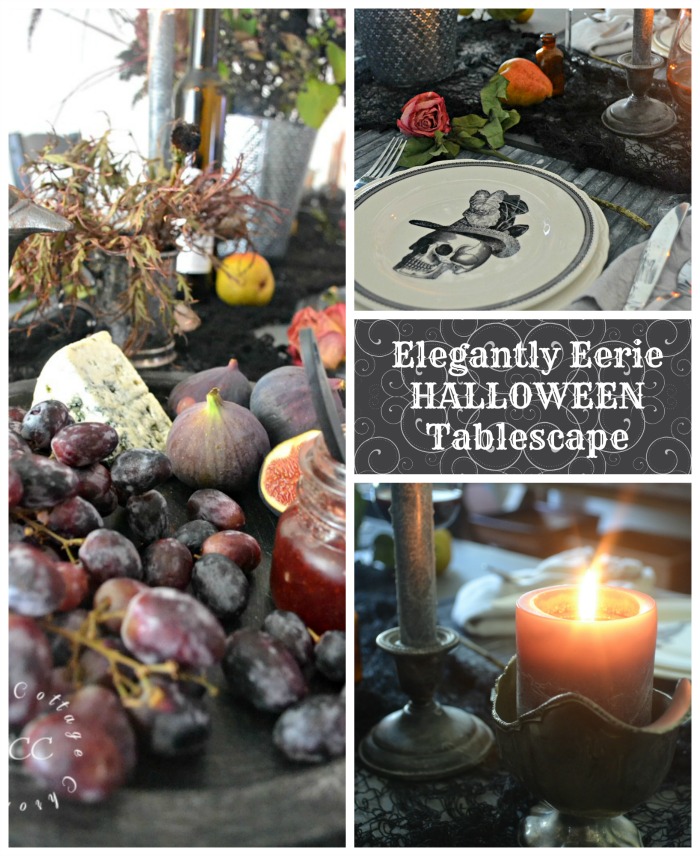 When I was invited by the very talented Chloe from Celebrate and Decorate to participate in the Halloween Tablescape blog hop, I thought it was the perfect opportunity to challenge myself to do something out of my comfort zone! Oh, don't get me wrong I love to create pretty tablescapes, but Halloween has just never been an occasion I really got excited about.
Since both my girls are adults now, it has been a long time since I did much more than carve a jack-o-lantern and hand out candy to the neighbourhood kids.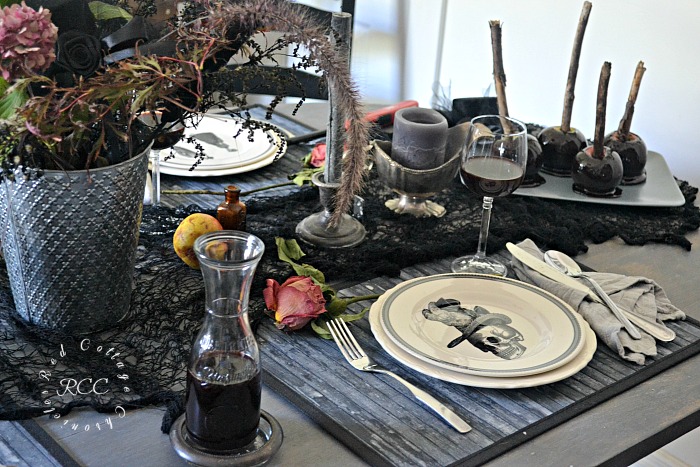 Of course as soon as I committed, I was excited to style a table that was both somewhat elegant yet dark and eerie at the same time. I knew I didn't want to spend a ton of money since it is likely I wouldn't use the same things again next year.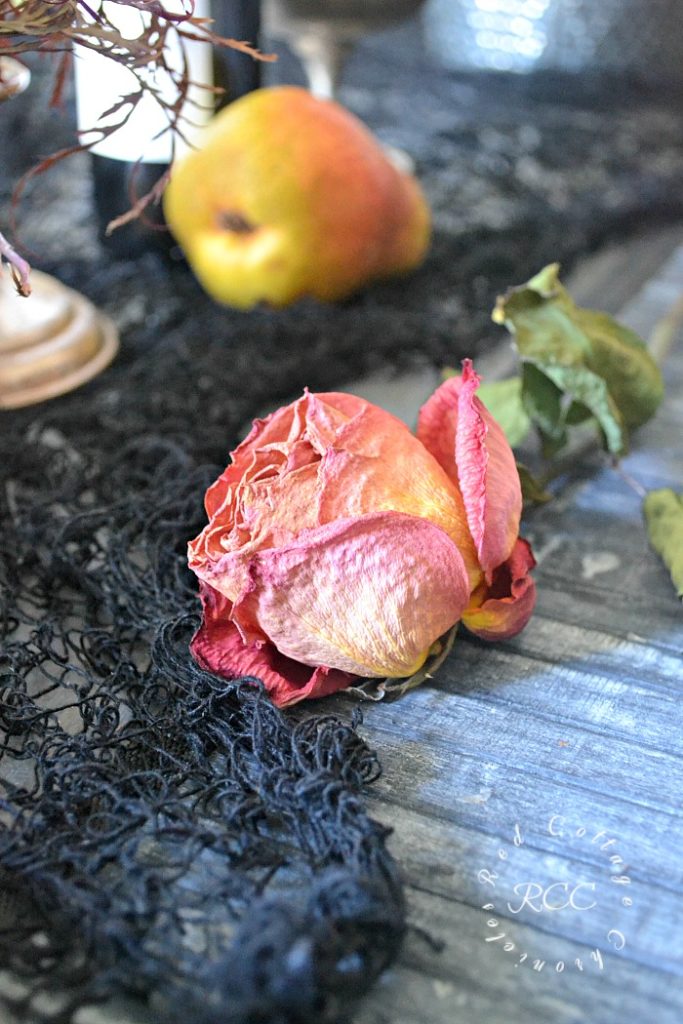 Believe it or not, it was a vase full of dead roses that I had set near the door to take to the compost bin (and forgot for two days as I walked by them a dozen times!) that set the theme for the entire tablescape!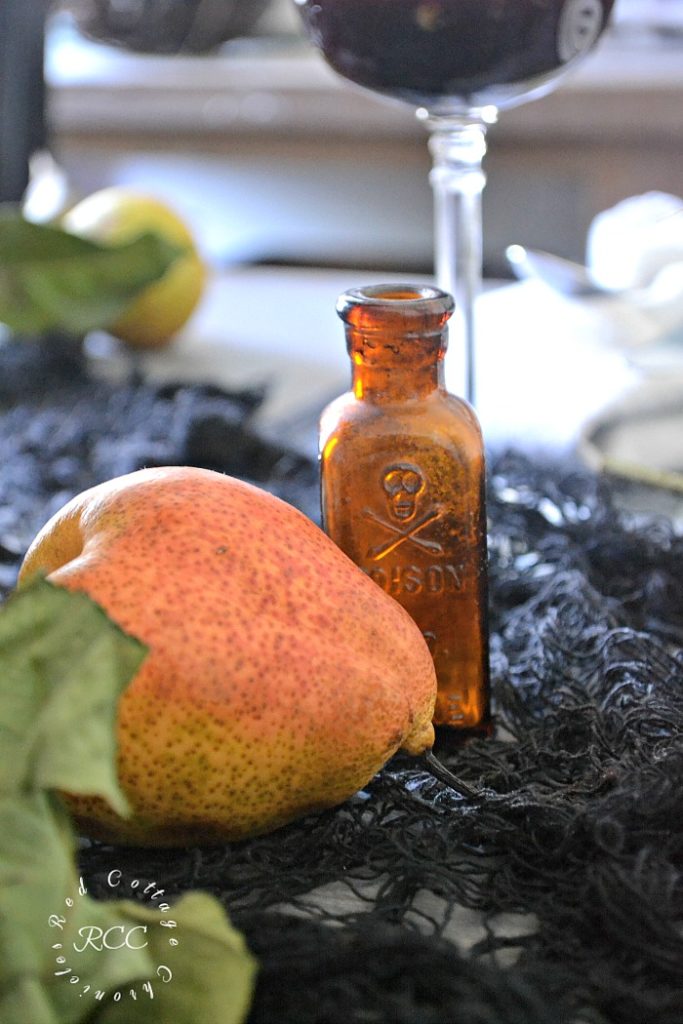 Since I had absolutely no real Halloween decorations I headed to HomeSense and picked up 4 salad plates with sophisticated looking skulls and skeletons for just $4.99 each. I also bought 4 black/gray bamboo place mats at Kitchen Stuff Plus, but I will get a lot of use out of these.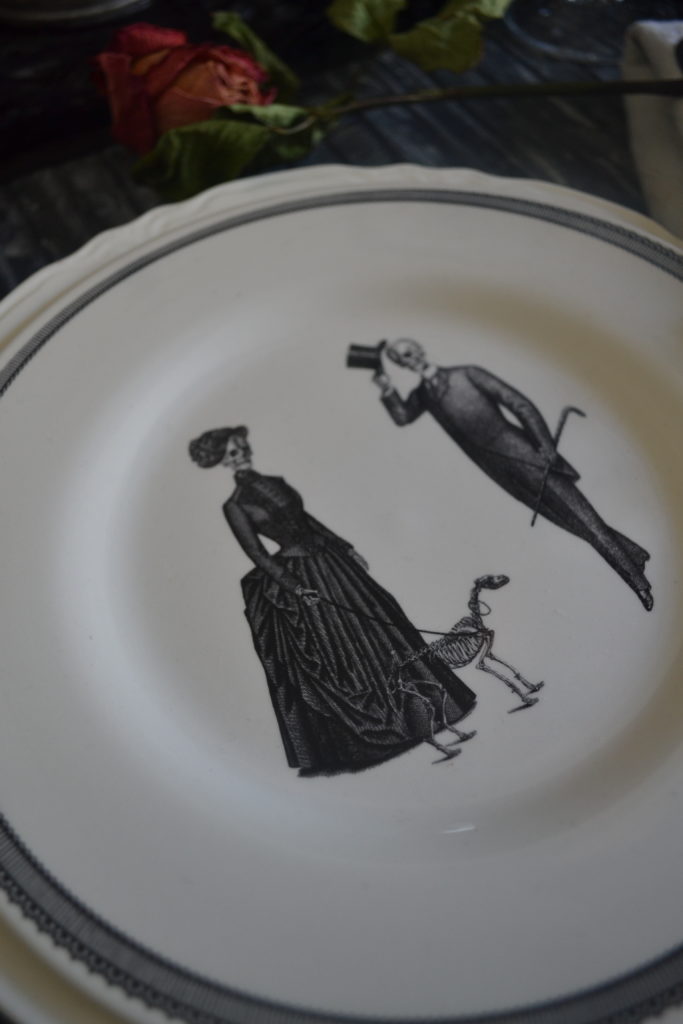 On a trip to the thrift store I picked up a sliver gravy boat to use as a holder for a short pillar candle. Best of all, it was only $3 and I know it will come in handy to have an extra one on hand.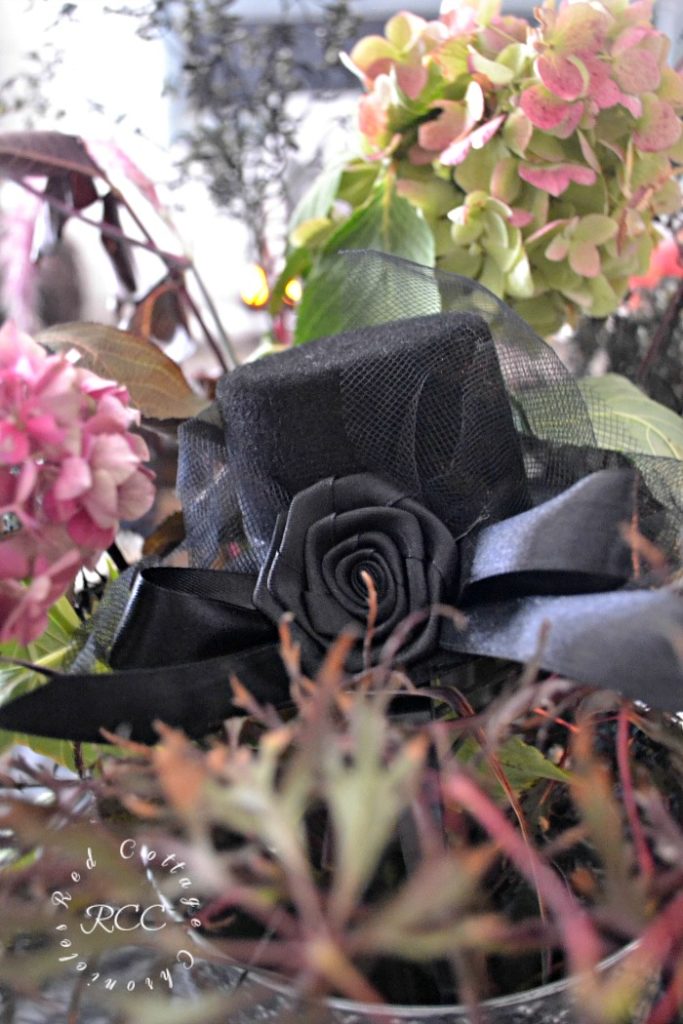 At the dollar store I found a long black fishnet, which I used for a table runner. It is a huge piece which allowed me to stretch it out in some places, yet scrunch it up in bunches in others. I also bought 2 headbands with felt black hats. A long skeleton arm complete with 5 tealights are perfect for the buffet.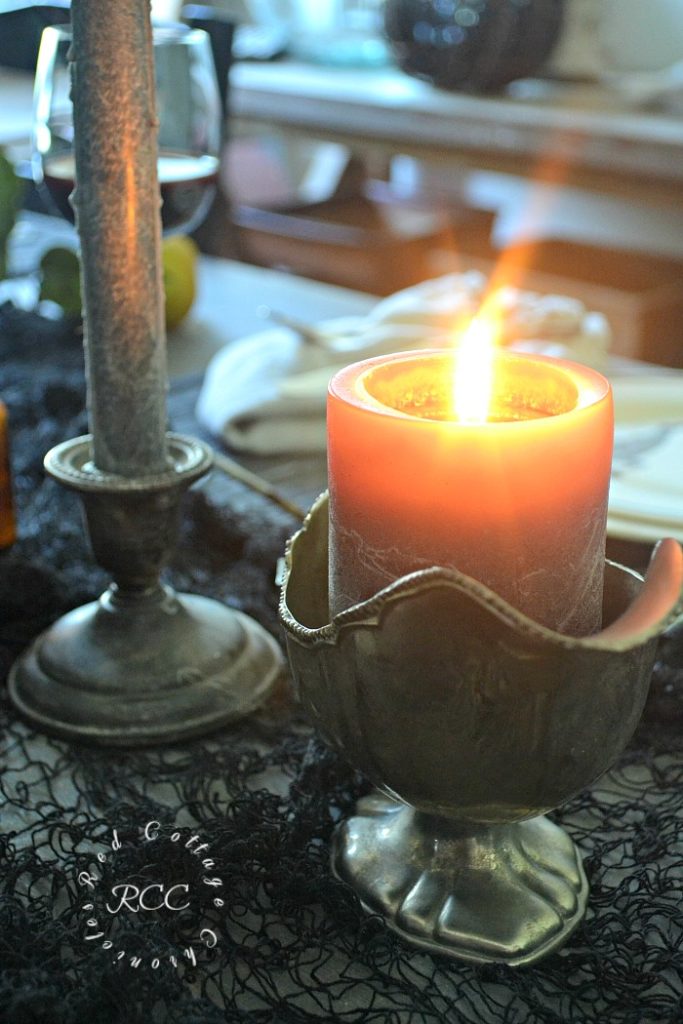 The floral centrepiece is just weeds I gathered while on a walk with the dog. I gave them a light spray with black chalk paint. A few hydrangea blooms that have dried on the bush add just a hint of color.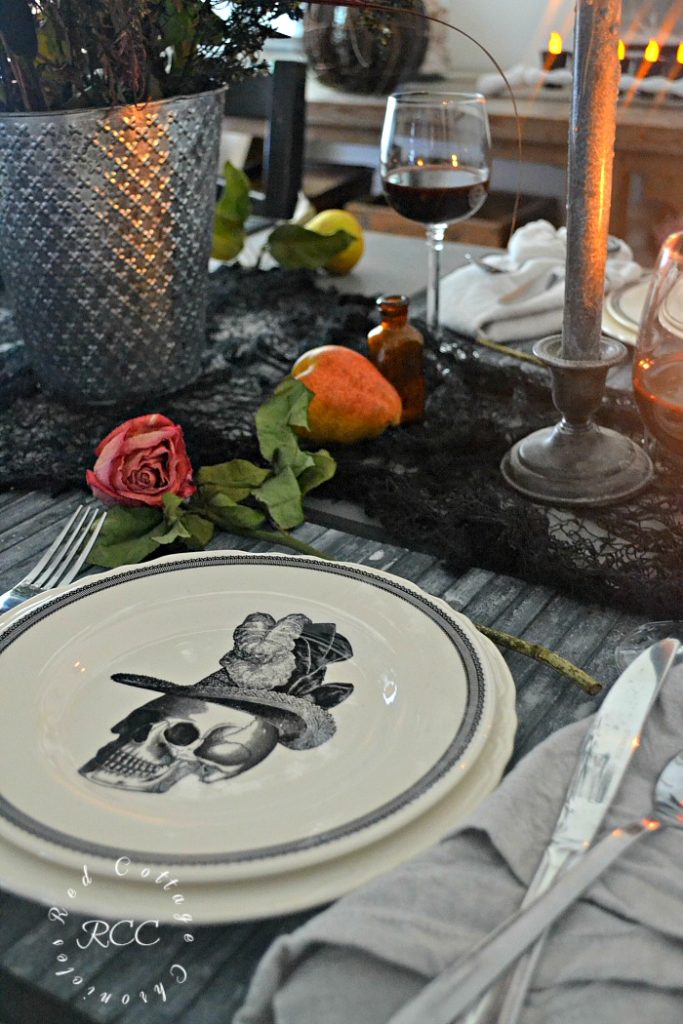 The dead roses that set the vision for my table are placed above each plate. A lone pear sits beside a "poison" bottle borrowed from my friend Leslie. She also loaned me the cast iron crow that has its evil eye on a plate of dark purple grapes, blue cheese and figs.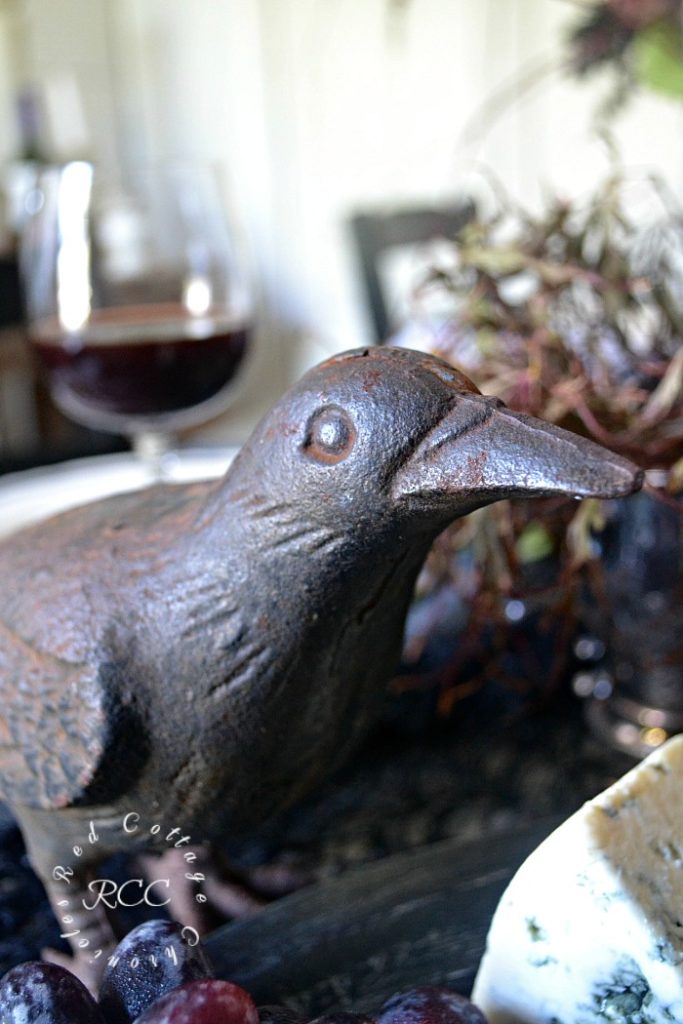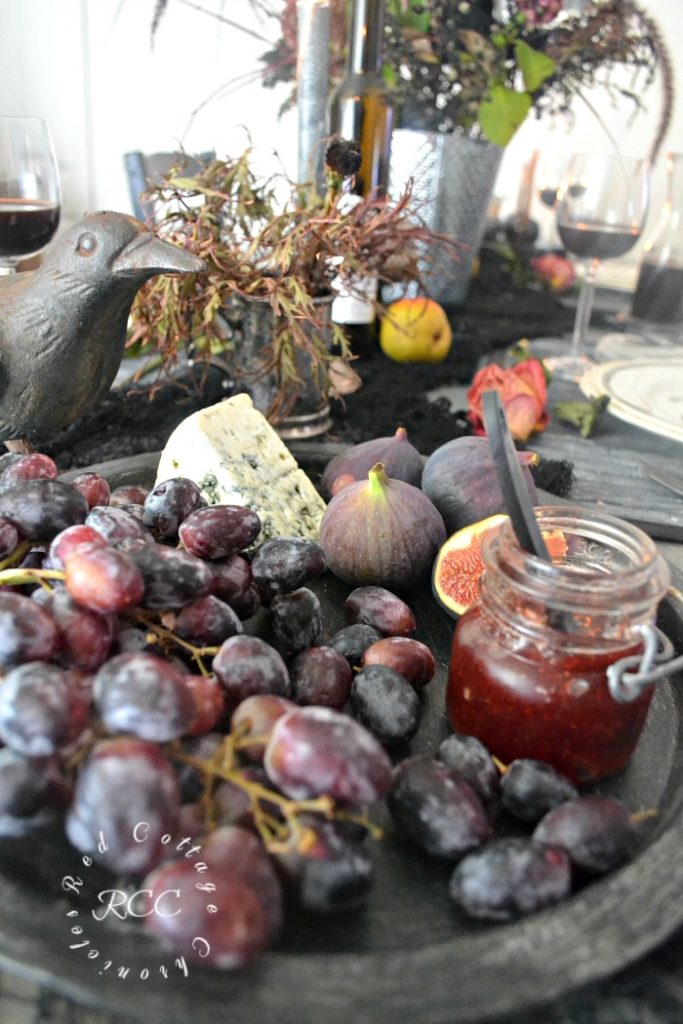 I hit up my Mom's family photo collection and pulled some spooky looking photos of our ancestors! I am sure they were all very lovely people, but really old photos all look just a bit sinister to me!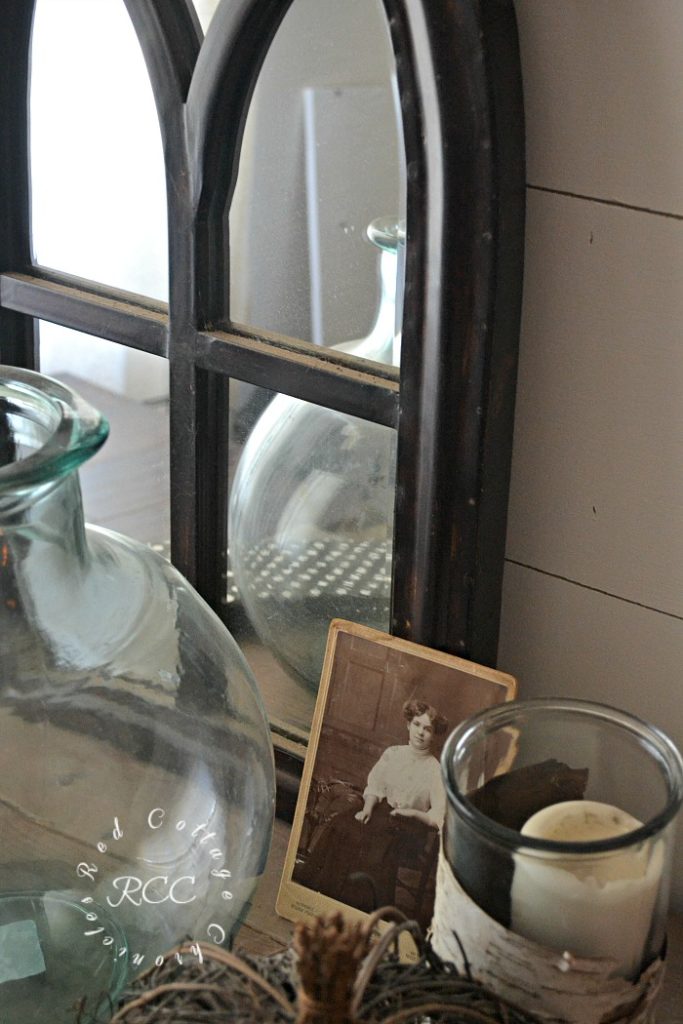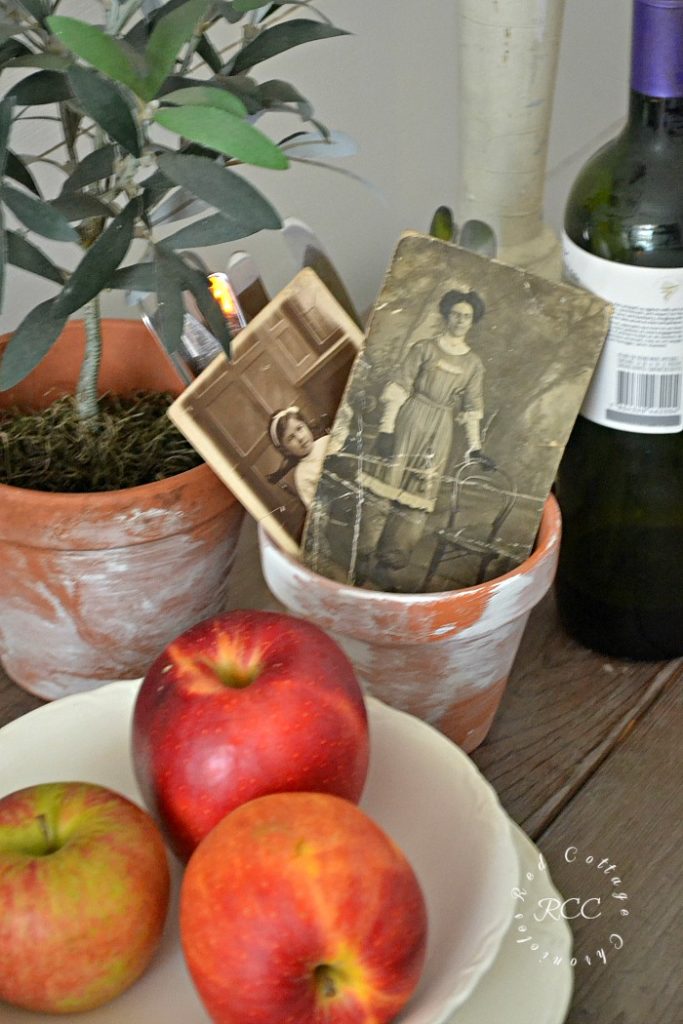 Homemade black candy apples are easy to make, and I gathered a couple of branches from the yard to use as sticks.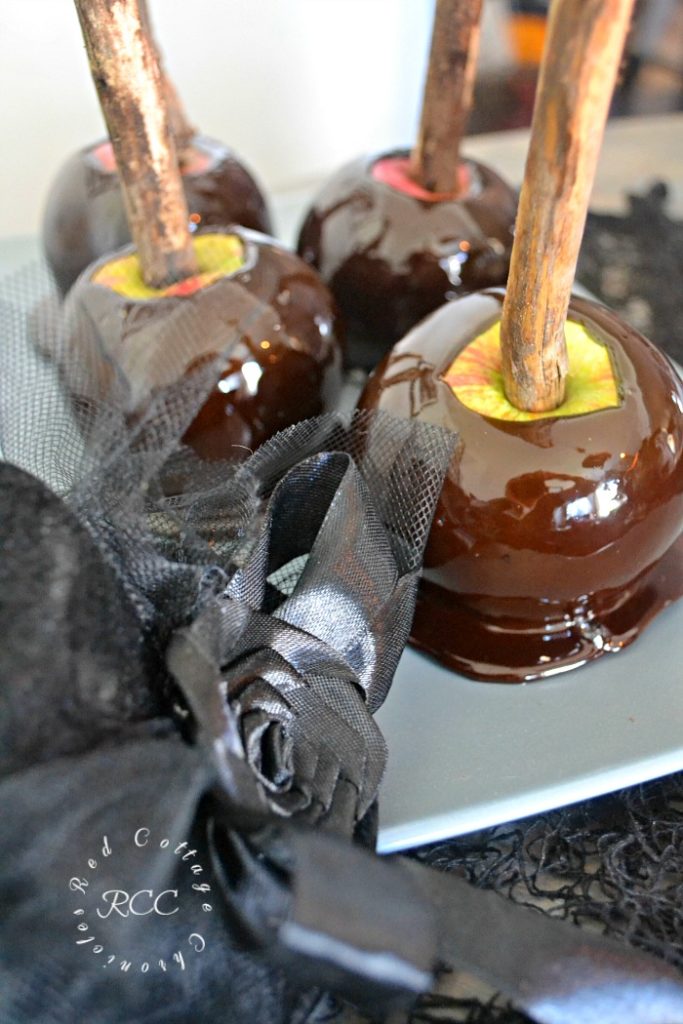 I have to admit I am pretty pleased with my Halloween tablescape since I haven't really decorated for Halloween in years, and the last time I did decorate it was for kids! Not to mention I had nothing to start with but still spent only about $30 and have collected a few things that I can use all year long.
A few more pictures…..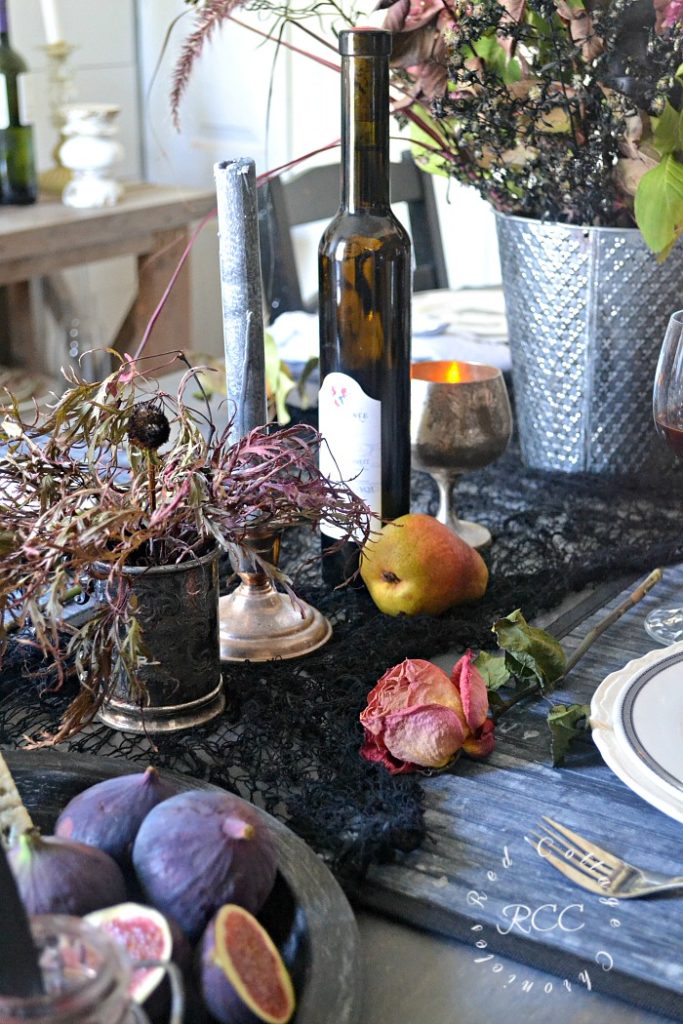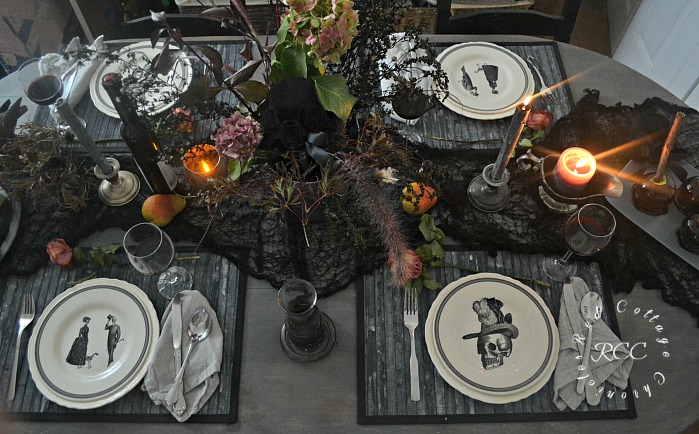 A deep red Merlot fills a wine carafe and wine glasses, and is keeping with the dark, moody feel of the table.
An old tarnished silver mug and wine goblet I already had hold some dried Japanese Maple leafs and a tealight candle.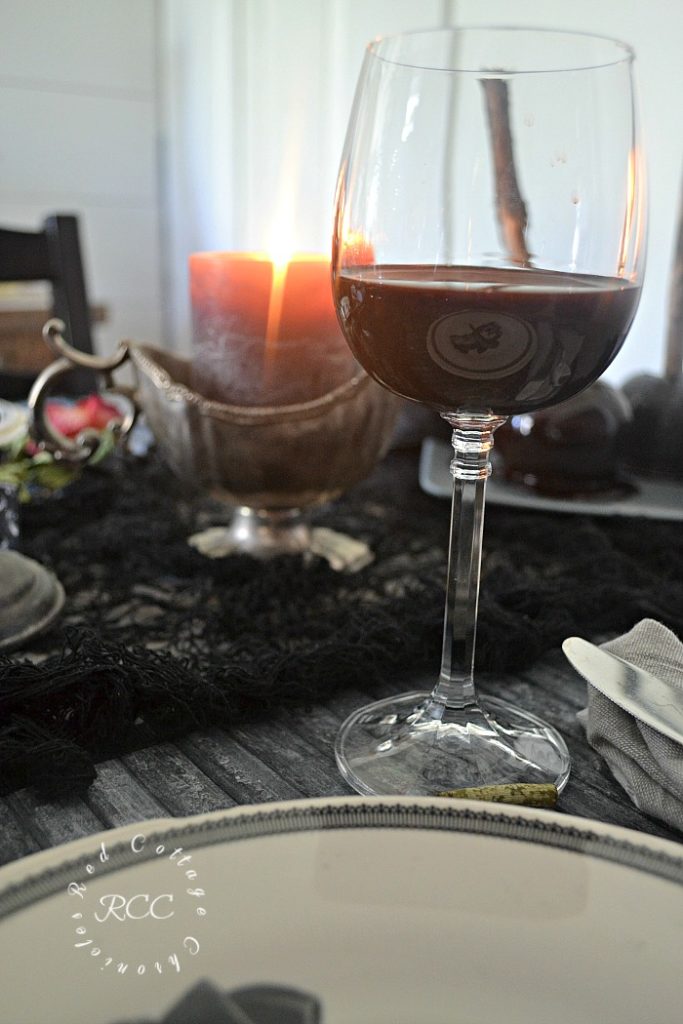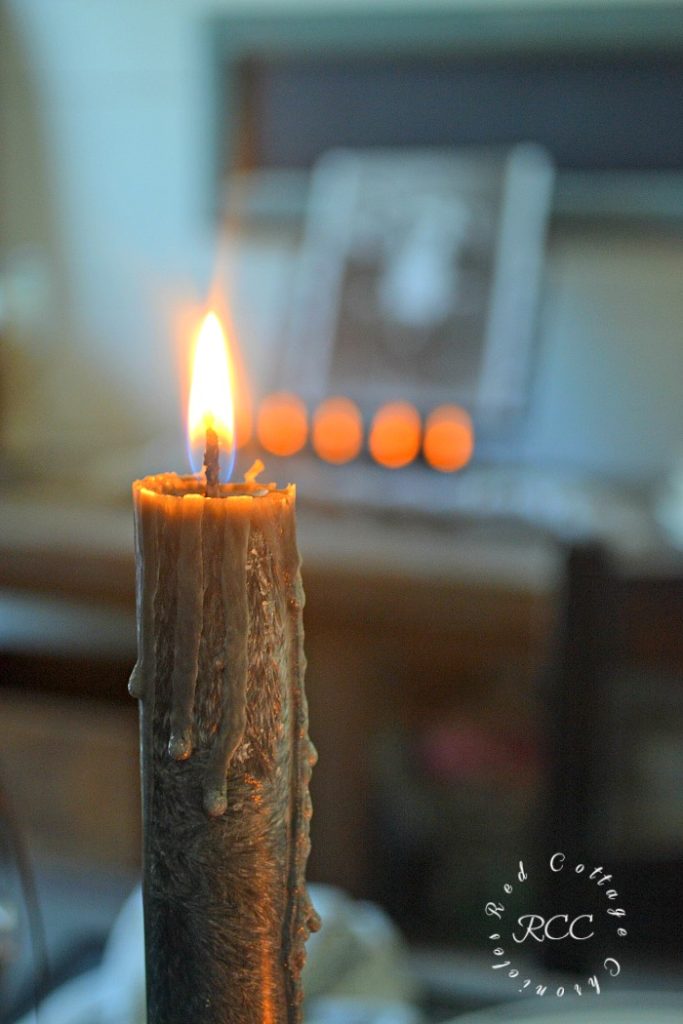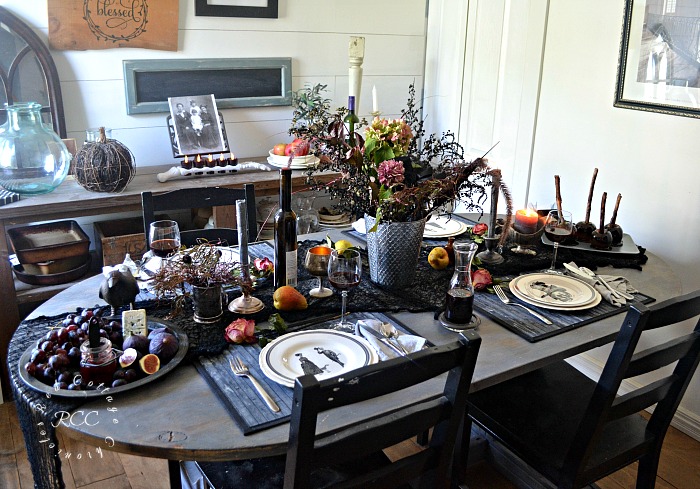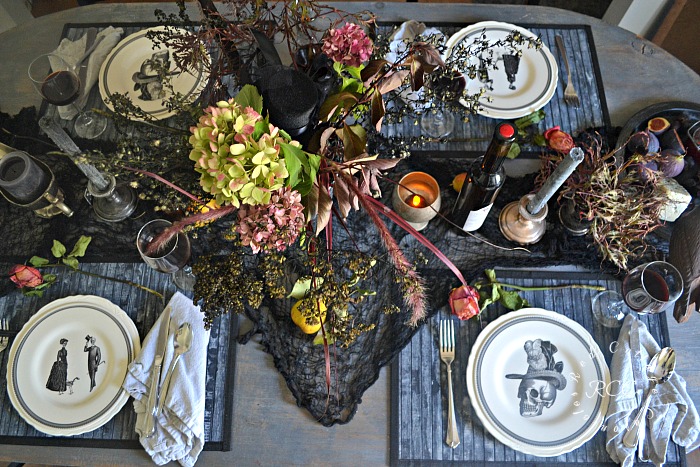 I have had so much fun putting together this Halloween Tablescape. Who knew I would like Halloween more as an adult than I did as a kid!
There is no telling what I will come up with next year!
I am not the only one in the Halloween spirit. Check out all the fabulous Halloween tablescape ideas that have been featured all week long!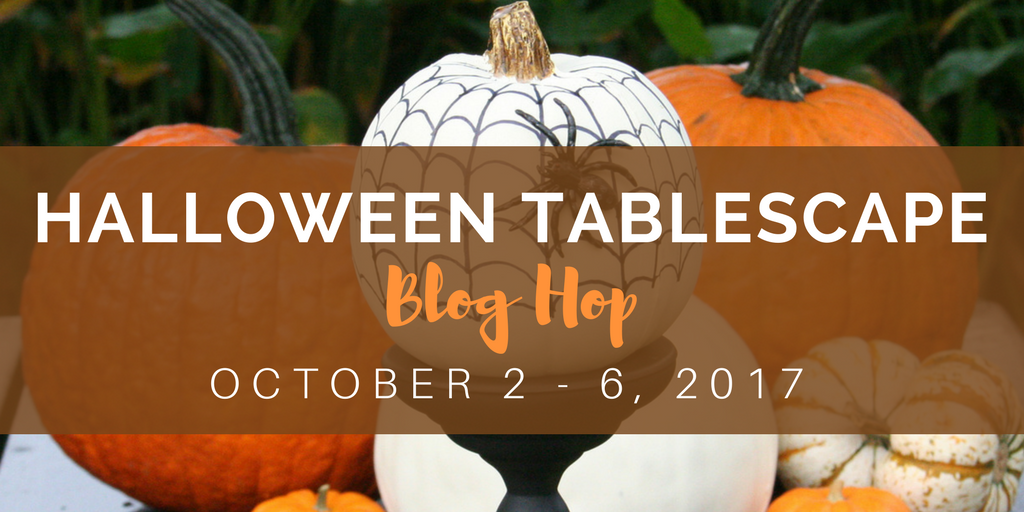 Monday
Belle Blue Interiors
My Carolina Home
Home is Where the Boat Is
My Kentucky Living
Tuesday
Rattlebridge Farm
Corner of Plaid and Paisley
Hey Fitzy
Wednesday
Life and Linda
Me and My Captain
The Painted Apron
Thursday
The Sweet Sensations
Dining Delight
Celebrate & Decorate
Friday
Red Cottage Chronicles
B. Lovely Events
A casa di Bianca
Supper Table Talk
I am also joining the Hauntingly Beautiful Decor Halloween Link Party and you can too!"
Until next time…..