Happy Monday friends! Our weekend was filled to the brim. Usually I approach Mondays with a bit of dread. Not today though. Today is the first day of a late summer tablescape blog hop. I am not only excited my own table, but I also a few summer entertaining ideas.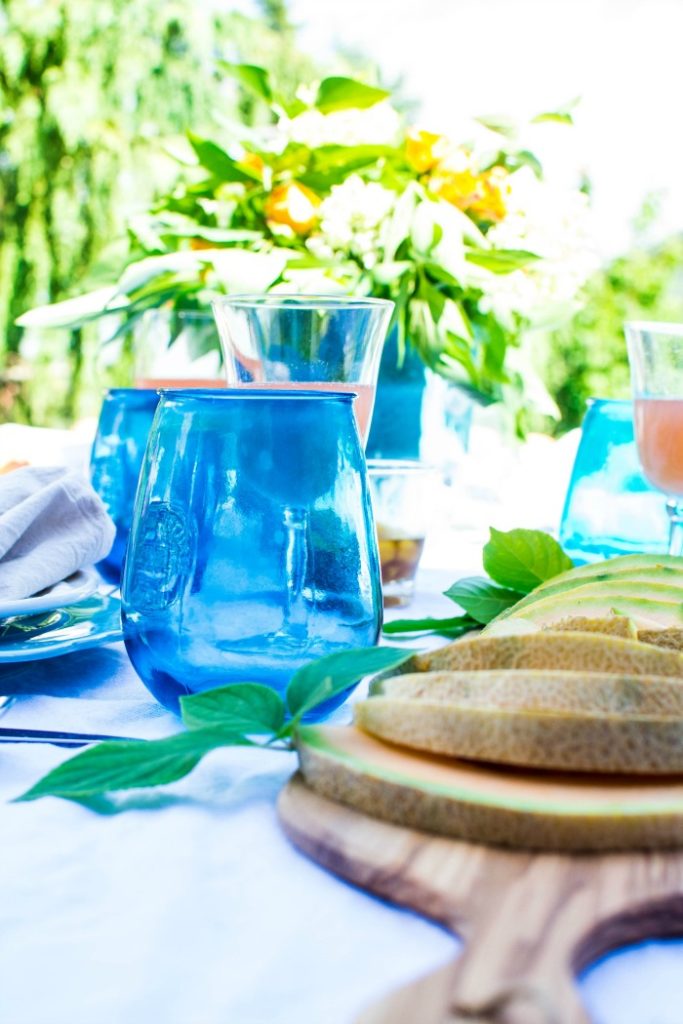 Thanks once again to Chloe from Celebrate and Decorate for organizing this fun monthly blog hop. Everyday from today through Friday 5 new blogger links will go live, so be sure to check back everyday! You can find all the links at the end of this post.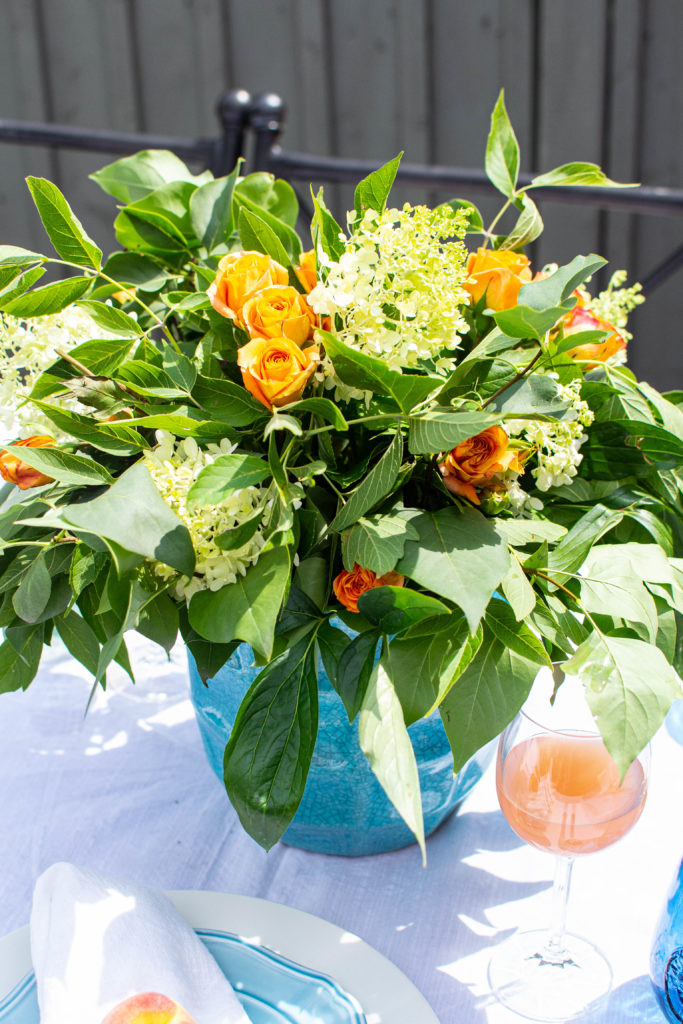 Tip # 1
Make your own easy show stopping centerpiece with just some foraged greens and an inexpensive grocery store flowers.
The centerpiece I made cost just $7.99. I purposely loaded it with greens clipped from my own and a neighbours yard. I wanted a lush green back drop for the flowers. Limelight hydrangeas from my yard and one simple bunch of spray roses in a color to match my overall theme.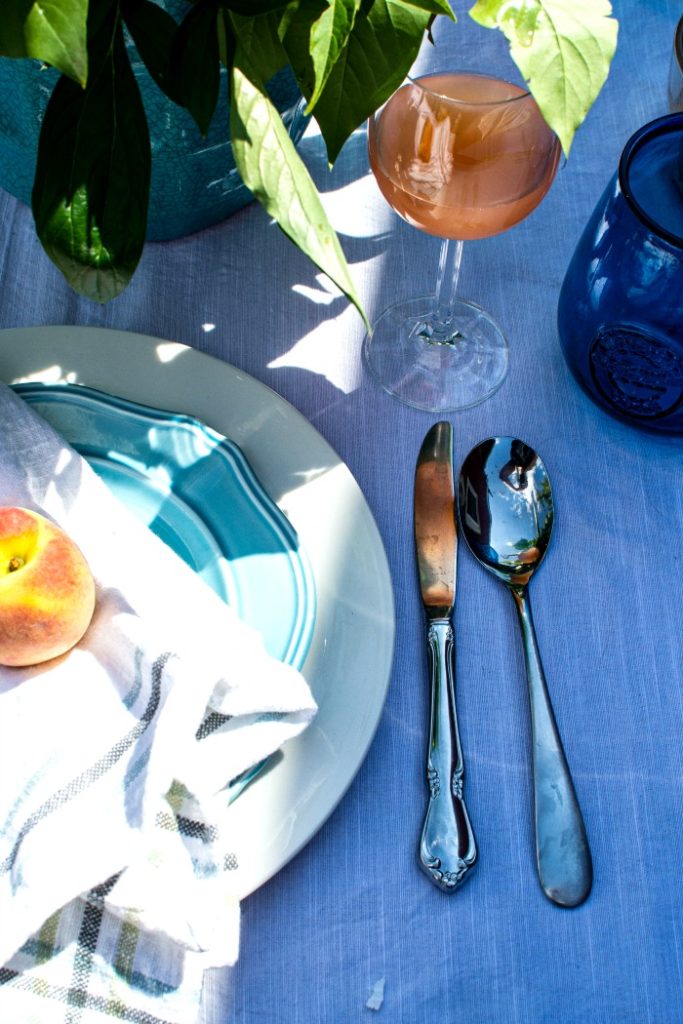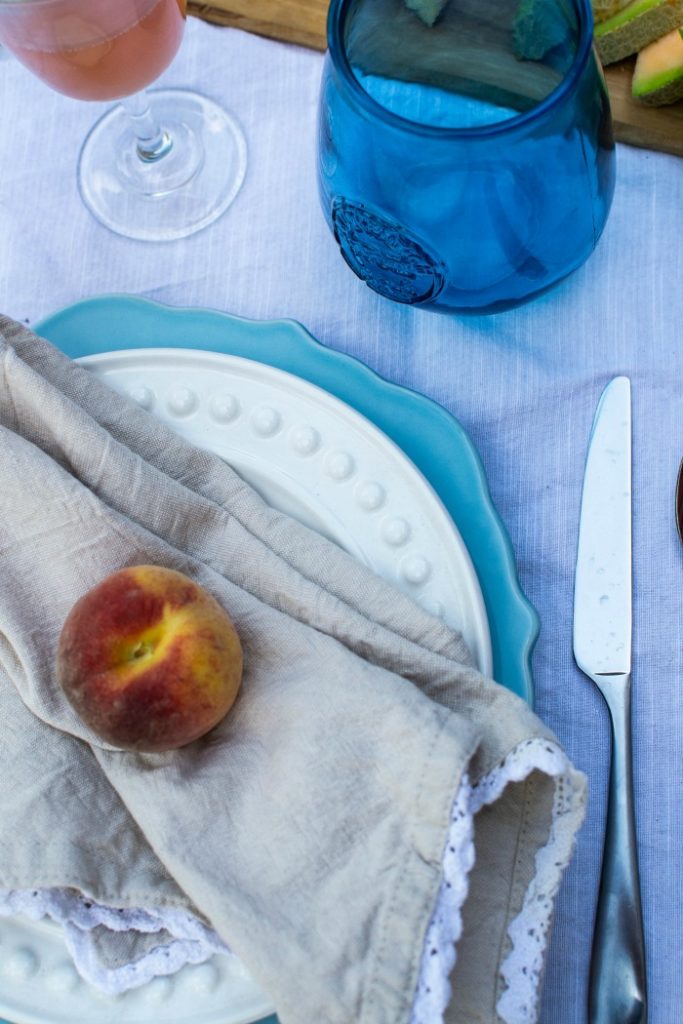 Tip # 2
Use what you already have!
You will notice that all my place settings don't match. Summer entertaining does not need to be fussy. I used my everyday dishes, but I only have place settings for 4 of the white dishes and the same for the blue ones.
Instead of running out to buy more of one or the other, I just mix matched the layered plates. Same for the napkins!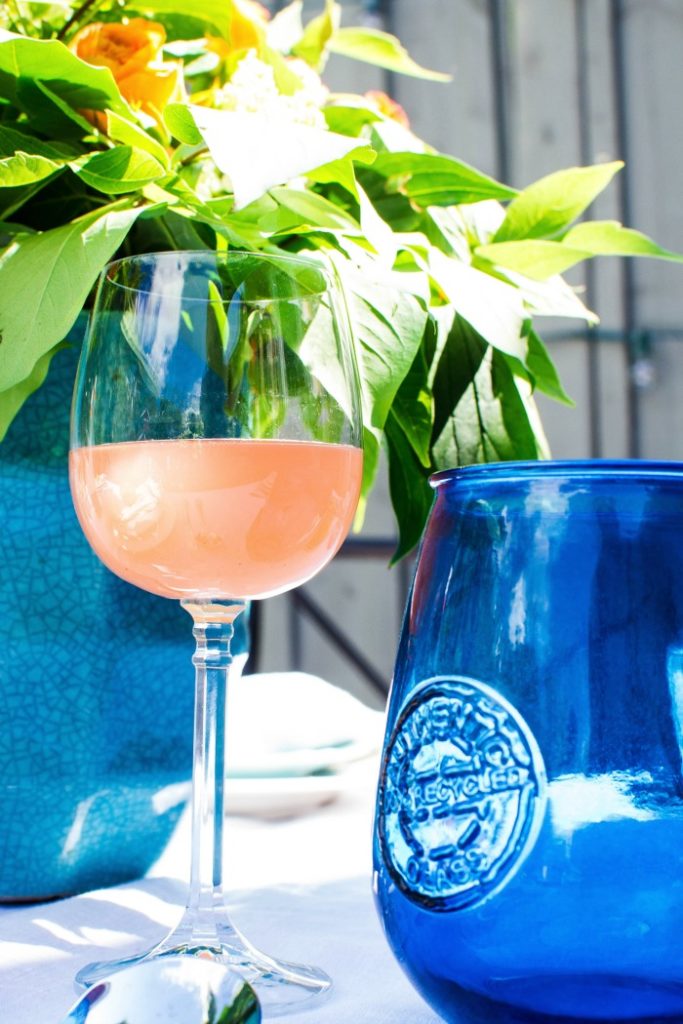 Tip # 3
Purchase simple wine glasses and some bold colored water glasses in a color you love. They will be interchangeable with many occasions.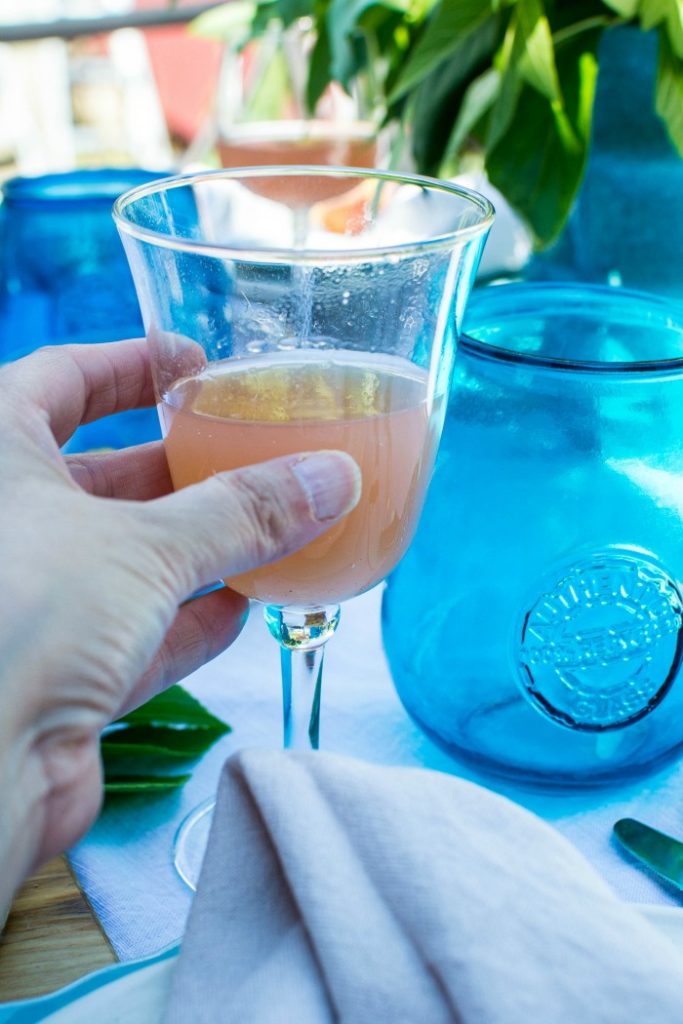 These blue glasses are made from 100% recycled glass, hold a lot and come in a six pack for just $12.99. Since they are recycle glass each one is a slightly different shade of blue and go with so many other different colors.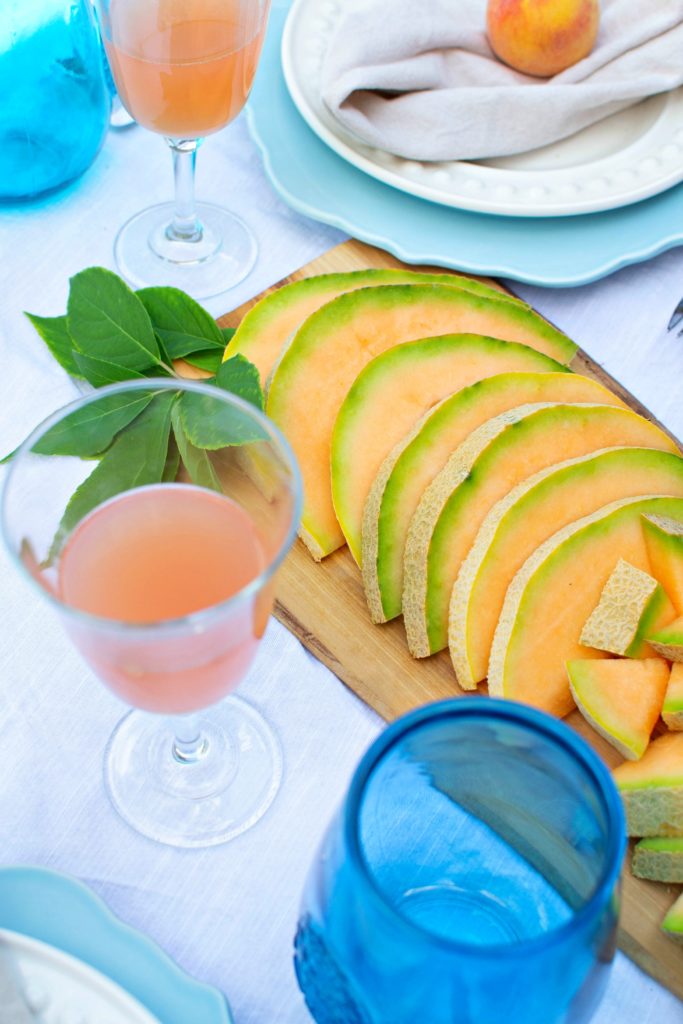 Tip # 4
One of the easiest and most cost effective summer entertaining ideas I use ALL THE TIME is to incorporate food into your overall table décor. Not just any food, but food that you would otherwise be serving and adds color and interest to your table. This and this are more examples of how food can elevate the table décor.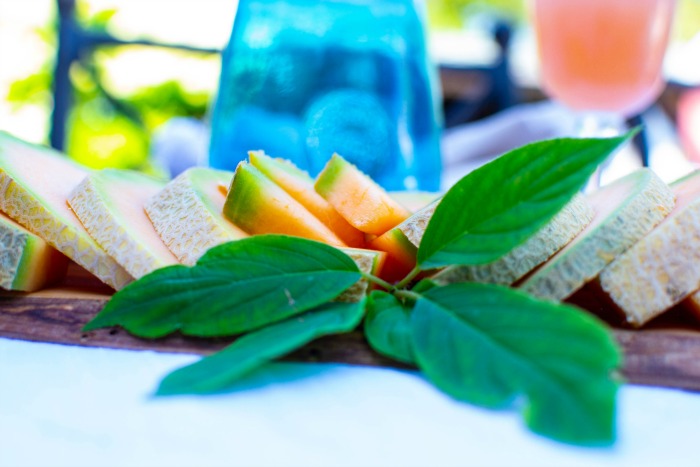 For this late summer tablescape I used cantaloupe not only because we are loving all the melons this summer, but because they compliment the blue and peach color scheme of the table.
Peaches are at their peak here in Niagara and they were the starting point for my entire table design. In fact, it was Peach Festival Weekend! Last year this peach layer cake was a big hit at my daughter's table during the festival!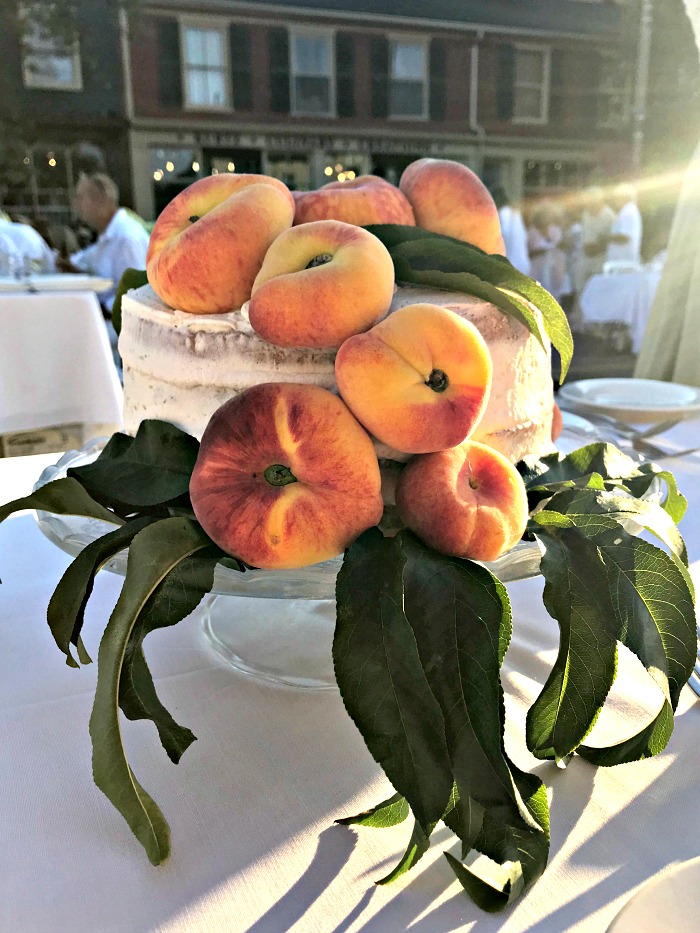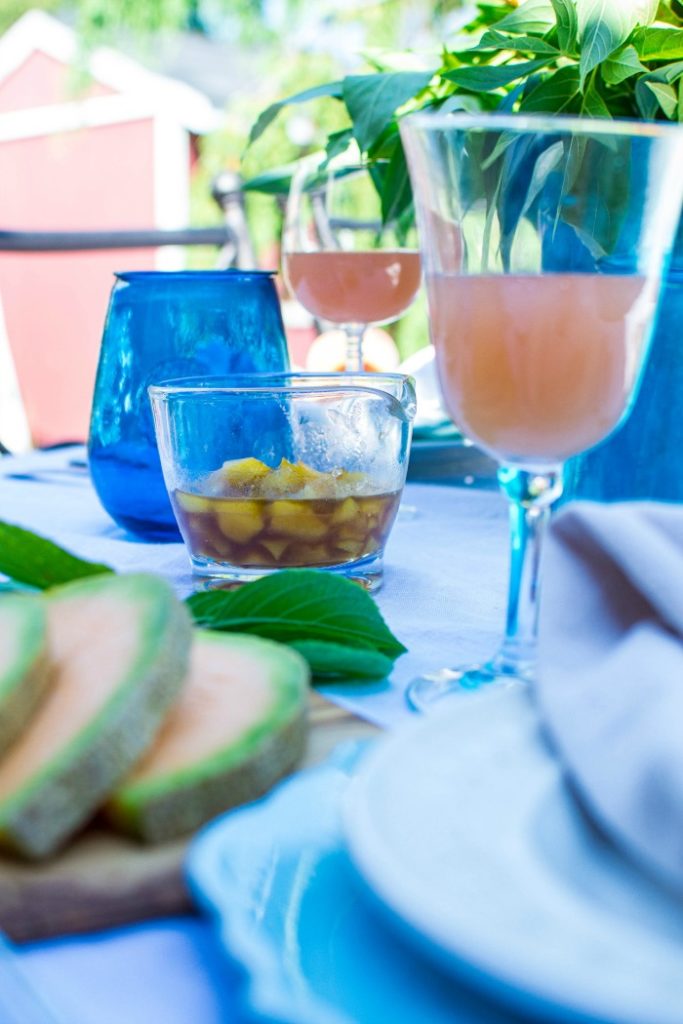 Tip # 5
Serve food that can be prepped ahead of time. Summer salads like potato or pasta salad can be made a day or two ahead. Both are inexpensive and easy. Serve local vegetables that are in season this time of year.
Don't try to make EVERYTHING homemade. Make what you have the time for and purchase one or two things. For instance, I purchased store bought ice cream for dessert, but spent 10 minutes chopping up some fresh peaches and frying them in a pan with some butter and brown sugar. It was so easy, and delicious, and really fancied up plain vanilla ice cream.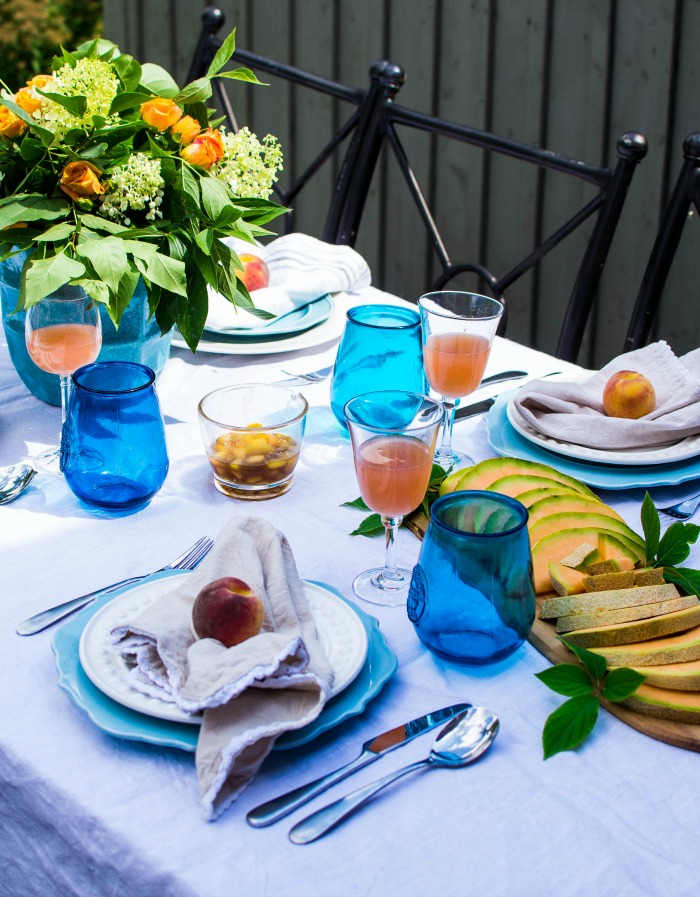 Tip # 6
Keep the table uncluttered.
No need to be over the top with table décor in the summertime. Simple place settings, a centerpiece of flowers or even a charcuterie board, a couple of candles if you wish, is all that is needed.
Not only does it leave lots of room for serving dishes, but also makes clean-up a breeze. Which leads me to tip # 7!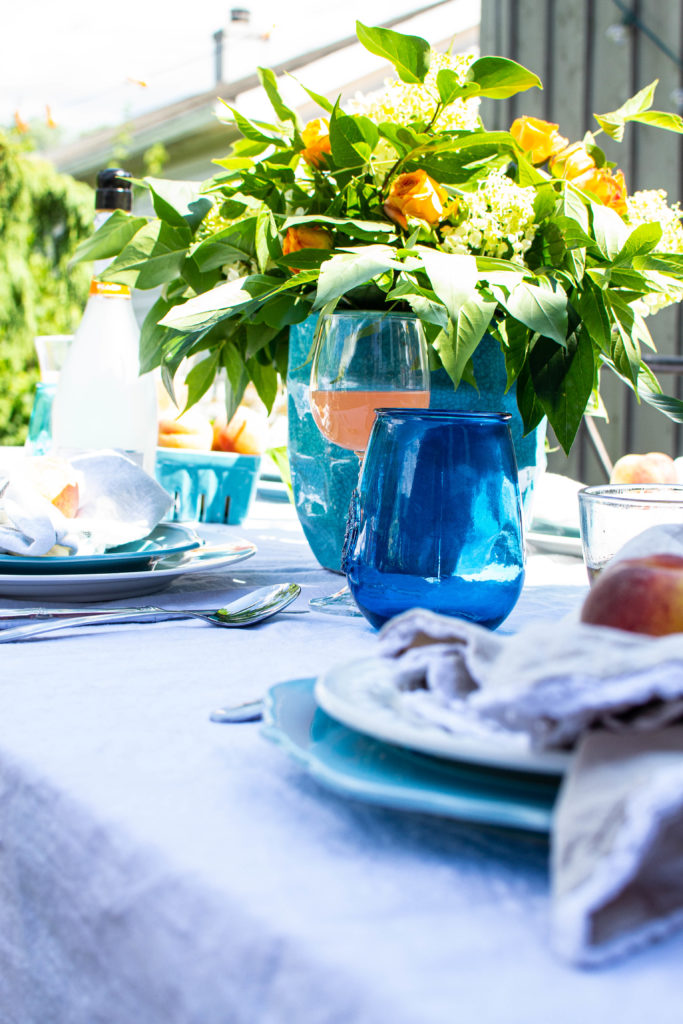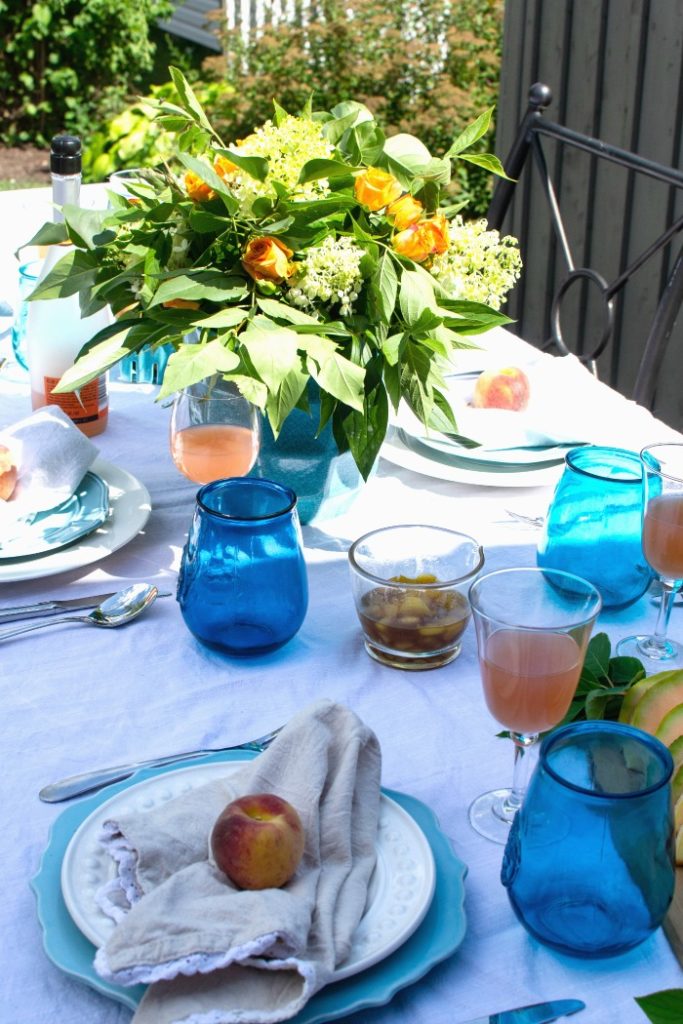 Tip # 7
And the most important tip of all, SLOW DOWN AND ENJOY!!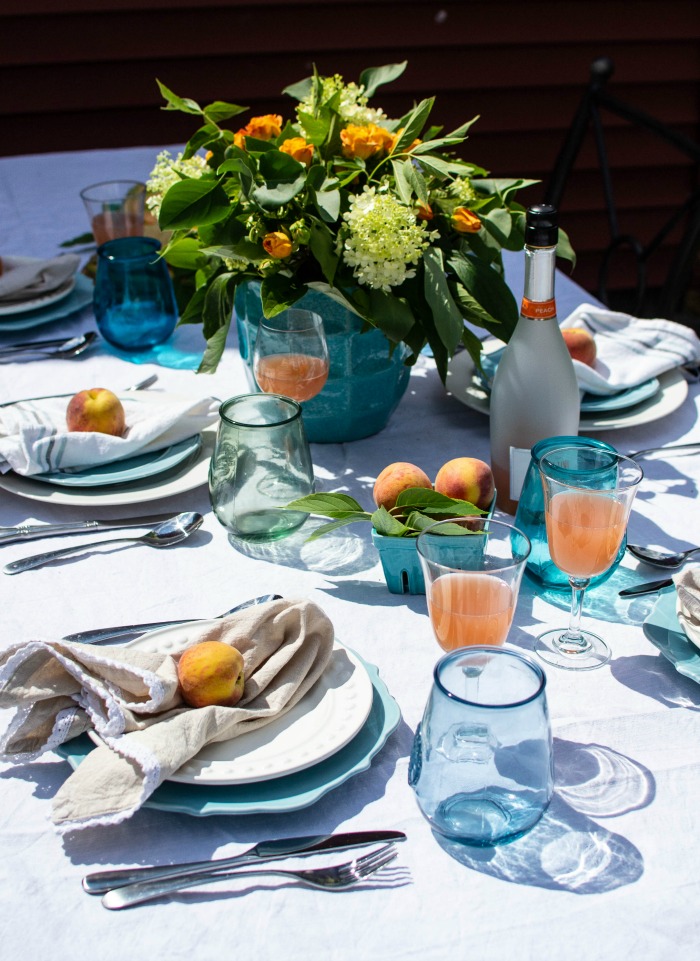 You have taken the time to set the table, prepare the food, invite the people. Now, take the time to enjoy it all right along with your guests. Nothing says summer like lingering a table after a delicious meal.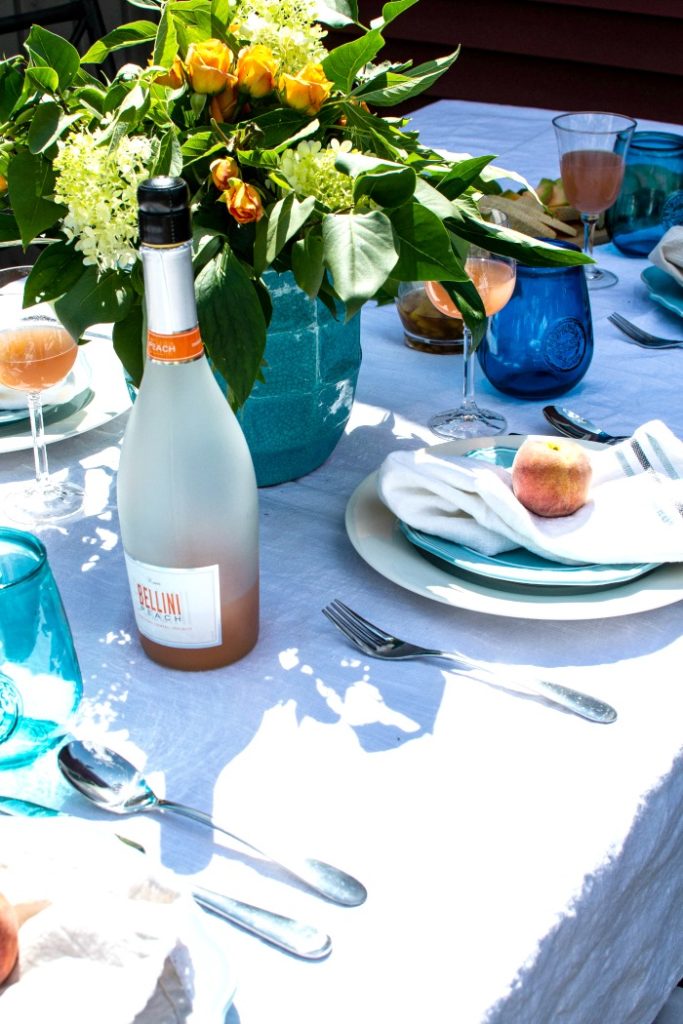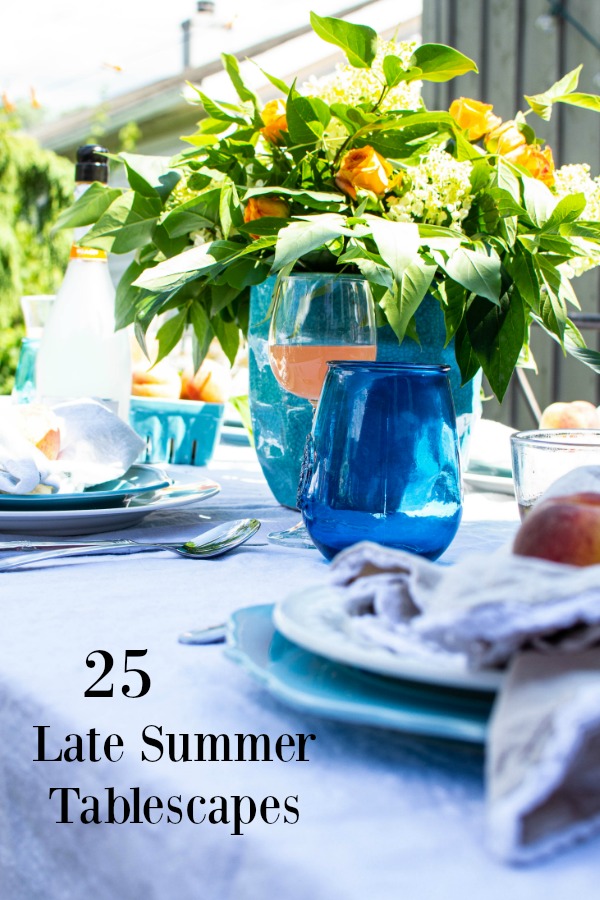 Now that you have gathered some summer entertaining ideas, check out the Monday late summer tablescapes below, and check back every day this week as more inspiration goes live!
Be in the know! It may be a delicious recipe, a stunning tablescape, or decor tips to make your house a home! Simply click here to subscribe. I never sell or share your information, and you can unsubscribe at any time!
Until next time…….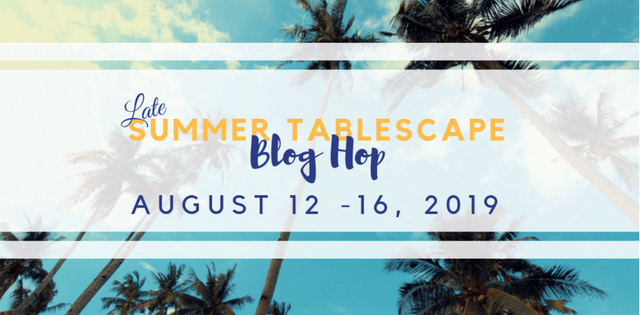 Monday
Debbee's Buzz | A casa di Bianca | Red Cottage Chronicles | The Little Yellow Corner Store | Sweet Pea
Tuesday
White Arrows Home | Living With Thanksgiving | Life and Linda | Everyday Living
Corner of Plaid and Paisley
Wednesday
Home is Where the Boat Is | Celebrate & Decorate | Panoply | The Painted Apron
Thursday
Intelligent Domestications | Sweet Sensations | Our Crafty Mom | Bluesky at Home
Friday
My Thrift Store Addiction | My Family Thyme | Katherine's Corner | Zucchini Sisters