Setting an alfresco early fall dining table is the perfect way to welcome in the new season, while enjoying the last days of warm weather.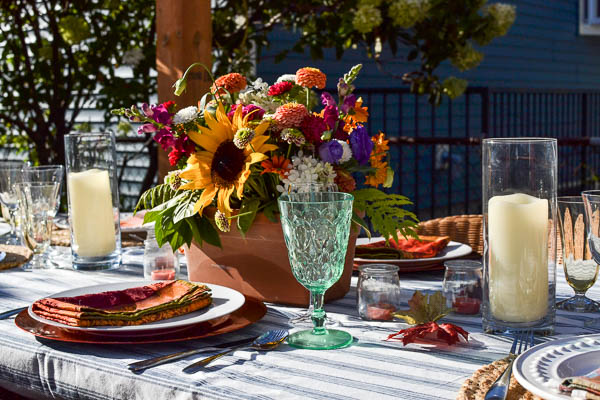 It was almost like someone flipped a switch and the hot humid days of summer have given way to pleasant sunny days!
I, for one was rejoicing! While I do love the arrival of all things pumpkin spice, it is the beautiful weather that I love most about fall. It means we can enjoy dining outdoors for a little bit longer without the hot summer sun causing us run for the air conditioning.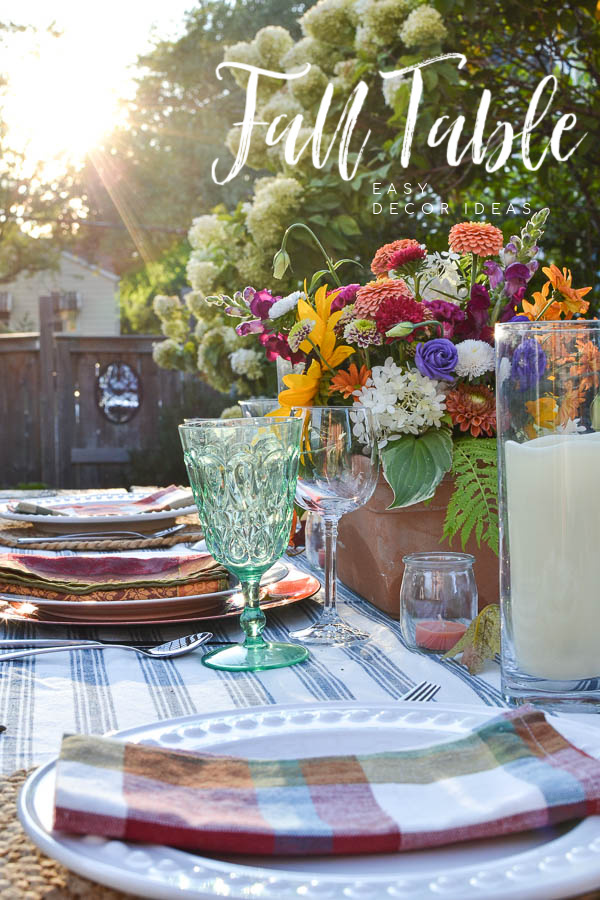 Welcome to all who are visiting for the first time, and welcome back to all who visit often! Today you are in for a treat. I have joined some very talented bloggers as we share ideas for fall table decor, all hosted by Chloe from Celebrate and Decorate. You'll find all the links below!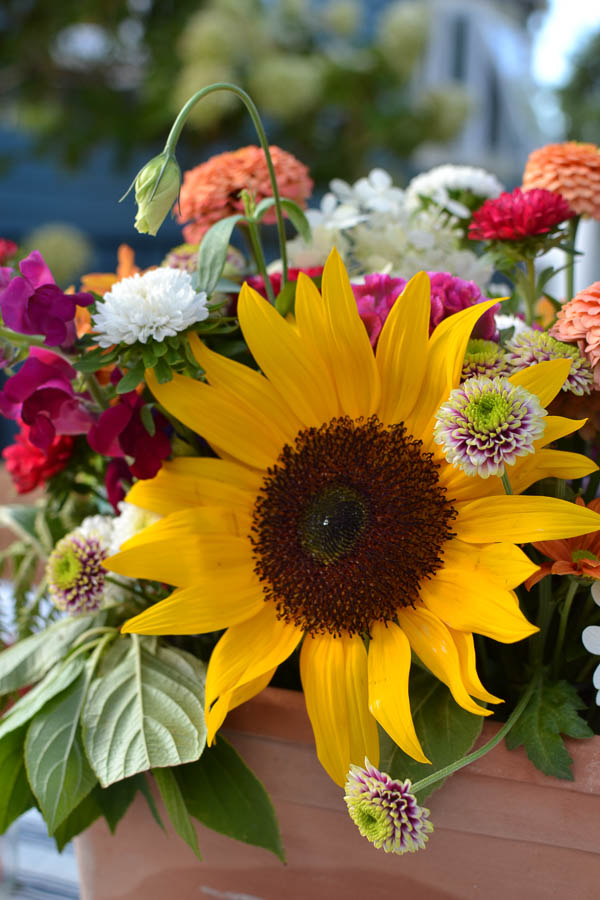 Styling a beautiful fall dining table does not have to break the bank, or take much effort to put together. This table I literally threw together in about 15 minutes. All with things I already had.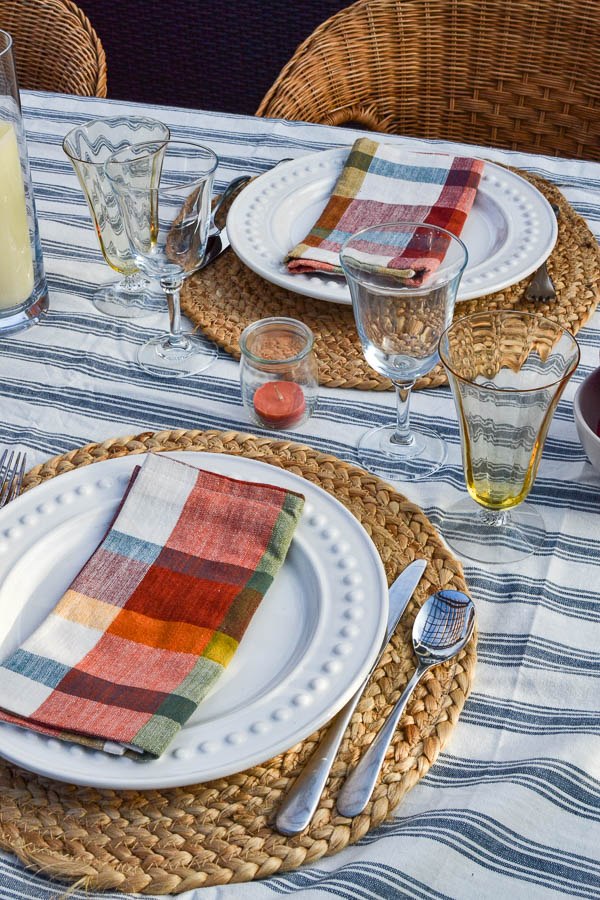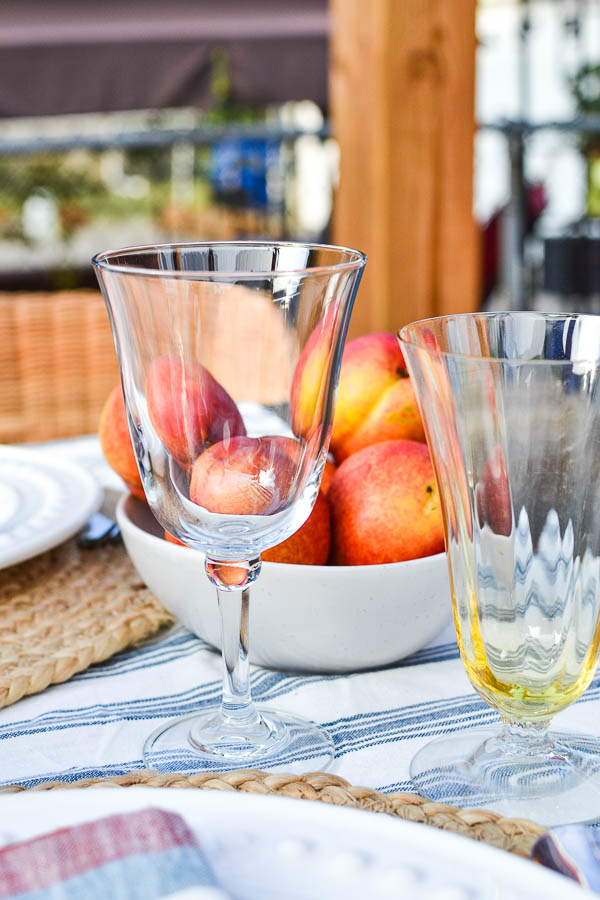 How to decorate a fall dining table
Decide on the vibe of your table. Is it formal, casual, indoors, outdoors, cozy, rustic, etc. I decided on an alfresco table with a casual vibe. Since I live in a small house, I like to make the most out of the outdoor entertaining season. Choosing a relaxed, outdoor setting was my first choice.
Start with your centerpiece. More often than not, flowers, plants or food are the focal point of my table. And, this table was no exception. I was immediately drawn to the jewel tones of these flowers. Stop by your local farmer's market or grocery store and pick up a bunch or two of inexpensive seasonal flowers.
How to arrange a fall centerpiece with grocery store flowers
In this video I show you how to take simple grocery or market flowers to create a stunning fall arrangement. It was the centerpiece for this Halloween dining table.
Shop your home before buying anything. Chances are you have most of what you need to decorate a fall table right in your own home. Be sure to look beyond the obvious.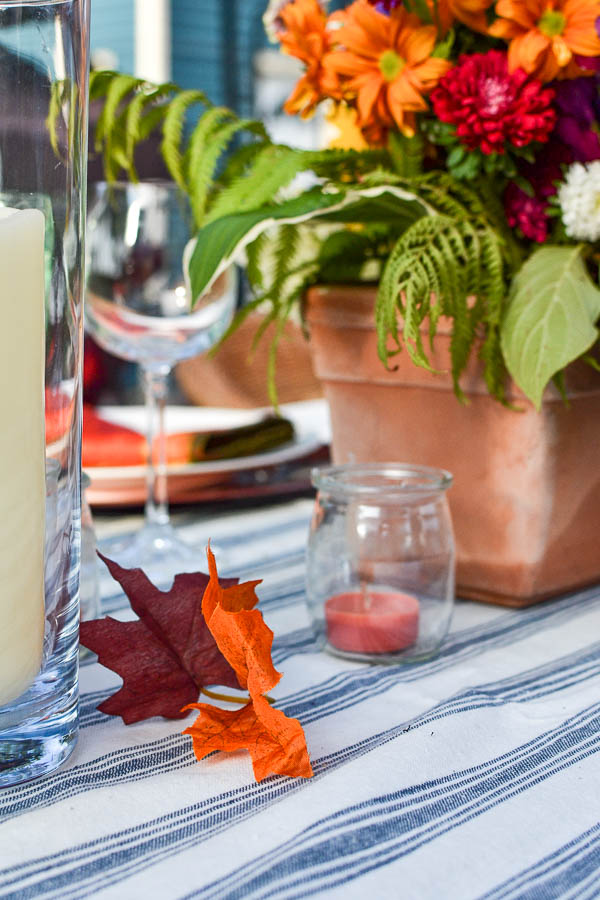 These little glass yogurt jars I had been saving were put to use with orange tealight candles. They add both color and ambiance.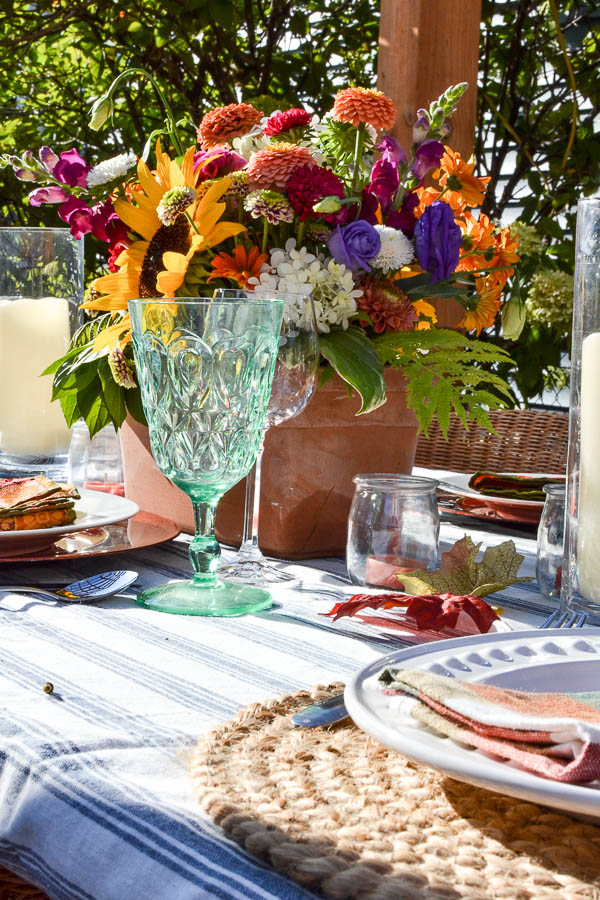 I found the vessel for the centerpiece in my garden shed. Since it wasn't meant to hold water, I simply used two drinking glasses set inside to hold the water and arranged the flowers into the glasses.
Invest in simple white dinnerware. White dinnerware is so versatile. It is timeless and transcends all seasons and occasions. I have two sets. One I purchased from HomeSense (similar here) and one from Pier One.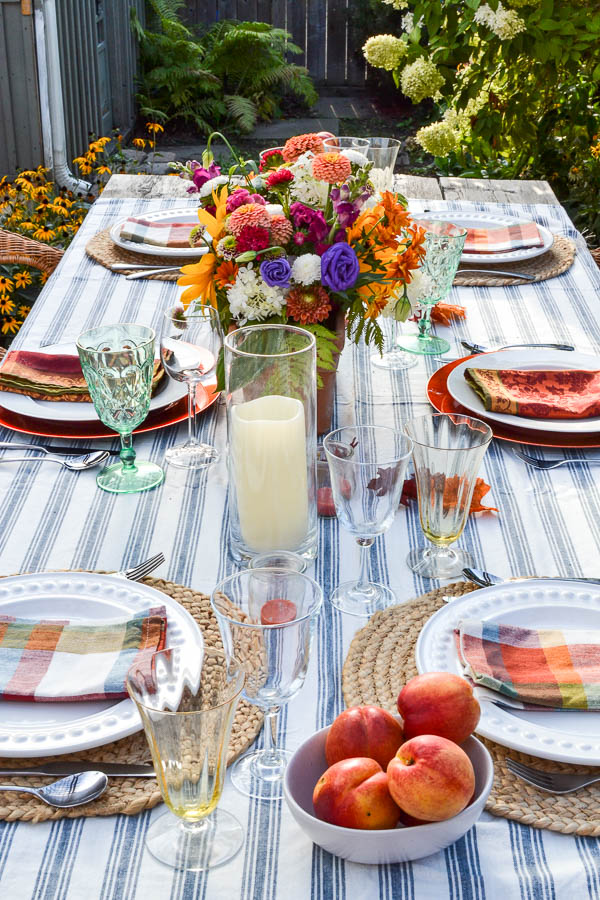 Don't be afraid to mix and match. I have loads of napkins. Just ask my husband whenever I find more I like! But many are only sets of four. Doesn't bode well when I am setting a table for six or eight! No problem though, I find two patterns that either compliment each other or completely contrast and use them together! Same goes for plates, placements, charger plates, glasses and flatware.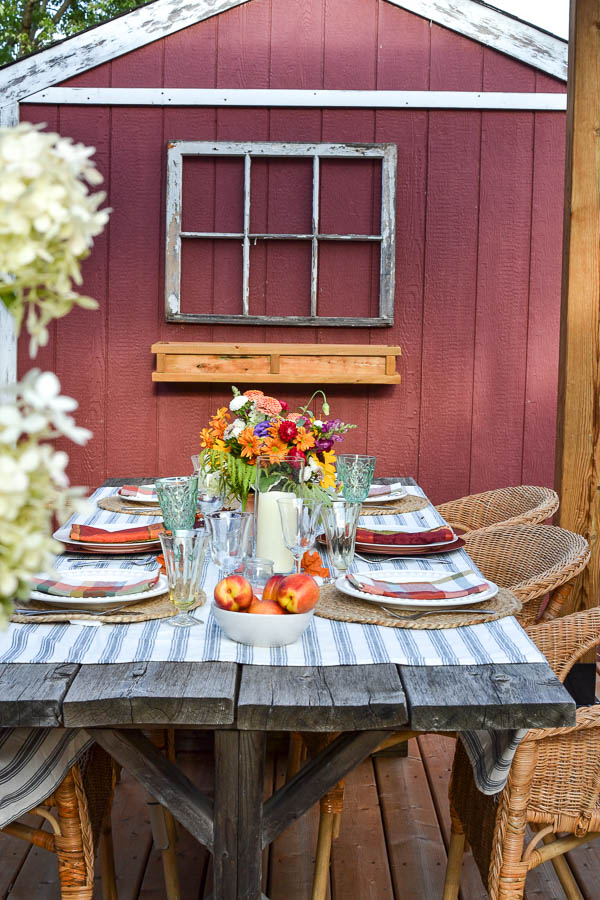 Keep it simple. While I love a beautifully adorned table, I also like to keep it simple and avoid overcrowding. Don't feel like you have to fill up every inch of table space. Remember, you want room to put the food! A few simple touches, like faux fall leaves sprinkled throughout the table add a pop of color without taking up a lot of space.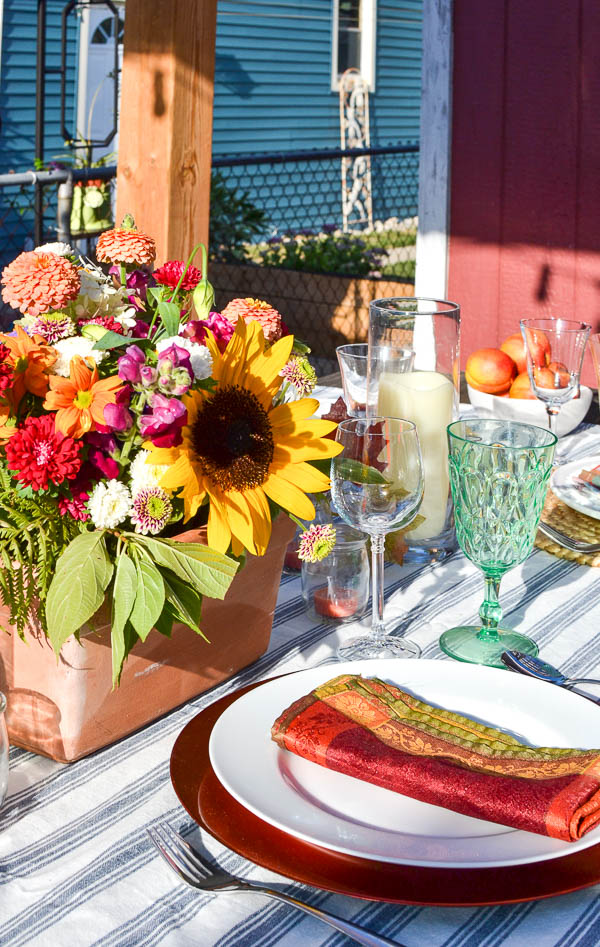 Add elements of fall while keeping the overall feel light and airy. Adding the traditional colors of fall such as rich yellow, orange and reds, and combining them with some lighter tones are the perfect blend for an fall table decor. I used a ticking stripe tablecloth with a muted blue stripe to add a bit of brightness while still feeling the coziness of fall.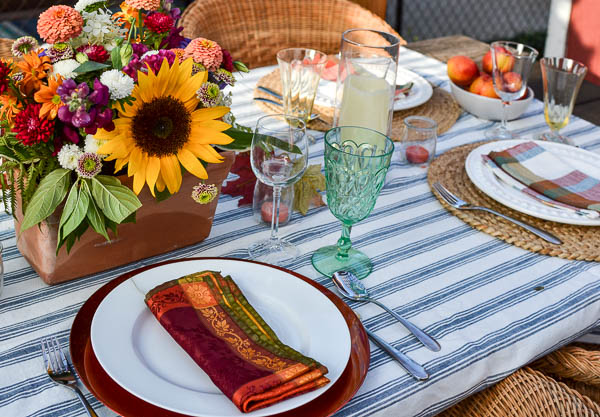 Relax and enjoy! This tip probably should be at the top of the list! Because, not matter how meticulous and beautiful your table, an uptight and frazzled dinner party host can spoil the mood faster than a spilled glass of red wine!
Who says you have to make the entire meal? Ask guests to each bring a side dish and you supply the main. Choose a menu that allows you to make things ahead of time, or just order take-out! Whatever it takes to make the evening a fabulous time with family and friends!
Find more tips for decorating a fall table here!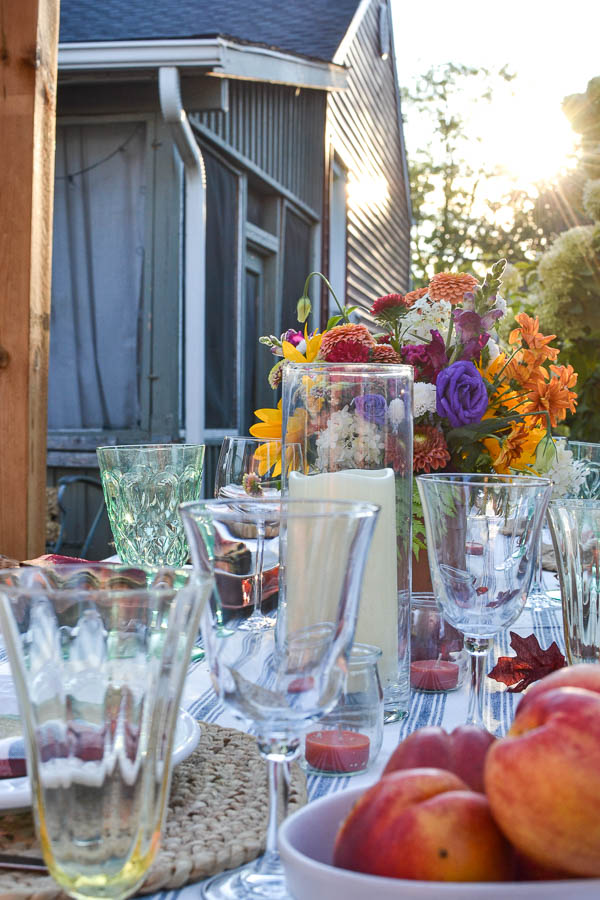 We had a great time celebrating the unofficial start of fall after I set this table. Since Labor Day looked a lot different than most years I wanted to do something special for my family.
Usually we are celebrating with community fireworks, a parade and carnival, all topped off by a big backyard barbecue. But this year all the festivities were cancelled and large gatherings are discouraged.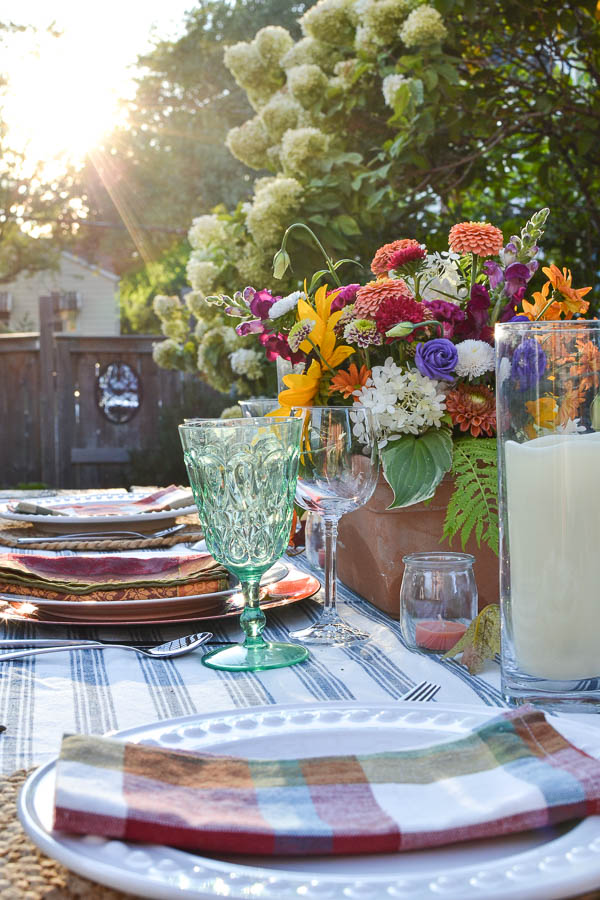 With the sun just starting to go down behind the houses, the glow of the evening was perfect. My husband and I hosted a few family members for a simple barbecue and lively conversation. This alfresco fall dining table decor was just the icing on the cake!
I truly hope I have inspired you to create a pretty table for yourself and your own family or friends! It truly is one of life's simple pleasures!
Be in the know! It may be a delicious recipe, a stunning tablescape, or decor tips to make your house a home! Simply click here to subscribe. I never sell or share your information, and you can unsubscribe at any time!
Until next time…..

18 More Inspiring Fall Tablescapes

Celebrate & Decorate | Design Morsels | Mantel and Table | Corner of Plaid and Paisley | Home is Where the Boat Is | Belle Blue Interiors | Calypso in the Country | Our Crafty Mom | My Thrift Store Addiction | The Painted Apron | The Little Yellow Corner Store | Sweet Sensations | Living With Thanksgiving | Panoply |Life and Linda | Everyday Living | Bluesky at Home |Life at Bella Terra | Red Cottage Chronicles | Cozinest