If you ask me, the arrival of fall is reason to celebrate! Today I am sharing a simple autumn brunch table setting perfect for a leisurely weekend get together.
I am also joining 17 table styling enthusiasts to bring you loads of inspiration for setting beautiful tables when entertaining this fall! You will find all the links to their posts below. Thank you to Rita from Panoply for gathering us all together.
Hosting a brunch is one of the easiest ways to entertain, and a casual autumn brunch can be almost effortless.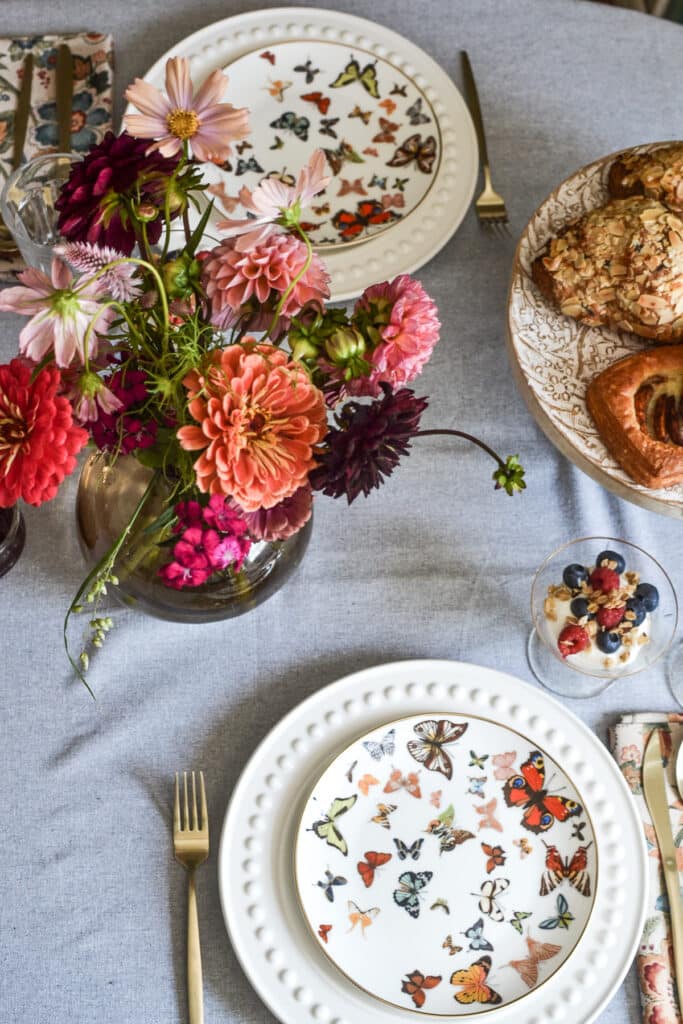 What to serve for brunch
What makes serving brunch so easy? There is no need to make everything you plan to serve!
I paid a visit to our local bakery and purchased some delicious pastries.
Other things you can purchase to save time (and sometimes money) frozen Belgian waffles and a pre-made cheese board. Bagels and cream cheese and fresh fruit and greek yogurt are other great options.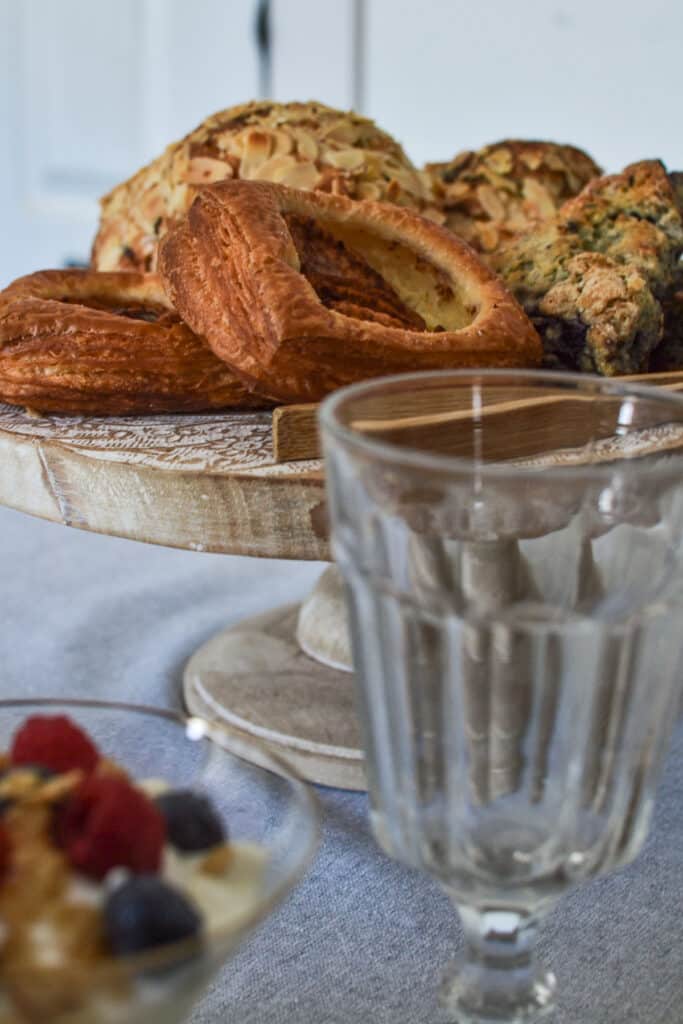 Breakfast casseroles are always easy and welcome additions to any brunch!
These gluten free blueberry muffins can be made a day ahead, ready to pop onto the buffet or table for brunch.
One of our favourite additions to brunch are these crispy roasted dijon mustard potatoes. You can easily boil the potatoes the day before, and then simply pop them into the oven to roast in time for brunch!
A selection of juices, tea and coffee are a necessity at the brunch table.
I baked up this apple cinnamon brie and will be sharing the recipe soon! It looked so pretty on the table, and was a big hit.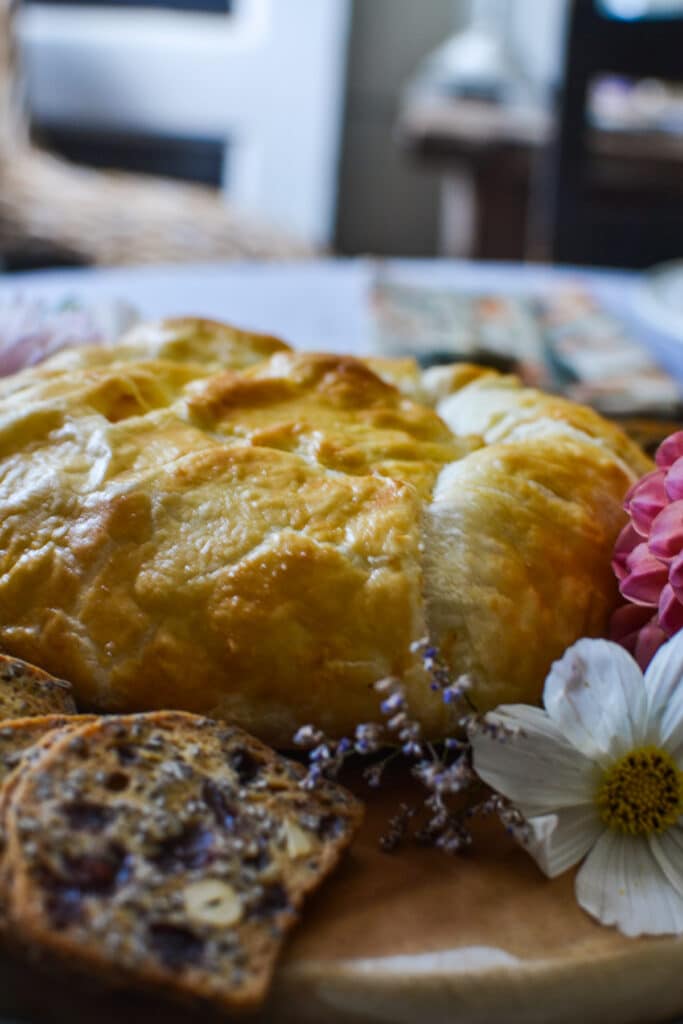 How To Set A Casual Brunch Table Setting
I took a very casual approach for my brunch table setting, while giving a nod to autumn that is on our doorstep. Even some of the leaves are starting to show a hint of changing.
These adorable butterfly plates were purchased at my favourite event rental company. I love the colours of autumn with the oranges, browns, greens, with a hint of blue. They are perfect for pastries and muffins, while leaving my everyday dinner plates for the heartier options.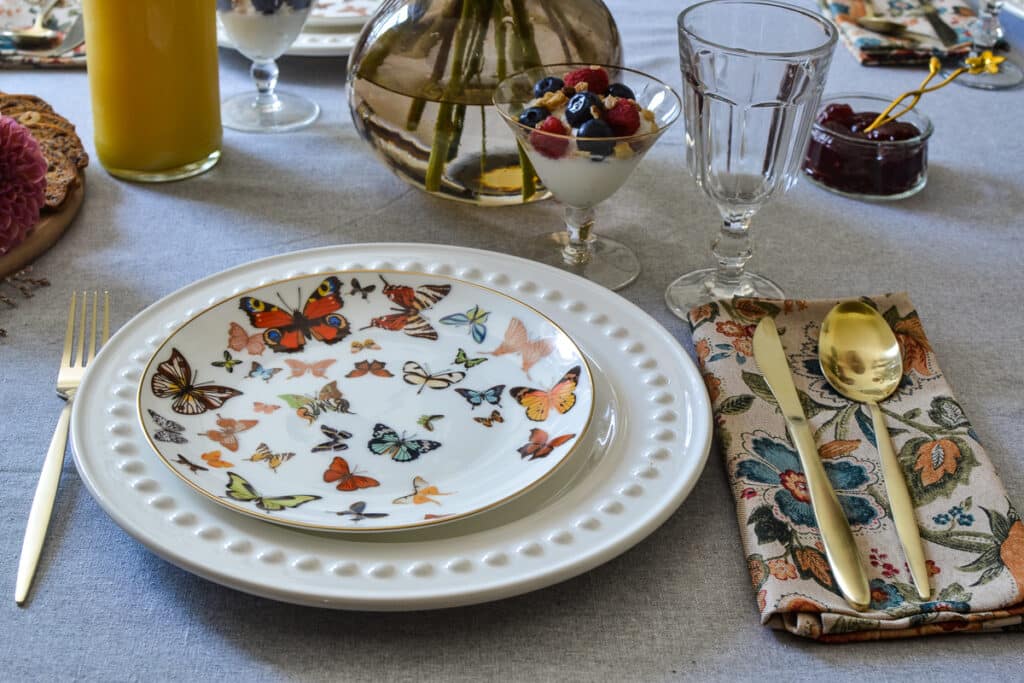 My everyday footed glasses are perfect for orange juice, or even a mimosa or two! Fruit yogurt parfaits add colour and texture.
The napkins compliment the colourful plates and dahlia arrangements, while a soft gray tablecloth provides the backdrop.
Gold flatware matches the rim of the butterfly plates and I love the warmth of the brushed gold for autumn.
I would love for you to take a peek at this quick video where I show you how the table came together!
Simple Floral Centrepiece
I picked up these matching vases at Homesense for under $10 each. I love the warm colour of the glass. And soon as I saw them I knew they would not only be perfect for this table, but that I would get a lot of use out of them.
A visit to a nearby farmers market was just the place to purchase these gorgeous blooms. I bought a big bunch of dahlias in all the most beautiful autumn colours, plus a smaller bunch of cosmos and zinnias.
I simply arranged a few of each flower in my hand, and popped them into the vases.
The best part is I was able to enjoy them for more than a week after! Having flowers around the house is my favourite way to elevate the everyday!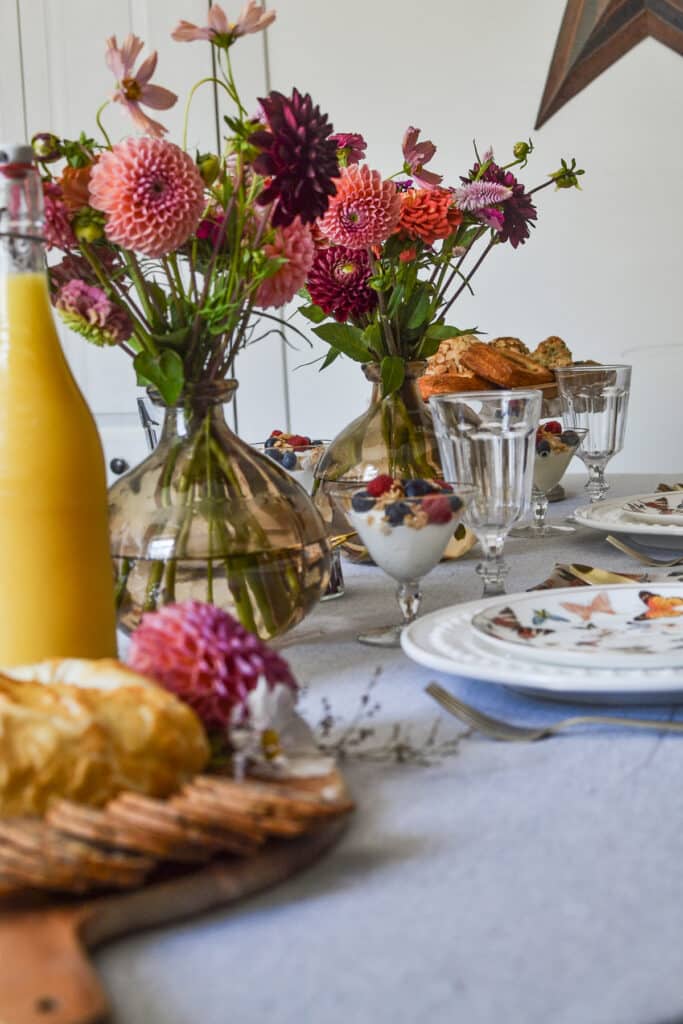 It was just a couple of years ago that I was able to set a beautiful autumn table outdoors, but this year the weather has started to cool in the evening and rain has dampened things a bit so I opted to set this table for brunch inside.
Spending a bit time of choosing the linens, dinnerware, centrepieces, and adding your own personal touch can create a warm and inviting ambience that sets the stage for yummy food and lively conversation. So next time you gather with friends or family for brunch, take some extra time to style a brunch table setting, and watch how your guests easily relax and enjoy your hospitality.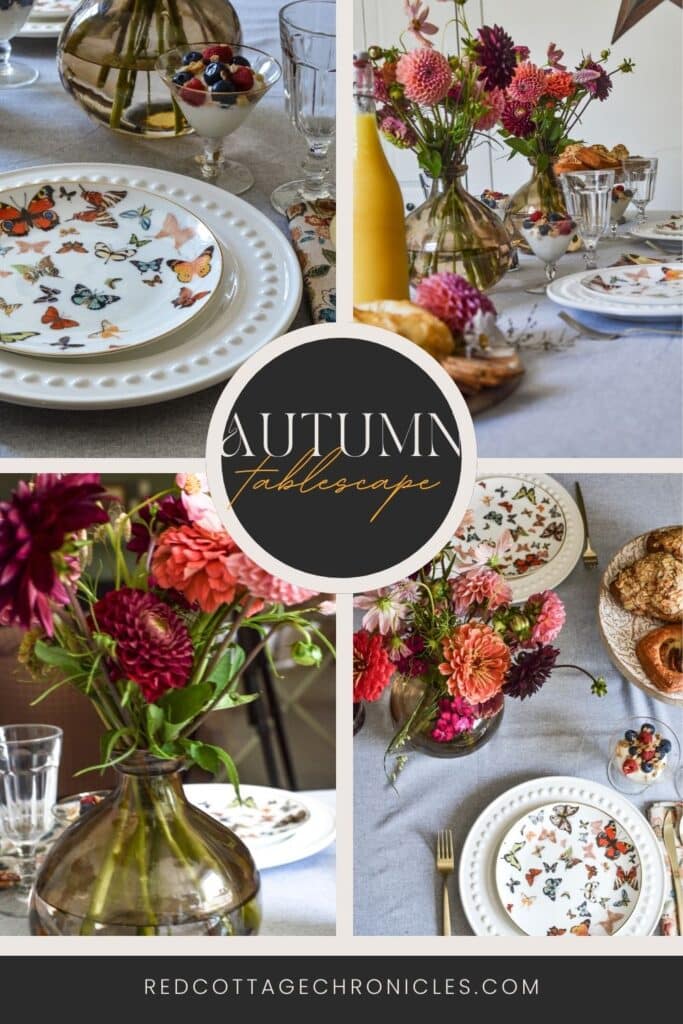 Now its' time to visit the very talented ladies below and see what they have envisioned for the autumn season!
Panoply – Welcome Fall: Mottahedeh Chelsea Bird Tablescape
Hyacinths for the Soul – Welcome Fall, A Tablescape on the Terrace
Everyday Living – Autumn is My Favorite Color
Home Is Where the Boat Is – Sunflowers and Pumpkins
Life and Linda – A Fall Wine Dinner
The Bookish Dilettante – Falling Leaves Tablescape
The Little Yellow Corner Store – A Gathering of Mushroom Joy
Me and My Captain – Goodbye Summer Hello Fall
Bluesky at Home – How to Set a Soft and Neutral Table for Fall
Thrifting Wonderland – Savor the Moment…Fall Tablescape
Dinner at Eight – Setting the Table for Early Autumn
My Thrift Store Addiction – Bountiful and Budget-Friendly Autumn Tablescape
The cat's whiskerz – Welcoming fall with a spicy tablescape
My Hubbard Home – Welcome Fall with a Harvest Blessings Table Setting
Belle Bleu Interiors – Anticipating Autumn's Arrival
Corner of Plaid and Paisley – Fall is Time for Football
The Painted Apron – Celebrating Fall