Whole Wheat Everything bagels that are made without yeast, dairy or eggs, but are oh so good!
Have you ever wanted to make your own bagels? I know I sure have. Nothing is better than homemade! Plus, I like knowing what is in my food!
The problem is whenever I think about making bagels, it is usually one hour before I am hosting brunch, or just as I get up on Sunday morning, craving a healthy breakfast!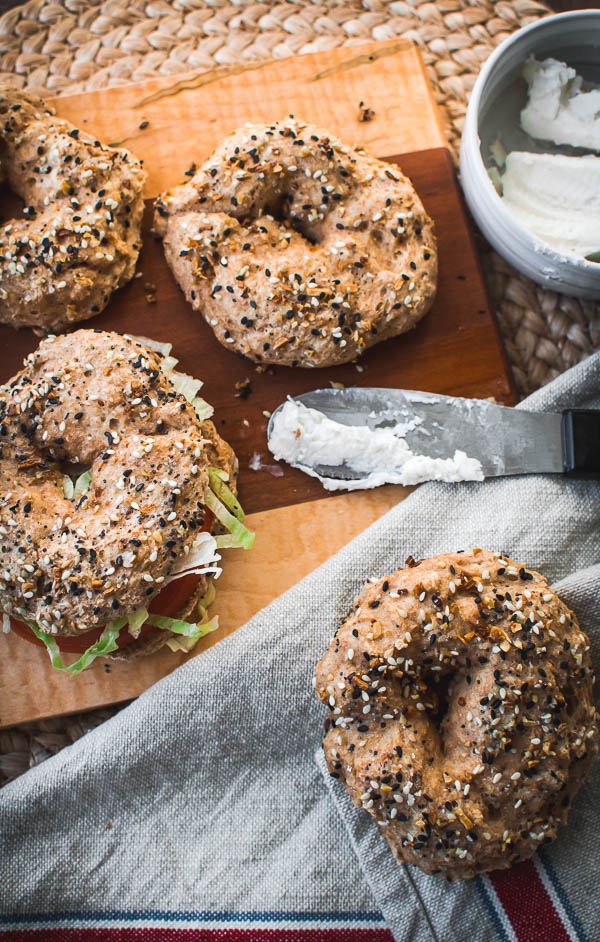 If you have searched whole wheat bagel recipes recently, then you know most bagel recipes take hours to make.
Well, these healthy whole wheat everything bagels require no yeast, which means no need to wait for them to rise. You can have them in the oven in under 10 minutes. They take just 25 minutes to bake, so they are warm from the oven exactly when I want them!
Now, what you may not know is that, for a while now, we have been eating a plant-based diet. Plus, for the past 7 weeks I have completely eliminating sugar from my diet!
Most of the regular bagel recipes I came across were brushed with an egg wash, and had sugar in the ingredient list. Plus, even though they were whole wheat, they still called for all purpose flour.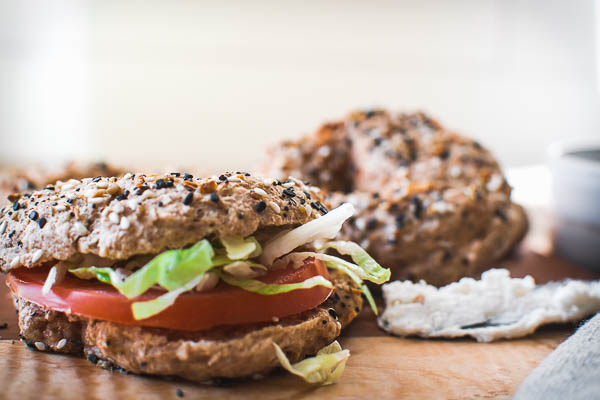 This recipe is adapted from a recipe available in the 8 Week Challenge program. (I will be sharing more about this soon.) With just few easy substitutions from the original recipe, these bagels are vegan friendly, and packed with whole grain wheat and whole grain spelt flour.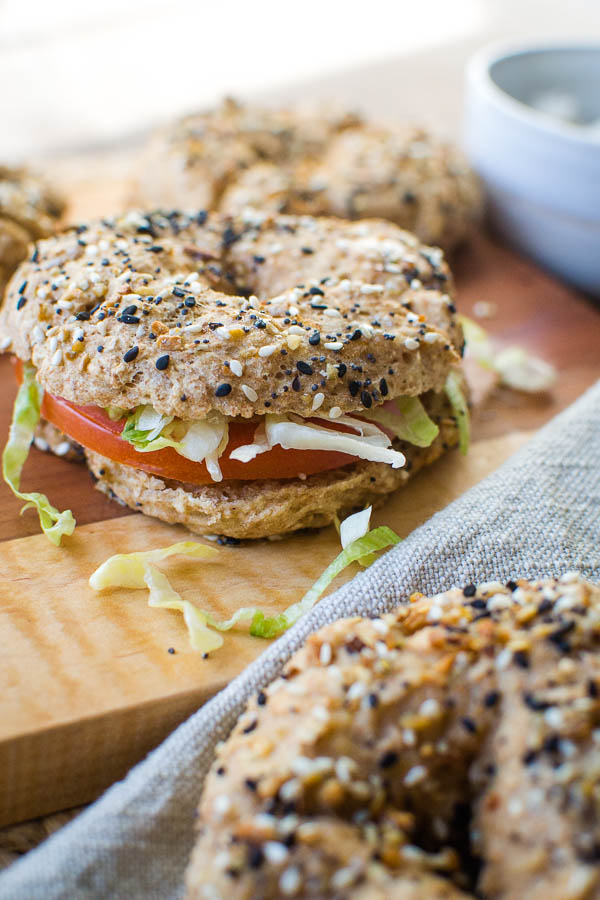 This recipe makes 4 bagels, but could easily be doubled for more. They are best eaten within a day or two, which shouldn't be a problem since they are THAT GOOD!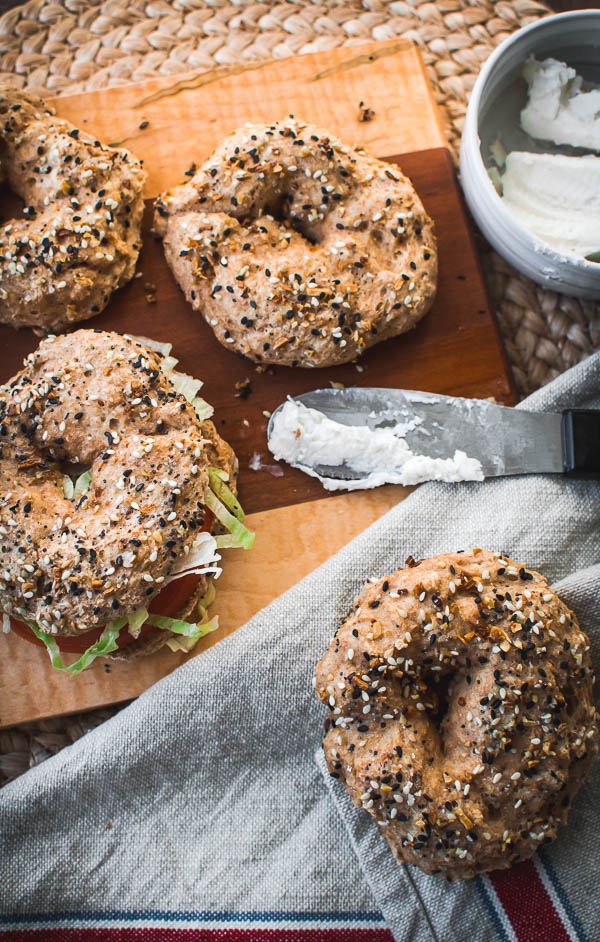 Tim loves them best toasted, with sliced tomato, lettuce and Farm Boy Mediterranean salad dressing! Now when he wakes up on a Sunday morning and declares that is what he is hoping to have for breakfast, I can whip up a batch and I am "the best wife ever"!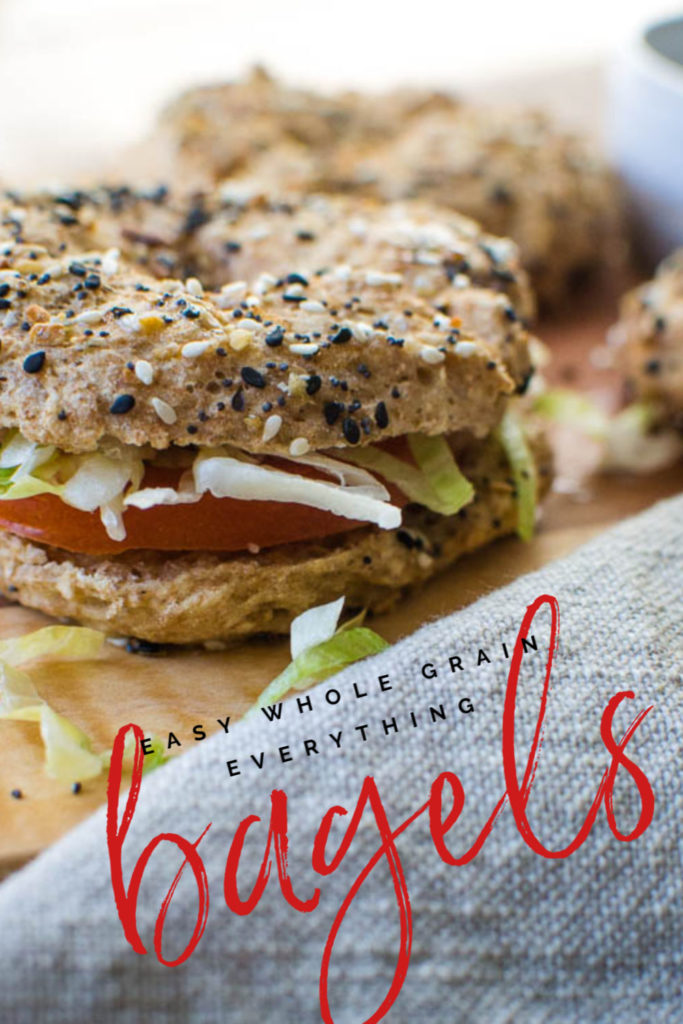 What a sweet plant-based treat? Try these vegan banana crumb muffins!
Be in the know! It may be a delicious recipe, a stunning tablescape, or decor tips to make your house a home! Simply click here to subscribe. I never sell or share your information, and you can unsubscribe at any time!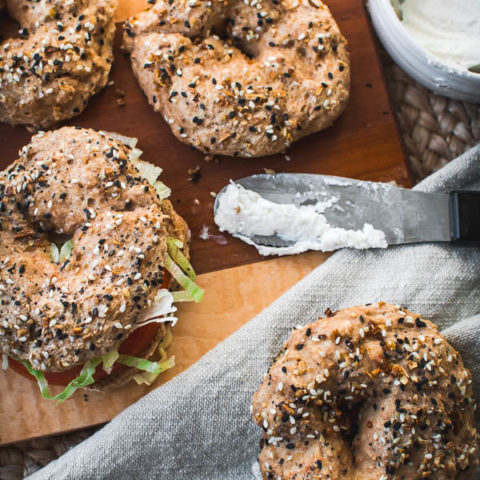 Whole Wheat Everything Bagels
Healthy whole wheat everything bagels that are plant based and yeast free, ready hot from the oven in under an hour
Ingredients
1/2 cup whole wheat flour
1/2 cup whole grain spelt flour
1 cup silken tofu
1 tbsp lemon juice
1/2 teaspoon salt
1/4 cup plant based milk
Everything seasoning
Instructions
Preheat oven to 350 degrees. Line baking sheet with non-stick baking mat or parchment paper.
In a small bowl combine tofu and lemon juice, whisking until smooth.
In a mixing bowl combine flours, tofu mixture, and salt.
Divide dough into 4 equal portions and on a floured surface roll each into ropes about 3/4 inches in diameter. Form a circle with each rope, joining the ends and place on baking sheet.
Brush the tops with plant based milk and sprinkle generously with seasoning.
Bake for 25 minutes. Remove from oven and allow to cool for 15 minutes before cutting
Notes
Best enjoyed within 2 days. Makes 4 small bagels.