Think steel cut oatmeal takes too long to make for weekday breakfast? This recipe is not only delicious and nutritious, but ready in only 10 minutes!
Back in my younger days, breakfast was always the last thing on my mind, and I often went without. Now, that I am older (and wiser!) a healthy breakfast has become one of my favorite meals of the day!
But, the amount of time I have to get up and out the door each morning hasn't changed!
Oh, how I tried to love all the overnight oatmeal recipes that are all over the internet. And while some I tried were rather tasty, I just could not get past the texture.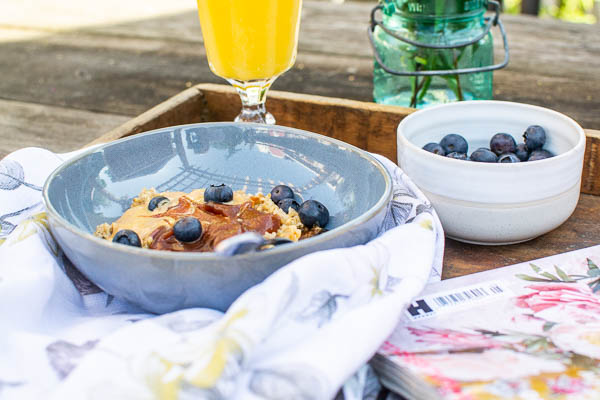 But, the ease of preparation for those hectic mornings kept me trying over and over again. After trying more recipes than I hate to admit, (and having them end up in the compost bin), I finally gave up.
One day I stumbled upon a recipe for toasted steel cut oatmeal that looked intriguing. Just a frying pan and ten minutes tops! I could do that, even on the busiest mornings!
But, it called for butter and cream. And, since I was looking for a healthier breakfast, and eat a plant based diet, I needed to make a few changes to make it work for me.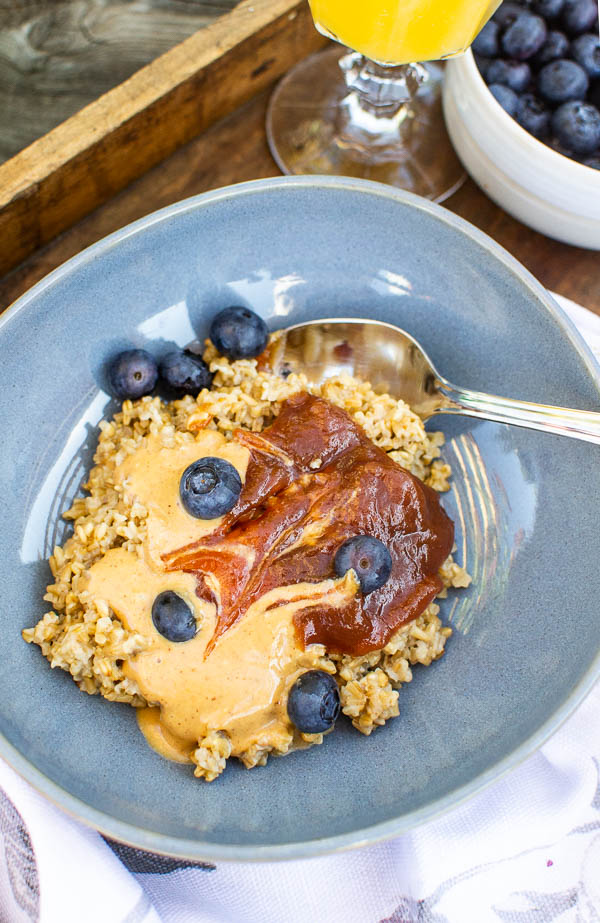 I switched out the butter with a drizzle of avocado oil and the cream for oat milk, I now have my go-to breakfast that tastes incredible, are slightly chewy, and not at all mushy (that whole texture thing!) and is easy to make from simple pantry ingredients!
I am pretty confident I have landed on a winner! To get the flavor just right, without any added processed sugar, I sweeten it with yummy apple butter. A generous tablespoon of nut butter adds a good dose of protein as well as elevates the nutty flavor of the steel cut oats!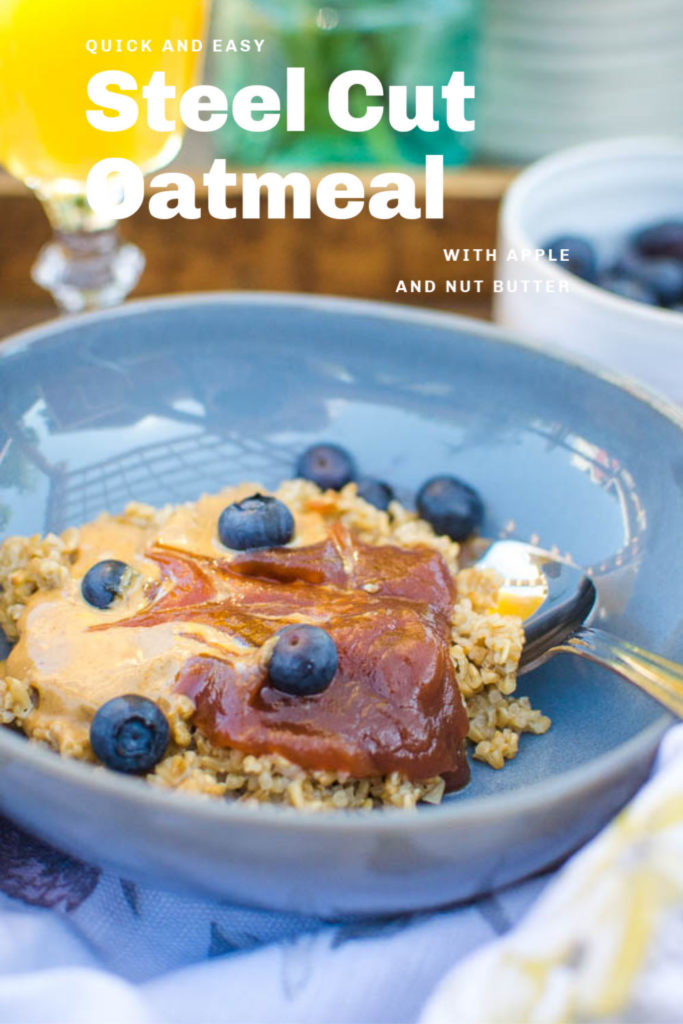 If that isn't enough to entice you into trying this yummy steel cut oatmeal, check out these fun facts:
Steel cut oats are less processed than their flaked oat counterpart.
They are an excellent source of fibre and a complex carb that keeps you feeling full until lunch time!'
Just one serving of steel cut oats have 10% of your daily recommended iron.
7 grams of protein per 1/4 cup (dry oats)
Only 3 grams of fat per serving
low cost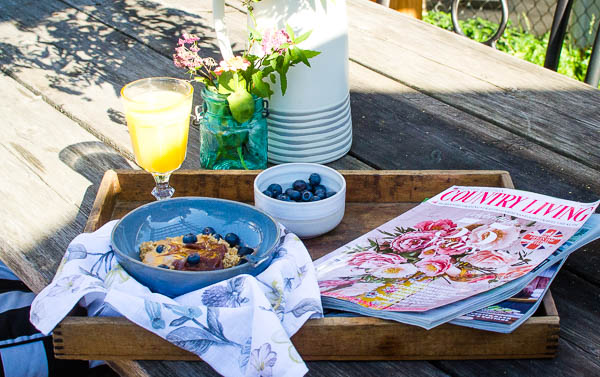 Feel free to add your own mix-in's, but I highly recommend the combination of apple and nut butters! I usually use almond butter but 100% natural peanut butter is also a great choice with no added sugar!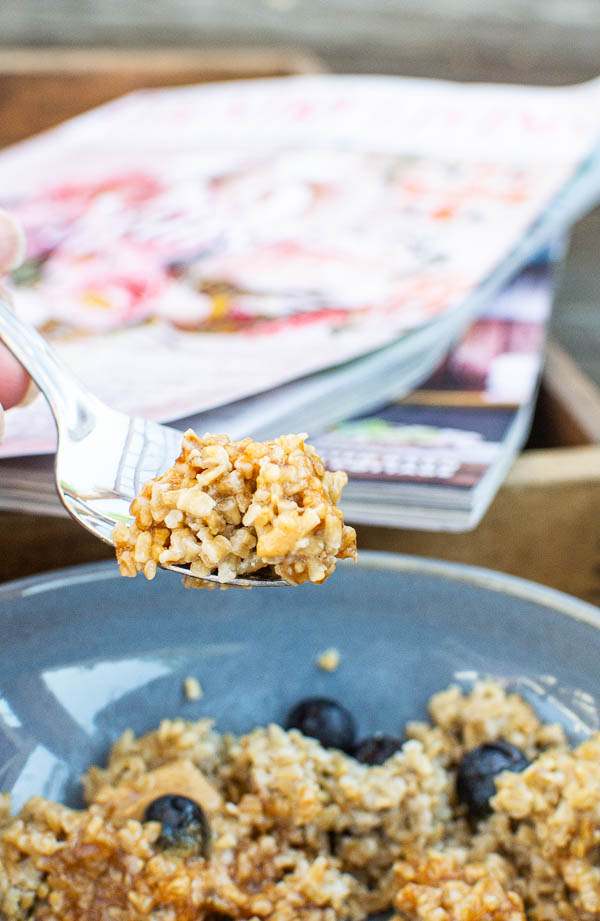 A sprinkle of seasonal fresh fruit and a glass of fresh squeezed orange juice makes for a well balanced breakfast!
So, what do you think? Are you ready to give this powerhouse breakfast a try?
Until next time….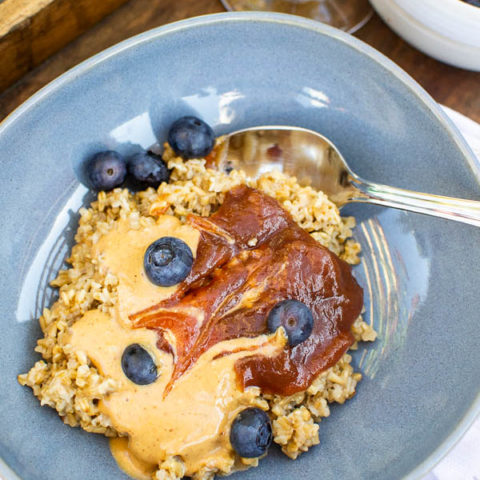 Steel Cut Oatmeal with Apple and Almond Butters
A healthy, hearty breakfast packed with fiber and protein that is easy and fast!
Ingredients
1/2 tablespoon avocado oil
1/4 cup steel cut oats
3/4 cup boiling water
1/4 cup almond milk
1 heaping tablespoon apple butter
1 heaping tablespoon almond (other other) nut butter
Instructions
Put the water in a tea kettle to boil while toasting oats
Add oil to skillet and heat over medium high. Add steel cut oats and continue to stir until they just start to turn golden, about 2 minutes.
Carefully add the boiling water to the toasted oats (it will steam, so watch your hands!). Add the almond milk and stir briefly.
Reduce heat to simmer and allow to cook undisturbed until water is absorbed. About 7 minutes.
Transfer oats to a bowl and spoon over the apple and nut butters