Homemade Banana Ice Cream
My ice cream maker is one of my most used kitchen appliances during the summer. I have made all kinds of ice cream, like this Mexican hot chocolate ice cream and raspberry ripple ice cream. But it never occurred to me to make banana ice cream until my nephews sweet girlfriend mentioned that is a flavor she would love!
When I thought about it though, I myself love bananas in my smoothies, peanut butter and banana sandwiches and banana muffins so why hadn't I thought to make it before!
And, what better base for a sundae than banana ice cream! It is like a banana split without the actual bananas!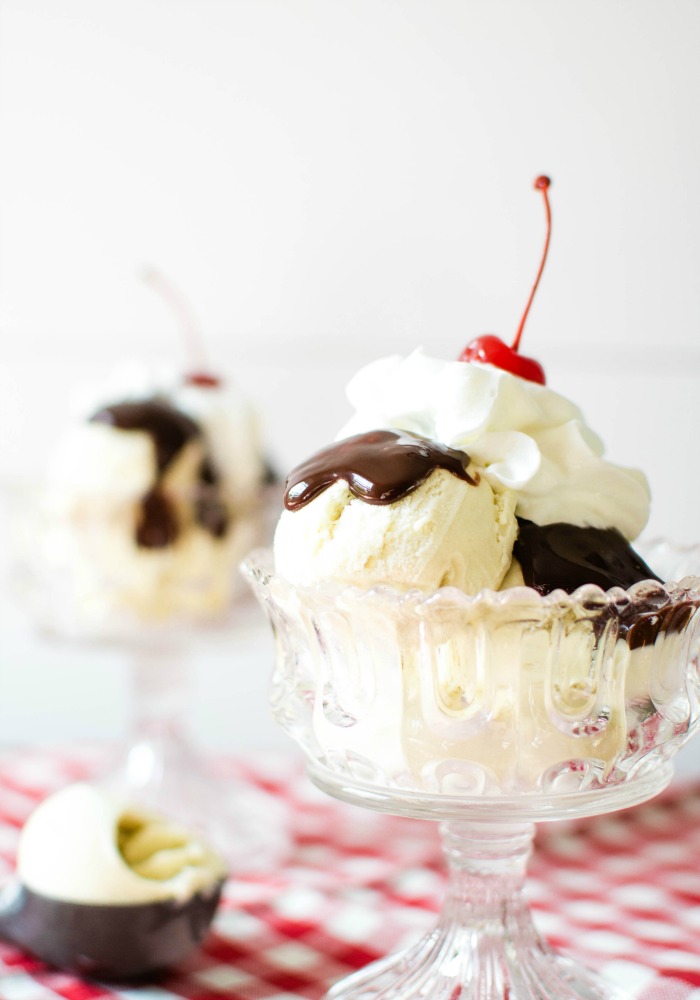 Thick chocolate sauce drizzled over scoops of ice cream, thick fudgy chocolate sauce, fresh whipped cream with a cherry on top! I mean, what else says summer like a homemade ice cream sundae.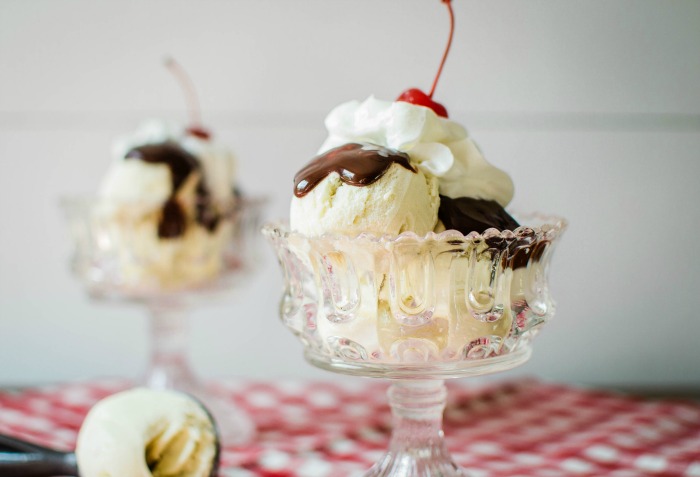 How fun would it be to set up an ice cream sundae bar this weekend?!
Prepare a batch of this yummy banana ice cream. Set out bowls of sprinkles, chopped nuts, maraschino cherries, toasted coconut, and whipped cream. Add some decadent sauces like chocolate fudge, strawberry, and salted caramel.
A pile of ice cream bowls, or even better edible ice cream bowls, an ice cream scoop or two and some dessert spoons!
Voila! A summer dessert everyone will love! And, little effort on your part. The ice cream can be made a few days ahead, leaving little to do except invite a few friends and set everything out!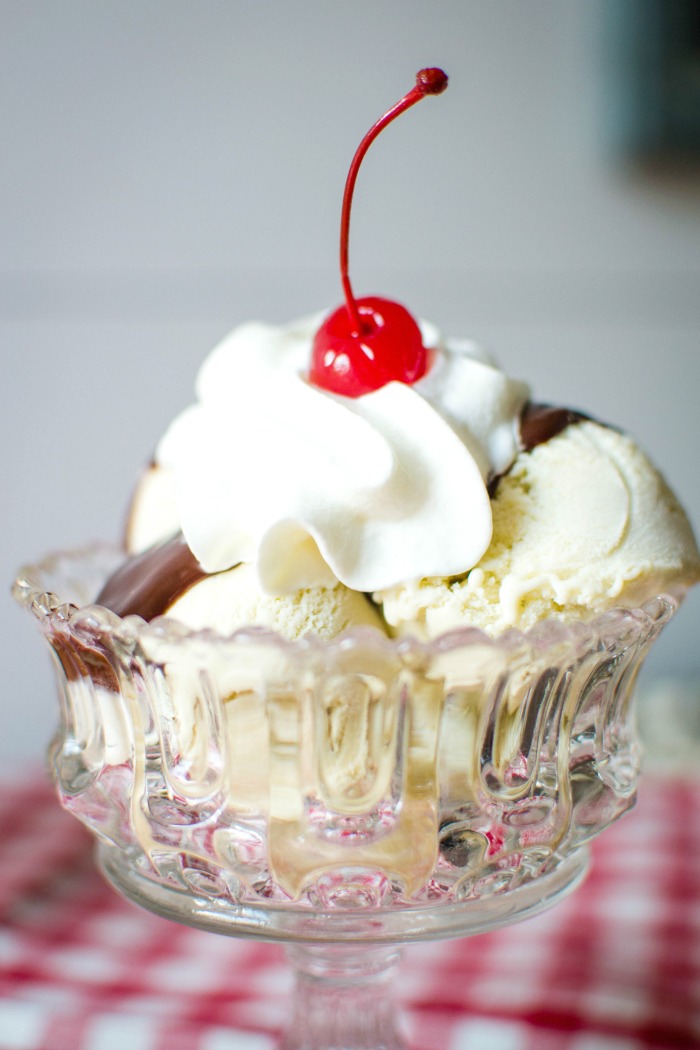 Now, if you will excuse me, I have to pack up the rest of this delicious banana ice cream and bring it to my nephew's house before I eat it all and his girlfriend doesn't even get to try it!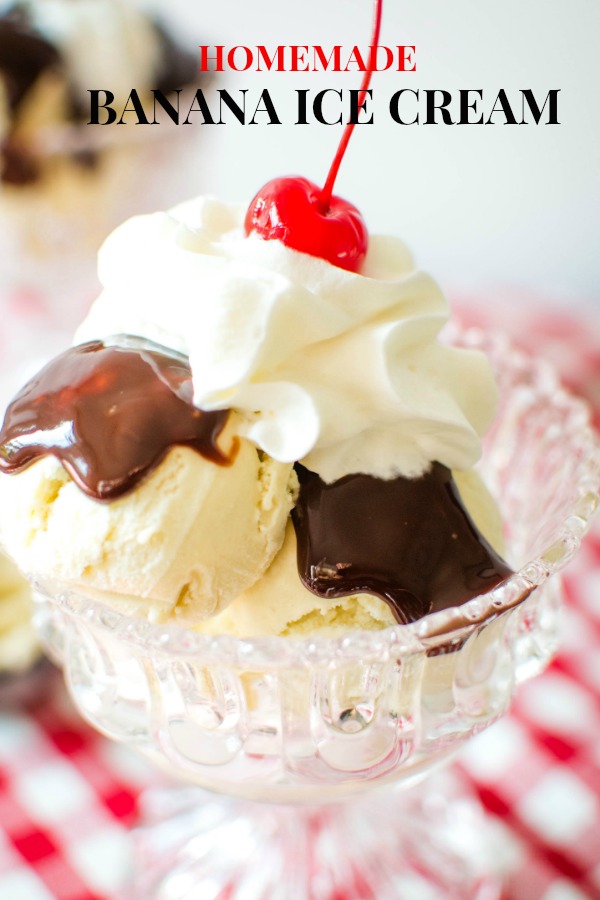 Thank you so much for stopping by! I appreciate each and every visitor to Red Cottage Chronicles and invite you to subscribe if you haven't yet had a chance. You will get an email alerting you of new posts (just 2 to 3 a week) and I never share your email information!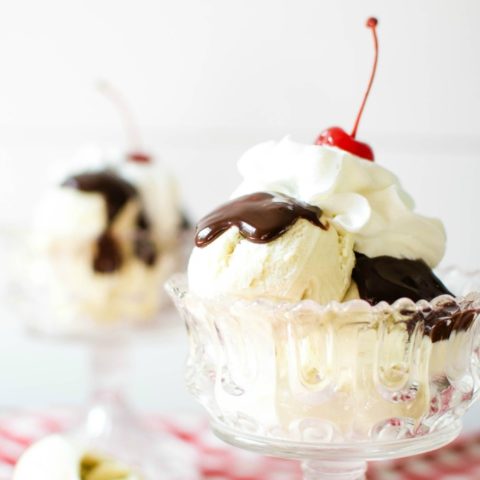 Homemade Banana Ice Cream
Prep Time: 10 minutes

Cook Time: 10 minutes

Additional Time: 6 hours

Total Time: 6 hours 20 minutes

Homemade banana ice cream recipe made with fresh ripe bananas
Ingredients
6 large egg yolks
3/4 cup granulated sugar
2 cups whole milk
1 cup heavy cream
1/2 tsp salt
3 ripe bananas
Instructions
Add egg yolks and sugar To a glass or metal bowl. Whisk until it is pale yellow in colour. Set aside.
In a medium sauce pan heat milk over medium high heat just till bubbles form around the edge. Do not boil.
In a slow steady stream add hot milk to egg mixture, whisking as you add it. Slowly add all the milk while continuing to whisk.
Place the mixture over a double boiler and stir constantly until mixture thickens and will coat back of spoon.
Remove from heat and stir in cold heavy cream.
Transfer mixture to blender, add 3 chopped ripe bananas and blend until smooth. (Leave blender cracked open a bit to allow heat to escape) Pour mixture through fine mesh strainer into a clean bowl
Chill mixture in the refrigerator until very cold.
Process in an ice cream maker as per directions.