Hello friends! I almost wasn't going to share this easy banana muffins recipe on the blog. But, then when I tasted them I thought you might enjoy them as much as we did!
One evening last week, just before grocery day, I realized I didn't have any "treats" for my husbands lunchbox. What I did have was some over-ripe bananas. I was prepping the recipe and when I opened the refrigerator to get an egg, I saw the maraschino cherries left over from this recipe.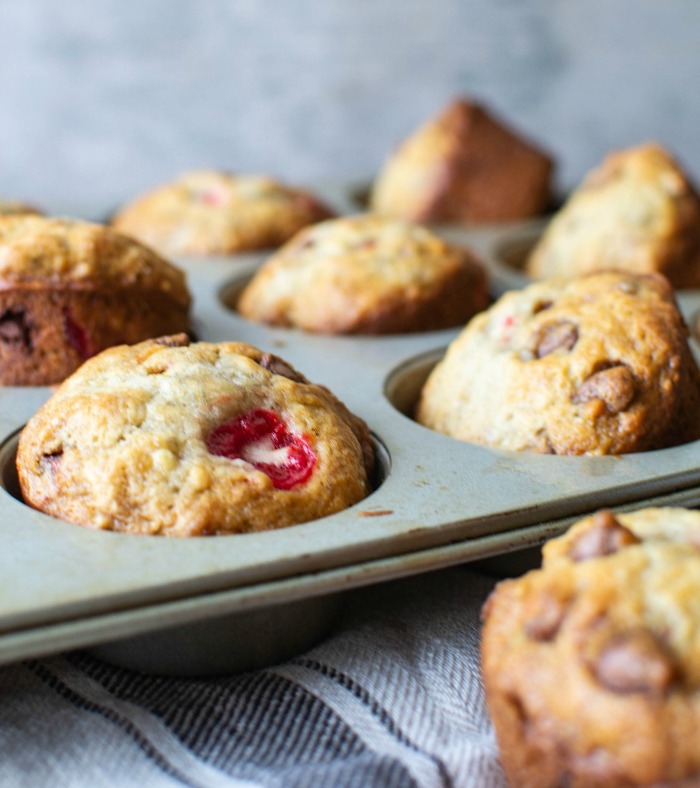 And, that is how these easy banana split muffins came to be! Moist and delicious just like a good muffin should be, but with a touch burst of cherry and chocolate flavor in every bite.
With school starting up again soon, this would be a great recipe to have on hand. It would be easy enough to use fresh cherries, cut into quarters in place of maraschino cherries if you find them too sweet.
They do freeze well, but I have a feeling they will be eaten up before you even get a chance to get them in the freezer!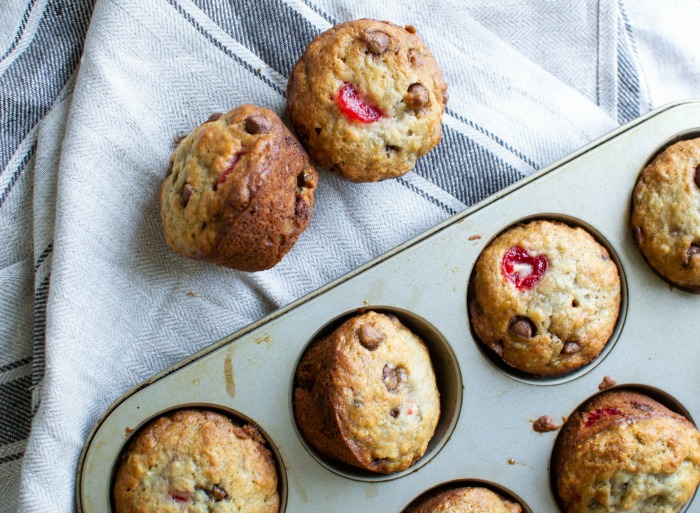 Is it just me, or does that muffin look like it is sticking out its' tongue at me!
For more banana muffin recipes try these pecan banana muffins! These bran muffins are another great choice for an easy and delicious treat!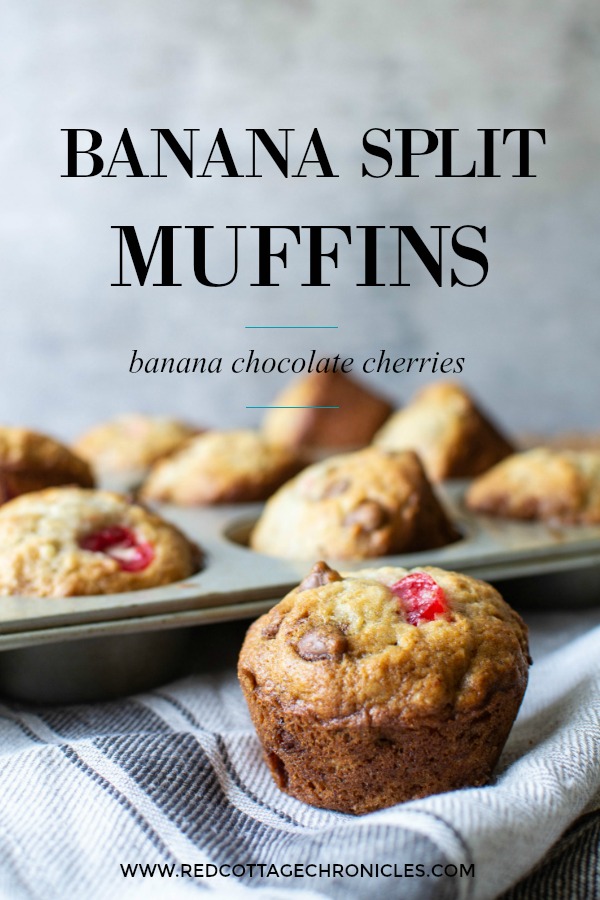 Be in the know! It may be a delicious recipe, a stunning tablescape, or decor tips to make your house a home! Simply click here to subscribe. I never sell or share your information, and you can unsubscribe at any time!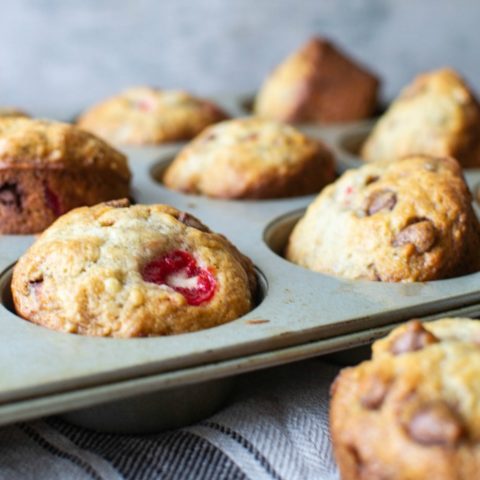 Banana Split Muffins
An easy banana muffin recipe loaded with chocolate chips and maraschino cherries
Ingredients
1 1/2 cups all purpose flour
1 teaspoon baking soda
1 teaspoon baking powder
pinch salt
3 large bananas
1/2 cup granulated sugar
1 large egg
1/4 cup avocado oil (or vegetable oil)
1 cup halved maraschino cherries
3/4 cup chocolate chips
Instructions
Preheat oven to 350 degrees and spray 12 muffin cup muffin pan with non-stick spray.
Sift flour, baking soda, baking powder and salt, and set aside
In a large bowl mash bananas. Add sugar, egg, and oil and whisk until well combined.
Fold dry ingredients into wet ingredients.
Add cherries and chocolate chips and gently fold just to combine.
Divide batter between 12 muffin tins and bake for 20-22 minutes, until toothpick inserted into a muffin comes out clean, with just a few crumbs.
Until next time….